Online collaborative
whiteboard platform
to better align with clients
Centralize work on an endless Miro board for shared
understanding with clients from anywhere,
and at any stage in the project.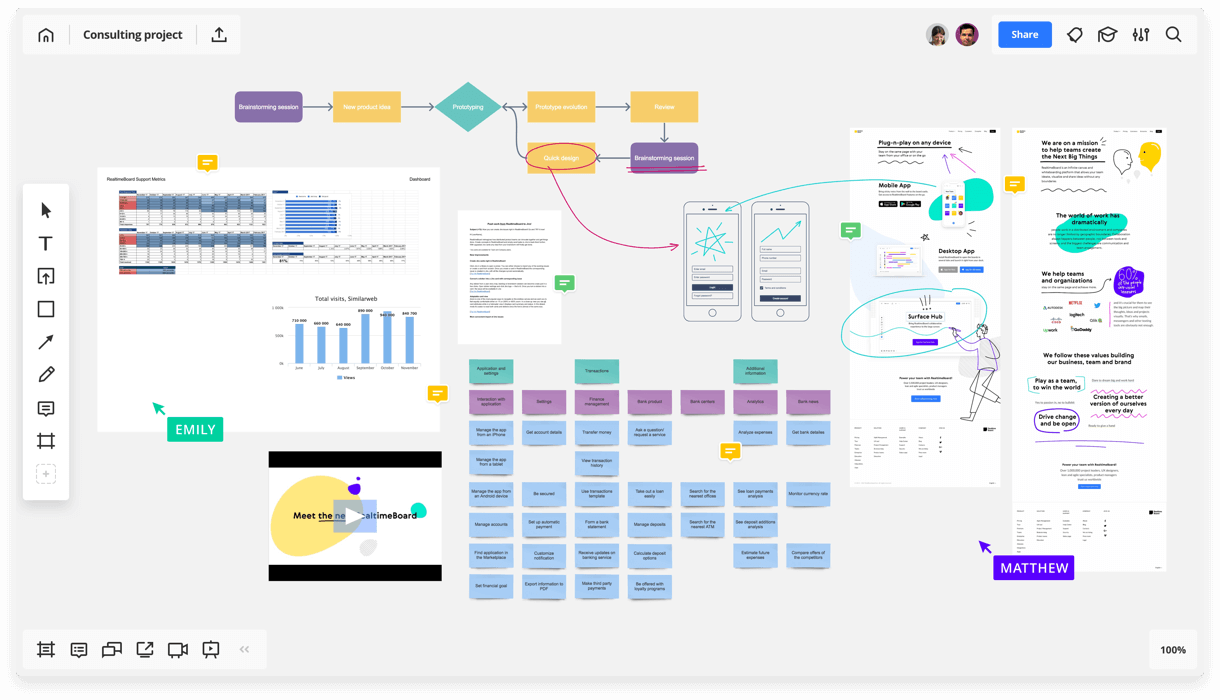 Miro for Freelancers and Consultants
An online whiteboard to collaborate with clients during
workshops, projects, feedback reviews, and more.
Get started
Consultant Plan
A plan designed for consulting agencies
and freelancers working with client teams.
Private, secure workspace for every client
Control licenses of team members
and guests

You have complete control over access levels to maintain privacy and security of client information

No minimum seat requirement
Voting, timer, chat, video chat, and screen sharing to facilitate collaborative projects
High-resolution exports and presentation mode to share the work
$
12
per user/month/annually
$15 user/month/monthly
Get started
Flexible, Intuitive and Collaborative Capabilities
Share work-in-progress
Create meaningful feedback loops with multiple stakeholders. No more playing ping-pong with clients for feedback.
Conduct workshops and training
Organize one-off or ongoing client workshops
for any number of attendees.
Collaborate on projects
Clients can participate on projects whether
actively engaging or just viewing the work
for feedback.
Use one flexible tool
Deliver different types of projects with one tool
with intuitive, simple controls that mimic
the flexibility of a whiteboard.
Build upon work
Use a private, secure and open online workspace that acts as a meeting record you don't have to transcribe and which never gets lost.
Create custom templates
Reuse your custom templates for different clients, or start from a tried-and-tested
built-in template.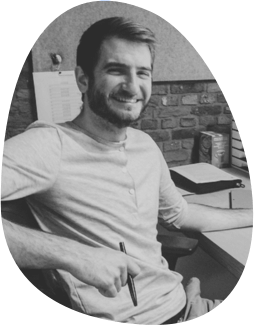 A lot of times when you're designing,
you're not really close to your target
group and it's fairly labor intensive to go
and look for them and interview them on
the spot. They [potential users] can fill
out their answers and collaborate more
easily because distance is not a problem
anymore.
Killer features for consultants
Smooth Remote Client Sessions
Collaborating in Miro is the closest thing to consulting side-by-side when you can't be in person.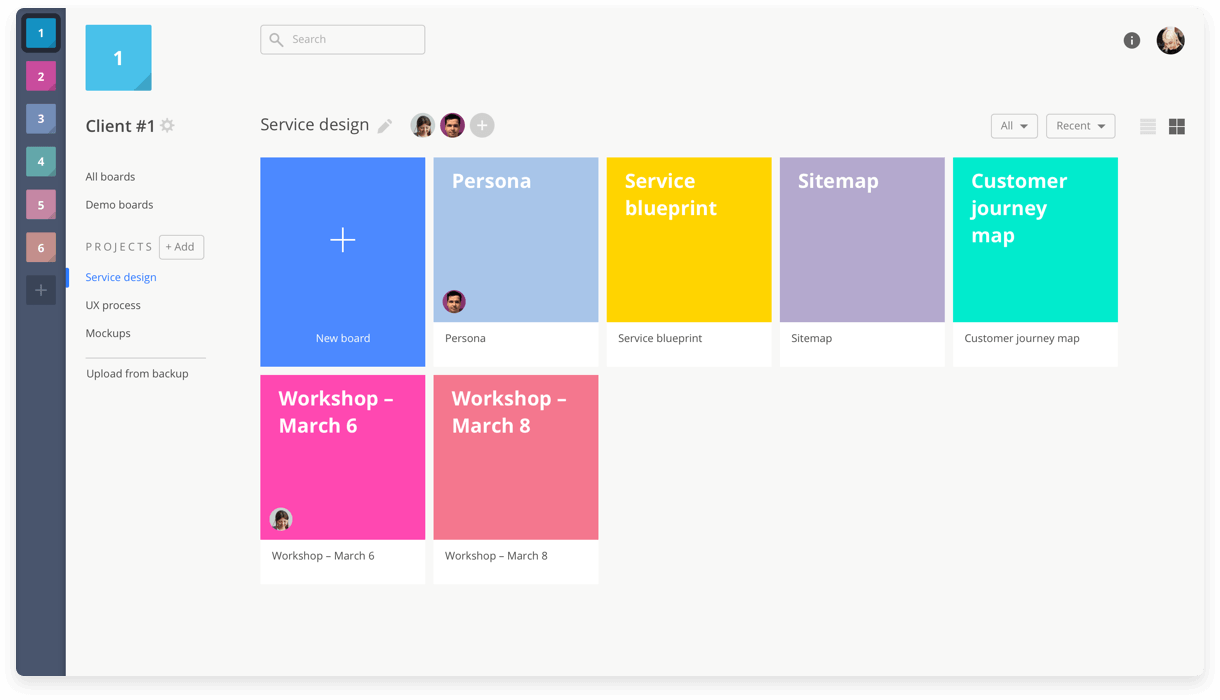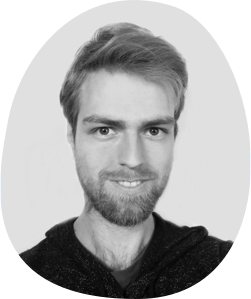 Miro offers a fantastic experience
for facilitating Remote Design Sprints,
it's an extraordinarily smooth tool!
Andrej Ktitarev, Creative Problem Solver,
Director and Magician
AJ&Smart GmbH
Demonstrate Quicker Time to Value
Create a private, secure workspace for clients and stakeholders
to add ideas and resources and start solving problems faster.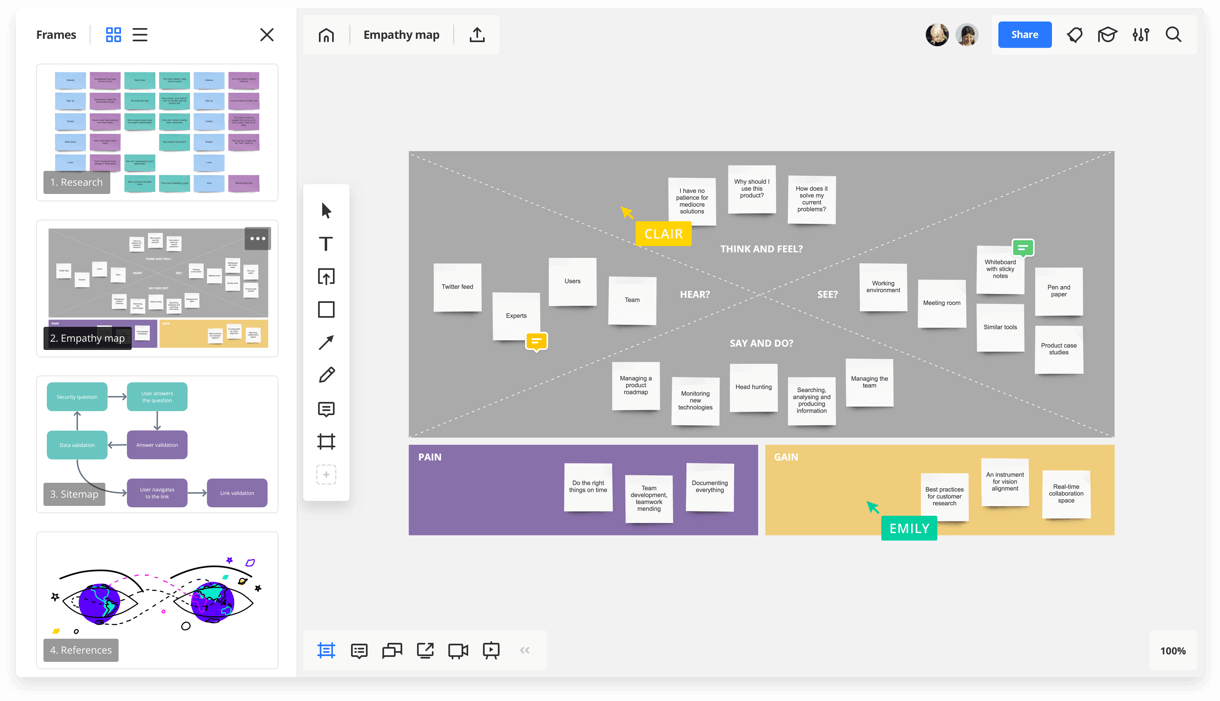 Get started
We will get in touch with you as soon as possible.
Create a Cohesive Story
Give life to your client work when you connect files, images,
and other media to a storyboard or workflow.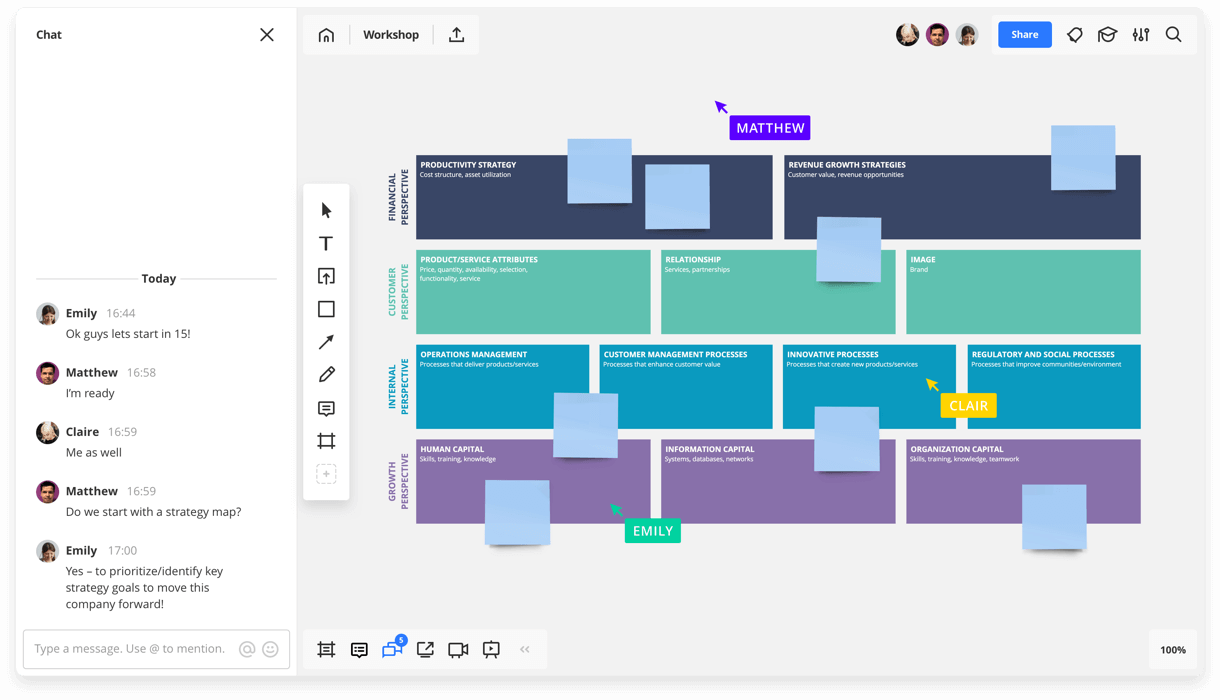 Get started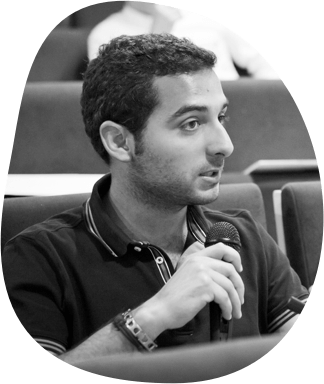 We love how Miro allows us to have fluent
conversations among remote teams and customers
with visual tools, boosting the efficiency normally
reserved for the classical whiteboard. The flexibility
is amazing and a step forward for innovative
companies like BeHappy.
More reasons to try Miro
Miro Partner Program
Use Miro with your clients and grow your
practice at the same time.
Miro Developer Platform
Help teams collaborate smarter with custom plugins and integrations.
Learn more