You, our creative community, inspire us every day to continually improve Miro's features for seamless collaboration, whether in remote, in-person, or hybrid work environments. Over the last year, your thoughtful requests and feedback helped shape the robust slate of updates that we launched in 2021 — and the future of visual collaboration overall.
Featuring new tools, improved accessibility and functionality, and Miro apps and integrations for your favorite platforms, our 2021 releases centered around five main themes: visual collaboration in a hybrid environment, best-in-class integrations and extensible workflow, deeper support for product development workflows, advanced security and compliance, and product updates to help your company scale.
Check out our roundup to see how Miro's newest features and improvements can help your team innovate this year — and keep your good ideas rolling in.
Visual collaboration in a hybrid environment
Accessibility improvements: Miro is now more screen-reader friendly. Screen reader users, who are company and team admins on the Enterprise Plan, can now download CSVs, filter and change licenses for active users, navigate to teams on the teams page, search for and revoke invites, and work with team profile, team permissions, and security pages.
Board history: To collaborate with confidence and avoid accidental editing or deletion, you can now automatically save and recover past versions of Miro boards. Your board is backed up every hour and at the end of each collaborative session.
Stickers: With a set of playful illustrations that we've added to the emojis app, react to a teammates' work, express your thoughts during a meeting, or add flare to your board designs.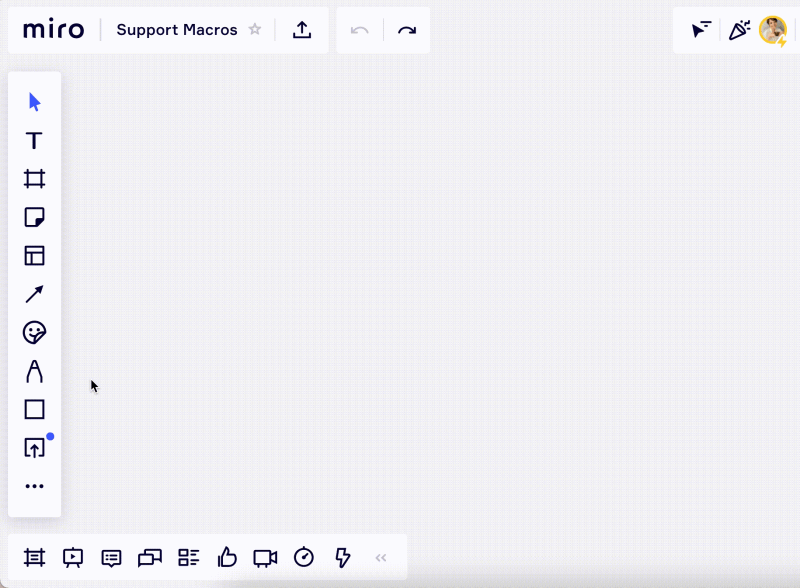 Music Timer: Manage time and help get meeting participants in the right mindset with Miro's Music Timer. Adjust the timer duration directly on your board and pick from six royalty-free tunes to match the mood.
Improved voting: Get teams involved in the decision-making process with Miro's improved voting tools. With new options for customizing polls, we've made it easier for meeting and workshop facilitators to quickly get a sense of how the group feels.
Reactions: For a fun way to engage in meetings and workshops, you can now select from six emojis and a raise-hand button to express how you feel in a given moment. When participants raise their hands, facilitators will get notified so no important input and questions get missed.
---
Smart Meetings (BETA): Say hello to Miro Smart Meetings, a new bundle of intuitive tools for running the most engaging and effective meetings and workshops. Try customizable templates, built by experts at industry-leading companies, with common meeting formats, including retrospectives, design sprint, and OKR planning. The automated meeting outline makes it quick to create an agenda. Guided navigation makes it easy for participants to follow step-by-step as you go through the meeting. For a customizable participant experience, choose exactly what participants see and which tools they use, so they don't get overwhelmed or distracted.
Quick sign-in on interactive displays: Send a board from a personal device, like a phone or laptop, to an interactive display in a matter of seconds, reducing setup time for in-person and hybrid meetings and increasing security. Once a user leaves the room, they'll be signed out and the next user won't be able to access their data.
Mobile app improvements: Never miss an opportunity to capture a great idea and stay in touch while on the go. With Miro's free mobile app for iOS and Android, you can review and edit boards, give feedback with mobile comments, scan paper sticky notes with your phone and digitize them with Stickies Capture, and upload bulk images from your mobile camera roll. We recently added new color options for comments, the ability to create frames, and an improved lasso experience on tablets.
Best-of-breed integrations and extensible platform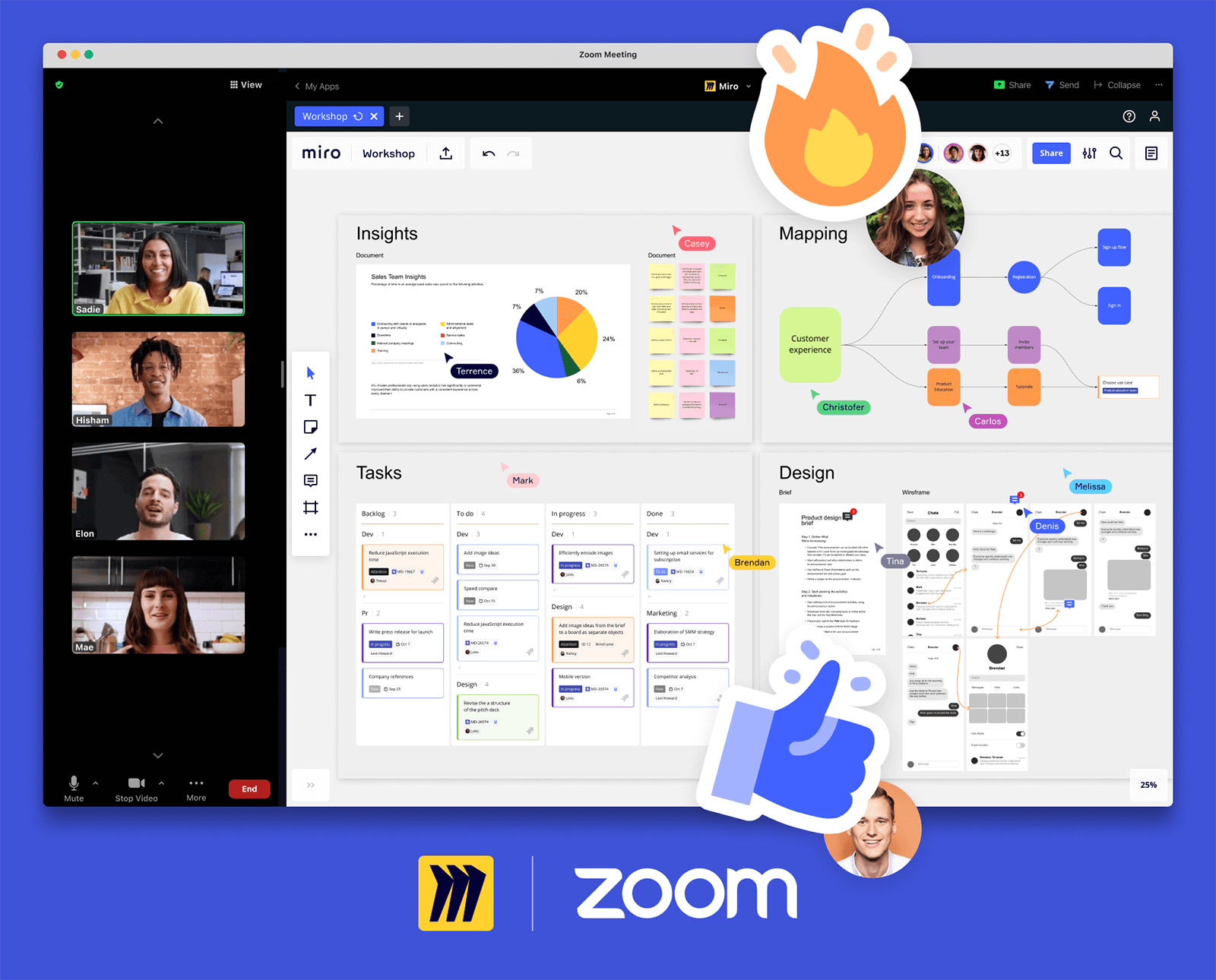 Webex: Integrate Miro's infinite canvas across your entire suite of Webex tools, from Meetings to Messaging, and go from conversation to powerful, visual collaboration within one platform. Every Webex user can now open a Miro whiteboard from Webex and share it with the rest of the meeting participants, no sign-in is required.
Microsoft Teams: Bring the power of Miro's infinite whiteboarding canvas into any Teams meeting to take ideation, planning, and brainstorming to the next level — no need to toggle between apps. This seamless experience lets you embed a Miro board into any Teams calendar invitation and Teams channel, and when there's a comment or update on a Miro board you'll get notified right inside Teams.
Deeper support for product development workflows
Easy and fast diagramming: With more ways to visualize information, Miro's all-in-one diagram maker removes the hassle of switching between diagramming and collaboration tools. The latest updates feature quick shape creation, a centralized shapes library, a flowcharts shape pack, a smart spacing guide, grid views, and snap-to-grid functions to ensure alignment.
Smart Diagramming: Custom actions and advanced shape packs for AWS, Azure, and Cisco make powerful diagramming methodologies, like Business Process Modeling Notation and Data Flow Diagrams, even more powerful. (Available in Enterprise, Business, Consultant, and Education plans.)
Advanced security and compliance
Helping you scale
---
Flexible Licensing Program (FLP): Now, as an Enterprise plan user, you can easily scale Miro adoption at your company, with unlimited licenses every quarter. Data-led recommendations from a dedicated account team help you determine license growth, and quarterly true-ups let you adjust your contract moving forward, with no retroactive fees and predictable, transparent billing.
Self-serve guest role: Want to collaborate on Miro boards with guests, like freelancers, contractors, and consultants? Consultant and Business plan users can now invite unlimited guests to one or more boards (without having to add them to all of your team's boards), free of charge. After invited guests register, they'll have secure access to basic features and continued access to shared boards in their dashboard.
---
What will your team build this year?
Thanks for being one of Miro's star collaborators, helping us to unleash and expand creative possibilities every day. As we dive into a new year, we're excited to share with you even more new features, integrations, and updates in 2022. We can hardly wait to see how you'll use Miro to collaborate and innovate this year, and what you'll dream up next.
To set your team up for success this year — and experience Miro's latest features, integrations, and updates for yourself — try Miro Enterprise.
---
---
Find out about our latest product changes