What is it like to work as a product manager for hybrid teams? A product manager's day is rarely uniform, especially if they're working in a different location from their team.
If you're transitioning from a co-located product manager role to a remote or hybrid environment, you're in the right place.
Our goal is to help you learn what the best product managers do to keep teams connected, familiarize yourself with the tools they use, and understand the specifics of working as a product manager and how to succeed in this role. We've gathered insights from a number of thought leaders and experts in product management to share what they do on a daily basis and what works best for them when managing a distributed team.
Is it possible to be a product manager for a hybrid or remote team?
The short answer, of course, is yes. Keep reading this post for tons of practical tips and tricks from PMs who have mastered the art of dealing with hybrid or remote teams. But it's worth taking a moment to consider why some people are resistant to the idea.
Product manager and designer Rian van der Merwe acknowledges that there can be pushback against the idea of product managers for hybrid or remote teams. Some people have a firmly held belief that you need to be present in order to influence others and collaborate effectively. But in his experience, "there are certain things that remote work is naturally better suited for than on-premise work… remote work makes it much easier to develop and instill a rhythm of collaboration and focused time for a team."
Rian also finds that working in a hybrid environment makes it easier to make sure "the right people know about things, and the wrong people don't get distracted by things they don't need to be involved in." Melissa Perri, founder and CEO of Produx Labs also found that as a product manager, one of the best teams she ever worked on was a remote team. Read more about her experience here.
A product manager's daily schedule
So what exactly does a product manager do on a daily basis? Generally, this role involves a fine balance of dealing with urgent "fires that need to be put out" and more strategic, long-term thinking and planning. As a product manager, it's important for you to understand this and allow yourself time for both types of activities. With a hybrid team, it's also important to look for ways to encourage communication and build relationships since connection with your team might not come as naturally as if you all worked in the same office.
You may also find that your hours don't fit a typical 9–5 schedule (so the times we provide in the schedule below are merely rough guidelines). You might start early and end late while taking breaks throughout the day for yourself. This flexibility allows you to connect with team members who are based in other time zones. For example, a San Francisco-based product manager might start their workday at 6 a.m. to have time to check in with team members on the east coast or in Europe before they wrap up for the day.
Here are some of the most common daily tasks for product managers.
9:00–9:30
Check and respond to urgent tasks
As a product manager, you'll likely begin your day by checking your email, Slack, and customer relationship management tool like Zendesk or Intercom. If you have any requests from your customer support team, you will spend time investigating issues, clarifying expected flows, researching user requests, and scoring bugs. Once you've taken care of all the urgent matters, you can save any non-urgent emails or issues for a work block later in the day.
How to do it in Miro: Improve visibility and alignment with a 360-degree view into your product priorities. Create a visual one-stop-shop for product prioritization artifacts and decisions that can be tied back to your product vision and company strategy.
9:30–10:00
Read up on industry news/competition
A big part of being a product manager is staying on top of what's going on in your industry, with your competition, in the market, and in the tech world in general. This is why you'll dedicate at least a part of your day to checking out tech blogs, news aggregators, company newsletters, and other information sources like Product Hunt or LinkedIn.
How to do it in Miro: Centralize competitive and market research to inform your product strategy. Visualize your research by bringing images, videos, spreadsheets, and more onto a single board. Easily identify market trends and competitive threats and use them for continuous product discovery.
10:00–10:15
Attend a daily stand-up
The daily stand-up is an essential element of the agile development process. Even when your team is hybrid, you can easily participate in this ritual of discussing what everyone did the previous day, what they'll do today, and whether they currently have any blocks or challenges preventing them from moving forward. And yes, you really should turn your camera on and stand up!
Ben Holland-Arlen, Senior User Experience Designer at Salesforce, says, "Wherever you are, it's important to have your camera on and actually stand up. The actual act of standing up makes for a more concise stand-up. It sounds silly, but it's really powerful."
How to do it in Miro: Product managers have to master the art of influence without authority and manage a highly cross-functional team to pitch ideas, acquire resources, and remove blockers to get things done. Stand-ups in Miro help product managers handle this careful balance by providing one board with visibility across projects, the ability to store documentation, and tag collaborators as-needed.
10:15–11:15
Analyze data
As a product manager, you need to keep an eye on site/app analytics and KPI dashboards to make sure everything is running smoothly. This might just be a routine check-in with a tool like Amplitude or Looker, but if you notice anything unexpected going on with the metrics, you may do a deeper dive to see if you can identify the cause.
"For hardcore cases, we work together with Product Analysts who download raw data from our warehouse and then we slice and dice it together in Tableau or in Jupyter using Python programming language," says Alex Rodnyy, Engagement Product Manager at Miro. If you're preparing to present results to your team or executives, you may also spend additional time doing further data analysis to include in the presentation.
11:15–12:30
Co-create lo-fi wireframes and user flows
You'll dedicate part of your day to writing specs to outline new features and creating wireframes to include in the specs. This process will involve getting input from the engineering or design team, so you might jump on a quick call to share your work and get feedback.
How to do it in Miro: With Miro's infinite canvas, you can communicate in whatever format works best for you. Bring your design and engineering teams into Miro to ideate and create sketches and wireframes together without distracting tools for pixel-perfect designs.
12:30–1:00
Lunchtime
Working apart from the rest of your team doesn't mean that you need to sit in front of your computer without a break! Especially for remote workers where breaks come less naturally, it's critical to give yourself a breather during the day – to grab something to eat, take your dog for a walk, or meet a friend to catch up. If you have a new team member, you can meet them for a virtual coffee or lunch so to chat informally and get to know each other a bit better.
1:00–2:30
Email block
One way you can stay focused and accomplish everything you need to do on any given day is by creating dedicated blocks of time to go through email or Slack and developing a system for responding to and classifying them. For example, anything that you can respond to or take care of within two minutes, you tackle right away. If you're not the right person to address a particular topic or concern, you loop in the person who is. And if something doesn't fit into either of those categories, you can assign it to a particular work block like "product backlog" or "customer feedback."
2:30–4:30
Manage the product feature backlog
One of the ongoing tasks for product managers is making sure the product feature backlog is frequently updated. You'll document ideas that come from customers, executives, and other sources and periodically dedicate time to prioritizing these ideas as features to include in upcoming sprints. You might use a tool like Asana to gather and organize your ideas for the backlog.
How to do it in Miro: Having a central source of information digitally will help you prioritize the right features to reach your goals. Miro boards are never erased so backlogs, prioritized lists, and context behind decisions can always be revisited and updated when needed.
4:30–5:15
Respond to tickets
You might spend at least part of your day in a product management tool like Clubhouse or Jira responding to tickets that contain feedback from your users and testing any tickets that are relevant to your product family. Sometimes you might follow up with customers on some issues and feature requests.
5:15–5:30
Check in with team members
You'll likely take a few minutes during the day to check in with your team via Slack or maybe a quick Google Hangout or Zoom meeting. This might not always be at the end of the day (and it might vary since with distributed teams the "end of the day" could be vastly different for each person), but dedicating time to communication (even if it's just a quick check-in) every day is essential.
5:30–6:00
Participate in some type of course/professional development
Just as it's important to stay on top of the latest trends in technology and the market, it's also important to develop your skillset and cultivate curiosity. Spending time taking an online course or reading about a topic of interest can help you expand your perspective and bring new ideas to your role.
A product manager's weekly schedule
There are some activities that you probably won't do every day, but that will still be a part of your regular routine as a product manager. Here's a quick overview of some of the things you're likely to do on a weekly cadence.
One way of breaking down your schedule is into core product activities (that are necessary for you to do your job and meet your KPIs) and activities that involve other stakeholders like customers, engineering, design, and executives.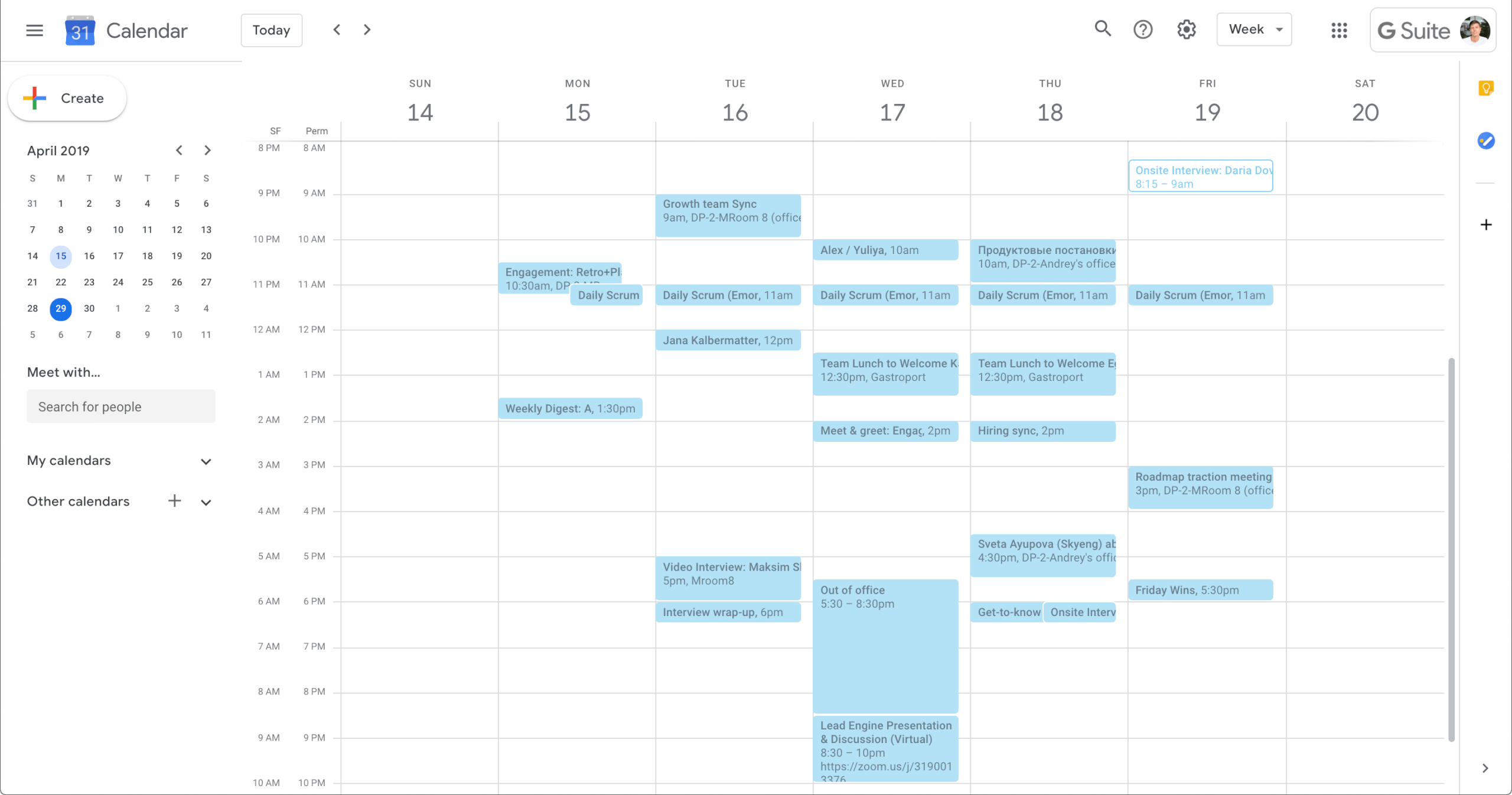 Plan for the short- and long-term
According to McKinsey, "Product managers now function on two speeds: they plan the daily or weekly feature releases, as well as the product road map for the next six to 24 months." So in any given week, you'll likely be spending some time looking at the sprints for the near future as well as planning mid- and long-term product feature ideas. This is an ongoing process since you're always gathering new information from customers, the market, and your own data analyses.
The State of Product Leadership Report 2019 found that many product managers are now prioritizing alignment with design and UX, marketing, and customer success: "How products are designed; how they're marketed and distributed; and how they're made "sticky" for end users together comprise the holy trinity of modern software." So as you're planning for the future, you'll likely be working with and across several teams.
How to do it in Miro: Gather your team in Miro to go from vision and ideas to an executable plan, faster. Miro makes it easy to visualize your strategy across product teams, identify dependencies, and align on the plan. Miro's Live Embed feature allows for flexibility in the roadmap so it can be responsive to changes and maximize visibility for everyone regardless of what tool they're viewing it from.
Talk to customers
Today's product managers are more user-centric than ever before and navigating a faster moving, more competitive market. You must stay on top of changes in the market and conduct ongoing user research to ensure they are building the most impactful features.
You make product decisions every day that will affect your customers, so it's important to have a regular and steady stream of interaction with your customers. This can involve phone calls, video calls, in-person meetings (either in your office or theirs), and reviewing customer support tickets and gathering feedback from your customer support team.
This regular interaction helps you understand your customers' needs and plan upcoming features accordingly. You can no longer assume that features being built will work for customers. Product teams need to test, experiment, and validate strategy continuously, scrapping initiatives or features at any stage if they will not produce the intended impact.
That's why after these interactions, it's so important to synthesize what you've learned so it's easy to remember and share with others.
Miro is a great tool for remote teams to think and work together. Moreover, it is a great tool for product discovery. You can quickly create a board and place almost every detail in your mind to think and develop your next product.

Tolga, Head of Product, G2 Reviewer
Participate in cross-functional working/brainstorming sessions
As a great product manager, you can't work in a silo—you have to constantly communicate and share feedback with other teams like engineering and design. In addition to regularly scheduled stand-ups or processes that help you stay in touch with other teams, you will likely find it helpful to have working or user journey mapping sessions with cross-functional team members. Working with teams across the product management organization will help you to build customer-centric product strategy, identify critical gaps in the journey, and brainstorm what to build next. We've got some practical tips for making the most of your brainstorming sessions here.
My advice would be to pay attention to timing and scheduling while you work from different time zones and documenting decisions so you can be autonomous while working asynchronously.

Anna Boyarkina, Head of Product, Miro
Run a team sprint retrospective
If your team follows the Agile workflow (or some variation that involves working within a set timeframe), you'll be running retrospective meetings on a regular basis. These give you the opportunity to review what went well and what could be improved in the next sprint. While co-located teams may get together in a large conference room and use a pile of Post-it notes, with a remote team, you can recreate a similar experience in Miro.
How to improve communication within a product team: Best practices from Miro
The key for successful hybrid collaboration is communication. Open, transparent, comprehensive communication. Here are our recommendations.
1. For open communication
We use Miro boards, Google Docs, Confluence pages, and Jira Issues, which are available to everyone from the team. For example, a board with feature specifications, a Google Doc with meeting memos and key documented decisions, a Google Spreadsheet with hypotheses scoring based on conducted user interviews, a Confluence page with key information about the initiative, and a Jira Epic with more technical focus. These would all cross-referenced for better discoverability. Teams then share their quarterly OKRs with the whole company, and update their Confluence Spaces with current statuses and lessons learned. The product development team also tracks a company roadmap on a weekly basis.
Every process within the product cycle — creating and maintaining roadmaps, product discovery techniques, documentation and concepts visualization, regular Agile meetings and many more — has sparkled with new colors since we started using Miro.

Vladimir S., Technical Product Manager / Product Owner, G2 Reviewer
2. For transparent communication
Every initiative has clear responsible and accountable persons and a wide list of teams to be informed and consulted with. The rationale is based on product strategy alignment (vision, strategic bets, product peaks and valleys), year and quarter OKRs traction, relevant problem-hypotheses-predictions structures, success criteria, and target metrics with appropriate monitoring plan.
3. For comprehensive communication
We do regular syncs on various levels:
Initiatives: weekly syncs and data checkpoints
Teams: daily stand-ups and weekly growth syncs
Guilds: weekly product roadmap traction, bi-weekly product review and product insights, product talks every three weeks
Monthly cross-team syncs: between growth and marketing teams
Company wide: monthly all-hands meetings, quarterly results, and plans
Daily communication in Slack on various levels: single initiative channels, scrum teams and project teams, guilds, and company-wide. Also, we have private team retrospective channels for issue collection, actions to be taken summary, and status of taken actions.
Which tools are most useful for product managers?
The product managers we've talked to find these tools the most useful in their day-to-day tasks.
MESSENGERS
Whether you prefer using Slack, Skype for Business, Microsoft Teams or anything else, messengers are a good place to connect with your team daily, ask questions, and respond to small requests.
VIDEO CONFERENCING
Face-to-face team meetings are an important part of building trust in your team. Make sure you actually turn a camera on to read each other's emotions better. Try Zoom, Google Hangouts, Appear.in, or something else.
REAL-TIME COLLABORATION
Use Miro, Google Docs, or other tools for brainstorming ideas, sharing visual references, or collaborating on a Kanban/Scrum board.
TASK TRACKERS
Whether you use Asana, Jira, Rally, or something else, it's an integral part of the workflow that will keep your team motivated and help everyone to track progress. And simple tasks in Notion or Google Keep.
FILE SHARING
If you're regularly sharing files with your team, you'll want to use a system like Google Drive, Dropbox, OneDrive, or Box.
DOCUMENTATION
Confluence and Notion help to keep all important decisions documented and transparent for the whole team.
Product managers sit at the critical intersection of business, design, and technology — they are responsible for defining the product vision, formulating the strategy, and rallying teams to bring that vision to life. Given our current hybrid and remote realities, it is critical for product managers to take advantage of tools that can help them bring together diverse perspectives, align priorities, and resolve interdependencies in a collaborative way.