As Abraham Lincoln once said, "Give me six hours to chop down a tree and I will spend the first four sharpening the axe."
Whether you're a lumberjack or not, there's a powerful truth to Lincoln's wise words. And that's the importance of planning.
Coming up with a solid strategic plan is a crucial aspect of any business. How can you expect to achieve your objectives if you don't know what you're aiming for? And how can you efficiently reach your goals without deciding on the appropriate method first?
You need a plan. More specifically, you need a strategic plan.
Sharpen your axes and get comfortable because we're going to give you a step-by-step guide on how to write a strategic plan like a total boss.
What is a strategic plan?
A strategic plan is a document that lays out how an organization plans to realize its long-term ambitions. Think of it as your roadmap. It establishes the direction a company is going to take by considering its goals and objectives. But it also includes the specific actions you are going to take to achieve your goal.
A strategic plan should essentially answer three questions:
Where are we now?
Where do we want to go?
How will we get there?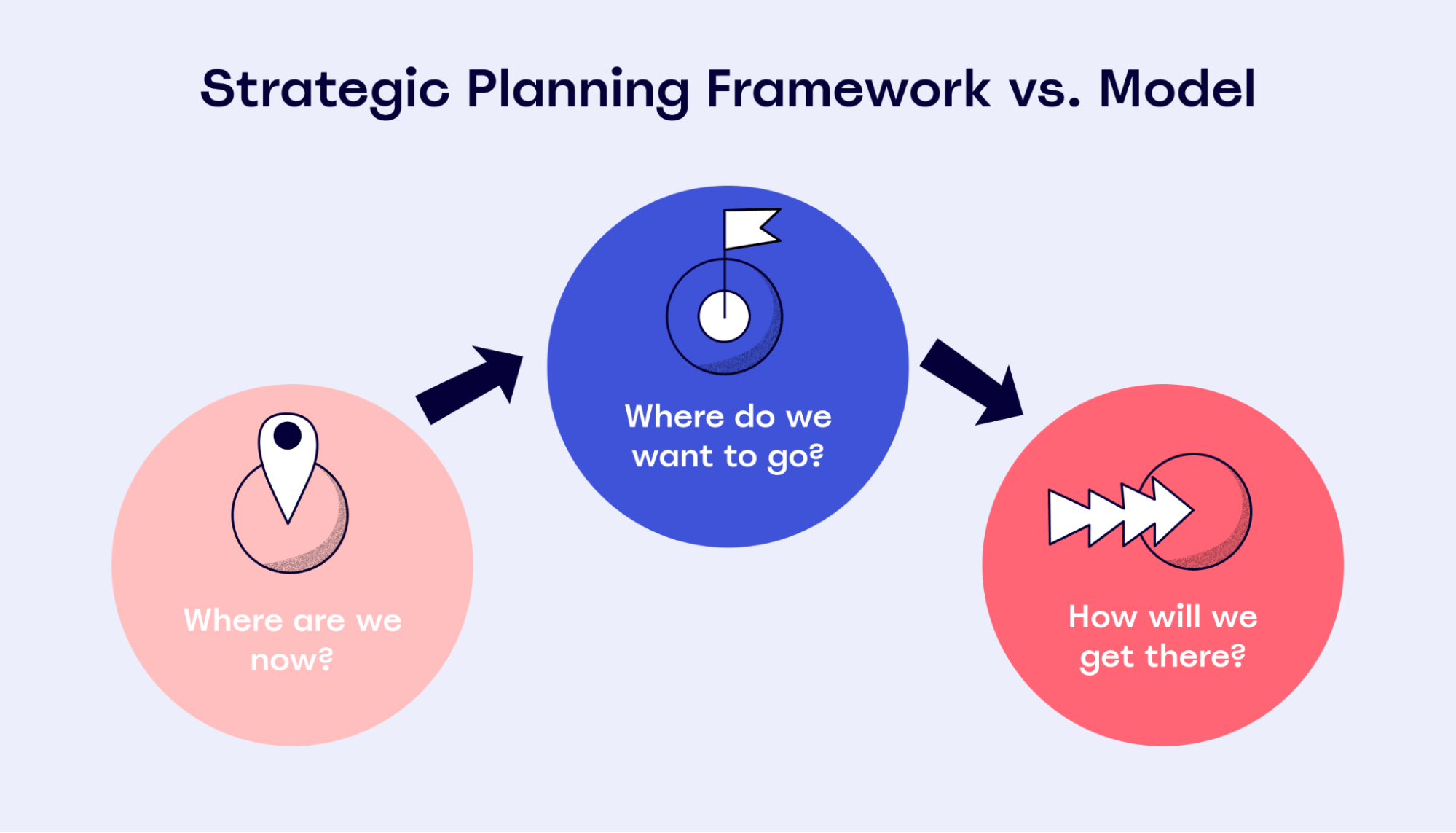 There are a lot of terms around strategic plans that sound similar. But it's important for your team to understand what each of them means and how they are different. Let's clarify some common terms:
Strategic plan is your roadmap document.
Strategic planning is the process of developing your strategic plan.
Strategic planning meeting is the session or event during which strategic planning takes place.
Strategic planning frameworks are the tools and methodologies to help your team develop different elements of your strategic plan.
Strategic planning model is the overarching approach for how you are going to structure your strategic ideas. You should decide on which model you are going to use before you begin the strategic planning process.
Why is a strategic plan important?
Now you know what a strategic plan is. But why do you need one? Here are just some of the reasons developing a strategic plan is so important to your organization
Helps you come up with goals that direct your actions
How can you expect to get anywhere if you don't know where you're going? A key aspect of the strategic planning process is establishing goals and objectives. These goals will help build momentum within your team and keep them focused on the overarching goal of the business.
Keeps you on track toward achieving your goals
A well-written strategic business plan gives your organization direction. As well as what you want to achieve, strategic plans require you to get specific about how you are going to achieve your goals. Having this plan of action in one consolidated document helps your team stay on track and achieve their goals faster and with more efficiency.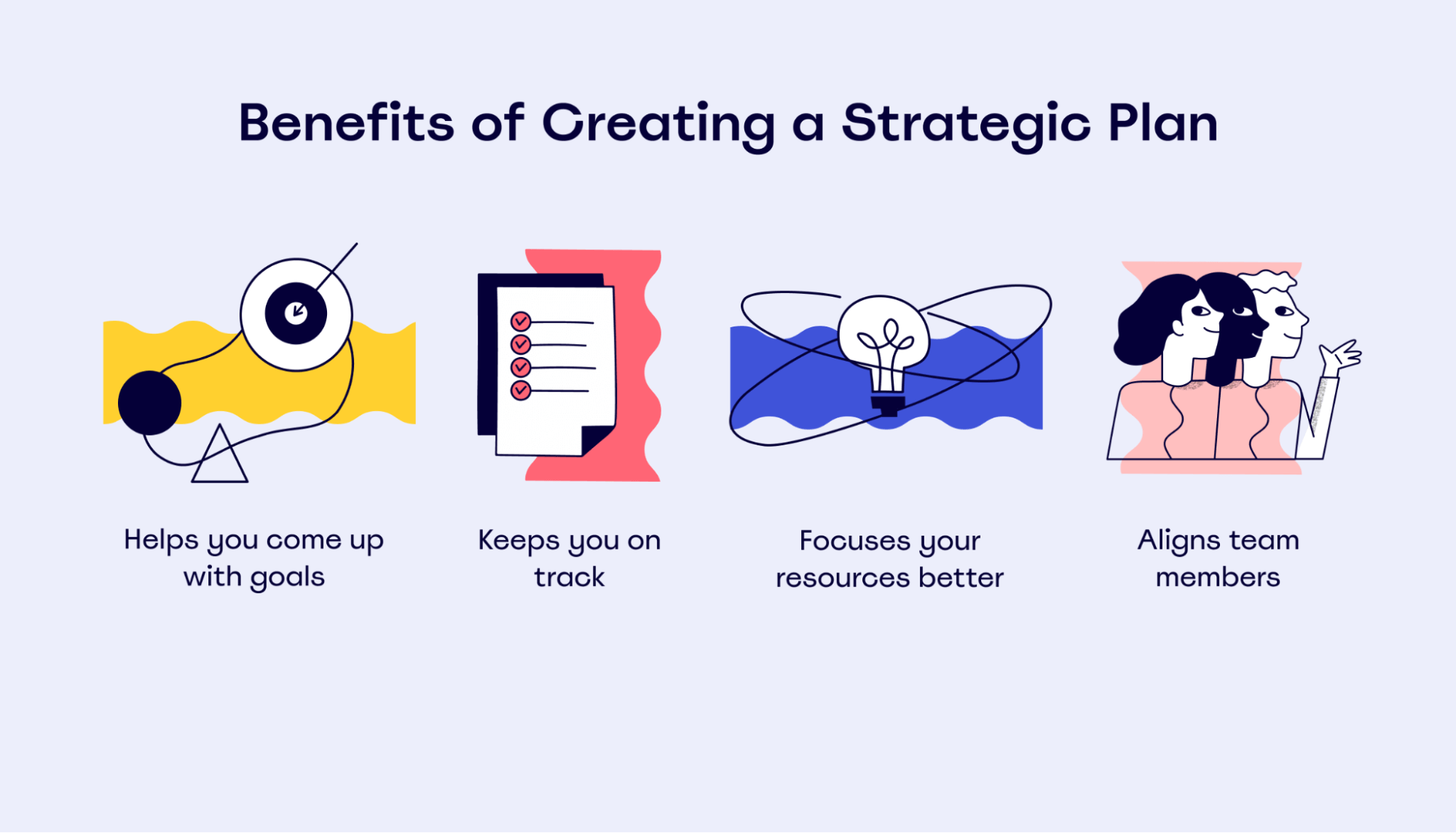 Focus your resources better
Taking the time to write a well-thought-out strategic plan means carefully considering what actions are going to best serve your company. This prevents wasting time, money, and effort on projects that are not going to take your business to where it wants to go.
The clarity that comes from a strategic plan sets you up for successful resource allocation, which is essential for growing your business.
Aligns team members
A robust strategic plan becomes a source of truth for your team. It keeps all team members on the same page regarding the company's mission and strategy. When confused about why they are doing something or how they fit into the bigger picture, they can refer to the team's strategic plan.
As well as team members, a strategic plan keeps stakeholders in the know. They should be involved in the development of the strategic plan so that the goals and strategies are aligned with their expectations.
What is included in a strategic plan?
These are the key elements that make up a strategic plan.
Vision statement
The vision statement gives a clear picture of what your organization wants to achieve in the long run. It is an aspirational statement that describes the ideal future state of your business.
Many great vision statements use emotional language to paint a picture of what impact the group hopes to make on the world. For example, IKEA's vision statement is "To create a better everyday life for the many people."
Mission statement
While a vision statement looks toward the future, a mission statement considers the present. It should describe the core purpose of the company and why it exists. Your mission statement should provide context for all other goals and actions.
IKEA's mission statement is "to offer a wide range of well-designed, functional home furnishing products at prices so low that as many people as possible will be able to afford them."
Objectives
Your objectives are what you plan to achieve. They are the specific results that your organization wants to accomplish within a certain time frame. Strategic objectives aim to bridge the gap between your overall vision and the goals needed to achieve it.
Strategic objectives can be financial, growth-related, or customer-related. An example of a strategic objective is "Enter three new foreign markets in the next five years."
Strategy
This section of your strategic plan is where you turn the focus from your vision to execution. Your strategy is the blueprint for how to achieve your goals and objectives.
If your objective is to "Enter three new foreign markets in the next five years," you need to develop a strategy for how you are going to do this. Which markets are you going to target? What products or services are you going to introduce? What are the current market trends? Asking and answering these questions will help you design a specific market entry strategy.
This is where strategic planning frameworks become so useful. For example, the Ansoff Matrix helps you evaluate opportunities for growth. Also known as the product-market expansion grid, the Ansoff Matrix helps you review the potential risks and opportunities of each growth plan option.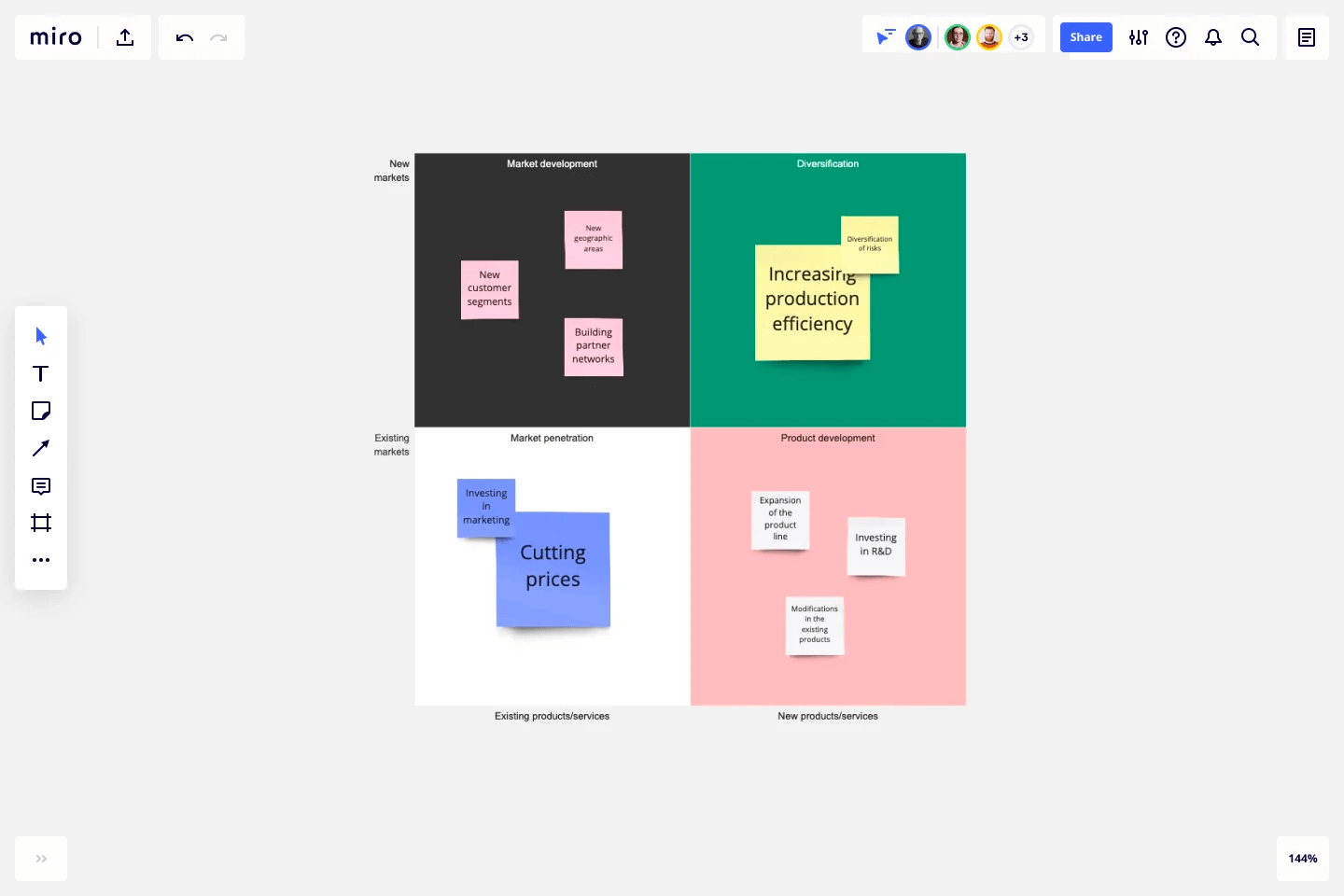 By using frameworks like the Ansoff Matrix, you can analyze each strategic option. All the data gathered and your team's insights on this data will help determine your strategic approach.
Metrics
After writing a strategic plan and implementing it, you need to track its progress. Metrics are a way for you to measure the success of your actions. If you find that your strategic plan isn't giving you the results you expected, you can make changes to your strategic approach.
Metrics can be milestones, such as launching a product or completing a certain project. Or your metrics can be quantifiable performance measures, like KPIs.
How to write a strategic plan
Now that you know what a strategic plan should include, here's a step-by-step guide on how to write a strategic plan for your business.
1. Hold a strategic planning meeting
No man is an island, especially in the realm of strategic planning. You want to get your entire team involved in the strategic planning process. To ensure everyone is part of the process, you need to hold a strategic planning meeting. This meeting is about collaboration and openly sharing ideas around your strategic plan.
Start by making an invite list and sending out calendar invites to the people you want to attend the session. This should include people from different departments, executives, and stakeholders.
2. Use a template
To save you time and hassle, use a customizable Strategic Planning Template. Businesses have been writing strategic plans for years and years, so there's no need to reinvent the wheel. Using a template will also help ensure that you don't miss out on any important aspects of the strategic planning process.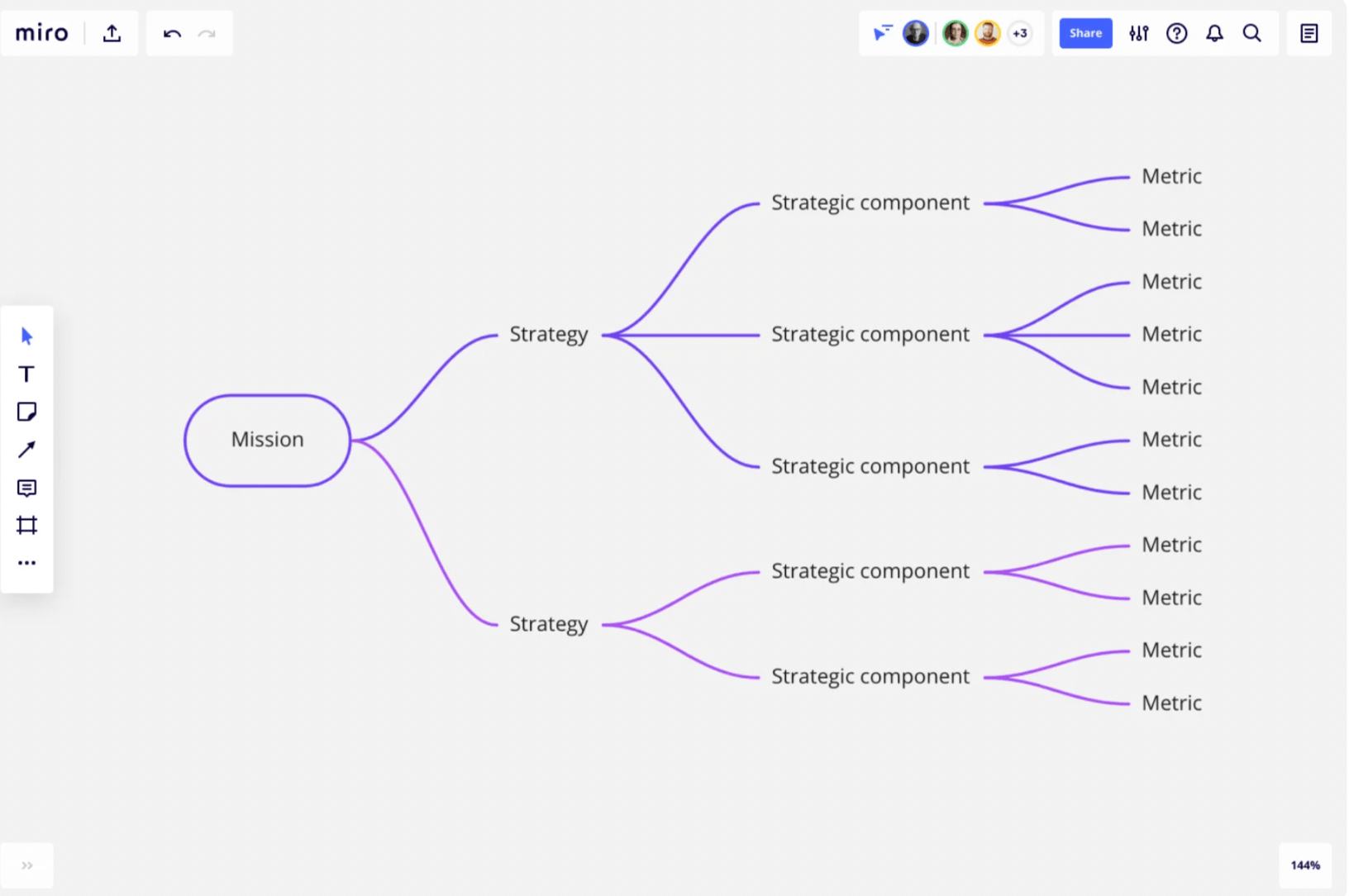 3. Determine your position
Before you look towards the future about where you want to be, you need to understand where you currently stand. This means looking internally at who you are as a company and conducting market and competitor analysis to fully understand your external environment.
A popular method for taking stock of your company's current position is a SWOT analysis. This framework helps you map out the strengths, weaknesses, opportunities, and threats of your business.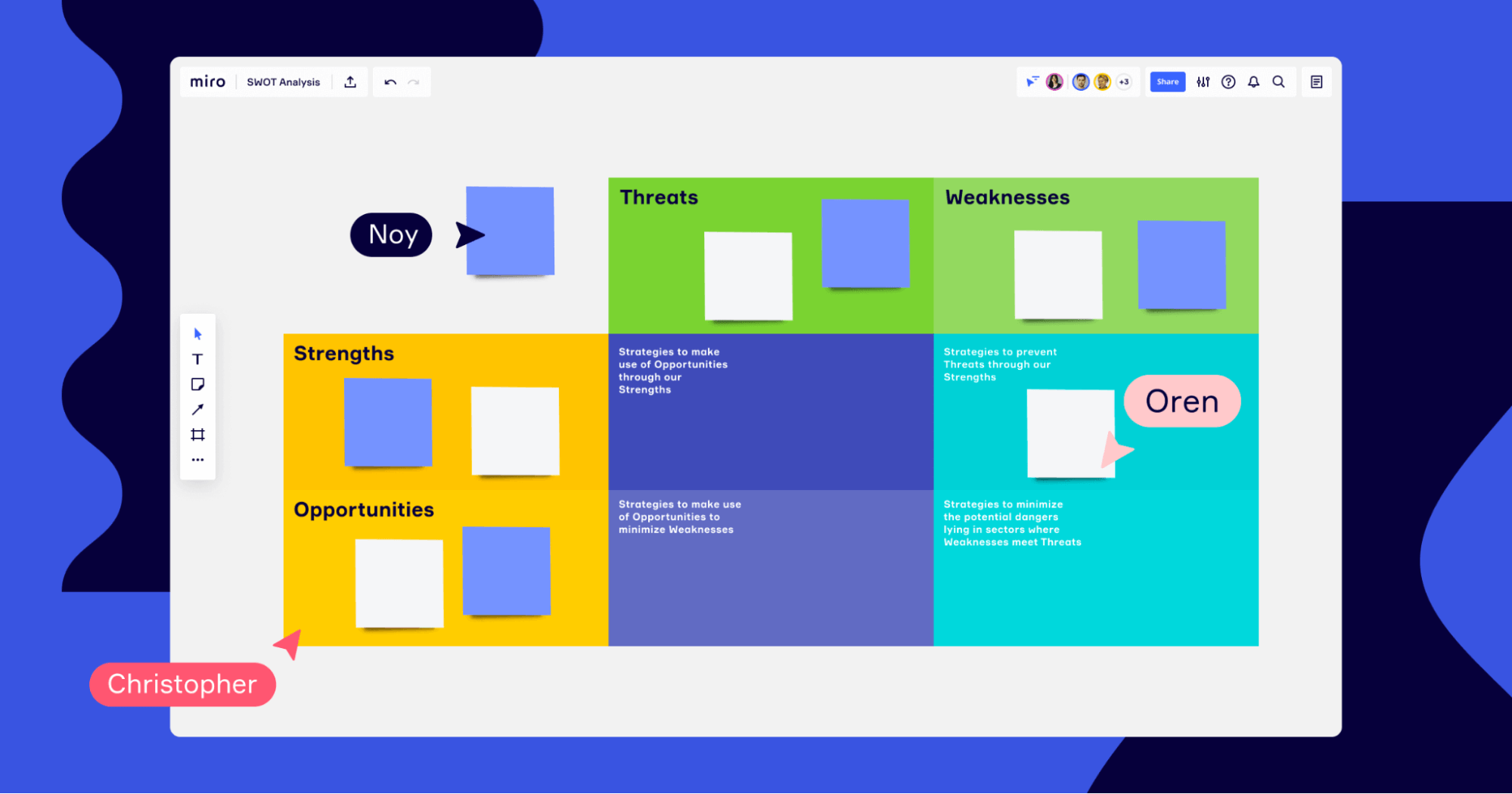 4. Decide where you want to go
Now it's time to look toward the future and decide on what you are aiming for. This is where you articulate what you want to achieve. Some examples of thought-provoking questions to ask your team include:
What do we want to accomplish?
Where do we want to be?
How many products would we sell?
How many countries will we be based in?
Who would our customers be?
This part of writing a strategic plan is where you develop the strategic objectives, goals, and action items. We're big fans of setting OKRs: Objectives and their related Key Results. This OKR Template will ensure your business goals are structured and clearly defined.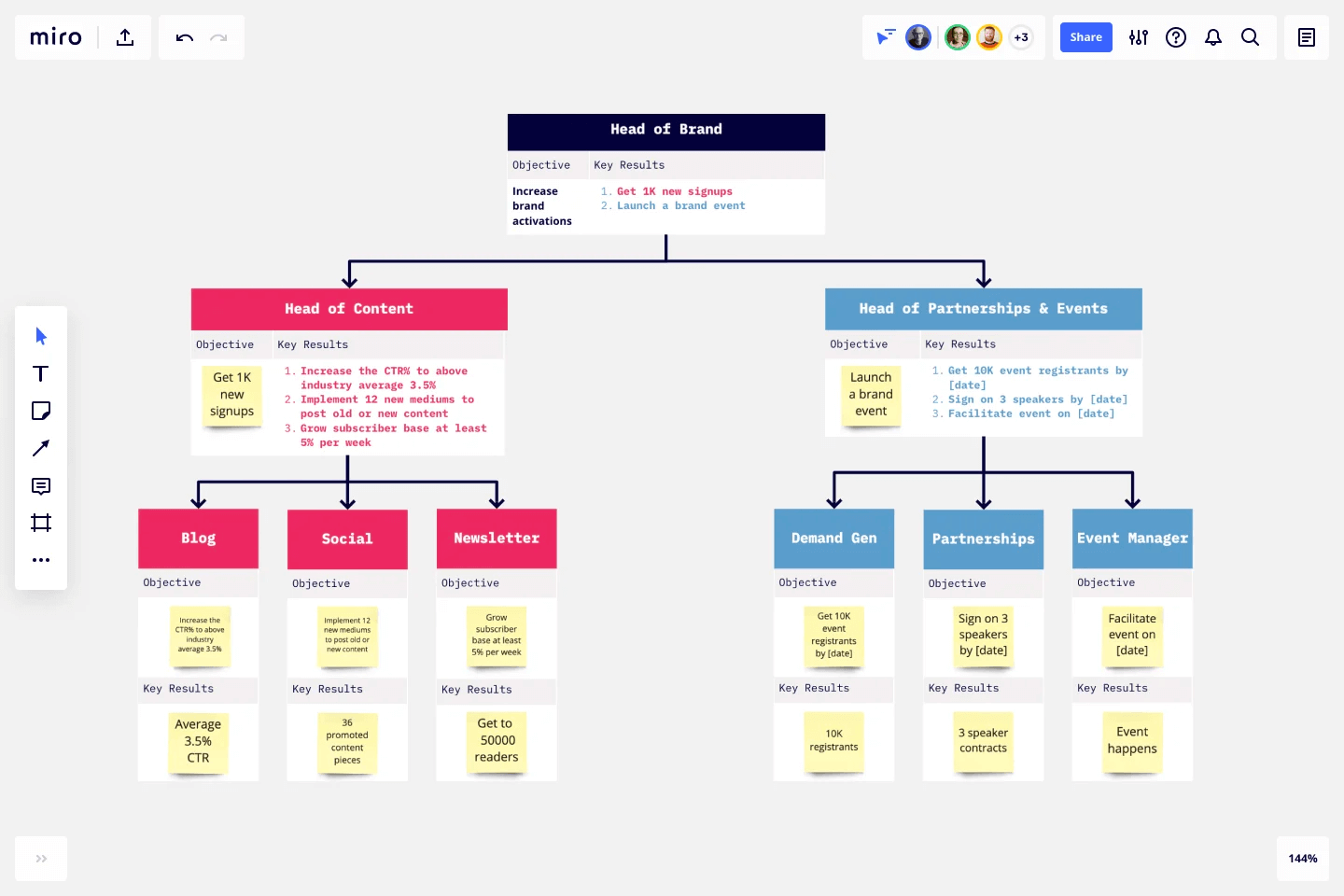 5. Decide how you are going to get there
Now that you know where you're going, you need to decide how to get there. This phase involves deciding how you're going to make your goals a reality. And that means coming up with an action plan.
An action plan is a detailed set of lists outlining the steps you are going to take to complete your objectives. Our Action Plan Template promotes clarity and transparency around assigned tasks. As a team, you need to decide who needs to do what and by when. Everyone should be aware of their role in executing the overall strategic plan.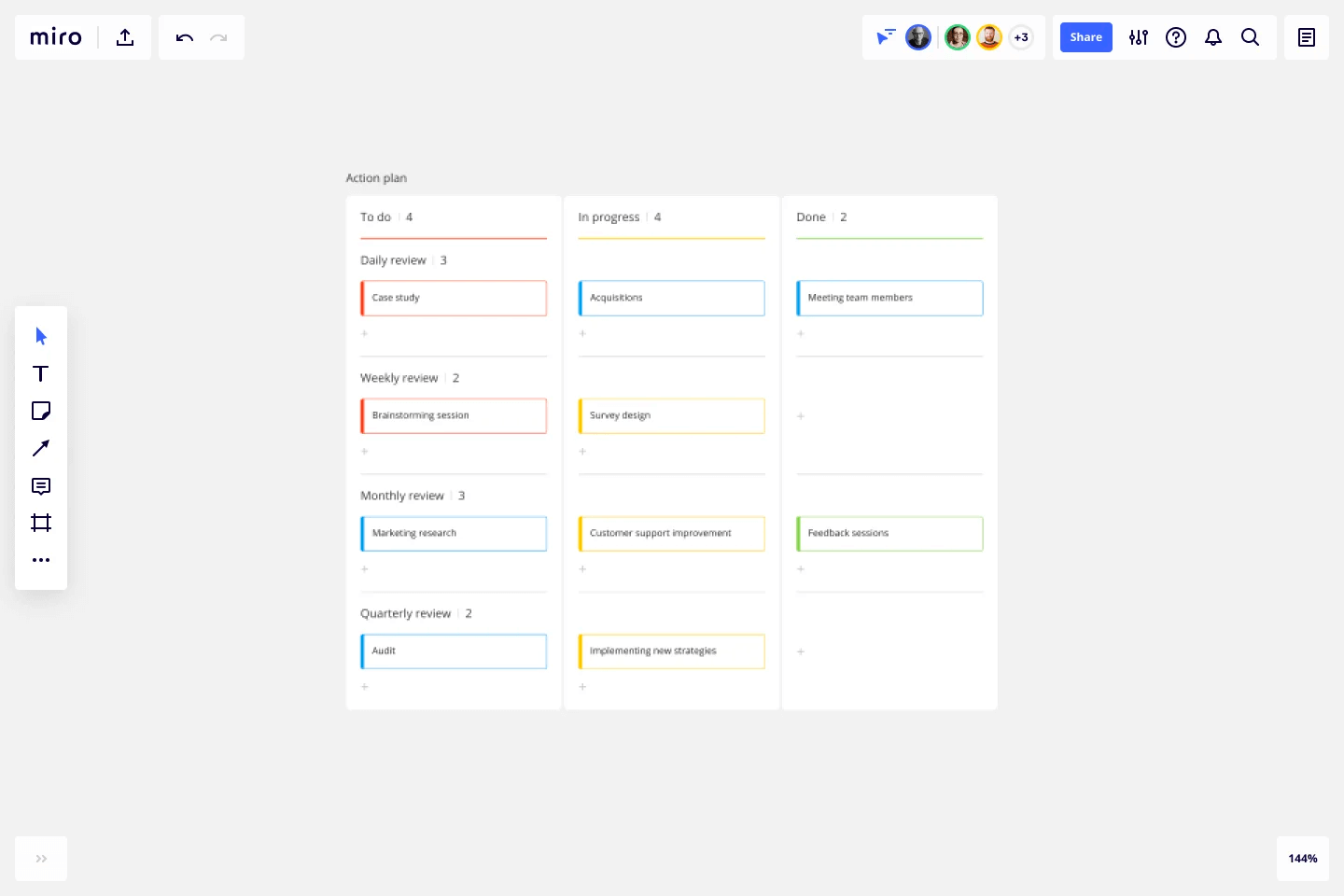 Tips for writing a strategic plan
Keep these tips in mind when writing your strategic plan to make the process more efficient.
Use the right tools
Developing a strategic plan has a lot of moving parts. From running a strategic planning session to capturing your team's ideas, there's a lot to stay on top of. But an online collaborative tool like Miro can make the process a whole lot easier.
With Miro, you collaborate with your team from anywhere, at any time. Not to mention safely store all your mindmaps, boards, and diagrams in one consolidated place. To get a real sense of what's possible, have a look at our list of features.
Be SMART with your goals
Whenever you create goals or objectives, ensure that they are SMART. This means they should be specific, measurable, attainable, relevant, and time-bound. It's no use coming up with a long list of impressive goals that aren't realistic or focused.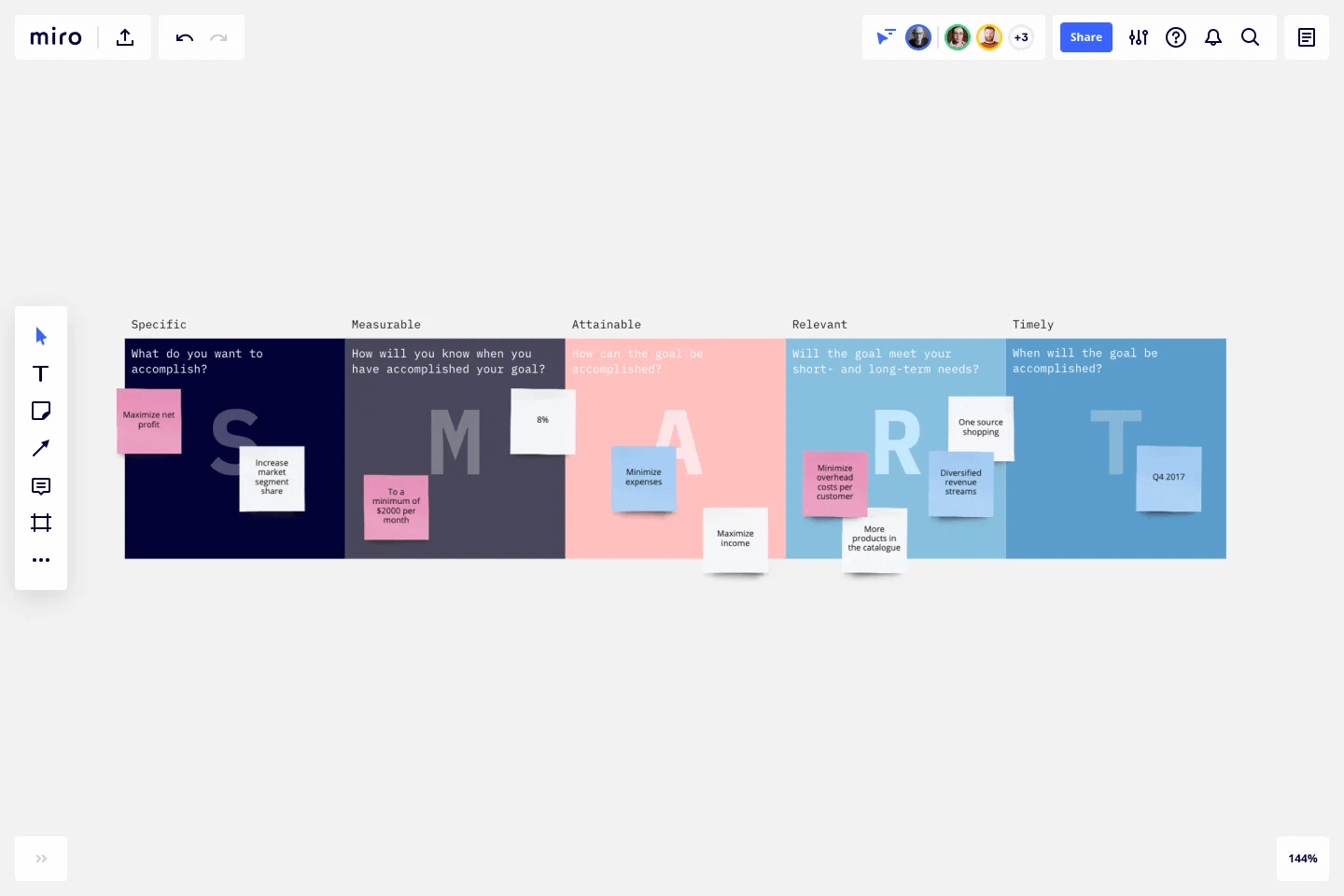 Don't be afraid to change your plan
Strategic plans aren't set in stone. They should be used more as a guideline that is adjusted as needed. Your company will no doubt face new challenges or identify new opportunities as time goes on. So it's important to revisit your strategic plan and make necessary adjustments based on changes in your organization's environment and situation.
Strategic plans are usually developed for the next two to five-year period. Some companies reconsider their strategic plan every year, while others hold strategic planning sessions every quarter.
It's up to you and your team how often you revisit your strategic plan, but the key takeaway is that you should be open to changing your plan.
Get starting writing your strategic plan
We're not going to lie to you — creating a strategic plan isn't the easiest process to execute. From capturing your company's vision to measuring your strategy's success, there's a lot to do. But that shouldn't deter you.
Knowing how to write a strategic plan is a valuable skill to have, no matter what industry you're in. And tools like Miro are there to make the process a whole lot easier and more efficient.