We have a lot of exciting features and improvements to share that will elevate your collaboration and innovation experience. This includes Talktrack, a dedicated async solution that empowers Miro users to record high-touch, immersive walkthroughs for their collaborators. There's also Anonymous Mode, which gives Miro users total anonymity so their feedback stays anonymous — forever.
Plus, we've released a bunch of improvements to our product development workflows, diagramming and process mapping, apps and integrations, and Miro AI. Keep reading to find out everything that's new in Miro.
1. Product development workflows for faster time-to-market
This month, we focused on the planning part of the product development process. Planning is so crucial, but it can become an unenjoyable aspect of Product Development work because it can create a lot of unnecessary "process noise" without truly empowering teams. That's why we've launched this new update:
Increased flexibility during your planning sessions
Now, product development teams can plan their estimated capacity against their team load directly on a Miro board by including story points in the Planner app. With added flexibility when organizing your roadmap — for instance, by visualizing tasks by OKR or by using swimlanes — anyone on the team can quickly view the vision for the overall project and how their work fits into the bigger picture.
---
2. Workshops & async collaboration for enhanced productivity
As an online workspace for innovation, we are always working on creating the best experience for teams to be able to work synchronously and asynchronously. This month, we've made updates to our workshop experience, as well as tools you can use to connect with your team outside of meetings. Check out the latest below!
Interactive, immersive Talktrack walkthroughs are now available
With Talktrack, you can quickly record audio/video walkthroughs of your boards, and the magic happens when you share them. Talktracks are embedded directly into the board, allowing viewers to follow your journey as if you were collaborating in real-time. Say goodbye to static explanations and text comments — Talktrack makes collaboration on the board more dynamic, immersive, and efficient.

Experience a safe space with total anonymity
As an extension of Private Mode, Anonymous Mode offers teams a safe space to share completely anonymous input and feedback — which stays anonymous forever. Run your next retrospective or feedback session using Miro's improved Private Mode and encourage more honest insights. Available to all paid plan users.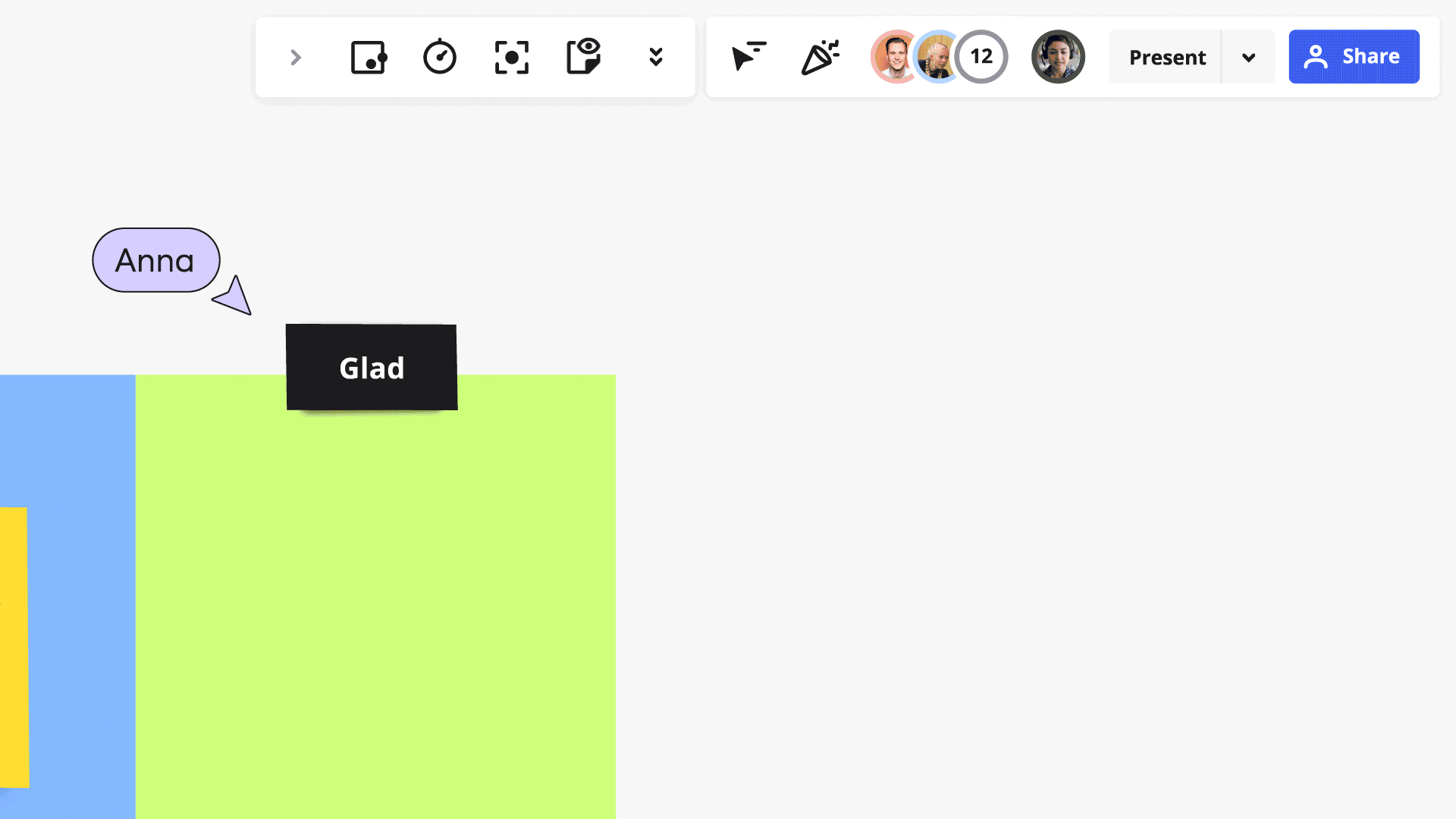 ---
3. Diagramming & process mapping made easy
This month, we're launching multiple updates to our diagramming and process mapping features. These new additions are sure to make Miro diagramming a more useful and fun process! Check out these fresh updates.
Line jumps
Create professional-looking diagrams with line jumps, making it easy to navigate complex diagrams with ease. You can apply jumps to individual lines or the entire diagram.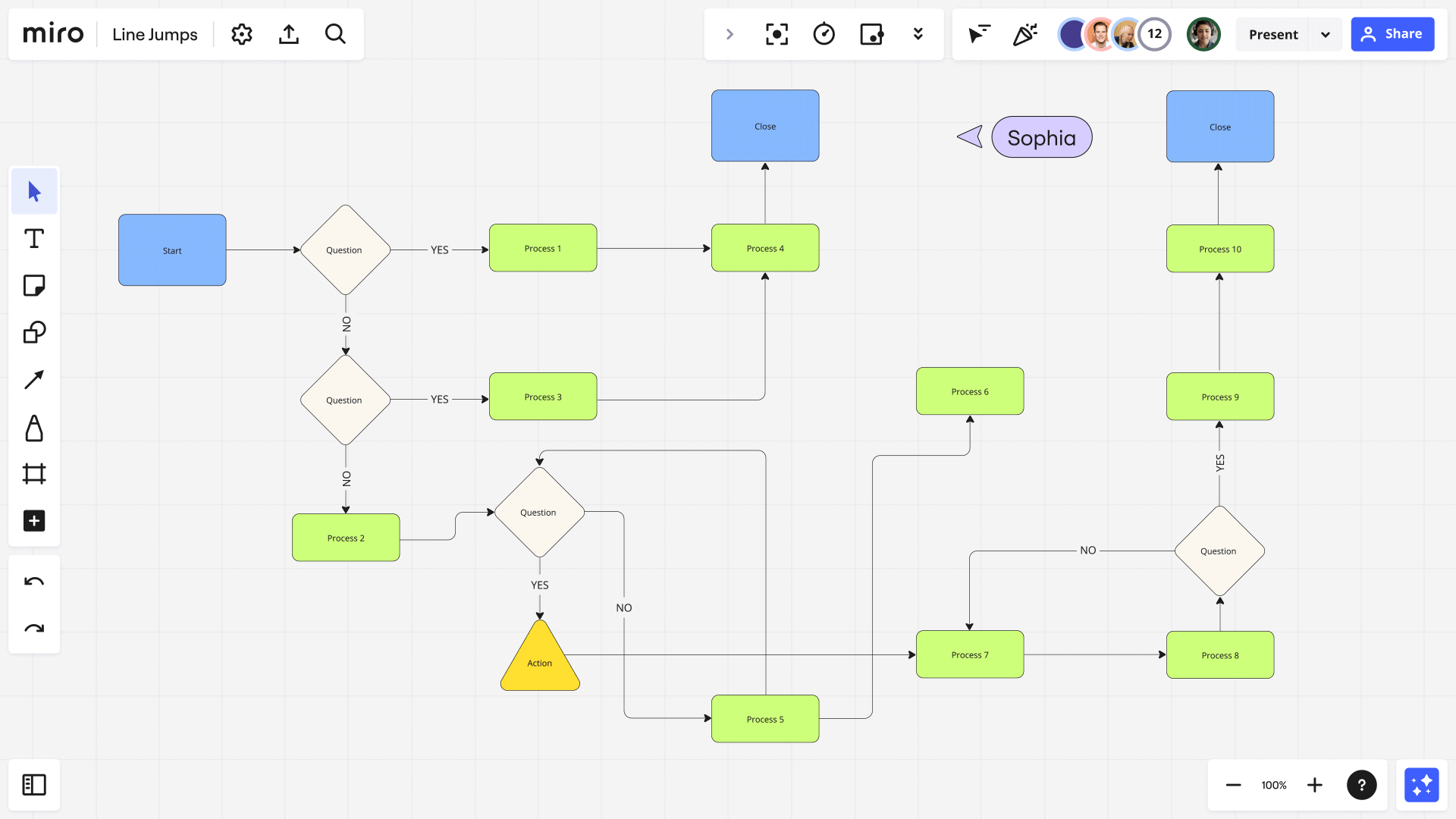 Mermaid & PlantUML app updates
Newly created diagrams are now editable, while full-screen mode means more editing real estate. Both updated apps also support new diagram types, including the C4 model for software architecture.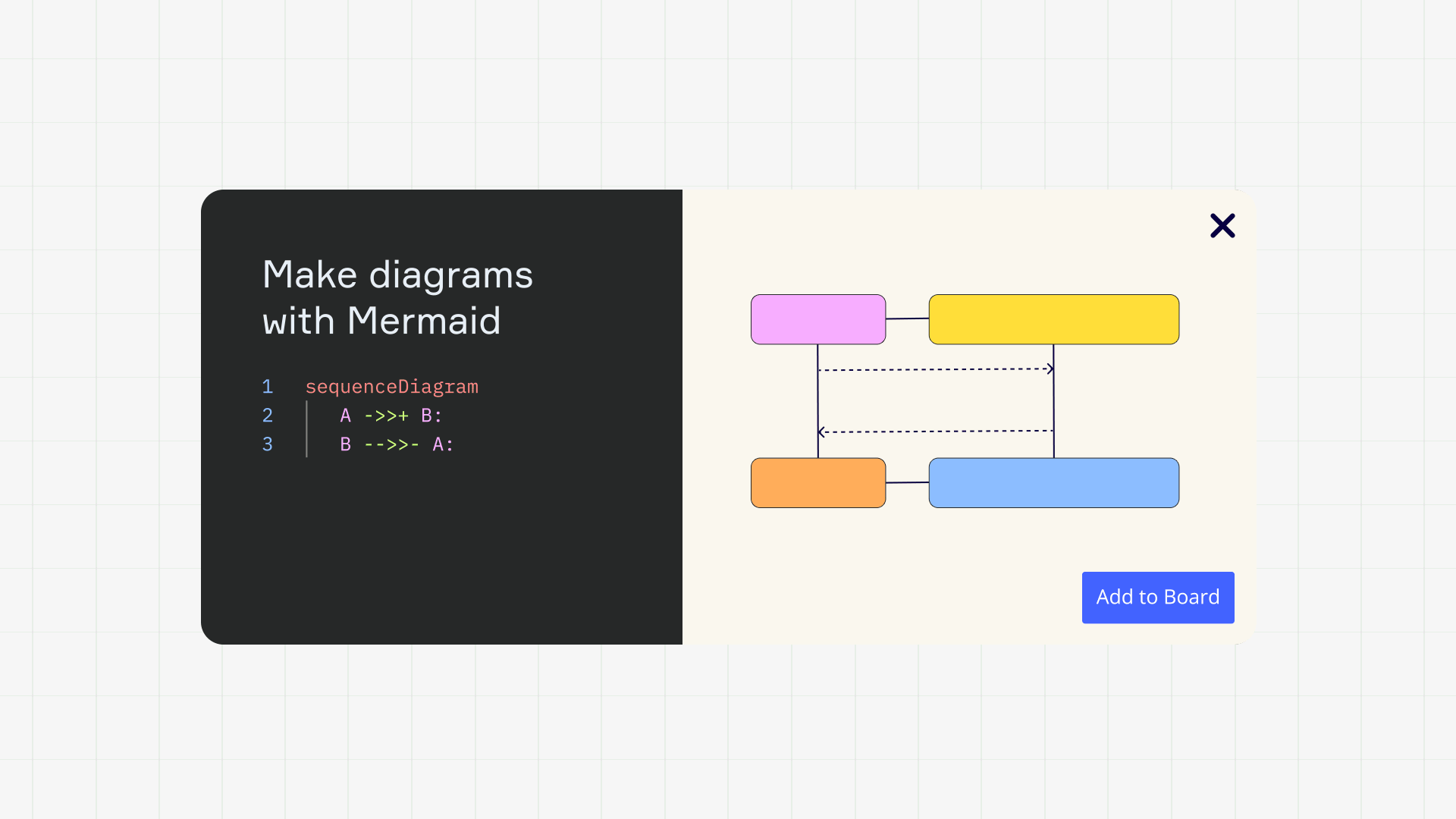 Customized nodes
Make eye-catching mind maps with four-node styles: pill, rectangle, rounded, and none (no border). Users can apply colors to individual nodes and lines, and create new nodes that inherit the style of parent nodes.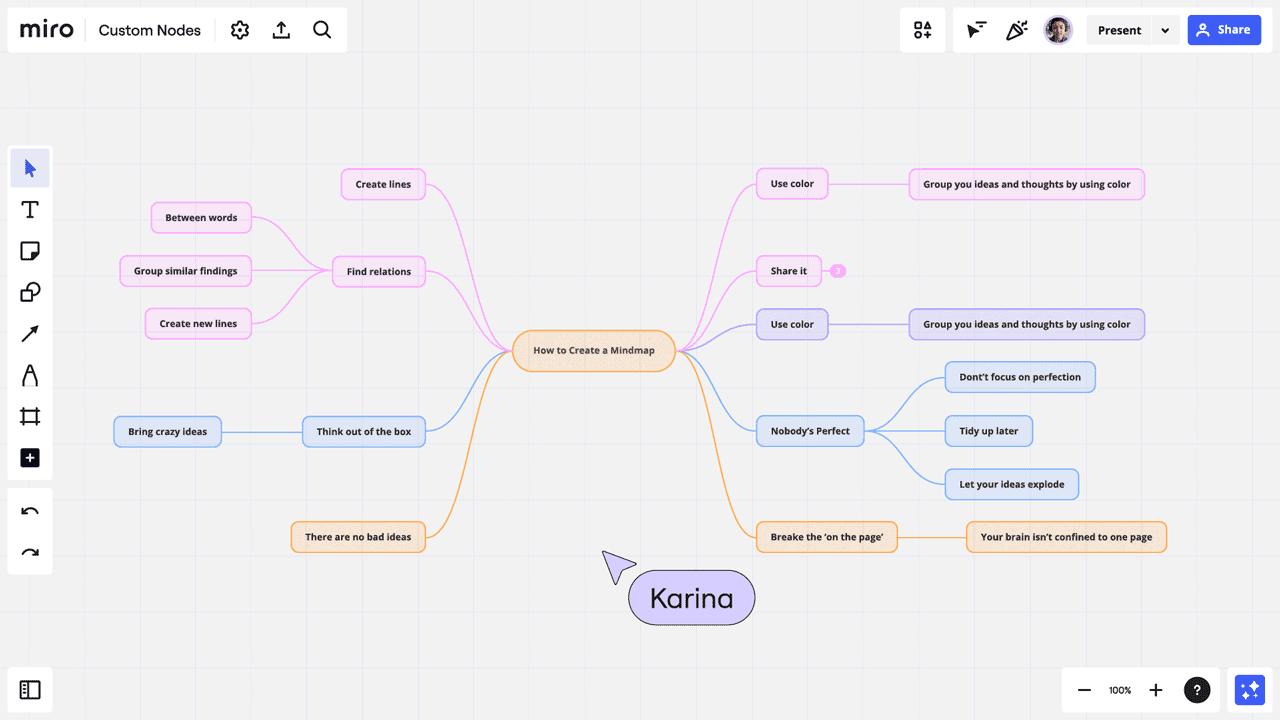 Cloud architecture shape pack updates
You can now design cloud architecture diagrams using the latest AWS, Google Cloud, and Microsoft Azure shape packs.
Salesforce architecture shape pack
Better align your teams and partners around standardized design principles and consistent implementation standards by using the latest Salesforce architecture shape pack.
---
4. Artificial intelligence that unlocks creativity
At Miro, we've embraced AI as a way to help users with their everyday heavy-lifting tasks, giving them time to focus on strategic thinking, innovation, and delivering breakthrough work. Here's the latest update…
Generate realistic images from ideas with Miro AI
Miro AI has improved its image generation capabilities, including image composition, face generation, and text-to-image so that you can generate more realistic images. Try it out during a team icebreaker or to make your workshops more engaging.
---
5. Apps & integrations to unite your work
Miro connects with over 130+ apps to align your team in one scalable, secure workspace. You can browse all our apps and integrations in the Miro Marketplace. Here's what's fresh and new this month…
A smoother Miro + Google Meet experience
Now you can have a smoother experience while collaborating on Miro in Google Meet conversations: Share Miro boards more easily in Google Meet, quickly find the Miro app which is now pinned to the Meet Activities tab, and enjoy a unified app experience by installing Google Meet + Calendar + Drive integrations from one place.
Do more with Live Embed and bring Miro anywhere
Miro Live Embed makes it easy to insert a live, collaborative Miro board into apps, websites, and other tools. And with recent updates, now you can select your mind maps, diagrams, and other Miro content. Discover all the Miro Live Embed integrations.
---
6. A Miroverse community highlighting the best of the best
Miroverse is our Community Templates Gallery showcasing the very best boards of the Miro community, as well as their creators. This month, we've launched a new way for creators to showcase their templates and how to use them!
Record a Talktrack for your Miroverse template
Every day we introduce new templates and faces to Miroverse. Let your template users enjoy a firsthand immersive learning experience on how to make the most of your template by hearing from the creator — you!
Watch a Talktrack in action:
It's simple enough, and anyone can submit a template to Miroverse with a Talktrack. By adding a Talktrack, you bring emotion, subtext, and nuance to your template — making it a more enriching resource. But that's not all! If you create a Talktrack before November 1, you can join the Talktrack Challenge for a chance to win prizes from Apple and Amazon.
---
7. Cross-device compatibility for a seamless experience
Having an easy and smooth Miro experience across all devices is a priority for us, and we're thrilled to tell you about the latest update for September.
Sticky note tags & emojis for mobile app users
Our iOS and Android users can do two new things in their Miro app—utilize tags and emojis. Categorize sticky note ideas by using personalized colored labels, or express reactions to sticky notes by using emojis.
---
8. Accessibility updates for more inclusive collaboration
The Accessibility Team has had another busy month working towards the goal of making Miro a more accessible and inclusive experience for everyone. We're beyond excited to announce the following updates.
Language support for visitors
French-, German-, Japanese-, and Spanish-speaking users can now confidently invite their collaborators to join their public boards. Now, users without Miro accounts (or who aren't logged in) can select their language preferences from the Board Settings.
Improved suggestions for mentions
Previous collaborators are often the same people you'll collaborate with in the future. We know how important it is to make your past mentions more accessible, which is why previous collaborators will now be front and center, ready for future collaboration. No more struggling to find people you often collaborate with.
That's a wrap! If you'd rather hear directly from our product marketing team about these features and others, check out the on-demand recording from our What's New webinar earlier this month, as well as the behind-the-scenes Talktrack.