We're halfway through the year and have a bunch of exciting updates to share, including a few that we hope will make your collaboration experience more seamless across tools and devices. This includes several new integrations, the new Miro Interactive display app, and a host of new features focusing on enterprise readiness.
Read on to find out about all the ways you and your team bridge the gap between tools and collaborate more effectively.
Diagramming & process mapping made easy
Edit Mermaid and PlantUML diagrams directly in Miro
You asked, and we listened! We've just added the most requested feature to the Mermaid and PlantUML apps: editing! Simply select the diagram and click the Mermaid or PlantUML icon to open the editor. In addition, both apps now support new diagram types including the C4 model, and all output generates a vector graphic — so there's no loss of quality when zooming in. Visit the Miro Marketplace to install Mermaid and PlantUML today.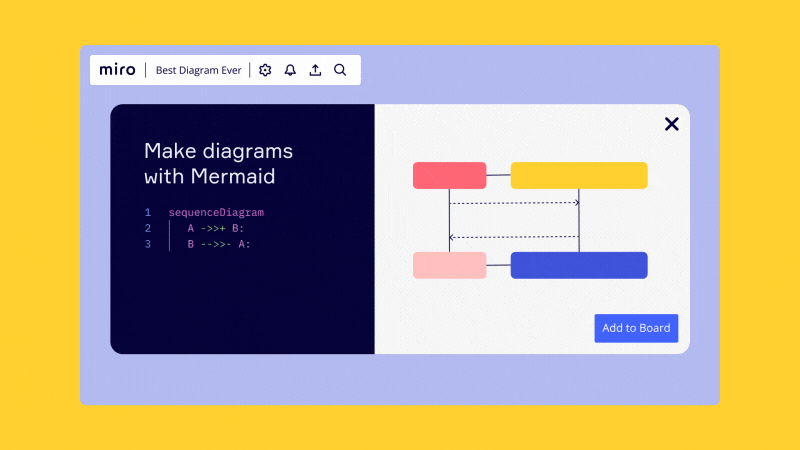 ---
Apps & integrations to unite your work
---
Connect 12 more of your favorite tools with Miro
Gone are the days of dozens of browser tabs. With our latest partner integrations, you can bring together data, documents, and other content all within your Miro board:
---
Ready-made templates for faster collaboration
---
Streamline creativity with 30+ building block templates
Discover dozens of building block templates designed to provide quick and easy access to sticky note packs, mind maps, and tables directly from your favorite tools. With a convenient side panel, you can browse templates without leaving your work, so you can stay in your creative flow.
---
Lead effective workshops with 9 new workshop templates
In the past month, we've added over 100 new templates to the Miroverse, including nine workshop templates by NanoGiants for product development and user-centered design. These templates provide structured frameworks, activities, and resources to help product teams and designers facilitate collaborative sessions and make informed product development decisions.
---
Cross-device compatibility for a seamless experience
---
Enjoy a more intuitive interactive display experience
Now, with just a tap of your finger or stylus, you can start a board instantly, save it for later, and enjoy a frictionless drawing experience. Try the Miro app on a range of operating systems and devices, including interactive displays from Neat, Dell, Vibe, and DTEN.
Enterprise-ready capabilities for any organization
---
Save time with the automatic deletion of audit logs
If you're an enterprise organization with hundreds or thousands of users, it's important to manage both time and space efficiently. Now, enterprise admins can manage the content lifecycle of their audit logs by indicating a set period of time after which they'll be deleted.
Find the Trash menu more easily
We've improved the user interface so the trash menu is now much easier to find, sitting alongside Recent and Starred in the left navigation pane. Learn more in our Help Center articles about How to delete a board and How to restore a deleted board.
---
Accessibility updates for more inclusive collaboration
---
Use just your keyboard to navigate Miro
Miro is one step closer to being fully accessible to all users! You can now use the keyboard to navigate through board content in three different ways: one after another in natural reading order; following a given direction (left, right, up, or down) in the 2D space; and entering or exiting container objects such as frames, cardboards, or selection groups.
Give your boards a makeover
You can now choose from nine new board background colors. If you're in the mood for something mellow, you'll probably like dark gray or black, where productivity thrives amidst a calmer, deeper background. Or, if you'd like to add a little vibrance to your board, you can pick from a kaleidoscope of pastel hues like light blue, violet, purple, pink, yellow, or green.
---
Stay tuned for July
This is just some of what we've been working on to help you build the next big thing. If you have ideas about how we can make Miro even better, add them to the Miro Wish List!
Now that you're caught up on what's new for June, check out a recap of all the releases from the last quarter in our latest What's New webinar, available on demand.