Do you feel like video calls are taking over your life? That's because they are. The average person spends 35% of their week in meetings, and that number is only growing while so many of us are remote. In lieu of being together in the office, a video call seems like the next best thing. But what's the payoff?
Lindsey has worked closely with Product and UX teams for the last seven years on developing and implementing remote collaboration practices in their teams.
Extended video calls are causing pervasive fatigue. Meeting hosts are spending four more hours a week preparing for meeting presentations, the loudest voices dominate the call and turn the rest of us into spectators, and 67% of us feel we aren't left with enough time between meetings to do the work that matters. In other words, the shortfalls of relying solely on video calls are really starting to show.
Miro has always been a solution for distributed and remote collaboration, and today we're announcing new facilitation capabilities to solve these remote meeting pains we hear from teams around the globe. Now you can take back your meeting, restore creativity and energy, and increase collaboration. All you need to say is "let's meet in Miro."
Why Miro for meetings and workshops?
The physical whiteboard has always been the heart of teamwork, and when teams lose the ability to meet around one, collaboration suffers. That's where Miro comes in.
Miro is a collaborative, online whiteboard platform that gives teams an infinite canvas to think and innovate. It addresses the need for teams to ideate and collaborate visually in real time, without the constraint of physical proximity. And now, with a robust collection of features for facilitators and participants, any of Miro's 9 million users around the globe can quickly and easily take their meetings and workshops to the next level.
Miro Interactive Meetings transform boring, static video calls and presentations into engaging, interactive meetings, and tired attendees into energetic participants. Meeting activities like planning, Agile ceremonies, co-creation, training, and team building can become interactive once again and bring you close to real-life experiences.
When Pivotal was acquired by VMware, we were really unsure of how our working culture was going to continue. We were used to many in-person collaboration techniques such as balanced team collaboration, retrospectives, white boarding sessions, and even pairing. Then the pandemic hit. Miro allowed us to continue to work in the collaborative way we are used to, without creativity, alignment, and productivity taking a hit.

Roxanne Mustafa, Design Team Lead, VMWare
Running Interactive Meetings and Workshops in Miro
Let's walk through the key capabilities and best practices for how to run successful remote meetings and workshops in Miro.
Setup and preparation
Prepare yourself and your participants for success and an easy onboarding experience. Think about the exercises you're going to apply: brainstorming ideas, voting for the best choice, clustering inputs, adding visuals for mood board, etc. Use the Template Library, or visit our community gallery, Miroverse, to browse hundreds of pre-built templates for a head start – or build something from scratch yourself.
Some of our most popular templates for remote meetings and workshops include:
Design your session step-by-step with frames
Use frames to build a structure to your Miro boards. Frames act as slides, allowing you to define a space and build a linear order on your infinite canvas. The hide-and-reveal setting for frames enables you to keep content hidden from participants until the right moment to show it. Once you're happy with the content and layout of your board, lock the content that will serve as the backdrop to the board to prevent accidental editing by your participants.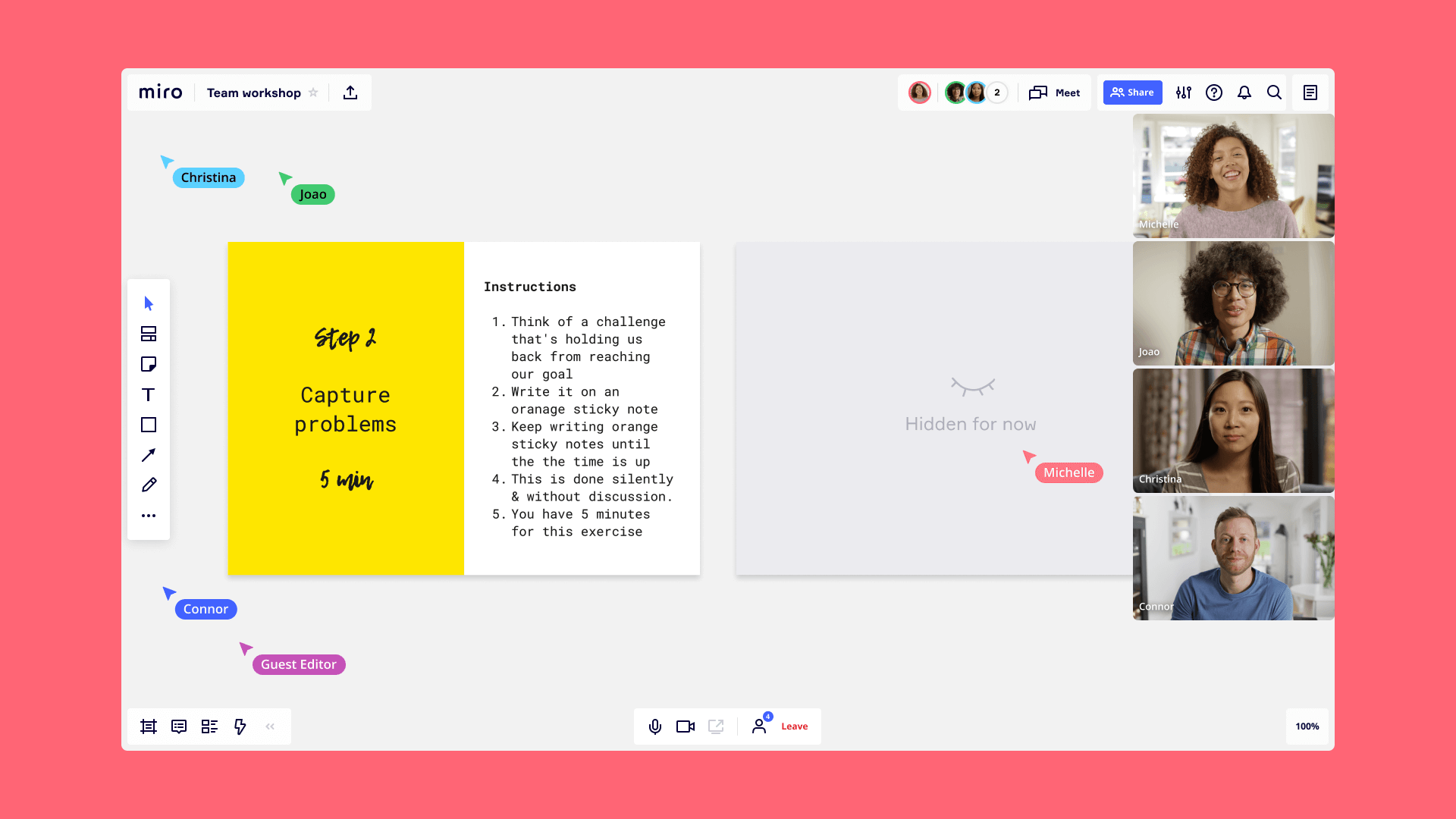 Use Visual Notes for agendas, note-taking & more
Visual Notes is a fully-functional text editor you can use to create meeting notes, project summaries, board annotations, and more, without switching between Miro and note-taking apps. This is a great place to set your agenda and give longer-form instructions.
Pro Tip: You can "pin" your Visual Notes open, so that all participants see it when they join the board, link to items, and add visuals from the board.
Invite collaborators as Guest Editors
For any paid plan, the simplest way to invite collaborators to your board is through anonymous Guest Editors. Simply make your board publicly accessible and share the link! Anyone with the board URL can immediately start editing the board content with you in real time, no sign-in required. There's no limit to the number of Guest Editors, so you can collaborate without constraints.
Pro Tip: Set a password when sharing with external Guest Editors for extra security.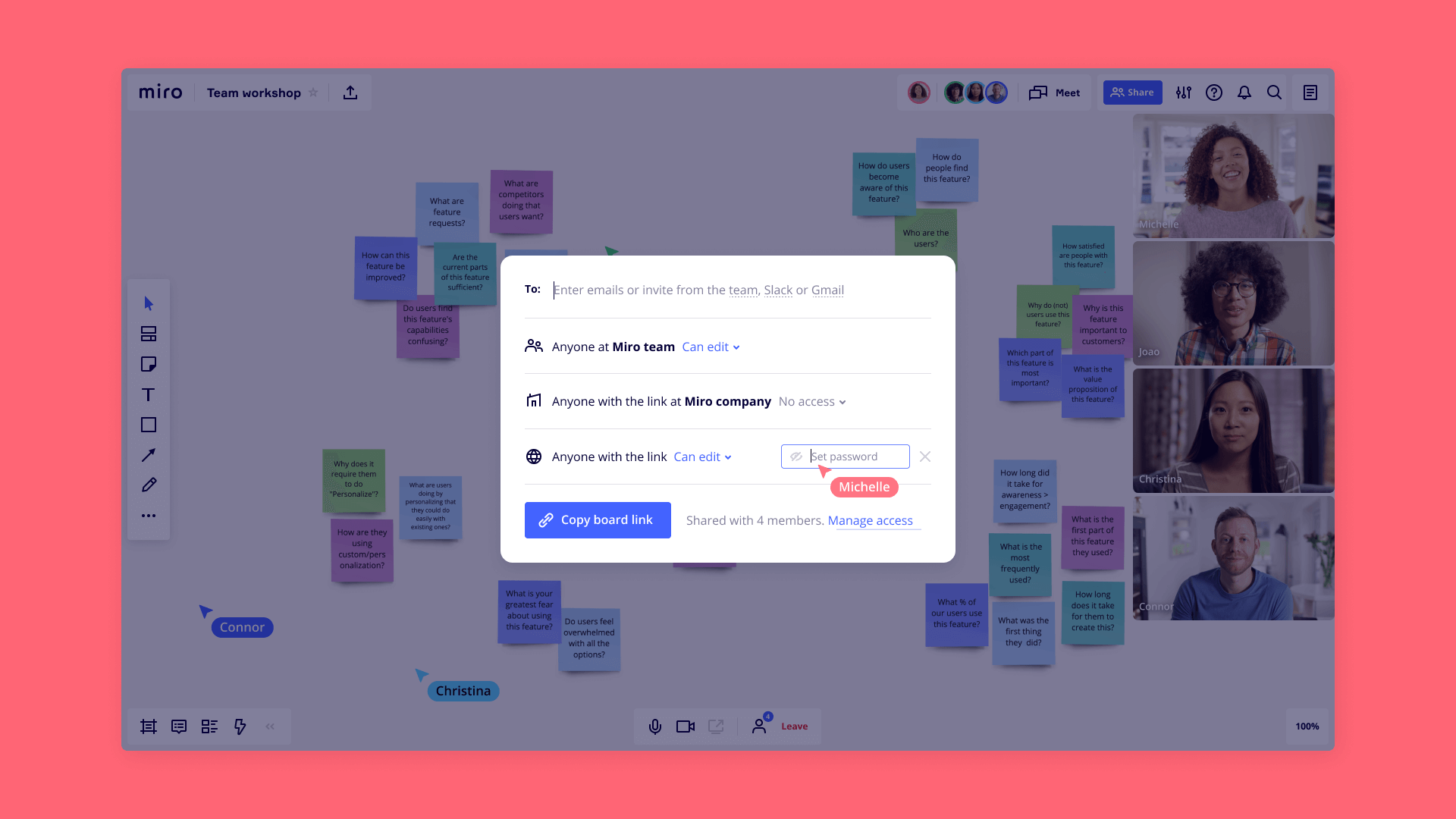 Running your session
Miro provides a suite of tools to help with online collaboration and facilitation. First, let's review Miro's collaboration capabilities that are available on all plans, even Free Plan. Then, we'll talk about the facilitation features that let you take it up a notch on any of our Paid Plans.
Real-time collaboration
Miro is built to emulate the experience of working together side by side in the same room on a whiteboard, but with many added perks. Miro's infinite canvas means that you never run out of space and it's freeform, so you aren't constrained to work in any specific way. The multi-user platform means that everyone can contribute directly, without having to crowd around a physical whiteboard, and no one has to play notetaker and transcribe other people's ideas.
Highlight: Emoji Reactions and Sticky Notes
Make remote collaboration feel more real with digital sticky notes that behave like the real thing. Pin ideas to the board to communicate with more lighthearted, human reactions using emojis.
Remote facilitation
Sometimes you need more than just freeform collaboration, you need to facilitate discussions, manage time, and gather opinions or make decisions as a group. If this is the case for you, Miro's facilitation capabilities available on any paid plan are what you need.
Manage participants' attention on the board
Attention Management enables you to gather all participants on the board and bring them to your location. As you move from activity to activity, it's a great way to keep people from getting lost. When you "Bring everyone to me" participants will continue following you until they click out of the "following" mode.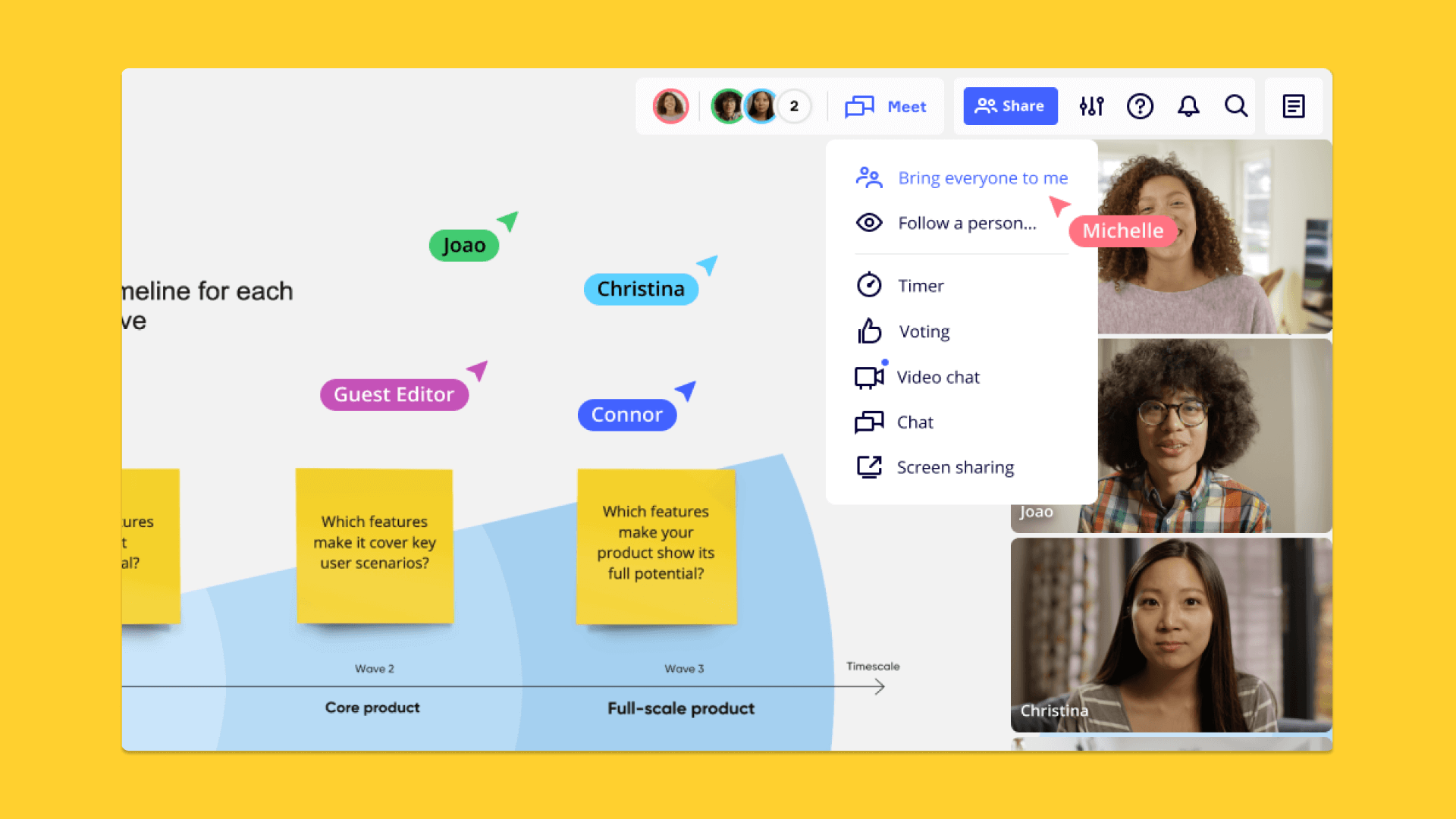 Video chat, timebox and vote on ideas in real time
For an all-in-one collaborative experience, launch a Video Chat directly from your boards to discuss like you would in person. Timebox all your activities and make sure everyone can see how much time is left and stays on track with the Countdown Timer. When it's time to make a decision or uncover preferences, democratise the process by anonymously Voting.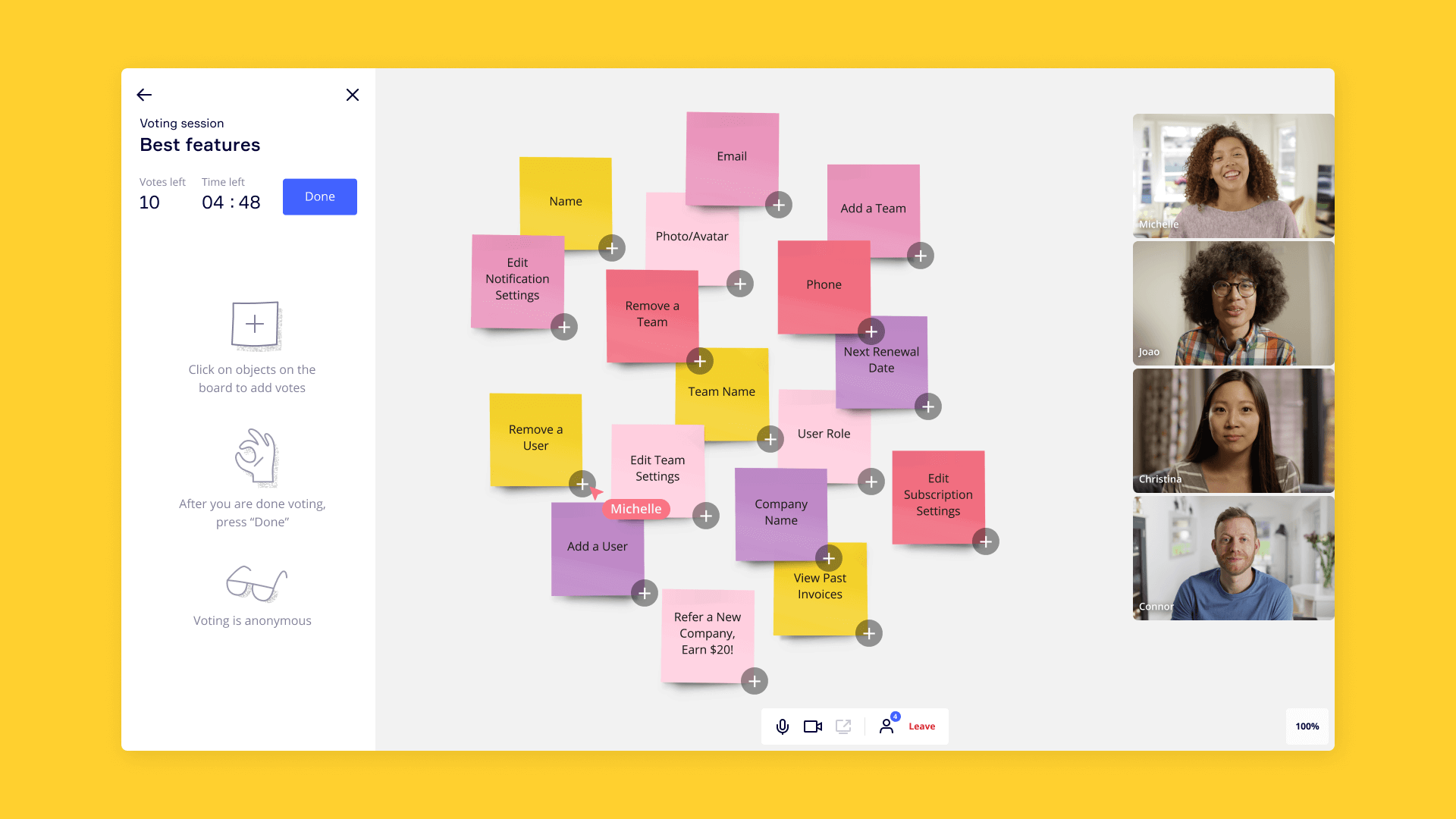 After your session – and beyond
Unlike physical whiteboards, Miro boards aren't constrained by location, which opens up new possibilities for how you continue work following a session. For many users, Miro boards become their living documentation. They will groom the board, highlight key findings using frames or Visual Notes, present to stakeholders, and distribute to the team. Use Miro's Live Embed to bring Miro boards with you to whatever tools come next in your team's workflow.
Going from idea to action
Miro is used for so much more than just real-time sessions. It's the central hub, the rallying point, for teams to meet as they work asynchronously through a project. Easily take ideas you've generated and convert them to tasks you can manage through visual Kanban boards. Miro's integrations enable you to embed boards into key software like Jira, Confluence, and more so teams will have context and stay aligned as they take tasks across the finish line.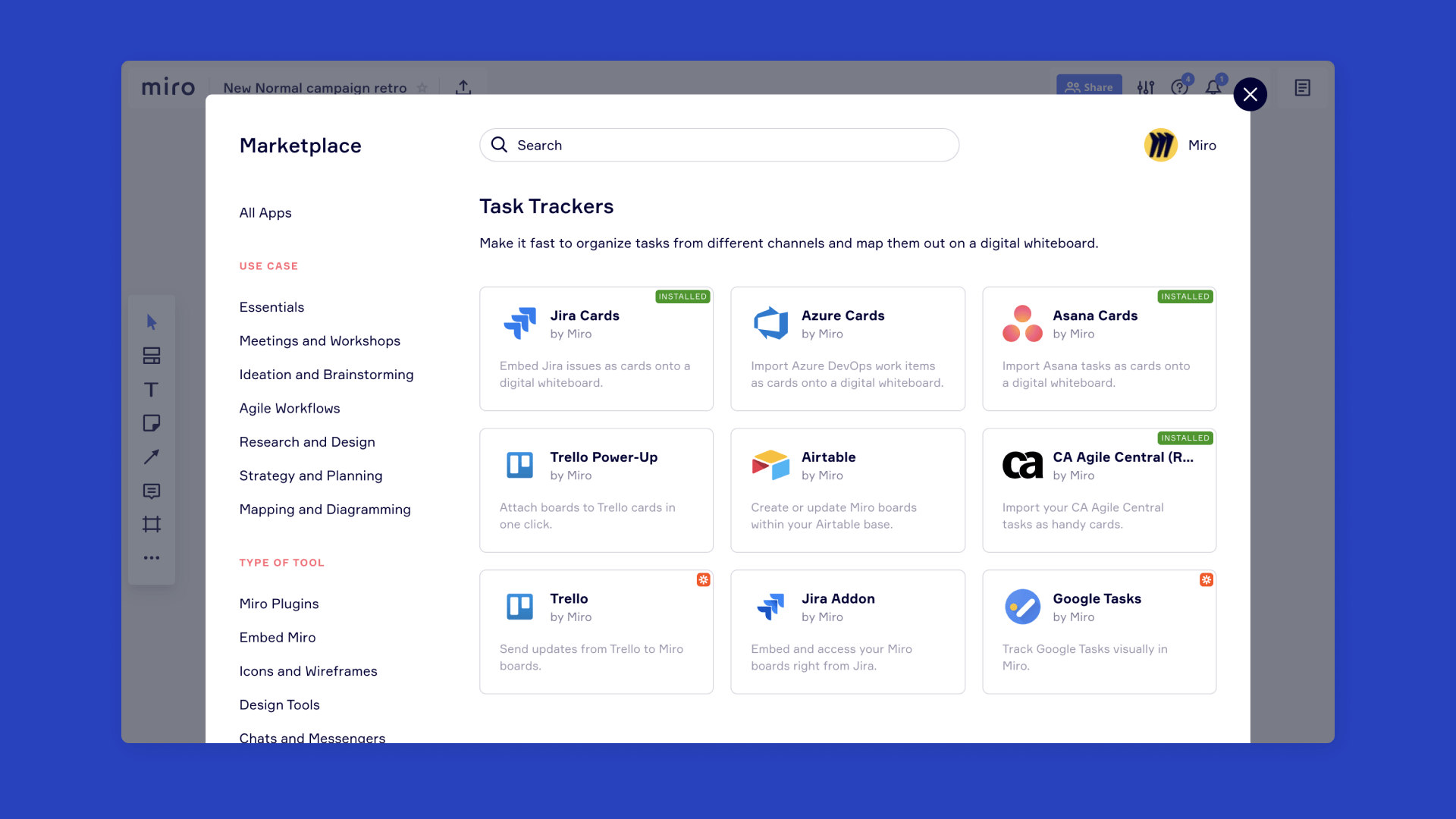 Use Stickies Capture to upload real sticky notes in seconds
When you have the opportunity to meet in person, Miro helps to bridge the gap to continue work online after you leave the room. Simply snap a photo of your board before you head out and use Stickies Capture to automatically convert all your physical sticky notes to fully editable, digital stickies in Miro. Save hours transcribing whiteboards and never send a photo of a whiteboard again! Simply invite your teammates to your Miro board to seamlessly continue work online together.
Wrapping up
Whether you're a seasoned workshop pro or have found yourself suddenly remote and looking for a way to continue your team's meetings and workshops online, all you have to do is meet in Miro.
Check out the additional resources below to learn more about Interactive Meetings and Workshops: