When you're faciliating a meeting or workshop with first-time Miro users, you may feel the pressure to properly educate them on the tool so your collaboration runs smoothly. Miro does offer "getting started" webinars, an expansive help center, and a vibrant community of users ready to help, but sometimes you just need to get participants quickly up to speed.
That's where our Miro Experts come in. We interviewed four power users of the tool from our network of hand-selected consults and agencies to find out their tips and tricks for onboarding new users in Miro. As consultants, Miro Experts are frequently facilitating meetings, workshops, and presentations for first-time users. So who better to offer advice than a set of the best creative and strategic minds from around the world who do this every day
| ESSENSE | FLUXX | FOOLPROOF | STUDIO.WHY |
| --- | --- | --- | --- |
| Essense drives organizations to operate in a customer-centric fashion through customer research, omnichannel design, and capability building. | Fluxx is a leading independent innovation company that helps organizations solve complex business problems. | Foolproof is an experience design company that crafts digital products and services to improve the lives of people all over the world. | STUDIO.WHY equips talents with a mindset to drive innovation and change with sustainable impact. We train people and organizations towards an entrepreneurial mindset. |
What challenges do you commonly face when introducing Miro to a new user?
FoolProof: The use of online whiteboarding tools isn't a new thing, but the pandemic and WFH has accelerated their use and adoption. This can mean people have to learn fast and adapt quickly to collaborate with users. Sometimes, this becomes a point of frustration. In addition, for those used to using physical whiteboards or walls to collaborate, there's a certain degree of reluctance to use these tools and question their value at first.
Studio.Why: Miro has a lot of options, new users might get a little confused. That's why we organize a short introduction a few days prior to the workshop so participants can get to know the basic features. Also, we provide a cheat sheet on the board, explaining the most important icons.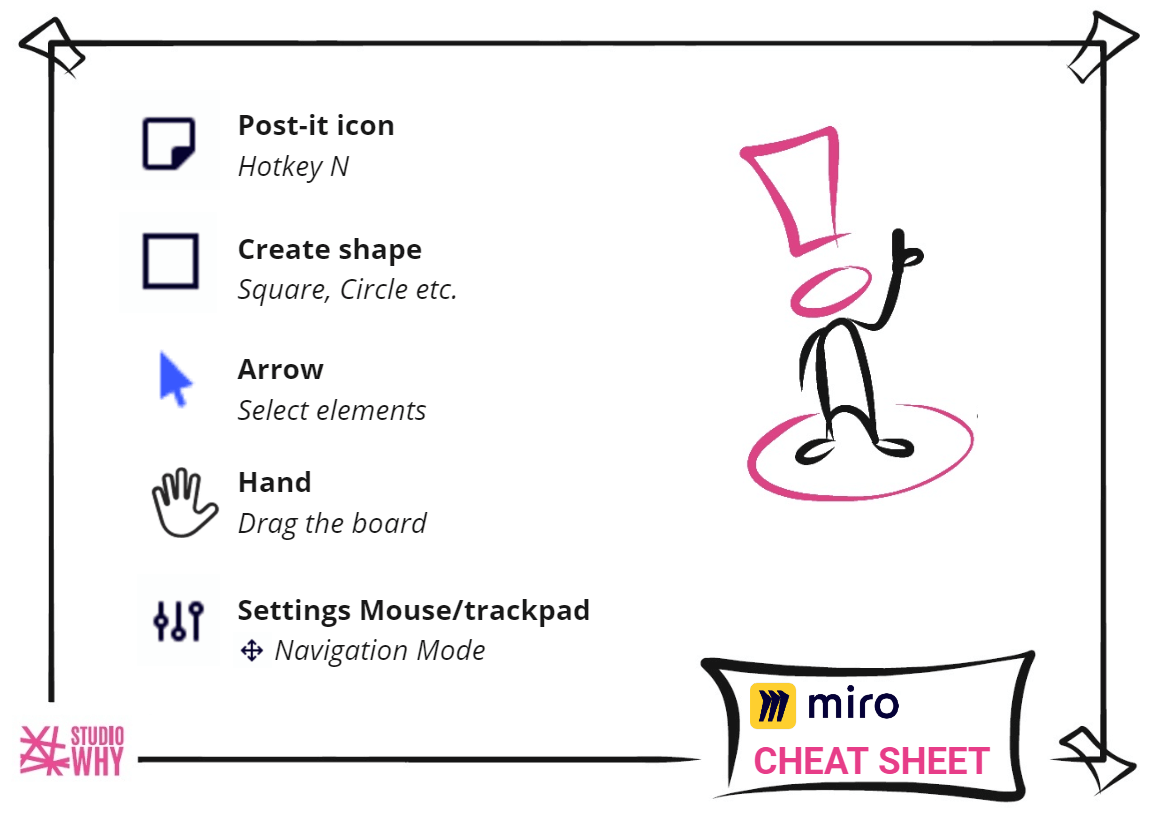 Do you have different approaches to different clients?
Fluxx: One of our core Fluxx principles is start by starting so we have tried a lot of different approaches with our clients. We feed these learnings back and have started to develop common best practices, such as color-coded swim-lanes for activities, large labels at distant zoom levels, and adding hyperlink navigation to the Notes area of our boards.
Studio.Why: We have clients who experienced Miro in other sessions or participants who adopt the usage of Miro quickly. For those teams we increase the complexity a little, so the teams will stay in a flow. For the beginners it's the art of leaving out as much as possible.
What templates get people up to speed most quickly?
Fluxx: Some of our favorites can be found on Miroverse where we put together a comprehensive set of virtual icebreaker templates that can be used in any virtual workshop environment.
They provide workshop facilitators and participants with a great way to allow everybody to quickly get to know each other within a group or team.
What is the optimal time for onboarding and what resources do you provide?
EssenSe: Beforehand to make sure that people are adequately skilled in Miro to have effective sessions. And to align the skill level across all participants.
We really try to make our boards easy to use, by including instructions for every frame, putting practical tips/tricks on the board, etc. We often get feedback from clients saying that we really help facilitate the process by making it look very simple and straightforward.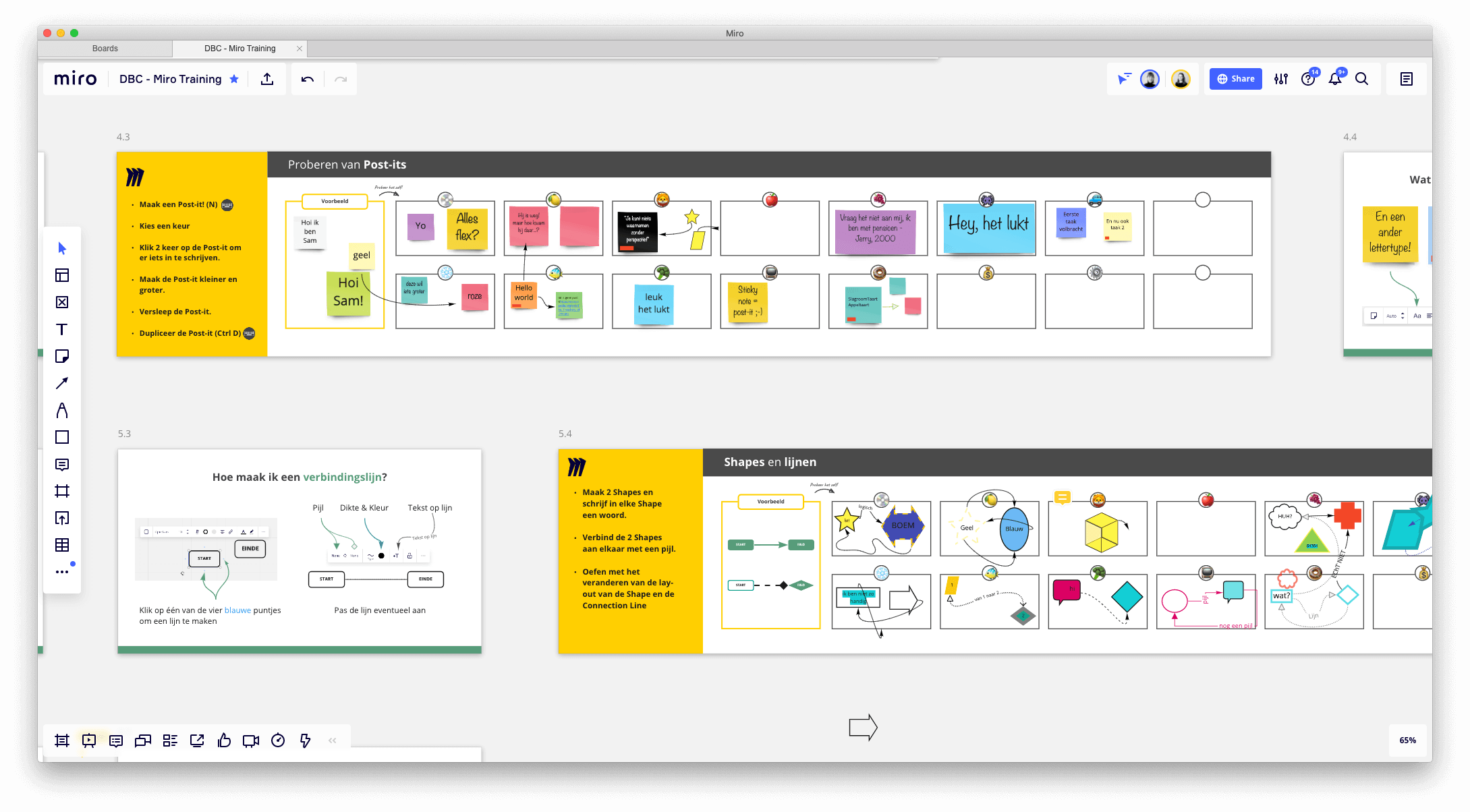 Fluxx: Due to the rapid pace of our virtual workshop activities, we are more and more finding it valuable to run short Miro introduction sessions ahead of the main event(s). I would say it usually takes 15-30 minutes of Miro use before most users feel truly confident with it.
Foolproof: The approach to onboarding will also differ based on the purpose of the board. If the board is for a workshop, there might be limited time to get the clients familiar but there may also not be a requirement to understand every interaction.
We like to send a link beforehand to ensure the client has a view of the agenda and what's in store, as well as what's expected of them from the session. We also always link clients to videos on the Miro community forum beforehand, to observe basic interactions and familiarize themselves with the fundamentals of the tool.
Studio.Why: That can be done in 15 minutes. Offer people who don't feel comfortable yet the opportunity to practice a little more and encourage them to just try. You won't get hurt if you do something wrong!
What features/tools do you think are most critical for new users to learn first?
FLUXX: Navigation is probably the most fundamental. After this it would be using Sticky Notes. Once a person understands these two, they are pretty much set.
Beyond this I would say uploading images to boards, using the pen tool for creative icebreakers, and understanding text boxes.
Foolproof: Navigation e.g., zooming in/out and scanning the board, understanding the idea of "following someone," creating and duplicating stickies, and resolving errors i.e., here's how to "undo" a mistake.
Studio.why: Navigating over the board (arrow/hand), placing sticky notes, writing on sticky notes, and dragging sticky notes over the board.
What level of permission do you give new Miro users?
Fluxx: Typically, we give them Editor permission but make sure we lock everything that needs to be beforehand.
Foolproof: This might vary again depending on the role the Miro board is playing but access is always checked before a meeting. It's important to set aside time at the beginning and send a link beforehand to ensure the client has a view of the agenda and what's in store, as well as what's expected of them from the session.
What do you feel people love most about Miro when they first use it?
Essense: Clients are often amazed and inspired whenever they see boards that we have created for projects, trainings, or sessions.
Foolproof: Miro is a fantastic tool that has proved extremely timely and valuable during the pandemic and will continue to inform and support new ways of hybrid working going forward. It can bring geographically dispersed audiences together in an instant and the content remains live for much longer for being digital.
Check out the Miro Experts network and find the right Expert for your next project