Teams all over the world use Miro for remote collaboration every day, regardless of the area and job titles. Today we would like to share the story of the team, based in six locations worldwide, who decided to improve the sports events market by building an easy accreditation app together.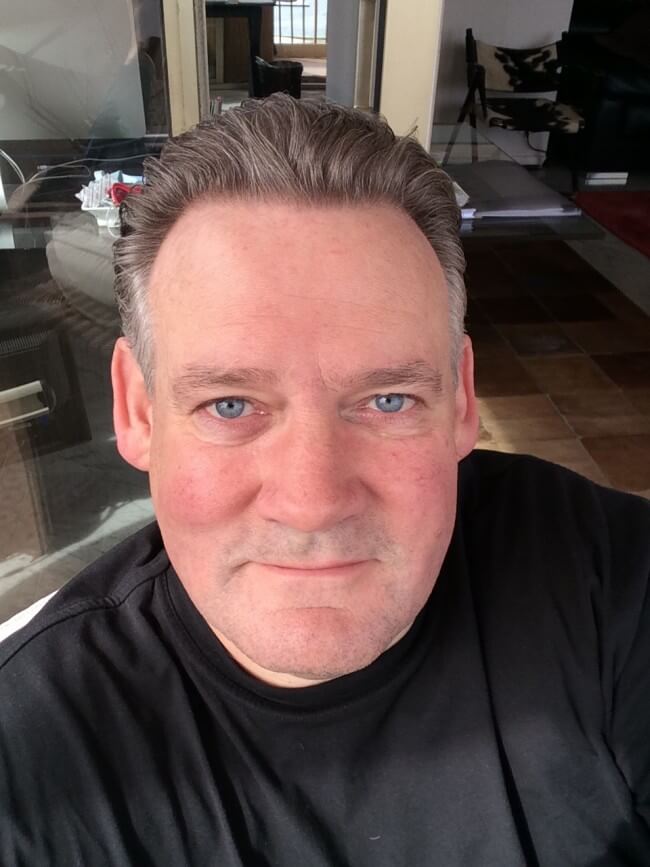 Let us introduce Nigel Rushman, founder of Rushmans — Sports Event Management company. They have developed and implemented innovative programs for over 500 events in 30 countries including three Rugby World Cups and three Cricket World Cups.
One of the many Rushmans specialities is Sports Event Accreditation*. *Accreditation is the pass that anybody who is not a paying spectator requires to gain access to a venue on sports day — for example, competitors, officials, journalists, security etc.
The software that Rushmans team has used for the past 10 years according to them, "was good, but outdated and relied on trained experts to set up and manage it". During a recent project, after paying large sums to upgrade previous accreditation system and knowing that it would only be relevant for that one project, the team decided to create "the best accreditation app using tech available now".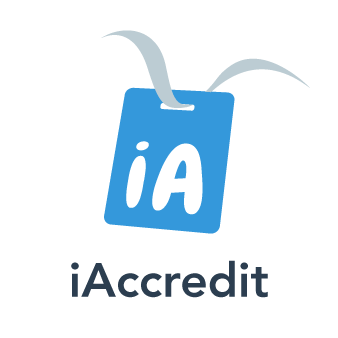 "iAccredit.me is a cloud-based accreditation processing app that enables sports events of all sizes to manage their own accreditation process – saving them the cost of paying someone like us [Rushmans] to manage it for them, whilst increasing our market reach into areas that we traditionally haven't been able to cater for".
Nigel, could you please describe the team working on iAccredit?
We have our internal management and development team – those who have worked in accreditation for many years so know exactly what we need in order to deliver the best app possible, alongside an outsourced software development company whose job it is to turn our ideas into a working app. We also have an external designer working on the "look and feel" of the app, an inhouse "techie" and a few trusted friends whose 2-cents is worth a great deal.
What is your remote collaboration workflow?
We are based in five locations in the UK and Monaco, France and South Africa so can't sit in an office to discuss anything – our meetings happen on Hangouts and Skype. We use many online services like Basecamp, Highrise, Google Docs etc for our projects which enable everyone to see openly what others are working on and ensure real-time remote collaboration.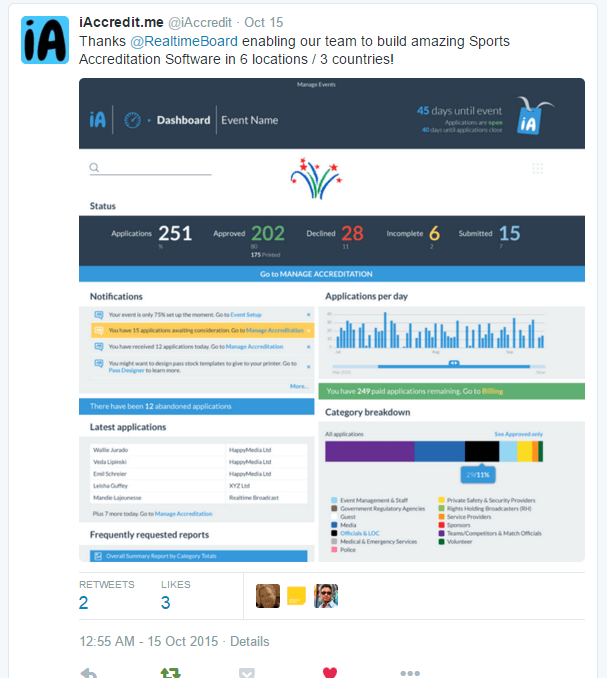 Real-time remote collaboration is something that is very important to us and one of the reasons that we have added Miro to our armoury!
How do you work together and make decisions within your team?
We make decisions collaboratively. Everyone gets the opportunity to comment or input. We always aim to work transparently across all areas being able to see what everyone is working on – there is no real "seniority" – each person's views and ideas are valued and considered, and those whose specialities lie in one area can feel free to input to a discussion in another area of the project. This enables everyone to see the project progress as a whole and ensures that (hopefully) nothing is missed.
What was the collaboration process before? Did Miro help you overcome previous challenges?
In building iAccredit, we needed something to visually demonstrate our wireframes to our software developers so that they could see what was in our heads without constantly travelling to Bristol UK.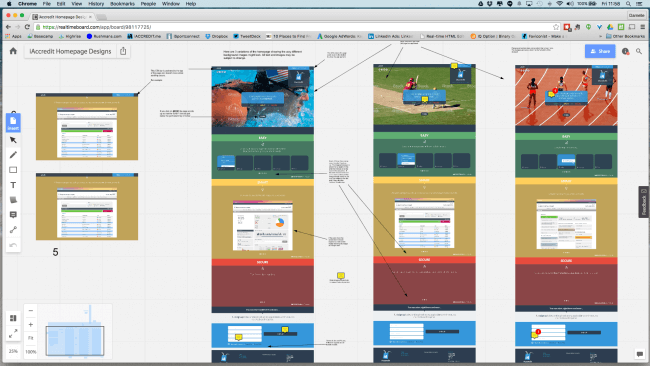 We aren't super technical ourselves and have limited time to spend time learning how to use a specific wireframing app so needed something quick and easy to understand how to use. With Miro, we could all collaborate and comment on in real-time, and that didn't cost a fortune when adding a lot of people to the project.
Can you describe your working process inside Miro?
We started our wireframing with just a small team of three of us who know accreditation inside out. We drew wireframes of the main process over three intense days.

We added our wider team to the board for input and comments, adding notes and changing a few things around.

Invited our software developers to view the boards and comment.

Conducted a virtual initial meeting where we could go through the aspects one at a time, making changes and adding notes on the fly, that we could all see in real-time.

Added our designer and he built mood boards and visual designs.

The whole team collaborated on the UI and UX.

We continually go back and check in, making comments and keeping the discussions going.
Related: Guide to brainstorming techniques for remote teams.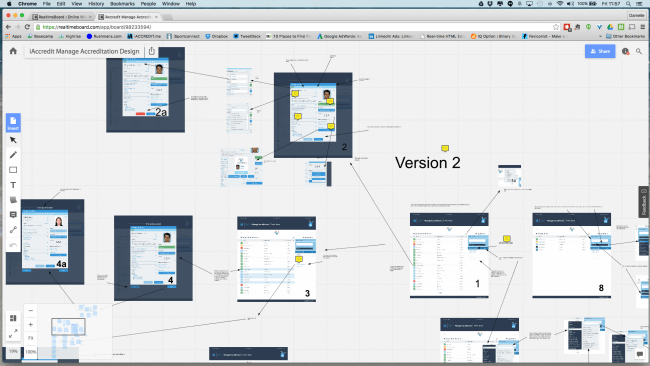 What is your favorite feature? Why?
Notes and comments are very helpful – especially the ability to see "new comments" so that you aren't checking back on areas that haven't been worked on recently. Also the ability to make changes and comments whilst we are "on a call".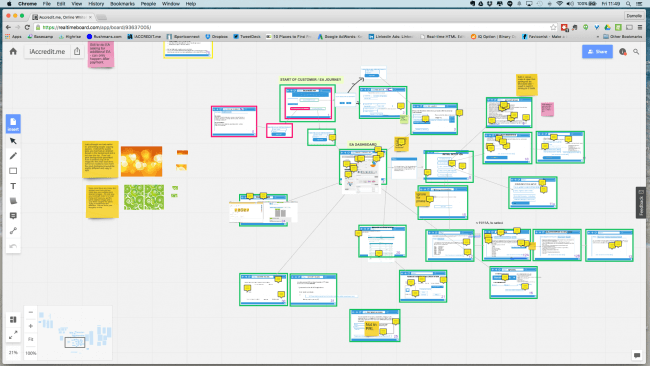 How has Miro helped you achieve your business or personal goals?
While Miro allows involved parties to work and collaborate, no matter what timezone they are operating on or what city they are based in, developing process is speeding up, enabling the workflow to continue as quickly as possible. And currently we are using Miro in other projects.
How did you engage your team in remote collaboration?
We are familiar with collaborating remotely because it is essential to our business, and it is definitely the future of all our businesses operations. We share the idea that collaboration culture is raising its importance today. With internet accessibility increasing, people being "online" even when they are at home and out of office, and with so many freelance agents working in a wide range of industries, virtual collaboration is swiftly taking over and I'm sure that one day, whole companies will operate and be run from inside people's home offices, with business addresses simply being a mailbox at a post office. We are almost at that stage ourselves!
Related: Guide to remote team building activities and games.