As companies around the world design the next phase of work, one thing is becoming clear: the hybrid model is here to stay. Though distributed work is not a new concept, more companies than ever before are redefining these blended ways of working to prioritize inclusion and equity. Within this shift, there's potential to reimagine the work environment as a place that fosters collaboration like never before and unlocks a new, more effective way forward.
Miro's powerful tools have always been made for collaboration — and we're continuing to make them even more robust, secure, and accessible for everyone. Our latest and upcoming releases feature solutions for hosting engaging hybrid meetings, building deeper workflows, and strategizing your company's next move.
As part of a recent discussion about the future of work, I walked through what we've learned from working closely with thousands of Miro customers around the globe and how Miro will power a future that seamlessly blends remote and in-person ways of working. We're here to support your hybrid work journey.
Facing hybrid work challenges head-on
From running workshops to building company goals and tracking projects, collaborating with teammates across different locations, time zones, or office spaces can lead to feelings of disengagement or exclusion. With the right collaboration tools, you can bridge the gap to build connection and a level playing field — whether your team is working synchronously or asynchronously.
Hybrid meetings
As we return to the office, we're all being challenged to create an inclusive hybrid experience for our employees. And meetings are particularly hard to get right because they bring together all the hurdles of hybrid work in one context. To pull off a successful hybrid meeting, with a mix of people in the same room and some calling in remotely, you'll need to have the right preparation, facilitation skills, and access to tools and content, as well as rituals, routines, and norms that make the session welcoming and worthwhile for all participants.
To make sure everyone can share and interact easily, Miro supports the full spectrum of meeting types, from fully in-person to fully remote, as well as hybrid variations with different combinations of in-person and remote collaborators. That's why we're building things like Smart Meetings, making collaboration across devices more intuitive and effortless, investing in partnerships, and making boards even easier to navigate for first-time users.
Taking advantage of interactive displays can help create engaging, inclusive hybrid experiences, whether working together on boards with tablets, laptops, video-equipped conference rooms, or some combination. Plus, your collaborators can incorporate their go-to tools, like Microsoft Surface Hub, Zoom, and Webex into meetings for an integrated, seamless experience.
No matter what your tech stack looks like, we're building ways to make it easy for you to use Miro, even if it's with external collaborators who use different tools. For example, even if the people you work with use a video conference platform that's different from yours, Miro serves as a common space to convene, where everyone can contribute ideas and move projects forward.
Asynchronous work
Whiteboards are most powerful when they're blended into your team's everyday workflows and used before, during, and after a meeting — not just during a meeting. We offer a best-of-breed whiteboarding solution for distributed teams. But classic whiteboarding activities, like brainstorming with sticky notes and basic diagramming practices, are just a small sliver of the opportunities of visual collaboration.
"We can no longer think about whiteboards as physical objects tied to meeting rooms. We need to rewire ourselves to associate whiteboards with teams and projects."

Varun Parmar, Head of Product at Miro
---
Think of your online whiteboard as a single pane of glass, or as a single source of truth for critical knowledge sharing. Your team can maintain content, resources, and information on one board that is easy to consume, where the context of the information and all the elements you need are all in the same place.
Working in this way eliminates siloed information, which can be a major blocker for transforming ideas into outcomes. And it brings hybrid teams together. In other words, a whiteboard can also be a hub for team workflows, resources and documentation, and hybrid meetings.
Part of the beauty and power of the whiteboard is its simplicity and adaptability. Miro can be applied to a variety of use cases, including onboarding new employees, quarterly planning, orchestrating team offsites, workshops, strategy meetings, retrospectives, roadmaps, and beyond.
---
"I love Miro for its flexibility. It's not invasive in your workflow. We don't tell teams how to do work — we provide tools to build any experience on the board."

Grisha Pavlotsky, Head of Operations at Miro
When a team has a specific set of tools meant only for their work, it becomes difficult to collaborate cross-functionally. But Miro dissolves these barriers. Without rigid structures built into the tools, which can dictate workflows and limit outcomes, Miro's tools open up collaborative freedom and possibility.
Now, any product development team or Agile transformation consultant can build their own integrations and apps on Miro with the Miro Dev Platform, a toolkit to help you and your team improve productivity and efficiency through the power of Miro's APIs, SDK, and embed functionality.
Miro provides a space for colleagues and collaborators to build shared knowledge and understanding together, with the ability to contribute in the same ways, regardless of where they're located.
How Miro is helping you optimize for hybrid work
We are investing in capabilities for all teams to visually collaborate in a hybrid work environment. We have been working closely with thousands of our customers all over the world to figure out how Miro fits within their strategies for hybrid work, and how we can better support that work.
Here is where we will continue to focus our product evolution in the coming months:
Optimized user experience for every device: We're thoughtfully and purposefully making sure that operating tools within Miro is easy for users, which is why we'll continue to build native, seamless experiences custom to each device. You'll be able to launch and share Miro boards with just a few taps or use a combination of devices during workshops, for example, so your collaborators can contribute in the ways that work best for them. In addition, we recently added the ability to quickly sign in to interactive displays through your mobile devices — and you'll automatically be logged out if you're idle for a designated period of time.
Engaging meeting facilitators and participants: We know that getting meetings right is one of the hardest challenges to overcome in a hybrid environment, so we're building Smart Meetings with tool sets for facilitators and all levels of Miro users. Our vast library of templates is one of the most powerful ways to spin up meetings quickly (we even have some designed specifically for hybrid workshops).
---
"Miro's templates allow you to see the art of the possible, without investing a lot of time to understand how to do it."

Varun Parmar, Head of Product at Miro
Integrations for seamless collaboration: Adaptability in a hybrid environment is essential, so we're focused on integrations that make collaboration frictionless across all your tools and teams including through our Live Embed functionality. No matter which tool you select for video conferencing or content management, Miro will be able to work with it out of the box. We view this as a critical part of breaking down knowledge silos and making work collaborative and seamless in this new era of work.
Accessibility for all users: Great teams are built with people of different backgrounds and experiences, including varying expertise, and access needs — and we strive to give everyone an opportunity to comfortably collaborate. We recently released our first major accessibility feature update, which includes the ability to:
– Sign up and sign in using a keyboard and screen reader
– Navigate the dashboard using a keyboard
– Access frequently used objects, like sticky notes, frames, shapes, and text with a screen reader
The office of the future: Miro for building a great employee experience
Workplaces are hubs of constant activity and change, especially as the future world of work continues to take shape. Whether getting new team members up-to-speed, facilitating training workshops, or rolling out a new company-wide policy, Miro has tools to help you manage and strategize your company's next move.
At the beginning of 2020, Salesforce was preparing to welcome 30-40 global new hires with a large in-person event to help participants feel immersed in the Salesforce team. When the entire event went virtual, Salesforce built an experiential Miro board they called "Remote Flight Academy" and created a giant space-themed onboarding experience.
To create a more fun and engaging program, each new hire was led through gamified "missions" for which they could earn badges while getting up to speed on content and participating in team-building activities. The team also used Miro to complement video calls and let new hires run through activities synchronously through a guided process.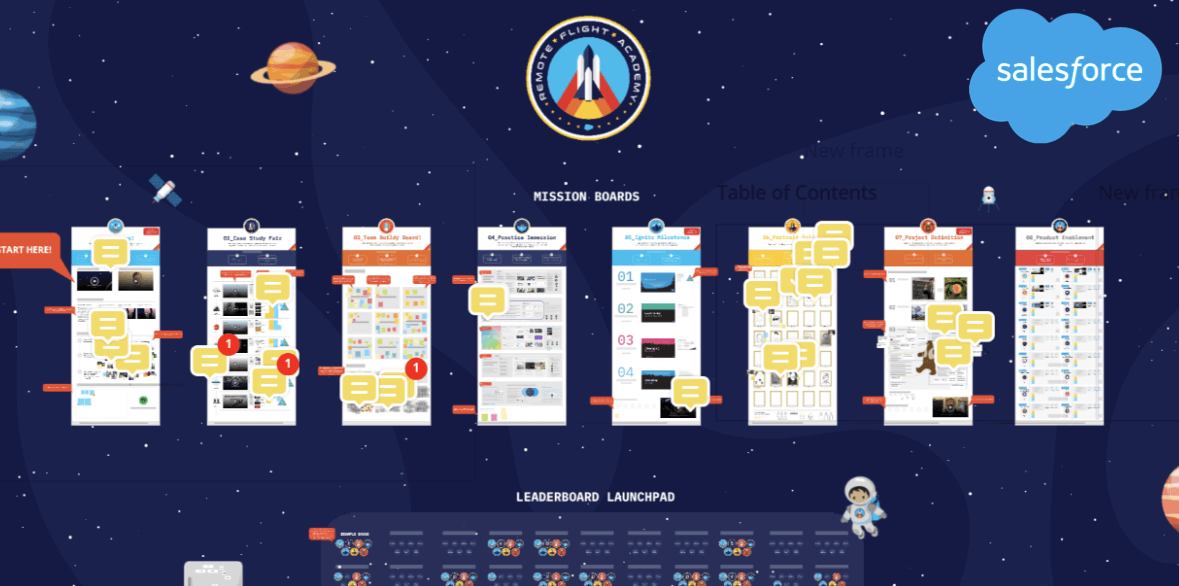 To create experiences that are memorable, engaging, and replicable for teams that are hiring across the globe, companies use Miro to shepherd new team members through every phase of the process. Setting people up for success and getting them comfortable from day one helps customers build engaged and collaborative teams.
If your company has been working in one capacity, such as fully remote, and you're mapping out a shift to another style of work, such as hybrid, Miro's tools can help make the transition easier. Recently, Dropbox used Miro to create custom boards to train their employees on their new virtual-first strategy. With a focus on human-centricity, Dropbox used Miro to create an engaging educational workspace that acted as a single source of truth for teams to document information about the Dropbox brand and culture, complete with core resources, best practice templates, and multimedia assets.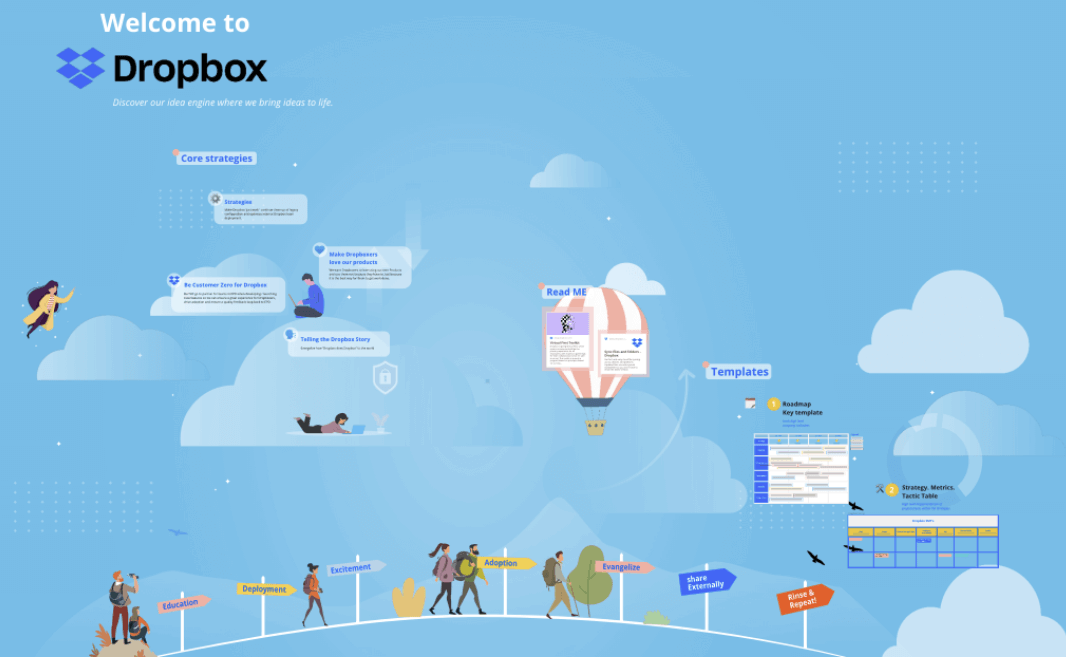 By integrating Miro into the transition process, these companies were able to simplify what might have otherwise been a complex and arduous undertaking. Miro delivers the flexibility to embed any kind of media and resources to help employees feel connected and integrated into the new hybrid model, without requiring an inordinate amount of the teams' time.
As Miro continues to build tools custom-made for a future of work that's hybrid, collaborative, and inclusive, we're honored to have you with us, imaging, inventing, and working together.