When we introduced Miro Live Embed, we wanted to empower any partner to bring Miro's collaborative whiteboard to their product with minimal development effort and no cost. Our goal is to make it as easy as possible for anyone to have access to a powerful visual collaboration experience, whenever and wherever they need it.
Today we're excited to share some of our newest partnerships and the flexible ways these partners are offering an embedded Miro experience within their products.
Terrence leads product marketing efforts for the Miro platform. He champions the partners, developers, and integrators that are extending the power of Miro.
Instant whiteboard access during any virtual meeting, workshop, or online event
Being remote makes video and chat communication more important than ever, but creating real connections requires more than just seeing faces on a screen. That's why Miro partners with platforms that offer innovative solutions for team communication, video conferencing, and online events.
Easy collaboration for the enterprise
Cisco Webex recently announced our upcoming integration using Live Embed within Webex app. The integration will help collaborators quickly turn any conversation in Webex into an opportunity to run brainstorms, mind mapping exercises, and planning sessions without ever switching context.
The results of these interactive sessions can live alongside conversations as a separate tab so that anyone can reference them at any time. If you're a Cisco Webex customer, sign up to be one of the first to know when the integration becomes available.
We are thrilled to be working on an upcoming integration of Miro's live embed capabilities within the Webex app. Customers of all sizes will be able to harness the power of visual thinking and boost engagement when using Miro inside of Webex.
Justin Ramirez, Global Collaboration Engineering & BD Leader, Cisco Webex
---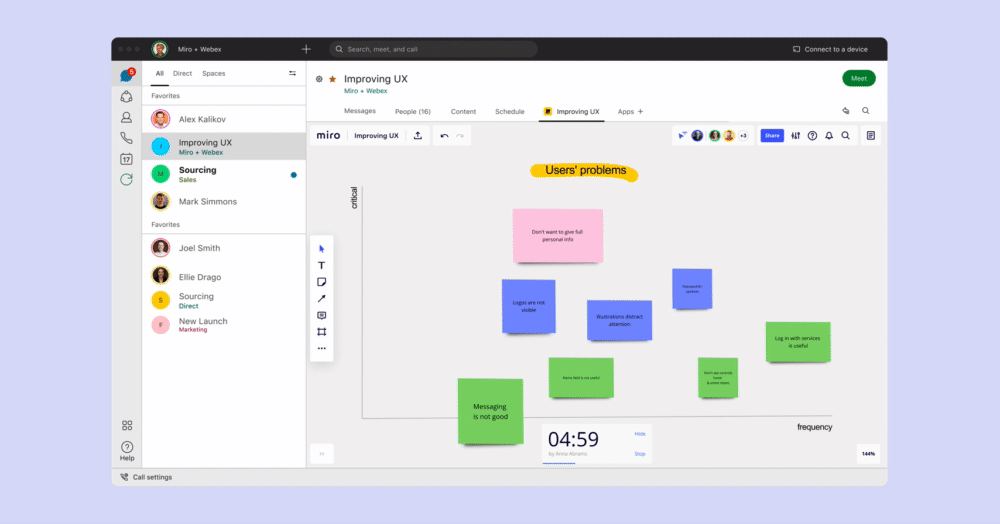 Engaging meetings, workshops, and webinars
Whether it's a team meeting, client workshop, or customer webinar, partners like Toasty, Meetbutter, and Livestorm provide solutions for making video calls more interactive through simplified web-based interfaces and easier access to the specific tools your meeting or workshop calls requires.
With Live Embed, these partners now offer instant access to Miro, with the added benefit of launching a board without a Miro account. This frictionless integration makes it possible for any meeting or workshop host to gain immediate value by offering their guests a seamless onboarding experience.
Interactive virtual events
Live conferences and events are usually the best way for organizations to engage with their customers and communities at scale. Online event platforms like Hopin and Remo have made it easier than ever to create memorable experiences for virtual attendees. Now, an integration with Miro makes it possible to give participants a voice, creating even more moments of connection and inclusion.
We even put Miro's integration with Hopin to the test with our own Distributed event, using Miro and Hopin to host interactive icebreakers, networking events, and even a live retro with 400+ people on a board simultaneously!
"We're seeing many Hopin customers move highly interactive and collaborative in-person events—like sales kickoffs (SKOs) for example—to virtual spaces," said Sharadhi Patel, Head of Product Marketing at Hopin. "To keep these events effective and engaging, they want to translate the interactive elements of physical events into creative, virtual experiences."
Now, with Miro's whiteboard integration with Hopin, we're excited to provide an amazing tool that can make virtual events even more collaborative, interactive, and visual.
Sharadhi Patel, Head of Product Marketing, Hopin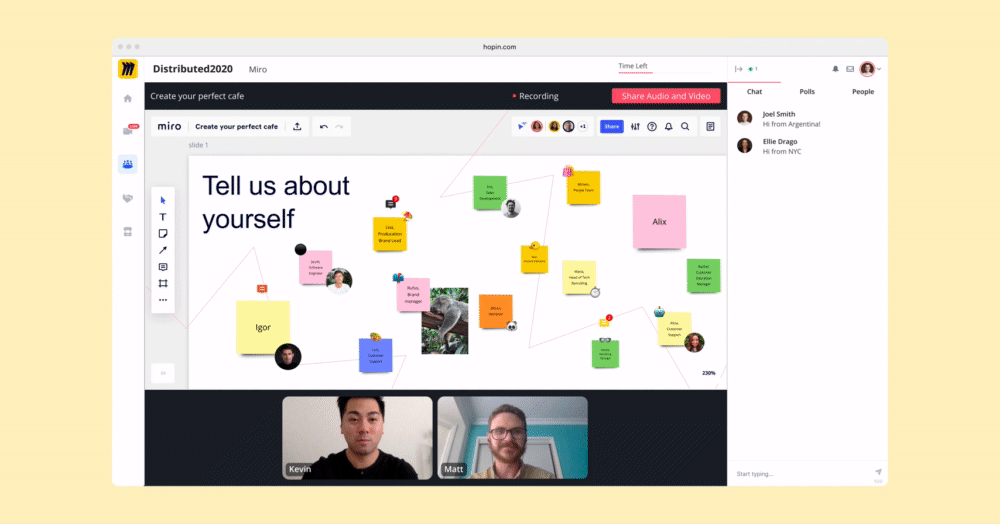 Reference your Miro boards at any time to add visual context to all your projects
While having access to an online whiteboard is a powerful way to help ideas take shape when working together in real-time, it's equally important to be able to easily share those ideas and build on them with others asynchronously.
Visual project collaboration
Last week Asana announced its new Overview tab, with the option to add a Project Brief to align teams around a shared vision. With Miro's Live Embed, this brief is the perfect place to share boards from project kick-offs, brainstorms, and sprint planning meetings to maintain alignment and add a space for unstructured thinking.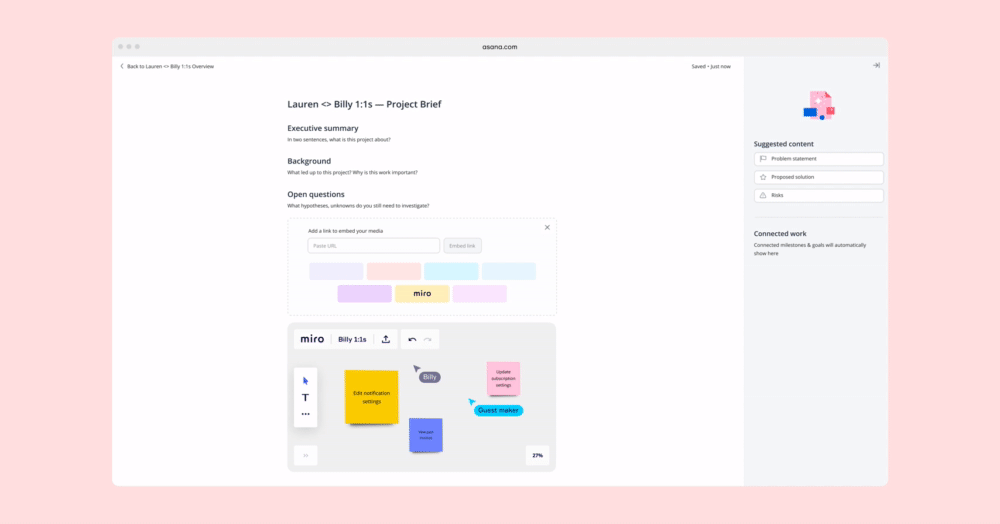 In Monday.com, you can add a Miro board as a unique view of your project to create a visual project hub of related content and assets or embed boards with relevant research, user journey maps, and wireframes.
ClickUp enables users to add Miro boards as context to any task or document using a simple /slash command. Perfect for teams looking to bring all their project work, including tasks, docs, brainstorms, and chats, into one place.
Living documentation
There's nothing worse than having a productive meeting or workshop and leaving your best ideas to die once it ends. With Live Embed support in Notion, you can paste the URL of any Miro board directly into your meeting notes, requirement docs, and project plans. You can do the same using Atlassian's new Smart Links in Jira and Confluence, and in your Slab knowledge bases.
To see all the partners with Live Embed integrations, check out our Integrations Marketplace. If you're a partner or developer interested in using the Live Embed API to enhance your product or service, take a look at our Live Embed developer guide and reach out to our team if you need support.
Bring the whiteboard anywhere with Miro Live Embed