It's not uncommon for knowledge workers today to be confronted by an impenetrable block of back-to-back meetings upon opening their work calendars each day. Our research shows that 40% of today's knowledge workers say in-person and virtual meetings are the most draining part of their typical work day.
In some cases, email and instant messaging have become the default alternative to meetings, but they're imperfect solutions, scrubbing communication of essential context and tone. What's more, knowledge workers find email and instant messaging to be the second biggest drain on their energy, after meetings.
---
How can we expect to solve complex business challenges, move projects forward, secure cross-functional alignment, and more when all of our existing modes of communication leave us depleted and frustrated? Enter: Talktrack, a new feature within Miro that enables users to record immersive audio or video board recordings and help collaborators get up to speed asynchronously.
Read on to learn more about Talktrack video recorder and how a few of our very own Mironeers have been using it to give their brains and their colleagues a much needed break from meetings, without sacrificing productivity.
Own your time with Talktrack
Unlike other screen recording apps, Talktrack pairs your audio or video recordings with board navigation. So, partners can interact with your content while listening to or watching your recording, adding comments, reactions, or even their own Talktrack response in real time.
With Talktrack, you can collaborate with others anytime, anywhere, across time zones and offices. And, on the other side of the screen, the person receiving your recording can choose when and how they decide to hear what you have to say.
Learn more about Talktrack Video recorder on the Miro Help Center
---
Tips and tricks from Talktrack super users at Miro
Speaking of collaborating any time, anywhere, Miro operates in 12 hubs around the world, so it's nearly impossible to run live sessions with everyone. In recent months, Mironeers across the business have had the opportunity to test Talktrack as a way to bridge gaps between time zones. Here's what they had to say about their experience:
"Talktrack is a time saver." Lotte van Uum, Strategic Programs Manager
How do you use Talktrack?
I use Talktrack for many different things. My favorite so far is when I send a pre-read for executive meetings.
Here is how I do it: I share the objectives of the meeting in advance, together with the board, and I include a Talktrack with a voice-over explaining the content. This way, everyone can digest the materials beforehand, and I don't need to "present" everything at the meeting; we can just focus on questions, feedback, and decision-making. It has helped me to get more executive decisions made in meetings.
Another way Talktrack saved me time was when I used it to share my thoughts on a workshop I'm co-designing with two colleagues in different time zones. Sharing our own and absorbing each other's ideas asynchronously means we'll likely need just one quick planning meeting prior to the workshop to tie up loose ends.
And, of course, Talktrack is perfect for company-wide communication. During a recent all-hands meeting, I only had 10 minutes to give an update on the program that I'm running. I followed up my presentation by sharing a board that included two different Talktracks, so colleagues could decide how much information they wanted to consume.
What's the outcome?
I get so much time back! I can shorten or even cancel meetings, facilitate sessions more effectively, and reach decisions faster since people would come to the meetings more prepared. Because of Talktrack, they have more time to process information, and I can share project drafts and ideas quicker, all through a simple voice-over.
What do you like about it?
I like that you can just record a video to explain or show your work; you don't need much to clarify your thinking or the nuances of your project.
Tips for beginners
Talktrack shows the latest version of the board—not what the board looks like when you create the recording. So, you can have stickies on the board with your talking points and just delete them after you record. Otherwise, though, I advise you not to move or edit anything in that section of the board after recording to keep the content consistent with the Talktrack.
"It helps me keep track of my work." Jenny Yzelman, Product Marketing Lead
How do you use Talktrack?
I use it when I have to repeat information to multiple stakeholders and ask for their input, especially when it's too hard to get them all in a "room" at the same time.
What's the outcome?
I've saved so much time setting up meetings with stakeholders, and I've been able to keep people informed and ask for their input at any time. Life changing!
What do you like about it?
It's a very easy, intuitive feature. And you can see all the board's Talktrack recordings on the right-side menu. It helps to give context to the people with whom you've shared the recording, as well as those who've stumbled upon your board.
Another thing I love about this feature is that I can see the evolution of my story. For example, I've used it to share information about the 2024 marketing strategy, and I created a recording each time I made big changes to the strategy based on stakeholder input. I see how the process has evolved as we get more information and learnings. In the end, it also helps me keep track of my work.
Tip for beginners
I'd like to advise beginners not to overthink and re-record over and over again. We've all been there when trying to record a video a hundred times because we want it to be perfect. Keep it light and natural. I know that people have played my recordings when I couldn't be at a meeting, and it was as if I were in the room.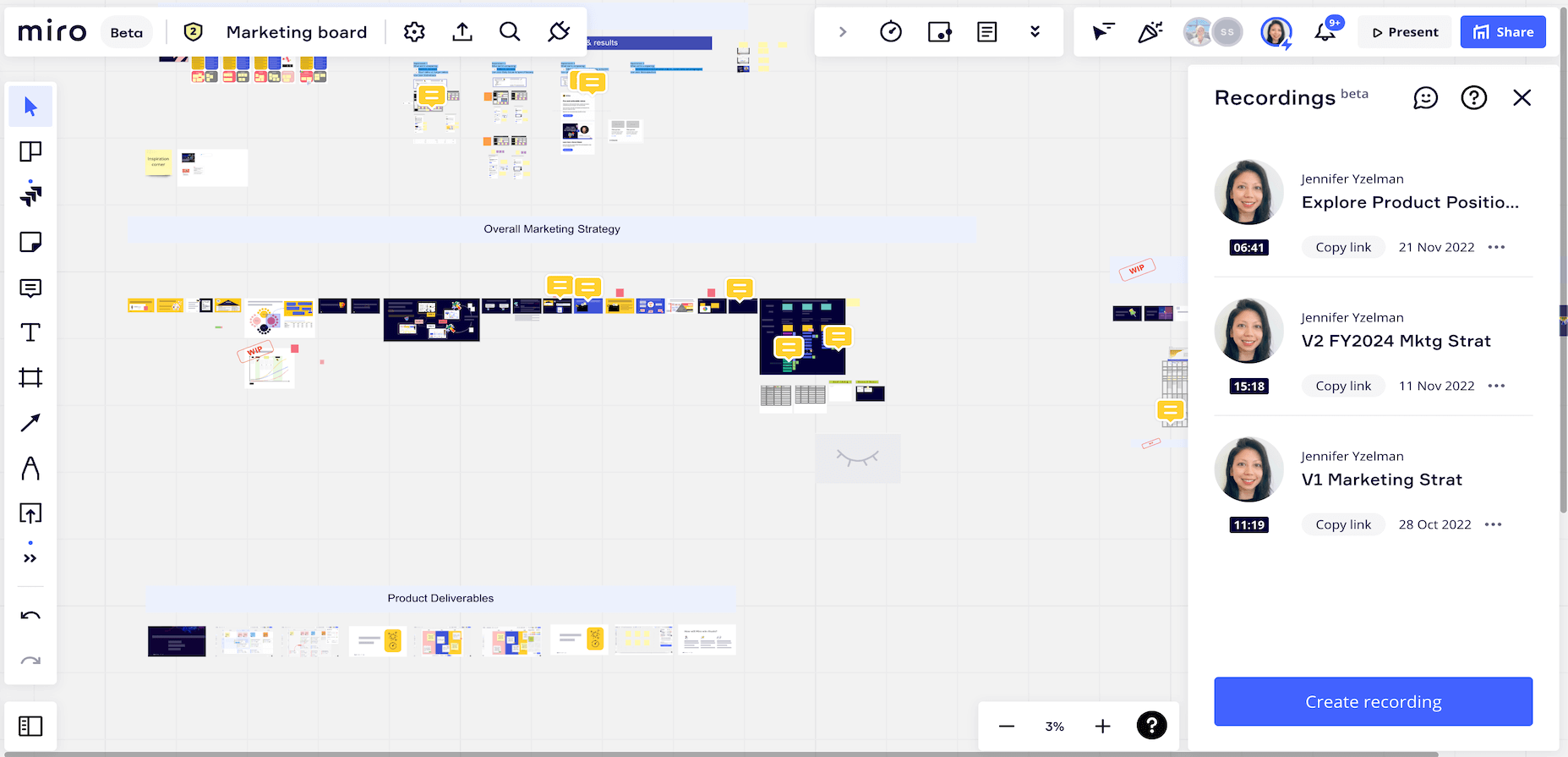 "​​I can focus on what matters." Vihar Parikh, Product Manager
How do you use Talktrack?
I use it primarily for two situations: Quick updates for small groups or large project syncs.
For example, now I'm working with our product designer on some new user flows for Miro. There is a bit of a back-and-forth on reviewing flows, commenting, etc. I use Talktracks whenever I make updates to give a clear overview of what I did last.
Another time I used Talktrack was when I had a bi-weekly project update for senior leadership. I recorded a Talktrack beforehand, so we all could have the same context and run a more efficient meeting.
What's the outcome?
We can focus on the meeting tasks—on items that really matter!
What do you like about it?
I love that it allows me to craft my message without worrying about the audience's reaction during the meeting. And, when everyone watches the Talktrack beforehand, we all come to the session much more prepared and run a better meeting.
Tip for beginners
I generally don't recommend making very long screen recordings. Keep them under 10 minutes (ideally five!). Focus on the overview and any specific callouts or areas. From my experience, longer recordings sometimes make viewers feel that more preparation is required, and you might lose them the longer it gets.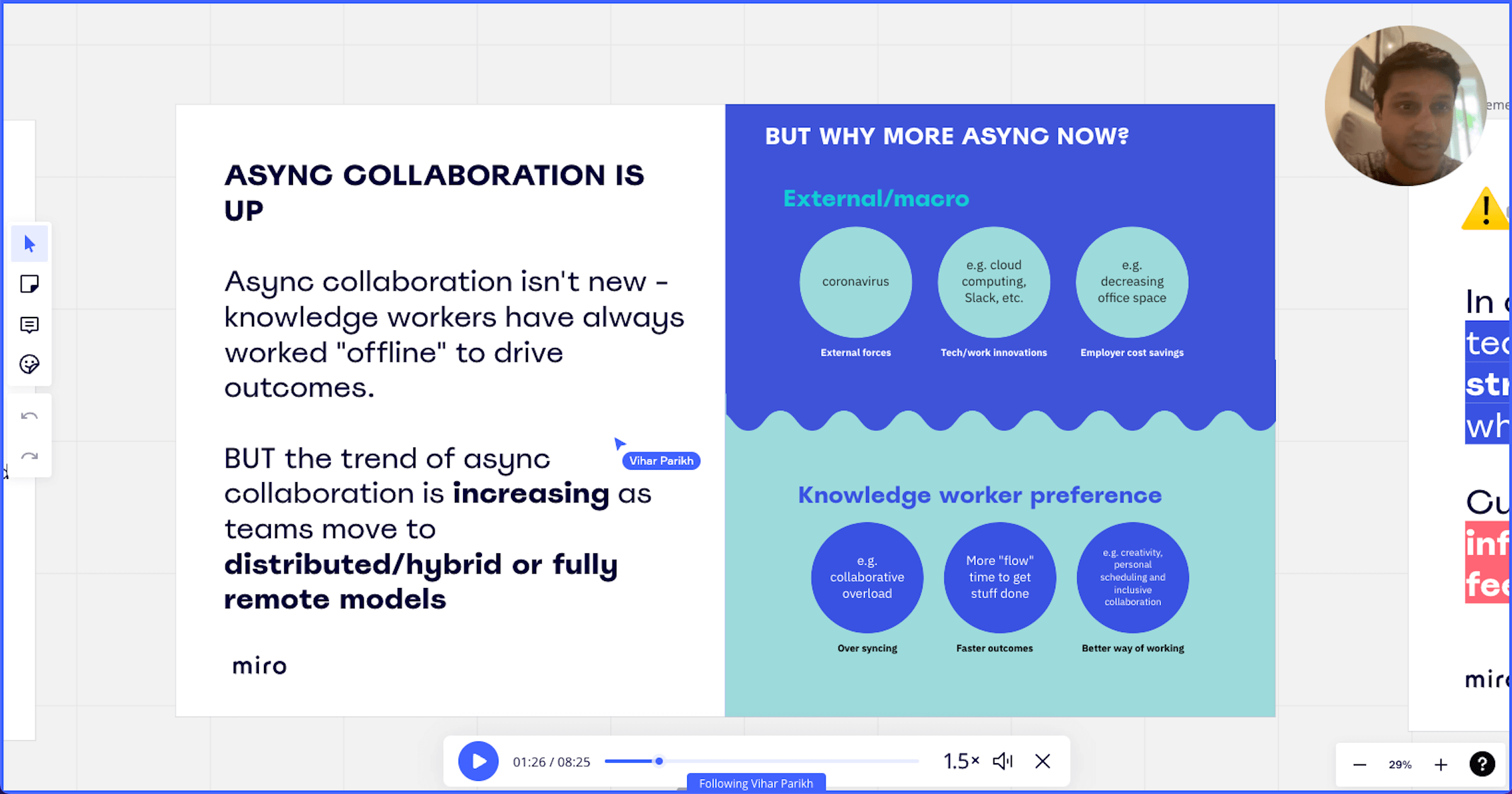 "I can keep tabs on abstract ideas." LeRenzo Malcom, Software Engineer
How do you use Talktrack?
I'm a software developer on the Talktrack team (yes, we use it, too!), and I'm thrilled that we can release this video recorder feature and give others the opportunity to check it out.
Our team likes to have weekly engineering discussions where we bring forward topics of particular interest or look at new system architecture ideas. When I look at an architectural diagram, I like to spend a lot of time thinking about it to understand it before forming my opinions on whether or not I like the idea.
When someone uses a Talktrack to explain the diagram before our meeting, I can understand the architecture and come up with important pros and cons before we get into our internal discussion, making our session more meaningful.
What's the outcome?
My meetings have gained a whole new level of efficiency.
What do you like about it?
Talktrack is something I've come to love in my day-to-day work life because it simplifies my meetings. I can also look back at that recording and comment with stickies or directly on the board.
Tip for beginners
My advice with the feature is to try it out and see if it helps with async discussions on complex topics. It's really useful as a way to keep tabs on abstract ideas and let people explain something in their own words, especially when those things require visuals (like architecture diagrams and flows)!
[rtb_inline_subscription id="1″ size="small" header="Subscribe to learn more about asynchronous work" button="black"]
The secret to a successful collaboration? Autonomy and flexibility
Miro designed Talktrack video recorder to empower people to choose how they work. This feature helps people present without the pressure that can come with live meetings, and, at the same time, it gives their audience the opportunity to digest information at their own pace.
Perhaps most importantly, it makes collaboration across a hybrid workforce feel more human. With Talktrack, you can include everyone in the conversation, strengthen connections with colleagues, and drive progress and impact without compromising on creativity, productivity, or work-life balance.
Talktrack is currently in public beta and available to Enterprise clients who have opted in.
All users can expect to see Talktrack in their Miro boards in early 2023!