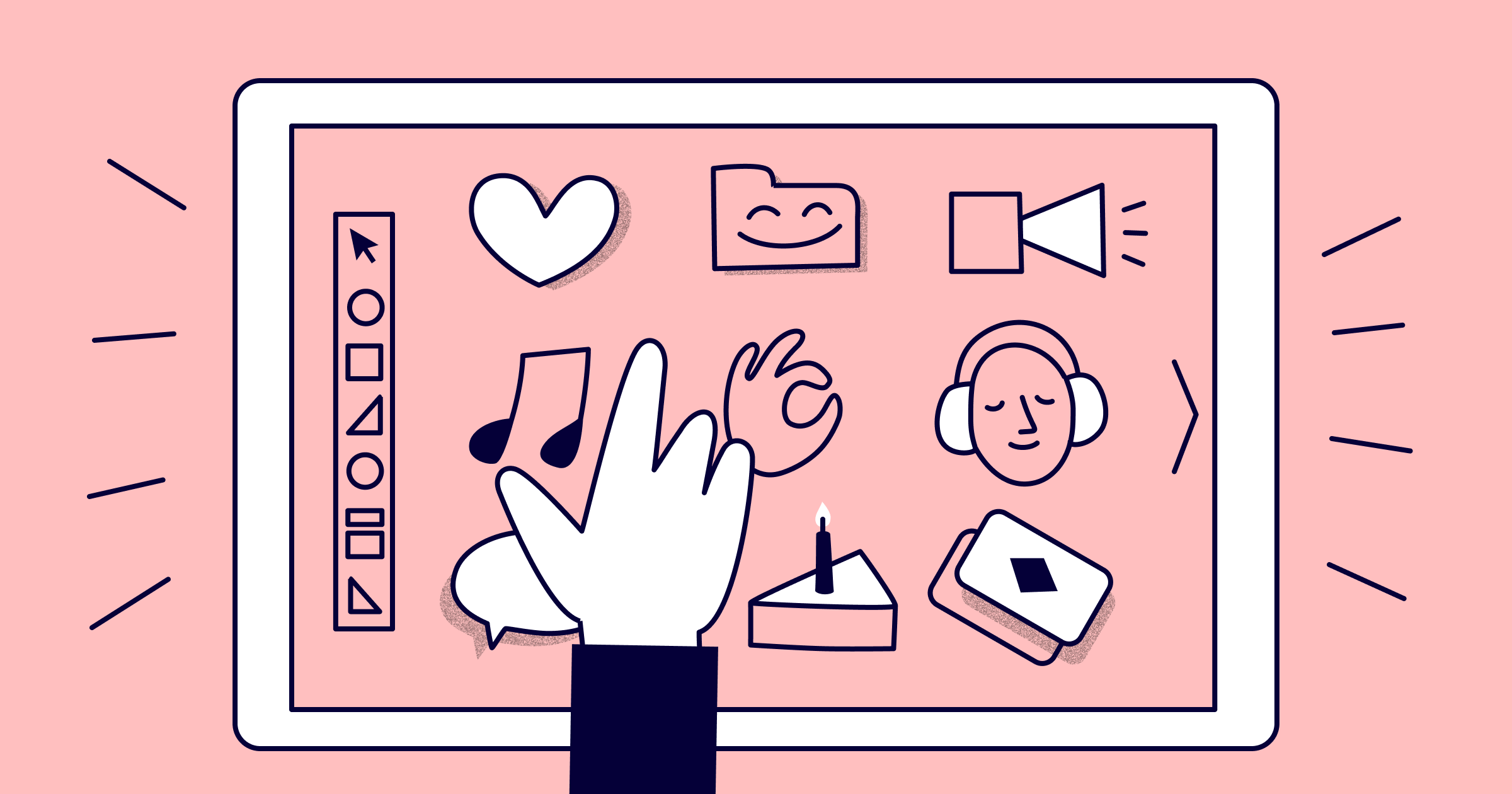 As we more deeply explore new ways of working
we are talking with, listening to, and learning from our customers.
And what we are learning from everyone we speak with — be it product designers, HR leaders, or consultants — is that you cannot overstate the importance of connection. Without creating clear pathways and deep integrations between teams and tools, we are holding ourselves back from reaching our true potential.
So we, like you, are iterating. And to better empower teams to solve big problems together, Miro rolled out a collection of supercharged capabilities at Distributed 2022 that will help you connect, collaborate, and execute with more efficiency (and fun) than ever before.
Bring embedded content to life directly within a Miro board
One of the ways our global customers find value in Miro is by aggregating all types of content from video to images to documents and tables onto a Miro board to visually collect all the elements of your project in one place. This digital workspace serves as a single source of truth – synced live with integrated apps so it's always up to date.
Now, we are excited to build upon this much-loved capability with a new range of seamless integrations, creating a layer of real-time multi-user collaboration on top of your content.
Incorporate dynamic data into your boards
Welcome to the next frontier of Miro integrations. Data is at the core of how strategic decisions are made, how projects move forward, and how businesses ensure they are doing right by their customers. But too often data is hidden away in a tool that is either inaccessible or siphoned off from other tools. And building a dashboard sometimes feels like an art mastered by only a select few.
But that's all about to change. Because building dashboards with input from multiple sources – from spreadsheets to surveys or charts – is now as easy as pasting a link. With Miro's new integrations with business intelligence (BI), you can add data points into a live dashboard in real time and make updates directly from your Miro board. Plus, you can now bring all your teammates (even those who may not have access to BI tools) together in one place to explore data and derive insights, letting you transform static dashboards into an interactive space for shared analysis.
Built on Miro's Developer Platform, embedded dashboards help you bring the right people into the room, quickly connect the dots, and make a plan of action – empowering you to meet your goals faster and in more meaningful ways.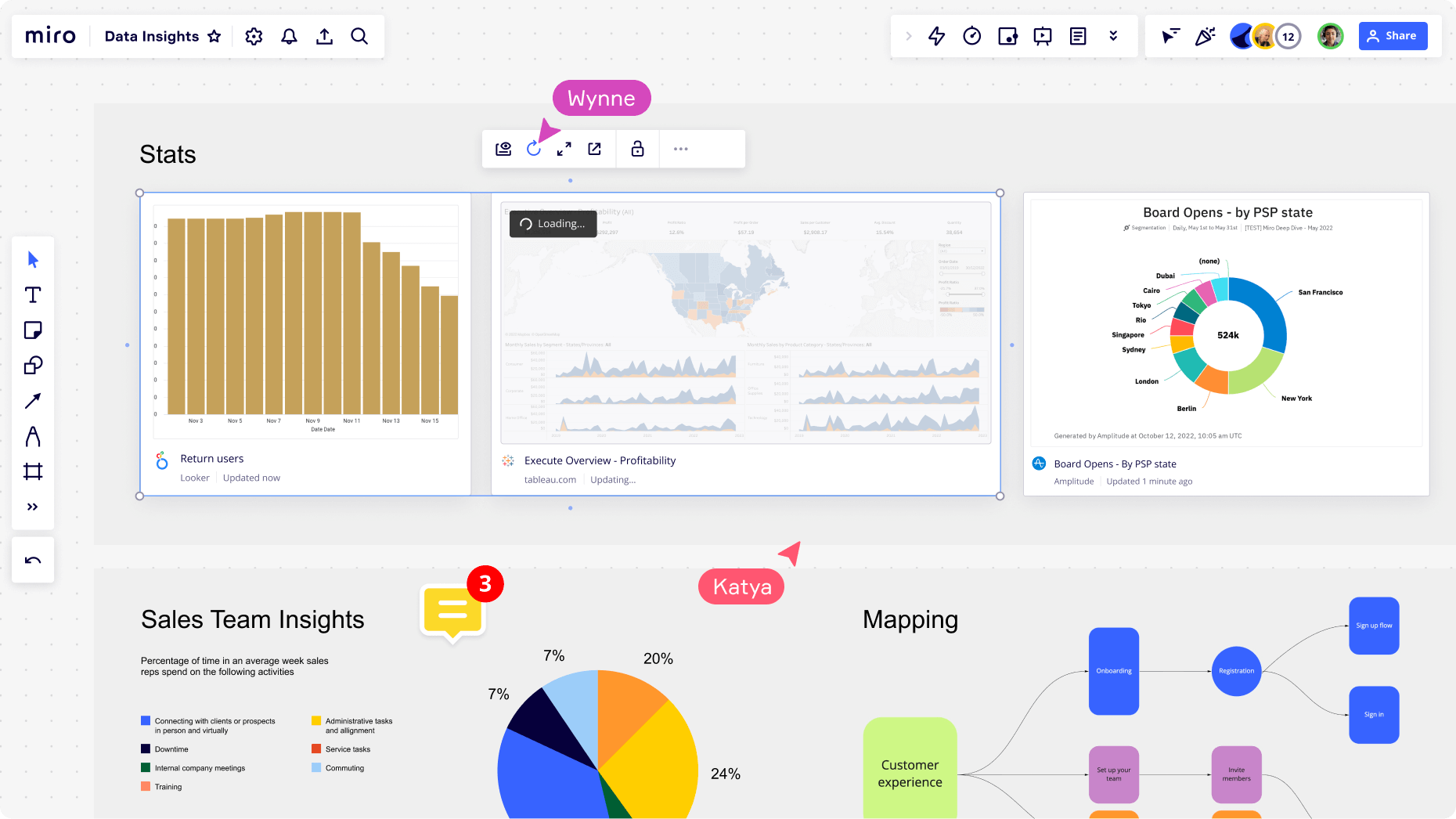 To support the developer team needs of managing complex data and monitoring app performance, Miro is introducing our Grafana integration. With Grafana, developers can create and share dynamic dashboards to foster collaboration and transparency. Combine the power of Grafana database monitoring capabilities with Miro's infinite canvas to build your own live, cross-functional dashboards.
Bring together your "building blocks" (charts) from different BI tools and highlight similarities or spotting irregularities. Extract and paste only what is relevant to you, be it an entire dashboard or specific views, just as easily as taking screenshots (but more functional). No more time wasted updating data on a board or needing to recreate work. With a click of a button, you can refresh the data and share the latest insights with your team while data remains always up to date and in sync with its original source of truth.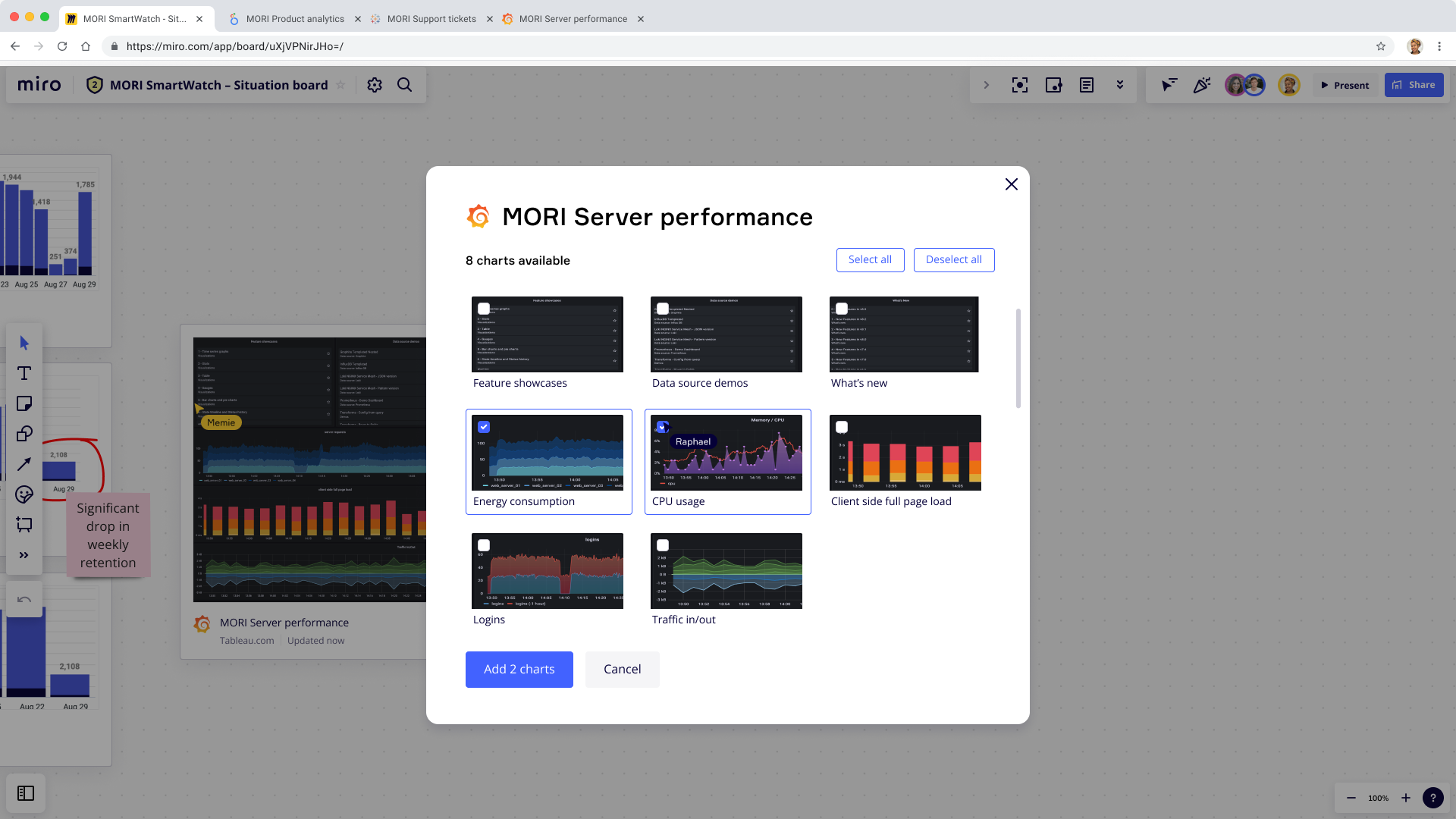 Create clips of embedded videos
You may know that it is already exceedingly simple to embed a YouTube video on your board, simply by pasting a link. Currently your link will unfurl into a video preview that you can play from within your Miro board. But with the new YouTube integration, you can do much, much more.
With our new YouTube integration, users have the ability to show only the most relevant parts of the video by creating clips and adding helpful notes for your team, allowing everyone to focus only on the most important pieces.
In addition, with Miro's clustering capabilities you can automatically organize thoughts and takeaways. You can tag your sticky notes by category and then let Miro's machine learning capabilities group them for you into meaningful and actionable patterns that capture key insights quickly.
Get visual previews of your documents
Confluence is widely used as a remote-friendly team workspace where knowledge and collaboration meet. And now your teams can seamlessly share linear, structured content from Confluence with Miro's infinite, visual canvas.
While content may live on various pages, you can easily import and preview relevant documents onto a Miro Board with a one-step authorization. This can be particularly helpful for providing a seamless transition from unstructured brainstorming in Miro to structured documentation in Confluence. Having everything visually accessible in one place helps you build an engaging shared workspace where all relevant content is referenced.
When working on projects involving multiple stakeholders, making sure you work on the latest versions of documents is essential. The timestamp at the bottom of a Confluence document shows when it was last updated and by clicking the refresh button, you can ensure you are viewing the latest version right in on the board.
Thanks to the new integration, you also can export comments from Confluence into sticky notes in Miro, allowing you to discuss edits with your team alongside the rest of the project context.
With information growing at a very rapid pace, often information hierarchy is very difficult to manage and maintain. But now you can embed a sitemap in Miro to easily view the hierarchy of pages within a Confluence workspace, thus helping you and your team visualize exactly where your work fits into the larger context.
Make meetings more human with interactive presentations
We've all witnessed the explosion of meetings since the pandemic. And research shows that more than 35% of workers say they waste 2 to 5 hours per day on meetings and calls, with no results to show from them.
The truth is meetings don't have to be a waste of time. In fact, meetings have the potential to be engaging and fun – with the ability to energize and inspire participants. It's all possible with Miro's new interactive presentation mode – designed to make your presentations more dynamic, interactive, and easier to build.
Keep the meeting engaging
Every day millions of knowledge workers spend a large portion of meetings looking at slides, where information is presented to them in a static and linear way, when what they really crave is interaction and engagement.
Miro's research shows that audience engagement is the number one marker of a successful presentation. That's why we've created and enhanced audience interaction tools like reactions, hand-raising, and stickers, directly accessible during a presentation. Participants can also use apps like the timer, voting, and breakout frames. All of these features are great for leveling up meeting engagement.
Present content in the format that fits best
Traditional presentation tools are built for complete and polished decks delivered as a one-way communication instead of a discussion. They typically require content to be fit into the constrained formats of slides and bullet points, when in reality, work and ideas are often much bigger and messier than a 4:3 rectangle.
With Miro's interactive presentation mode you have the flexibility to present slides in a traditional formal slideshow format, or to informally present content of all sizes, shapes, and file types all across the board, in any order, unshackled by a linear experience. This allows collaborative teams to share their work in its full context (and full glory).
Showcase your work where it lives
It's time to stop taking screenshots of dashboards and mockups just to pull them into a separate presentation tool. Embedded project plans, diagrams, and data dashboards can live directly in Miro, and you can present right from where the work lives. This saves time on repurposing or resizing your work for another application and guarantees that you are always showing the most updated information, allowing your audience to dive into the details and get straight to decision points.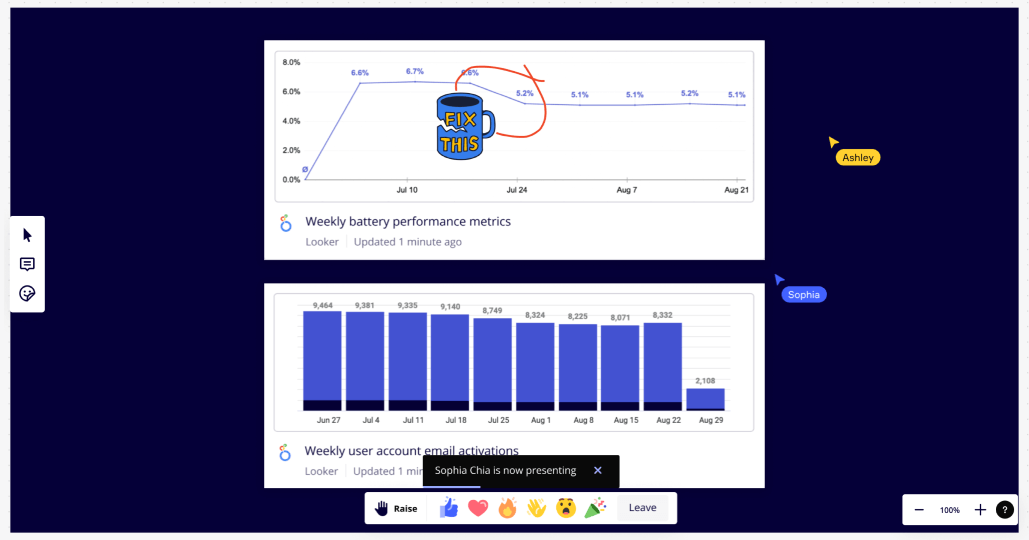 Hand off to other speakers seamlessly
When delivering a formal presentation, it can be complicated and clunky to hand off to multiple speakers. People in the meeting either have to keep unsharing and resharing screens or you have one person "driving" the screenshare and the speakers are constantly saying, "next slide please."
In Miro, it's easy for every speaker to navigate their own slides on a board. With interactive presentation mode, you can easily hand off control to another person on your team, right from the presenter's toolbar. This automatically draws everyone on the board to the appropriate presenter's view, ending the disruptive "can you stop sharing so I can share?" or "can you follow me on the board?" Now your meeting will flow swiftly and quickly and who knows? Maybe you can give your team "5 minutes back."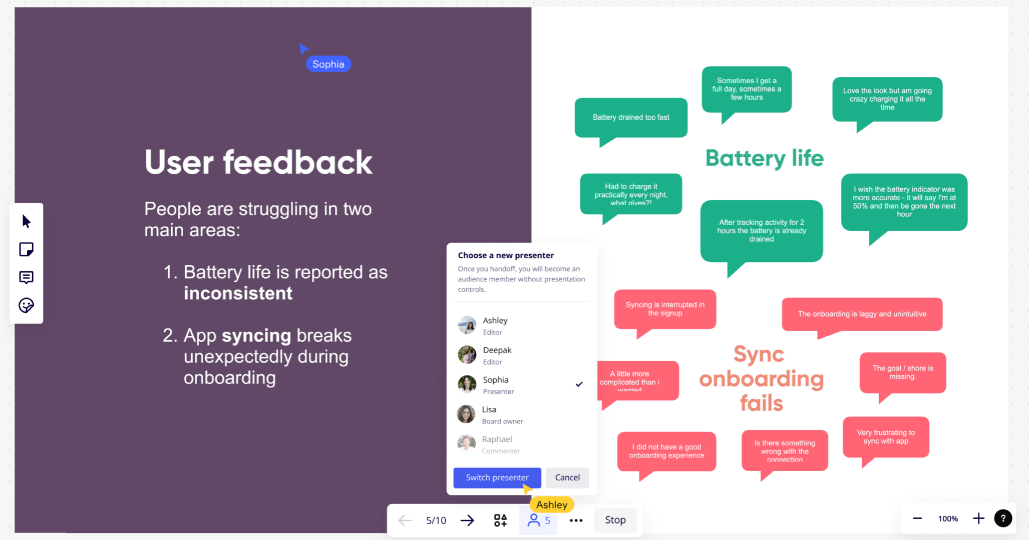 Make space for flexibility and equity at work with board recordings
One of the most important missions we have at Miro is to make space for human ways of working, which is why we made it the theme of Distributed 2022. People expect flexibility and equity around how, when, and where they work, and we want to enable workers to be able to have that flexibility in how they communicate and show up every day.
In a working world where hybrid and distributed setups are becoming increasingly common, we want to support new ways to collaborate asynchronously to provide people with more flexibility and simultaneously, more human connection.
Talktrack is Miro's latest asynchronous work feature that enables you to record video and/or audio walkthroughs of your Miro boards. What's special about Talktrack is that the video is overlaid on top of a live Miro board, so that when people are watching your video, they are actually inside the board itself. Because it is not a "screen recording," what is being recorded is the presenter's navigation on the board itself. This means viewers can actually pause the recording, edit or interact with the board, and then return to the recording to continue through the walkthrough.
Talktrack also helps reduce anxiety for those who are uncomfortable presenting live, since it gives the flexibility of re-recording your talk track as many times as you want.
At Miro, product managers love Talktrack because they can use it for pre-reads or information updates. These don't have to be communicated in real time, so a video to watch later works perfectly. And on a single board, you can have multiple recordings so that over time, a single location can aggregate your team's updates from over the course of a quarter or a year.
For globally distributed teams, it's easy to check-in with team members in a way that's more human and personable without making anyone in different time zones feel left out.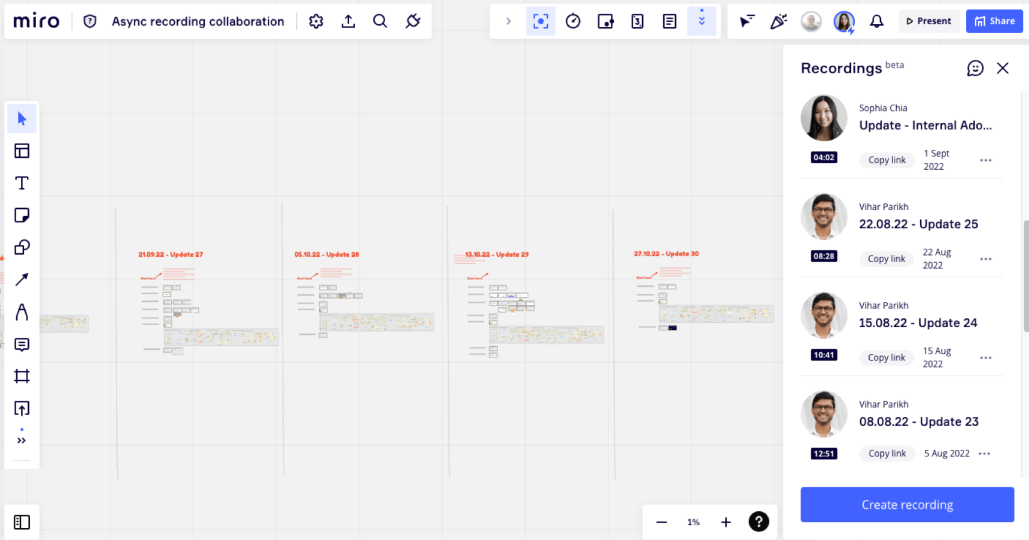 Now it's easier to break silos, make decisions, and meet goals faster
With embedded dashboards, interactive presentations, and board recordings, you have a whole host of new options for optimizing ways of working to match your needs and ensure equity across a distributed and diverse organization. With better tools to work asynchronously like Talktrack, we want to empower teams to communicate in ways that suit them best so they can be happier, more engaged and focused at work.
We can't wait to see how you use these next-gen features to enhance your new ways of working. Knowing that the keys to success in the modern workplace lie in engagement, innovation, and productivity, Miro is constantly iterating on ways to make it easier for organizations to solve big problems more efficiently and collaboratively.