In 2020, the pandemic changed everything about work. Most employees commuted just 16 steps from their bed to their workplace. Work days got longer around the world. Remote workers reported feeling isolated. Communication grew with close colleagues but decreased with everyone else.
The answer at the time was more meeting technology. Employees began spending 252% more time in meetings than before. Silos grew and innovation and productivity likely suffered.
Employees began spending 252% more time in meetings than before
Now, as we embark on a hybrid future, we are faced with a world that has gotten more complex in its need for collaboration. Executives and workplace managers have new, unique challenges in designing the workplace in a way that successfully drives innovation and equity across the organization.
"CIOs will have to throw away antiquated ways of thinking about where, when, and how employees work," says Amy Loomis, IDC's Research Director of the Future of Work. "They need to instrument a workplace to enable a dynamic flow between home and office so the boundaries are more fluid."
In this article, we'll outline imperatives executives should consider as they design the next-gen workplace, based on a notion that it's not about where the people are – but where the work is.
It's not where the people are – it's where the work is
Today, most workers live in digital tools. So it's not necessarily important where they are physically located – they need a digital workspace. As one Mironeer said recently, "We used to work in buildings supported by tools. Now we work in tools supported by buildings."
In order to be successful in this landscape, organizations need a set of tools purpose-built to support this way of working. A way of working that is location-agnostic, less meeting dependent, and supports cross-functional, digital work. Any tools you select should:
Drive culture
Impact engagement
Support fast, complex work
A new tech stack that unites and empowers hybrid workers
It's clear that the same ol' same ol' isn't serving us anymore. If leaders across IT and workplace experience teams approach hybrid by mashing together what has worked in the past for in-person and remote, it will be "the worst of both worlds." The traditional tech stack was not designed for the realities of modern, hybrid work. The new way of work requires visual collaboration. (We interviewed some of those leaders to see how they're designing the tech stack of the future. Get insights here.)
Employees love Miro because it completes the core hybrid work tech stack, driving productive collaboration. It's also uniquely designed to connect every part of the organization. We see our customers using it for workflows in every line of business – from onboarding and campaign planning to network diagramming and product roadmapping. Here are just a few examples…
Company-wide collaboration
Companies can collaborate on everything from town halls, all-hands meetings, workshops, on-sites, and audio/video recordings.
Miro is a valuable tool for all-hands meetings with hybrid teams, creating democratized spaces for teams to connect to each other and company goals, plus celebrate wins.
At Miro, we also use Miro to improve our company culture. In our 2020 off-site, we conducted "The World's Biggest Retro," in which 400+ Mironeers brainstormed ways to Make Miro a better workplace and company.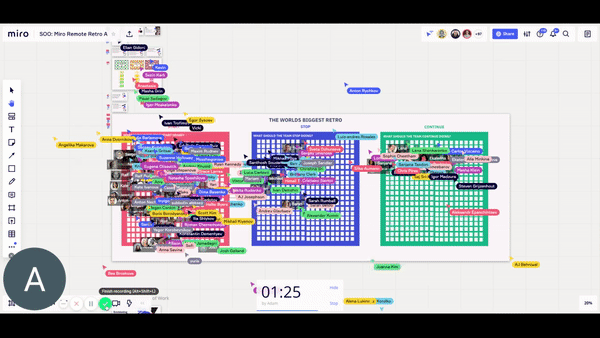 Miro's People Team pulls out all of the stops to make our off-sites more collaborative and engaging. Since Miro allows you to freely draw and write with a stylus, we hired a visual note taker to sketch our company panel.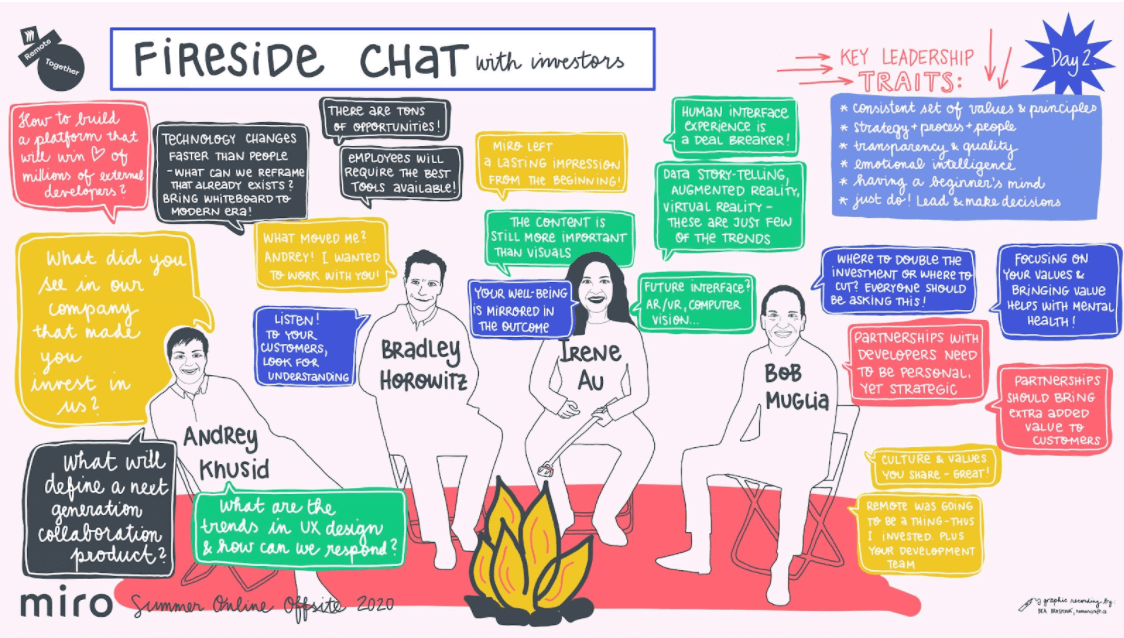 One of Miro's most valuable benefits is giving teams visibility. We've designed a process for creating company-wide OKRs (objectives and key results) starting with a Miro board to help leaders make connections and visualize company goals. This same board serves to provide transparency no matter what team or level you are in the company.
Team specific workflows
People and HR teams love using Miro for onboarding, strategic planning, team building, and training.
At Miro, team's will use one board to house all relevant info and archives. This is also a good place to keep team alignment maps for role clarification and team charters, which lay out the rituals and toolsets, giving everyone a single source of truth.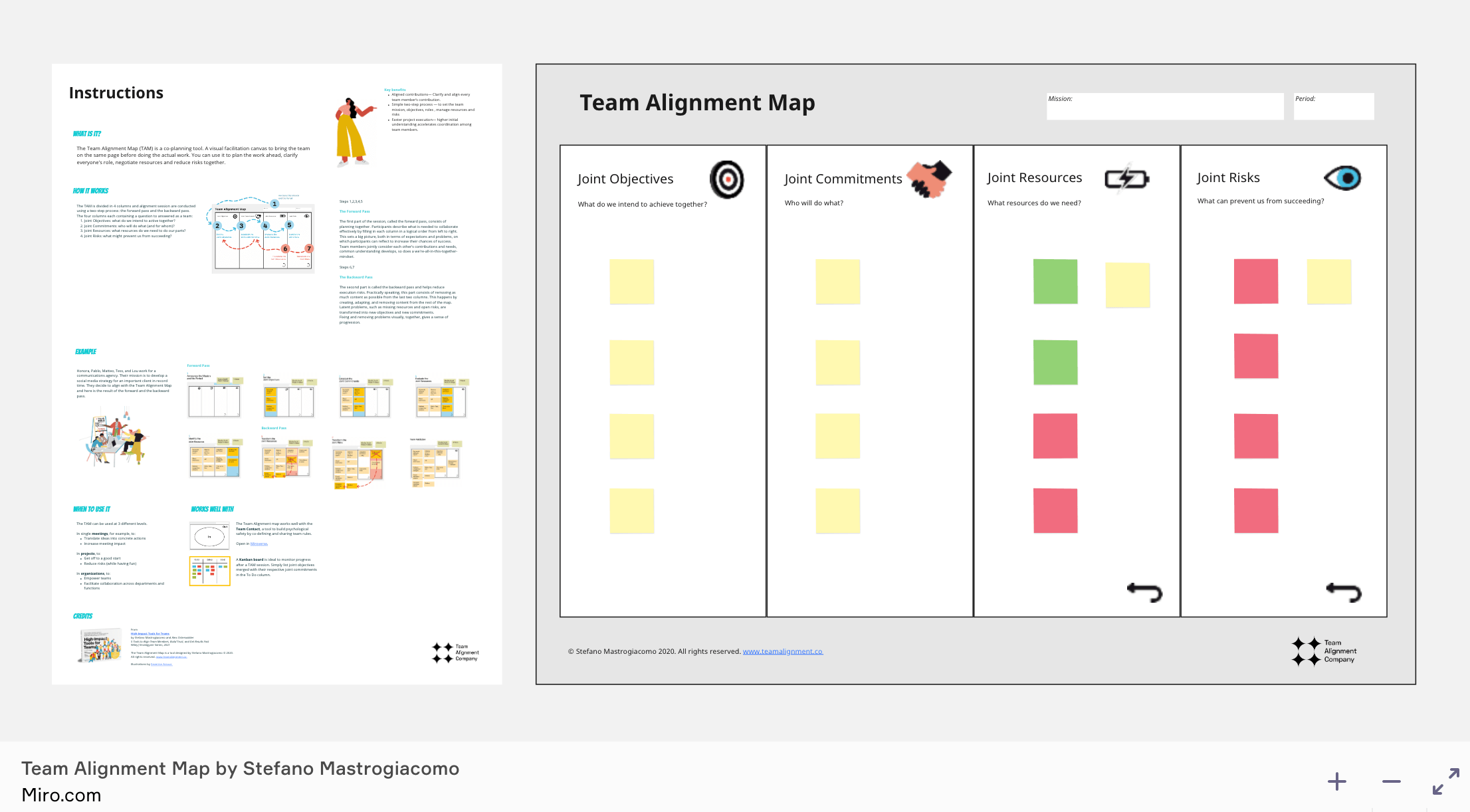 Customer facing teams develop personas, plan marketing campaigns, create brand strategies, host customer workshops, and diagram important processes.
Product development teams can do sprint planning, backlog grooming, retrospectives, and diagrams, as well as roadmapping, journey mapping, brainstorms, and design sprints.
And thanks to the breath of Miro's integrations, all teams can use the same tool but tweaked to their specific workflows and tech stack. Anchoring all teams in Miro dissolves barriers to cross-functional collaboration.
What's next
Companies that don't figure out how to design for hybrid work will fall behind. Those who figure it out will benefit from a global talent pool and happier and more engaged employees with higher and better quality work output.
Visual collaboration is a critical piece of the New Work Hub as it provides unique capabilities for teams to create and share ideas visually without being together in person, giving everyone an equal seat at the virtual table. Consider it as the perfect complement to your tech stack – and use it to break down silos, engage employees, and revive productivity.