The perfect meeting is an elusive concept. We're all familiar with the mind-numbing "I talk, you listen" model of the corporate presentation and the chaos of open-ended brainstorms with no clear takeaways. If our calendars are starting to look like brick walls of meeting blocks, this pattern can lead to frustration and burnout. It's time to challenge the status quo and make meetings more efficient, engaging, and interactive.
In this post, four expert facilitators share how you can turn any kind of meeting — client-facing or team, large or small, synchronous or asynchronous — into collaborative, productive sessions.
Miro allowed us to create a space that made everyone feel as if they were together in the same room. Post-its, plants, sitting around a table, and seeing everyone's faces, made sure that the Miro experience felt life-like.
Celina Carlisle, Junior Designer, Design Council
Go the extra mile for that 'in-person' feel
Design Council, a non-profit championing great design that changes lives, recently held a virtual roundtable in Miro. They brought together a group of industry experts to discuss how to encourage sustainable living in the UK and abroad through design.
All workshop participants were mailed an ethically produced tea bag and coffee capsule prior to the workshop to create the sense of a shared physical experience. Images of lush potted plants and a text box explaining that "doors will open to the breakout room after the panel speakers" mimicked the experience of waiting eagerly outside conference room doors. Adding photos of attendees to the board added a personal touch while also clarifying where everyone needed to be and when.
Types of interactive meetings and workshops you can run in Miro:
• Retrospectives
• Design sprints
• Asynchronous design collaboration
• Collaborative dependency identification
• Webinar/content planning
• Business model planning
• Quick concept sharing
• User story mapping and estimation
• Lightning decision jams
• PI Planning
https://miro.com/app/embed/o9J_kuRSDQg=/?autoplay=yep The team at Design Council used frames to create dedicated spaces for workshop activities and images to make the experience as life-like as possible.
Encourage asynchronous work when possible
The team at Crema has turned the typical notion of the live, in-person meeting on its head. They've discovered that often, projects don't need much live collaboration at all. In fact, by optimizing for asynchronous work, they find that they move more efficiently and collaborate more effectively.
The product development agency recently prepared a three-part webinar series in Miro called Collaboration after COVID-19. A large part of the collaborative work was done asynchronously, which is exactly what they urged other teams to do in their webinar.
https://miro.com/app/embed/o9J_ksGo1To=/?autoplay=yep
The team at Crema collaboratively (and in large part asynchronously) planned out the content for a recent three-part webinar series, "Collaboration after COVID-19," in Miro.
Michael Luchen, a Coach at Crema, asks participants to share feedback before or after a meeting using digital sticky notes and comments. In this way, valuable conversations can continue after a meeting or might eliminate the need for one altogether.
If the team needs time together on the board in real-time, he strives to make the meeting purpose-driven and efficient. He adds templates to the board ahead of time and uses the timer to keep the discussion on track (you can try this yourself with Crema's templates in Miroverse). Michael also uses the iPad app paired with the Apple Pencil to make participants feel like he is drawing on the whiteboard.
Miro fuels instantaneous, flexible, and natural collaboration. It's a modern evolution of the whiteboard and in many ways, makes a good case to never use a physical board again.
Michael Luchen, Coach, Crema
Design your meeting space with engagement in mind
For Jay Melone, founder of the innovation strategy firm New Haircut, engagement is the key metric to success for any meeting or workshop you're running. But how do you design for engagement? Melone takes a human-centered approach in all of his workshops, including his Problem Prioritization workshop. He works to understand the people in the room — or video call — to drive engagement and ensure actionable outcomes.
First, Melone conducts one-on-one interviews with stakeholders before the workshop even begins, gathering ideas and insights on a Miro board. This time also exposes participants to the tools, language, principles, and business topics they'll need to collaborate successfully.
https://miro.com/app/embed/o9J_kmO7oGg=/?autoplay=yep
New Haircut engages workshop participants by taking a human-centered approach to problem prioritization in Miro.
Melone begins the workshop with an interactive game or icebreaker in Miro to get the team comfortable with the tool and the topic at hand. As the team dives into the meat of the workshop, Melone visualizes the conversation in Miro to keep everyone on track and allow participants to process information in multiple formats, documenting insights using sticky notes and images and organizing them with frames and Miro Grids. To keep the energy level high, Melone plans strategic breaks and energizers to allow participants to disconnect and get them excited to continue collaborating.
Miro allows teams to meet, engage, share, ideate, and make decisions all in a beautifully designed space.
Jay Melone, Founder and Principal Facilitator, New Haircut
Bridge the virtual gap with digital sticky notes and frames
WCP Consulting runs project management and agile courses with clients around the globe using Miro. Kiron Bondale, WCP Senior Consultant, strives to use tools that clients are familiar with in the real world — such as sticky notes — to ease the transition to virtual workshops.
"Our in-person workshops are extremely interactive and immersive," said Bondale. "What I love about the Miro [sticky notes] is that participants can customize their sizes and colors, and they turn basic brainstorming into brainwriting."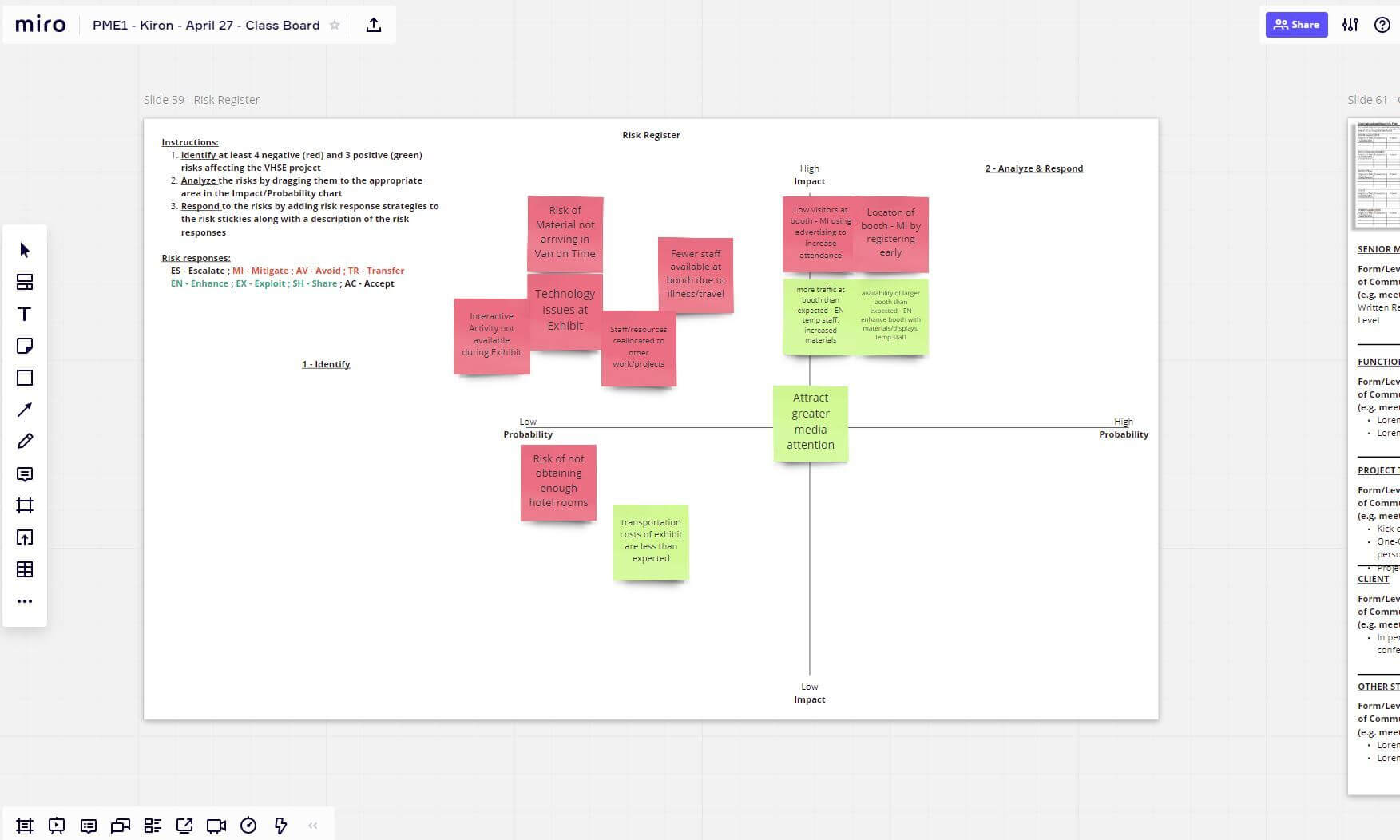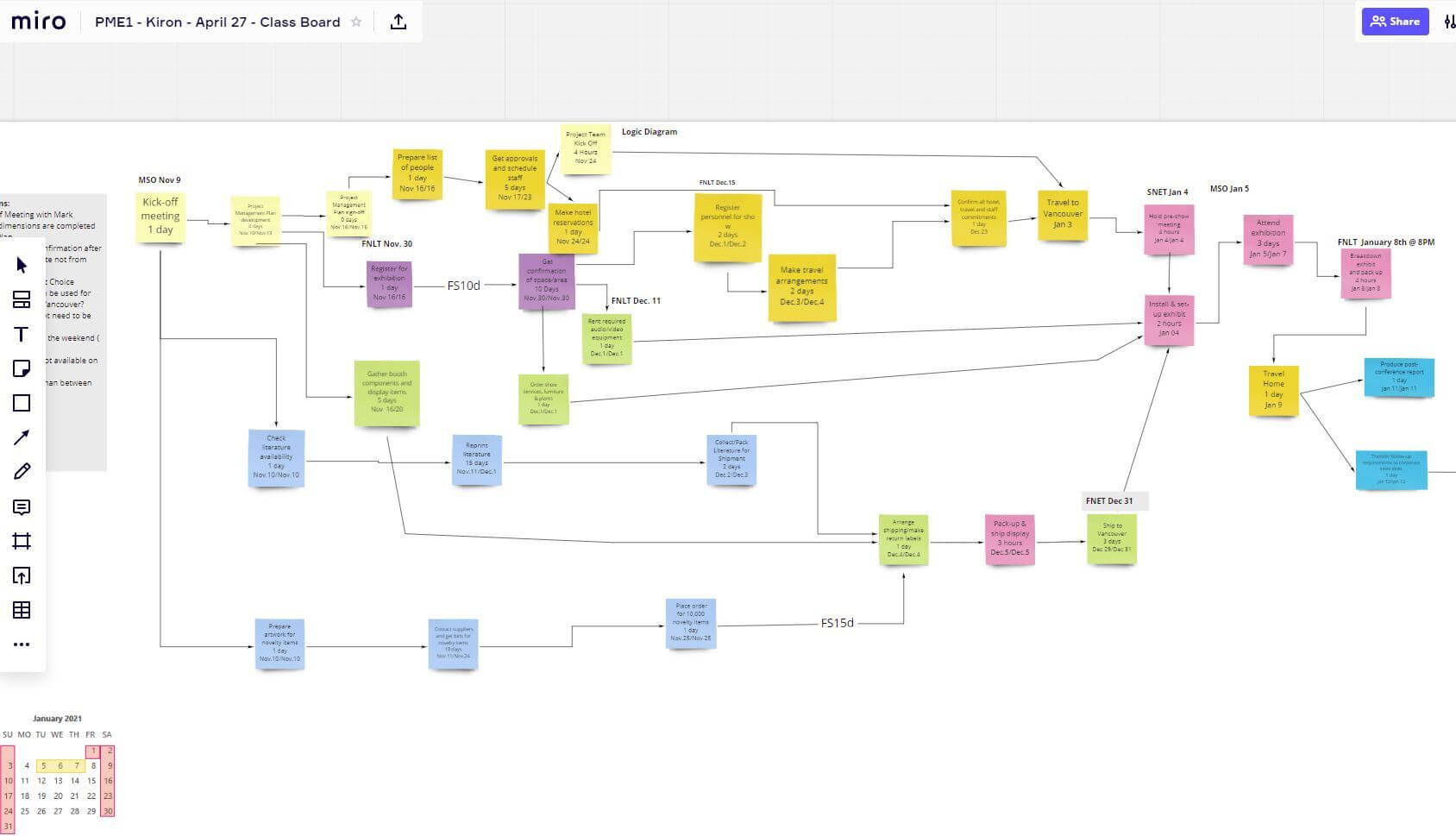 In a recent three-day project management workshop, pictured above, Bondale found that frames helped him organize, save, and export his workshop content to share and analyze after the event.
[Frames] make it really easy to jump to an exercise or to export completed exercise content after the workshop. Miro enabled an experience which was equivalent, and in some cases, superior to the exercises in the physical world.
Kiron Bondale, Senior Consultant, World Class Productivity