What is service design?
Service design aims to create the best holistic experiences and solutions by focusing on the needs of all users. Service designers organize systems, processes, infrastructure, and materials to maximize user and business value.
Two service design templates you can use today!
Here are two visual templates for service design to help you learn more about your customers and their experience: Personas template and Service Blueprint template. Great news – both are in our templates library and you can start using them right now.
When you are working on your product or service, it's vital to know your customers, their values and needs, their experience. If you know why your customers buy (and why they don't), what problems they face with while interacting with your service, you have a great chance to improve your customers' experience, and get more profit from your business.
Let's explore each of the templates in detail.
Personas
Personas are hypothetical archetypes of potential customers that aim at representing them throughout the design process and guide the development of a product or service. Personas are not real people or average users, but user models described in details, that have the key attributes of the social group they represent. They comprise not only demographic characteristics, but also their needs, values, lifestyle, culture and personal background.
Personas template is available when you create the board. It consists of 9 blocks where you should put the relevant information. They are the following:
---
1. Block with the name and picture
You can call your persona as a common 'John Smith, project manager' or specify as 'Walt Disney', this should help you start to identify the other characteristics of the persona.
2. Who am I
This block is designed to describe the key facts about your persona. Try to think as he thinks, and add a short description. For instance, "I'm John Smith, 35 years old. I'm working as a project manager in a biotech company for 7 years". You can add more specific facts and details if you want.
3. 3 reasons to use your product/services
Try to think why your persona uses your product. For example, your product can save time, have necessary features or allow collaborate with the remote team.
---
4. 3 reasons to buy you product/services
Imagine, why the persona not only uses your product, but buys from you. What are the key reasons? Extended features? Limitations in free version? Great customer service?
5. My interests
Try to list the key interests of the persona, it will help you to make your message more specific and use the right channels. List 3-5 most important (i.e. art, design, creativity, etc.).
6. My personality
Describe the personal qualities of your persona. What makes him/her specific? Is he/she reliable, adventurous, curious?
7. My skills
What the persona is good at? Marketing, task-tracking, what else? List 4-6 most important skills.
8. My dreams
What he/she is dreaming about? What is the point "B"? This will help you to create a story for your persona, which will give a value for the customer.
9. My relationships with technology
Describe how your persona uses the technologies, what technologies and how often.
After you describe your personas, you are able to make decisions about your product or service, use the right channels and develop your communication strategy. Get inspired with our example or Personas by HubSpot and create your own.
Service blueprint
A service blueprint is a visual tool designed to help guide effective business decisions. Service blueprints are a customer-focused process for visualizing what factors are necessary to produce excellent service, how this excellent service will be performed, and how to create optimal experiences for customers.
Just like product companies use blueprints to help them construct products and buildings, service businesses use blueprints to ensure all the factors are in place and processes optimized to provide optimal customer experience.
Service blueprint is based on a visual technique that displays the process functions above and below the line of visibility to the customer: all the touchpoints and the back-stage processes are documented and aligned to the customer experience.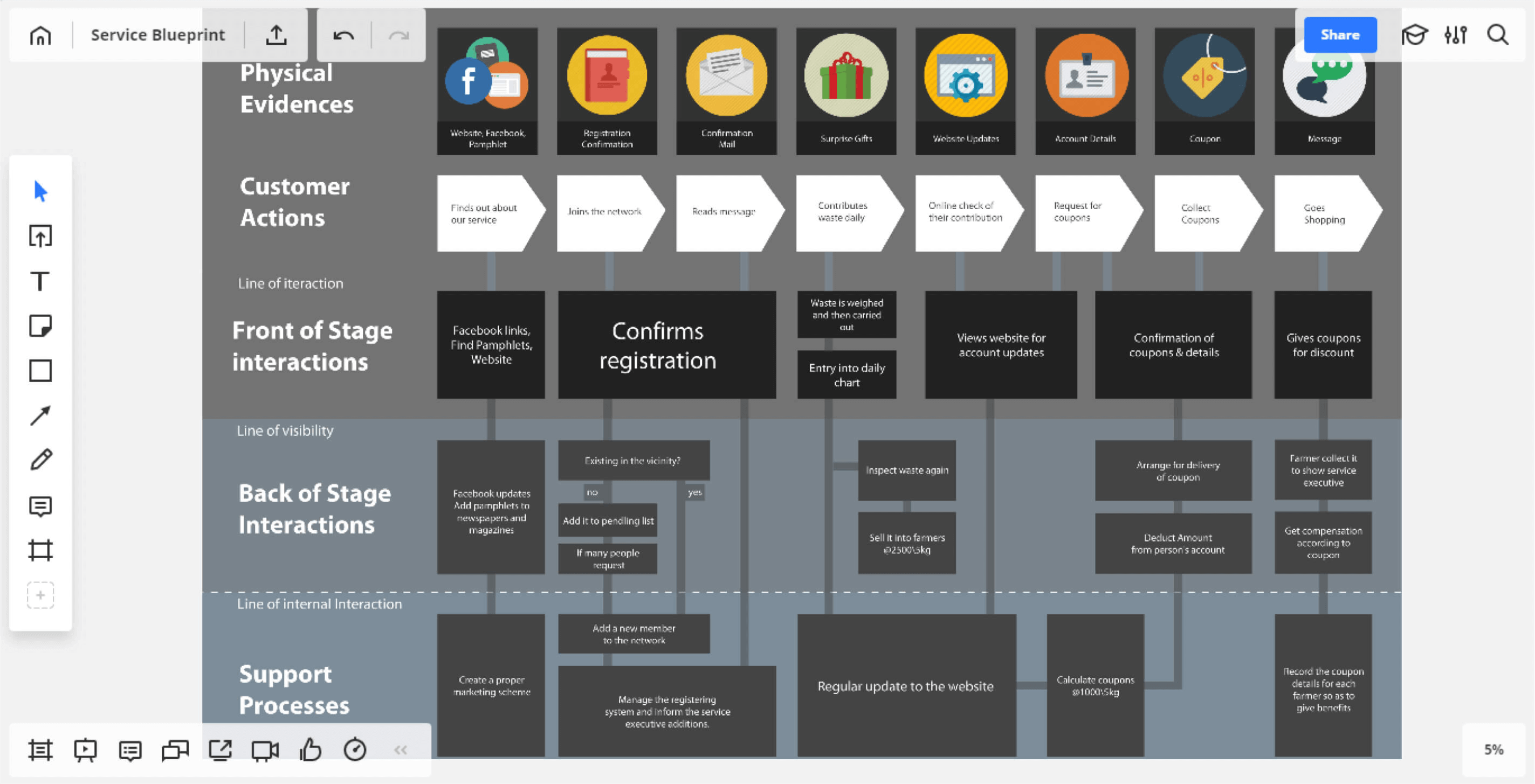 Our template consists of 5 main blocks: physical evidence, customer actions, front of stage interactions, back of stage interactions, support processes. All the blocks are separated by three lines – line of interaction, line of visibility and line of internal visibility. Use links, shapes, icons to visualize your blueprint.
Personas
Research customer experiences. This involves the use of research methods (such as in-depth interviews, observation, focus groups, surveys) for the gathering of comprehensive and detailed information about customers' perception of their participation in the service encounter.
Use the information gathered to construct a comprehensive step-by-step flowchart depiction of the customers' participation.
Analyze every step. Identify critical positive steps (those adding to the customer experience) and fail points (those found to detract from that experience).
Ensure that critical positive steps are consistently performed during service delivery.
Analyze fail points with reference to the company vision / mission and capabilities. Decide on whether any such points are beyond capabilities, hence justified. Develop scenario planning to minimize negative outcomes.
Develop scenario planning to minimize negative outcomes.
Develop step-by-step corrective actions for unjustified fail points.
Finalize a comprehensive service delivery blueprint.
Plan for effective implementation (e.g. staff training) and on-going monitoring.
Get inspired by our Service Blueprint example and go ahead! Hope these methods will help you to create more value for your customers.