Glossophobia is believed to affect up to 75% of the population. This common ailment is better known as fear of public speaking, and it can manifest as everything from slight nervousness to total panic. And, while there's no complex scientific terminology for writer's block, it can also be a panic-inducing affliction.
If you've ever faced these obstacles ahead of a major presentation that could affect the continuation of your project, the viability of your business, or the development of your career, you know that the key to overcoming them is … preparation.
So, we've collected 10 presentation templates in Miro to help you avoid the intimidation of the blank page (or slide, as the case may be). Leverage these slide decks to clearly and convincingly communicate with your audience:
1. Logo Presentation Template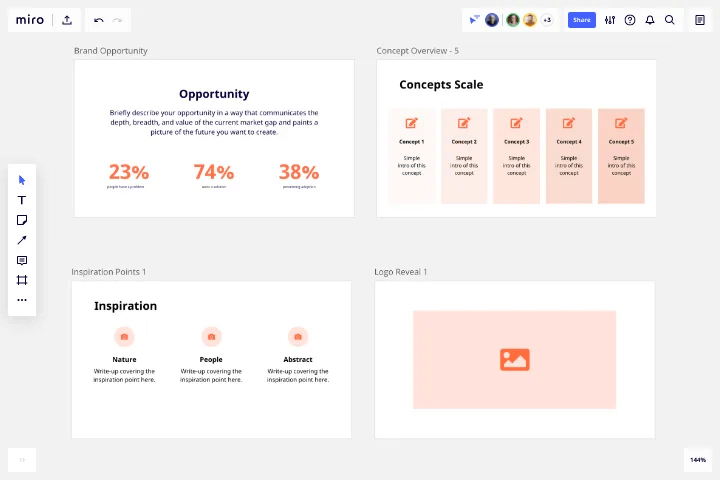 With just a singular image and minimal, if any, text, a logo encapsulates a company's entire brand story. So, when delivering potential logo designs to clients or colleagues, it's important that your presentation likewise tells a captivating story.
This template enables you to contextualize the logo amid the overarching brand strategy; showcase multiple concepts, including your inspiration for each design; and gather feedback in real time. Customize the Logo Presentation Template and present your design ideas with confidence.
2. Rebranding Presentation Template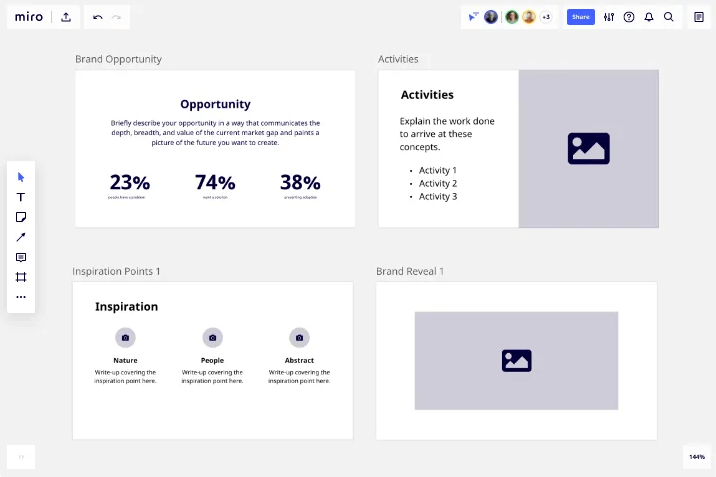 Perhaps you're tasked not only with reinventing your client or company's logo, but are instead responsible for rethinking the entire brand strategy. Ideate, socialize, and iterate on your rebranding plan to secure buy-in from cross-functional stakeholders on the next evolution of your brand's identity prior to implementation.
This template ensures that the "why" behind your rebranding strategy comes through as strongly as "what" elements of the brand are being revamped. Take the first step in future-proofing your brand with the Rebranding Presentation Template.
3. Company Vision Presentation Template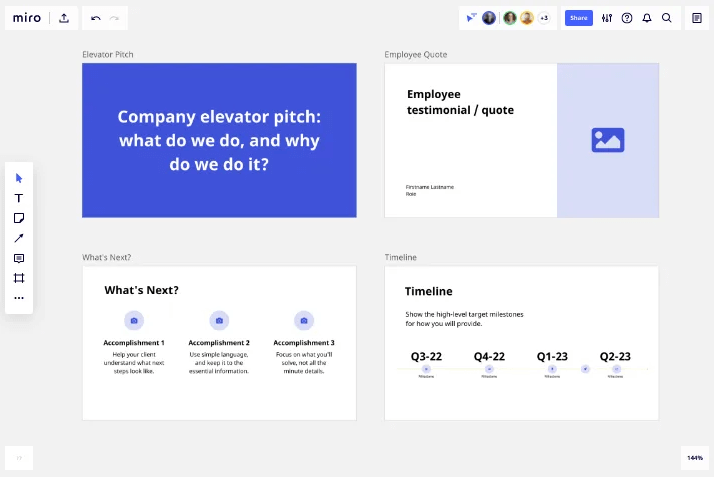 While look and feel can certainly shape how customers, employees, partners, media, and others perceive a brand, the words that a company uses to describe itself and its objectives are equally influential. The ideal company vision statement is bold, yet concise, and reflects the shared aspiration of everyone at and affiliated with the company.
To this end, you might consider surveying your customers and employees when developing your new company vision statement to better understand the values that most resonate with them. The Company Vision Presentation Template provides space for you to speak to these insights and how they contributed to your new company vision statement, once you're ready to socialize it.
4. Sales Presentation Template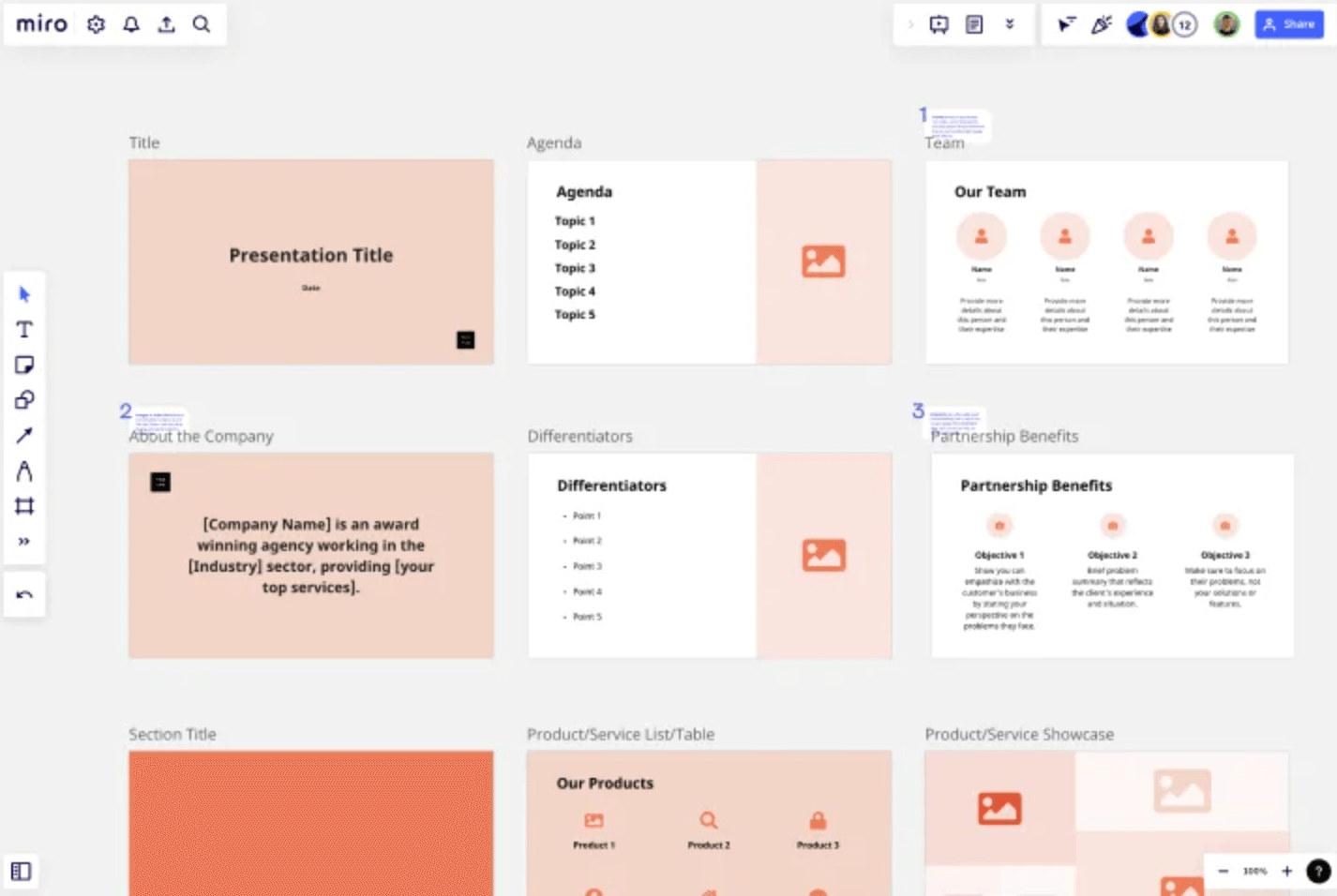 Sales pitches are most convincing when they're customized for a specific customer, showcasing how your product resolves their particular pain points. However, sales representatives often lack the bandwidth to create unique presentations for each prospect.
Simplify and streamline your sales presentation preparation with this template, which allows you to pair universally relevant contextual slides with customer-specific case studies. Get closer to closing the deal with the Sales Presentation Template.
5. Pitch Deck Template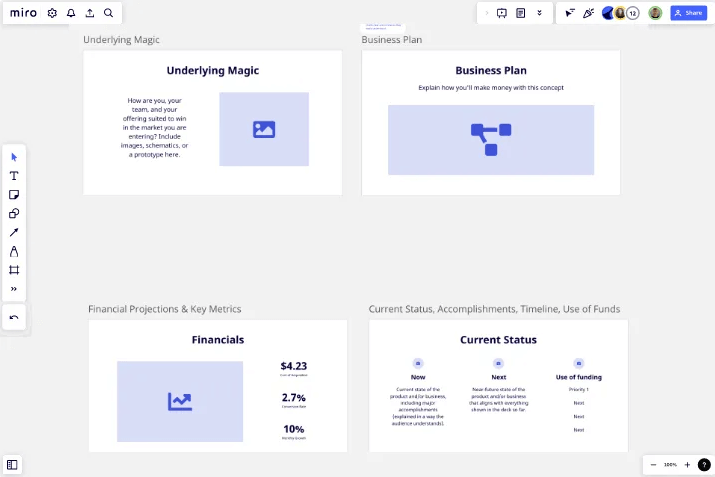 Whether your goal is to obtain funding for your business idea or leadership approval for a new program within your current company, a concise and compelling pitch will help you gain supporters.
This high-level template includes all of the elements you need to start the conversation, spark interest in your idea, and secure a second meeting, during which you can dive into more detail. Don't miss the video embedded in the Pitch Deck Template that shows you how to make it your own!
6. Proposal Template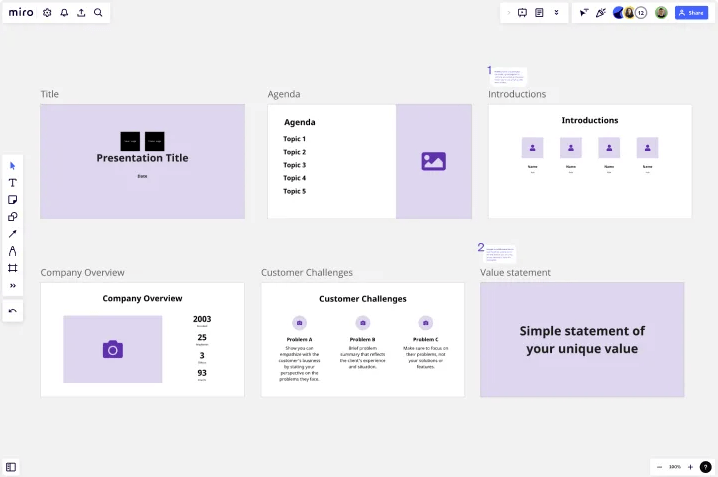 If you're not pitching your idea for a new business or program, perhaps you're pitching your products or services to a prospect to secure their business. In this case, you need a persuasive proposal to demonstrate that you and your company understand their challenges and are best suited to provide the perfect solution.
You can fully customize the Business Proposal Presentation Template, no matter what your business does or who your prospect is. Should you need a more specialized presentation to stand out, consider leveraging the Consulting Proposal Template or Marketing Proposal Template instead.
7. UX Presentation Template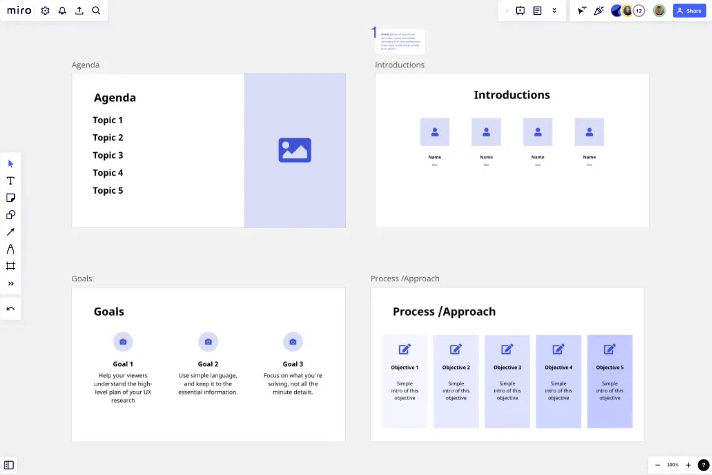 User experience (UX) research is an invaluable resource for understanding how customers interact with your business. That said, these insights lose their utility if stakeholders aren't able to easily decipher and digest months' worth of user interviews and quantitative data.
This template helps you distill your UX research down to the most essential takeaways; it also includes slides where you and your colleagues can begin brainstorming how such insights may shape your business or product strategy. No matter your role—designer, product manager, researcher, etc.—use the UX Presentation Template to get your team on the same page.
8. Product Roadmap Presentation Template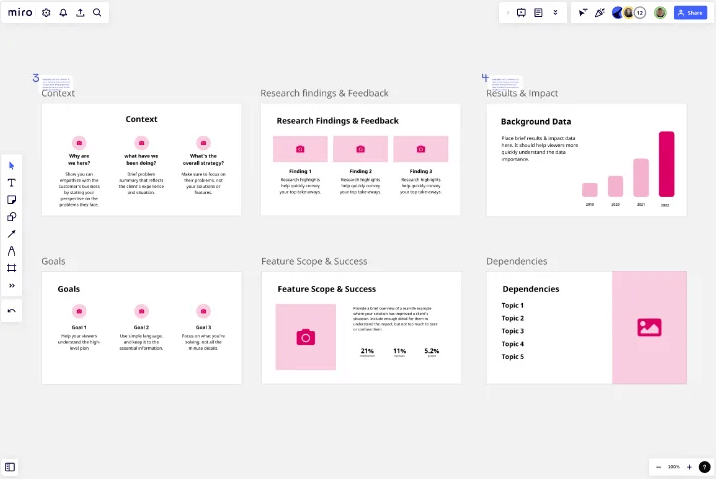 Product roadmaps showcase the strategic value of new products and product features, explaining how they will move the needle on overarching business objectives. Also included in such roadmaps are key milestones and those responsible for ensuring that they're met.
This template empowers you to hit both these strategic and tactical notes as you walk stakeholders through your product roadmap. Obtain feedback on and approval to pursue your product strategy with ease when you use the Product Roadmap Presentation Template.
9. QBR Template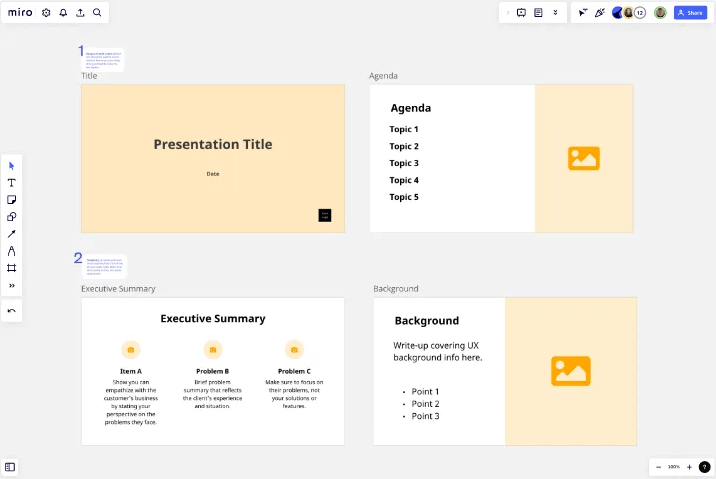 A quarterly business review (QBR) is an opportunity to share the progress you've made toward established goals over the past 90 days and discuss next steps with your internal stakeholders and/or client-side decision-makers.
This deck is perfect for facilitating a productive and transparent discussion, with slides for level-setting on goals, highlighting results, and identifying drivers and obstacles that may have affected performance. Use the QBR Presentation Template to reflect on past failures and successes and identify areas of focus for the coming quarter.
10. Storyboard Presentation Template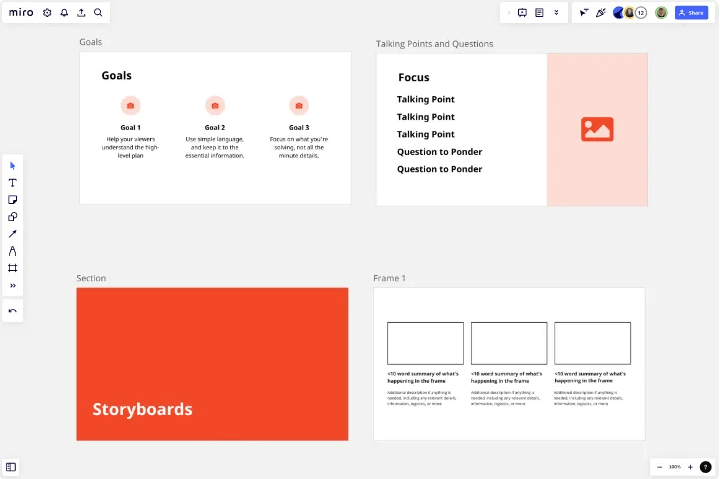 No matter the purpose of your presentation, starting with a story is a proven way to engage your audience. Creating an empathetic and trusting dynamic from the outset can make it easier to motivate action—whether that be gaining support, securing investment, or striking a deal—down the road.
The Storyboard Presentation Template includes placeholders for clear, written narrative alongside captivating visuals—use these slides as is or incorporate them into another template to supercharge your presentation. And don't forget to pair your presentation with a natural, humanized talk track!
To make the most of your Miro template, consider using presentation mode. Enter presentation mode by clicking the play button icon in the top toolbar. Each frame on the board becomes a slide in your presentation; select the "Open sidebar" button in the bottom left corner of your board to reorder the frames as needed.
Once presentation mode is activated, the board becomes view only, the creation toolbar is locked, and comments and cursors are hidden. The resulting clean, distraction-free experience allows your audience—and you!—to focus solely on the purpose of the presentation on screen.
Unlock the power of presentations in Miro