As the COVID-19 crisis was escalating in the UK, the National Health Service (NHS) found itself in the midst of a crisis. Some 40% of key NHS healthcare workers had been forced to self-isolate with unconfirmed coronavirus symptoms in their homes, leaving a colossal gap in the workforce at a time when they needed to operate at full capacity. And since the virus was unconfirmed, many of those isolations were completely unnecessary – the result of runny noses from allergies or common cold symptoms.
The NHS asked Difrent, a professional services company specializing in user-centric digital and business transformation, to do the seemingly impossible: mobilize a team within 24 hours and deliver a working home-testing solution for isolated medical staff within just seven days.
The urgent call during a global pandemic
The team at Difrent has partnered with numerous "public good" institutions – governments, healthcare organizations, and private businesses – to make a positive impact on the lives of citizens nationwide since 2014. The multidisciplinary experts were eager to dive in and help the NHS despite the incredibly tight timeline, claiming they do their best work when asked to do the impossible.
"Right at the start of the pandemic, I was keen that Difrent was going to get involved and help out with the NHS," said Rachel Murphy, CEO of Difrent. "I absolutely knew we had the right skills."
The remote work challenge
Due to the nationwide lockdown, the company would be obligated to do all their work remotely. This presented a challenge for a group that prides itself on transparency and close partnerships with clients.
"Normally, you would meet with your colleagues and get to know one another. You'd use sticky notes, whiteboards, and all sorts of other collateral to identify user needs and map out solutions," said Randal Whitmore, Head of Growth and lead Product Manager for the project. "We needed a way to collaboratively do these activities without physically being in the same location."
The pressure was on. Whitmore and his team needed the right tools to align stakeholders, brainstorm solutions, test ideas promptly, and ultimately deliver a service that had never before existed without ever setting foot in the same room.
"We didn't have time for posturing and debating. It was all hands on deck," said Murphy.
Getting started with online collaboration
Whitmore's colleagues recommended he try Miro, a collaborative online whiteboard. Right from the start, Miro's infinite canvas proved to be a natural alternative to how the team would normally work in-office.
"The Miro platform is really good at enabling us to work in a collaborative way from home," said Whitmore. "You're able to do everything in one space that you'd normally do in an office with sticky notes and Kanban boards. That on its own delivered immense value."
The team's first task was to deeply understand the problem, identify any blockers, and agree on the desired outcome. Above all, they needed to keep real users — nurses and medical staff chomping at the bit to get back to work — at the heart of every decision.
After an intensive day of online interviews with key knowledgeable stakeholders, the team gathered in Miro to inscribe their common goal in huge letters across their Miro board, ensuring that every design decision would focus on returning isolated healthcare workers to the front lines.
Wardley mapping in Miro allowed them to pinpoint what needed to be built from scratch and what they could buy to save time in accomplishing this goal.
"I was particularly blown away by the kind of canvas created in Miro for Wardley mapping," said Murphy.
Miro helped us bring multiple stakeholders on board with what we were trying to achieve, rather than convince them of what we were trying to build. This really helped win hearts and minds across the organization
Using Miro helped create the transparency and open communication needed to keep over fifty team members and suppliers in the loop throughout this iterative brainstorming process.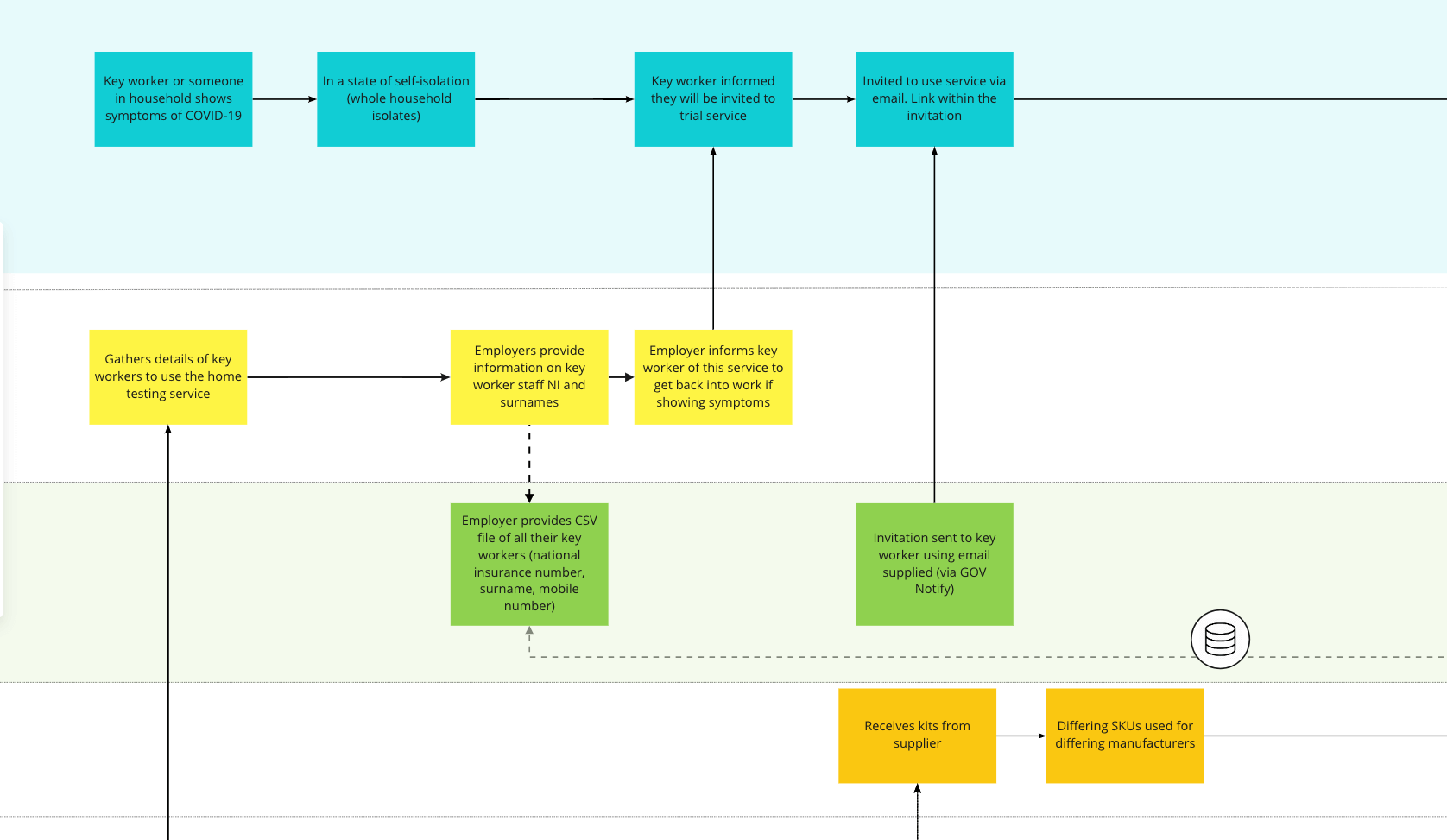 Within days the entire home-testing system was visually mapped out in Miro. Anyone could instantly view the current state of the design and provide vital feedback by commenting directly on the Miro board itself.
"Being a visual tool, Miro made it incredibly easy to digest information rapidly," said Andrew Larcombe, Technical Architect at Difrent. "Our use of Miro evolved from being primarily an internal tool to one that enabled us to bring external stakeholders up to speed by sharing our board."
Since there was little time for extensive documentation, Miro provided a reliable and central source of truth about the project. The team could evaluate new ideas without losing track of ones already tested.
"Tools like Miro allowed us to have vital conversations in real time and to iterate on the design of the service in a continuous flow," said Murphy.
Home-testing service goes live in just one week
After only seven days, Whitmore and his team had a working prototype of the UK's first COVID-19 home-testing solution. On the eighth day, the service went live in a series of trials.
Ordering a COVID-19 test kit became as easy as purchasing new shoes on Amazon. Test kits could be ordered and swiftly delivered door-to-door using a network of couriers and Amazon's logistics. Samples could then be retrieved and transported to the lab for analysis. A negative test result confirmation by email would give isolated healthcare workers the green light to safely return to work.
"By day eight, we had real key workers in isolation ordering test kits via the service," said Whitmore. "Thanks to the way that we work and the great people involved, we managed to do it in the timescale that we did."
Over the next month, thousands of NHS nurses and staff were tested and cleared to return to work. Within three months, the service had become available to all UK citizens and had shipped nearly a million test kits.
We've sent out well over 800,000 test kits to date, and that number has continued to grow
Their efforts did not go unnoticed. Difrent was awarded Health Tech Hero of 2020 from the Health Tech News Awards. The team members also received a letter from the prime minister of the UK thanking them for their extraordinary efforts.
"I had my head down so much throughout this process that I didn't really think of anything else," said Whitmore. "It was nice to be recognized for the work that we've done. It was completely unexpected."
Defying the odds and delivering under pressure
Miro allowed for dynamic remote collaboration despite the pressure of a worldwide crisis, strengthening the bonds between an already close-knit team and reinforcing the unique way Difrent tackles complex projects.
"I think it's absolutely essential that tools like Miro are used for collaboration and brainstorming," said Murphy. "It's tools like Miro that we've been able to pick up, adopt, and use at pace and scale that have really springboarded how we work as a business."
The sense of pride has been deeply felt among Difrent employees as the home-testing service continues to make a meaningful impact on people's lives.
"I'm very proud of the service we've built and how quickly we built it, but mainly that we've been able to help so many people," said Larcombe. "That was the key goal around this."
Difrent's story is a compelling example of the power of virtual collaboration in situations where high-speed innovation is necessary to save lives. The team at Miro is proud to have played a part in their story and enabled creativity under lockdown conditions. Do you have a story like Difrent's? We'd love to hear it.