In February of 2020 the world-renowned INSEAD business school introduced its first course in product management, designed and taught by professor Manuel Sosa and lecturer Ayman Jawhar. Unfortunately, the severity of COVID-19 became apparent shortly after the course began. Like countless universities around the world, INSEAD's Singapore campus shut down and the new class – and its 45 students – were forced to go completely virtual. Rather than panic, Sosa and Jawhar saw an opportunity to employ new software to teach remotely.
---
Brad is a writer with a passion for helping teams communicate with clarity, fun, and humor. He brings his past experience as a teacher, video producer, and sales professional to Miro to help teams collaborate across functions. He lives in Boulder Creek, CA with his wife and pets.
In our first episode of Miro Virtual Classrooms, Miro's Community Marketing Manager Brittni Cocchiara was joined by Ayman Jawhar who told us how he took his course virtual in a matter of days and leveraged Miro to amplify the learning experience beyond expectations for an on-campus experience. Here are the key learning from his experience.
Key takeaways
To learn from Jawhar's experience, here are three important takeaways he noted about his transition to using Miro as a remote classroom for his MBA students.
1. Give your students
a warm-up period in Miro
For Jawhar, ease and fun of use were important criteria in selecting a software that could power the class virtually, and he found that Miro was intuitive with a lot of potential for creative use cases. In the first ten minutes of his first virtual class he gave students the chance to explore Miro in a "virtual playground," and they immediately started drawing, creating shapes, and embedding photos and videos with virtually no guidance.
"You can also see the feelings of the students at the time thinking about COVID," he says with a laugh, referencing a poster to the apocalyptic film 28 Days Later attached by a student. He calls the experience an "a-ha moment," saying that despite looking gloomy on Zoom, the activity on the Miro board showed his students were high energy and ready to learn.
---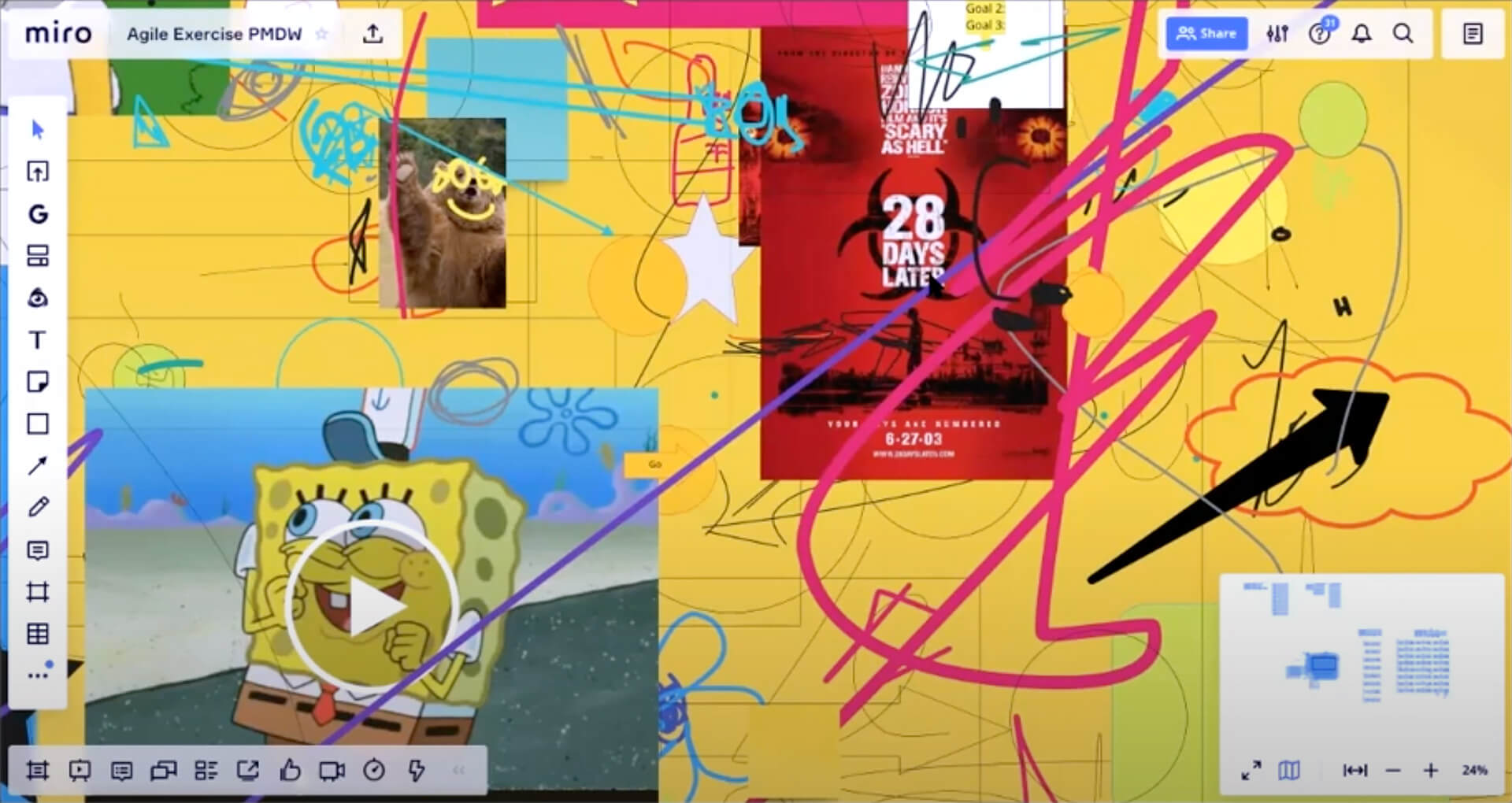 2. Teach the entire class
on the same Miro board
The product management class relies heavily on group work conducted in small teams, and Sosa and Jawhar utilize breakout rooms in Zoom to give groups a private space to talk through problems. But in Miro, he keeps each group on a single board and uses frames to create separate workspaces for each team. This approach gives the professors the ability to monitor the whole class in a single place, follow along with their activity, and make sure each team understands the instructions for each assignment.
3. It doesn't need to be "plan B"
Ayman says that using Miro has amplified the teaching experience with levels of engagement not possible in a physical classroom. Virtual teaching has allowed him to connect students in France and Singapore for real-time and asynchronous collaboration. Even when campuses are eventually reopened, there's still an opportunity to use Miro's digital whiteboard in his instruction.
Use Miro in your classroom
Miro makes distance learning and working with classmates or colleagues easy and fun. We have free accounts for students and educators – and discounts for larger educational organizations. How do you get started?

About Ayman Jawhar
---
Ayman is a Product leader (ex-Paypal + Index and Accel VC backed startups' experience) and his work involves managing PMs, designing organizations, and scaling product teams. He advises startup founders on all things Product and through his product consultancy, Rockwae, he's tackling the challenges of preparing talent and companies for the future of work with the goal of creating healthier and more purposeful workplaces. Rockwae's latest experiment, Work Sprint, is an online experience designed to get participants to build the intuition of product management by solving real problems in teams.