A concept map is a diagram that shows the relationships between different ideas. By literally drawing connections between these ideas, you can better understand how they're related. Think of a concept map as a tool for organizing information. Rather than simply scribbling down ideas and random thoughts, you can map out information in a visual way.
Every concept map consists of concepts or nodes (which are usually represented by circles, ovals, or boxes) and relationships (which are represented by arrows).
Need some ideas on how use concept maps? Keep reading for a healthy dose of inspiration.
Kat is a Wisconsin-based writer who covers topics related to careers, self-development, and freelancing.
Concept mapping ideas & examples
Concept maps can be as simple or as complex as you need them to be. But, even if you're sticking with the basics, getting started can feel a little intimidating.
We're here to provide a little creative inspiration. We've pulled together six different creative concept maps to show how flexible these tools are and help you get your wheels turning. You can even get started with Miro's free online concept map template.
1. Brainstorm an idea
Brainstorming is fun, effective, and enlightening. But, using a concept map to bring a little organization to the process ensures that your brainstorming session is productive — and helps you avoid ending up with a jumbled mess of unrelated ideas.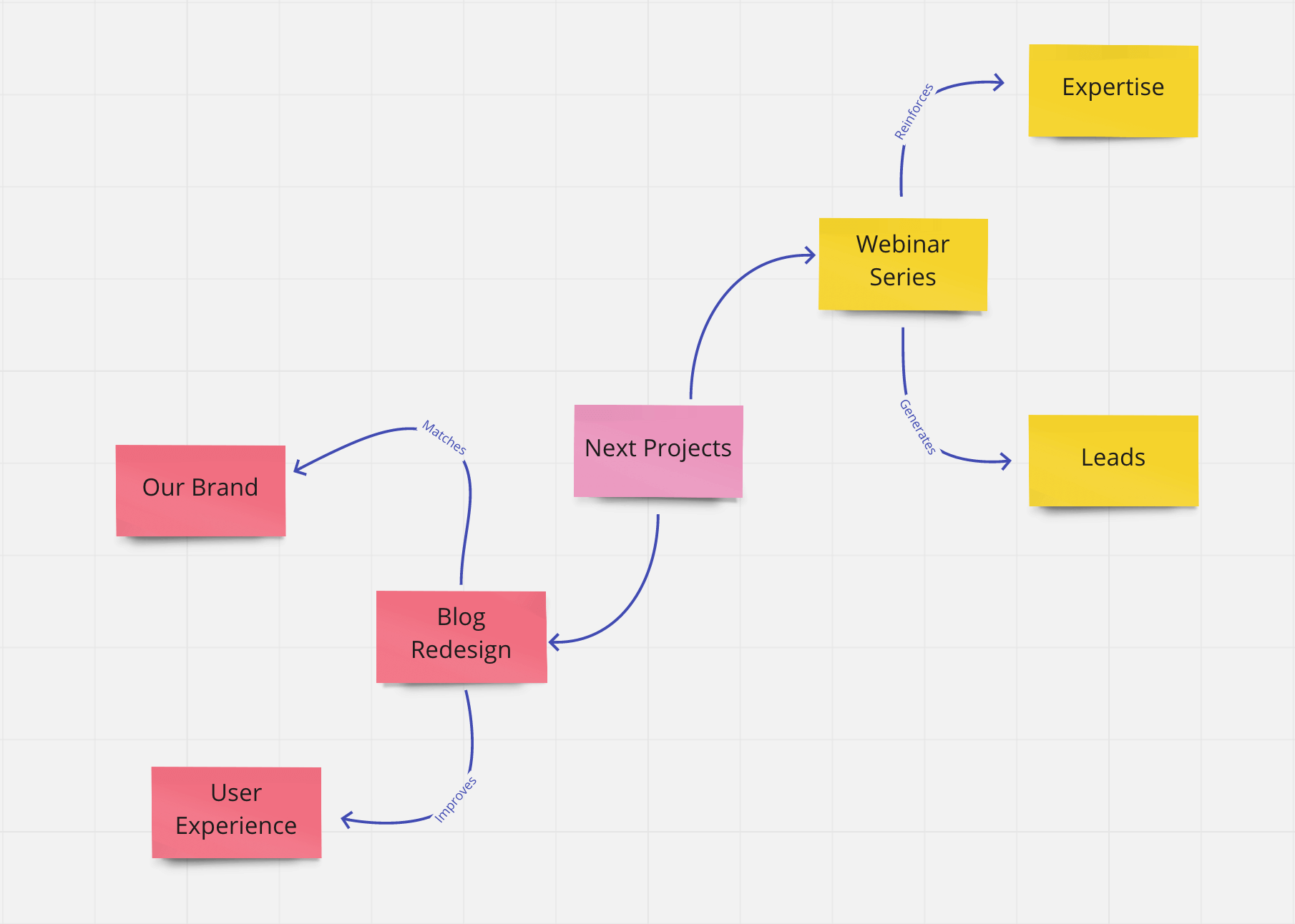 2. Outline a strategy
Figuring out a strategy — whether it's a marketing plan, a business initiative, or even the details of how you'll pack up and move — is daunting. Since a concept map is so focused on connections and relationships, it can help you see how the different parts of your strategy fit together to form the whole.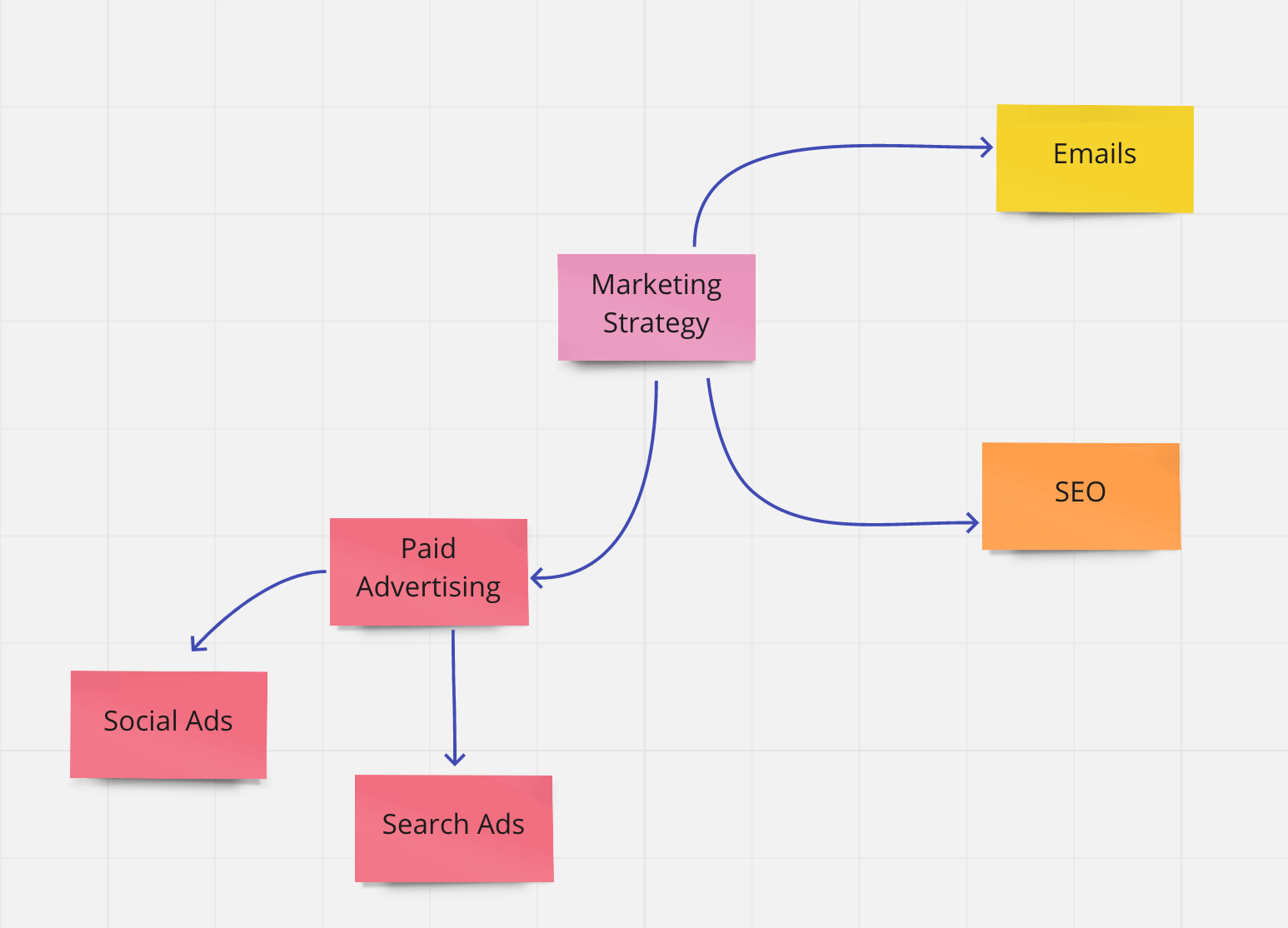 3. Create an organizational chart
There are all different types of concept maps, including a hierarchy map. This type of map is what you'd use to show the different roles and levels within your company, so everybody understands who's who.

4. Plan a meeting
The best meetings have agendas that spell out what will be discussed. That doesn't need to be a written list — your talking points can easily be mapped out in a concept map that makes your content engaging, shareable, and easy to work through (even in real-time).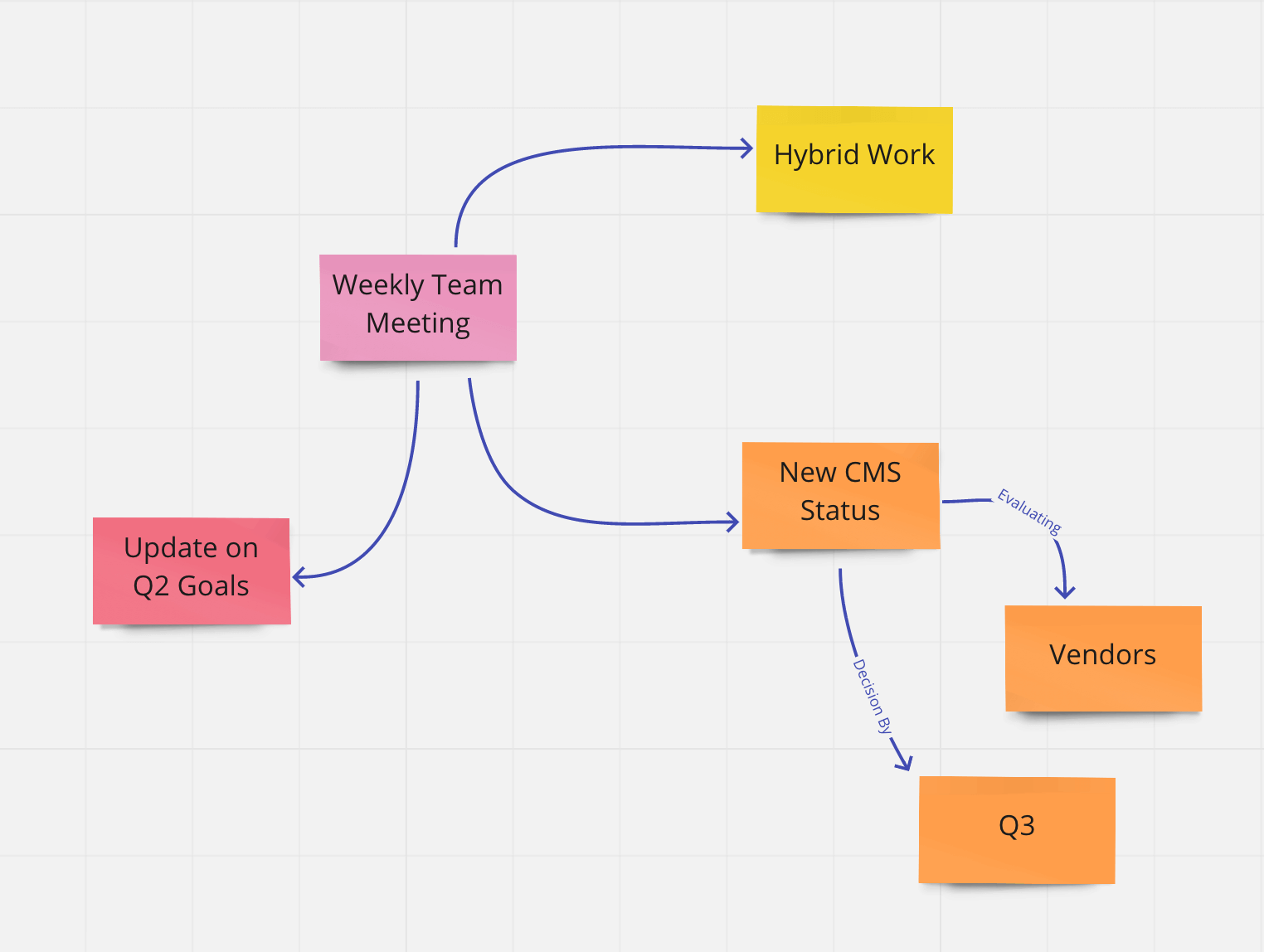 5. Complete a performance review
If you're in charge of an employee's performance review, there's a lot to cover. You want to make sure you hit all of the important points, while still leaving adequate time to collect their insights and opinions. A concept map can help you organize all of those pieces, strategize what you should start with, and understand how different aspects relate to one another. For example, an employee's recent challenge might directly impact one of their goals.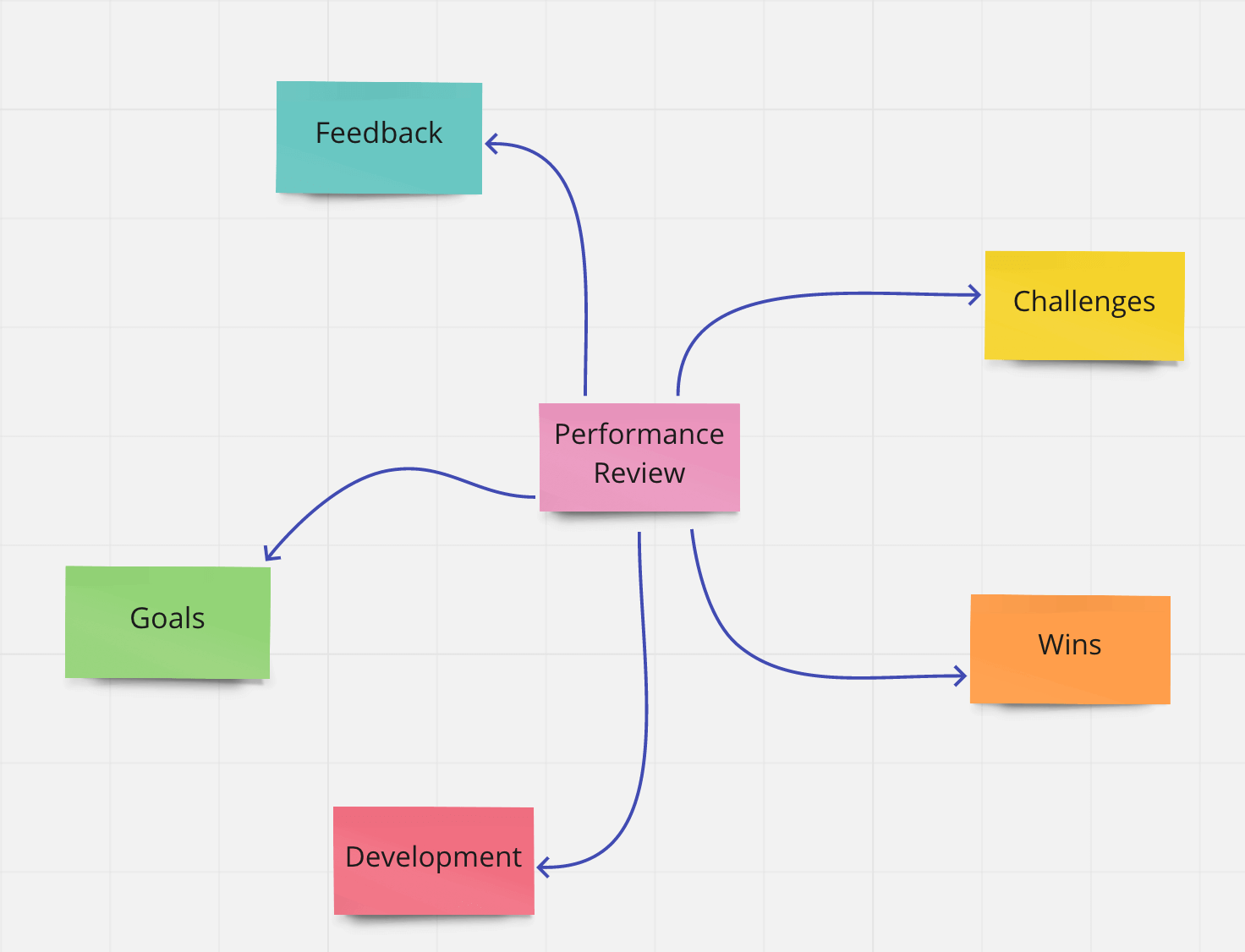 6. Learn a new topic
There's a reason that concept maps are so popular in educational environments: they make even complex topics far more approachable. You can use a concept map to learn about any subject that's new to you, whether it's at work, school, or for your own personal interest.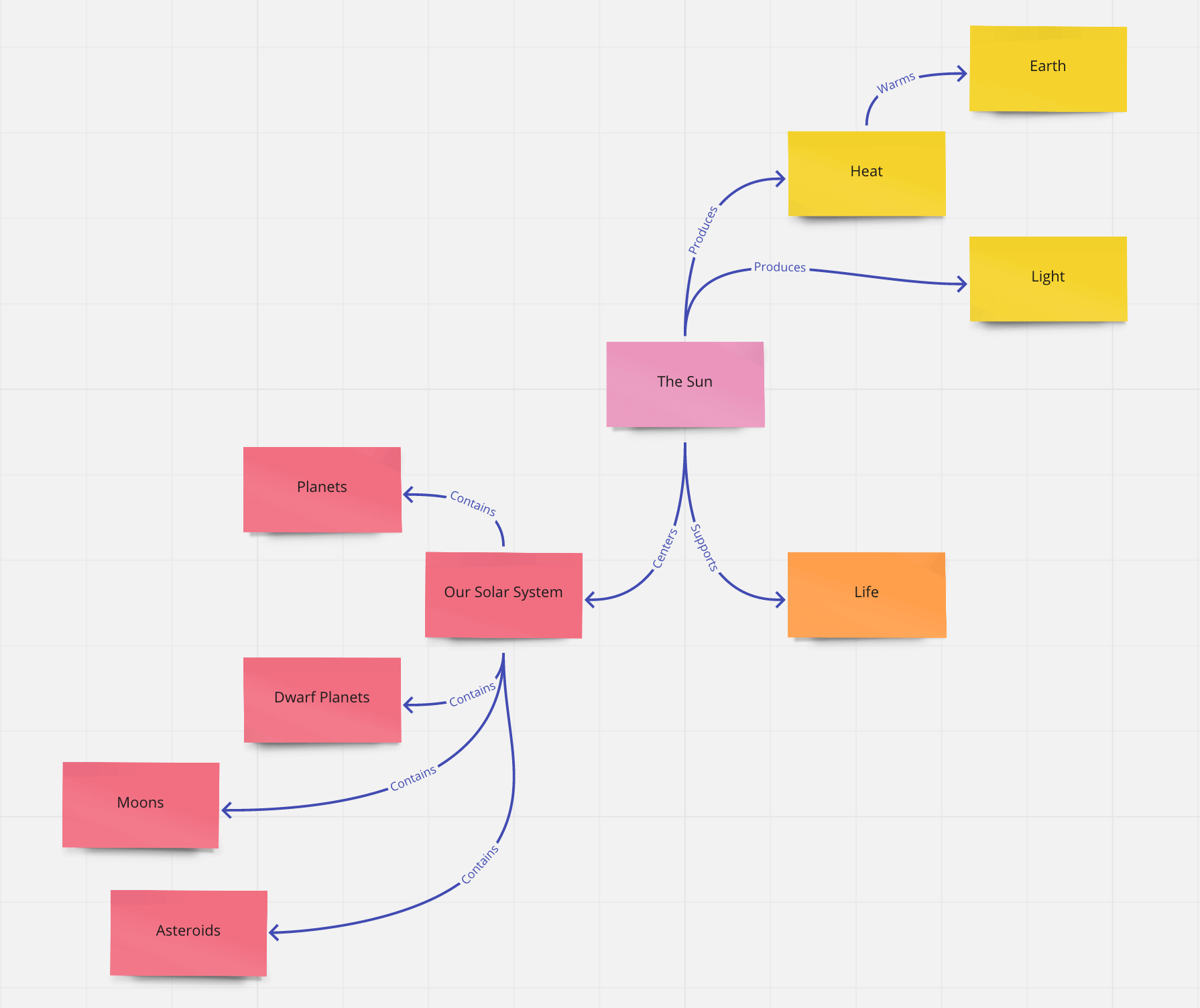 Organize your own ideas with a concept map
There's no shortage of ways that concept maps can be used — whether professionally or personally.
While this list certainly isn't exhaustive, hopefully the above creative concept map examples gave you some ideas and a starting point. Now all that's left to do is create your own.