The digitalization of the automotive industry has created new opportunities to meet customer demands. And with the changing climate and geopolitical landscape, adaptability is more important than ever. But no singular automotive company can solve these challenges on its own.
Catena-X is a collaborative effort involving stakeholders from automotive suppliers to recyclers. The industry's first open and collaborative data ecosystem, it was established with the goal of increasing the resilience and flexibility of supply chains.
To accomplish these goals, the Catena-X Consortium is responsible for solutions such as end-to-end digital documentation, which allows for carbon footprint determination and traceability of materials. Building such solutions requires excellent communication and collaboration, especially during product development.
€600K saved in travel expenses

200 working hours saved during planning

90% increase in productivity
Story highlights
The Catena-X Consortium was created to tackle issues with transparency in the automotive industry. But strict security standards and disparate tools across the 28 members of the Consortium hindered their ability to co-create digital solutions.
Miro was introduced to host Agile PI planning sessions in one shared online workspace, allowing Catena-X Consortium members to easily connect, identify dependencies, and align on strategy for each product.
Planning in Miro allowed the Catena-X Consortium to foresee any potential roadblocks in the development process and collaborate efficiently async, reducing the need to be in person, and expediting project timelines.
The problem: 28 entities with siloed toolsets led to bottlenecks in product development
The Catena-X Consortium brought together 28 entities from across Germany including automotive companies such as BMW, Bosch, and Volkswagen, and software companies such as SAP, Telekom, and Siemens to build an initial data ecosystem and create a digital marketplace for sharing data on a collaborative, secure, and open platform.
The applications (which will be available at a future date) tap into the shared data exchange, and are designed to help companies improve processes, reduce costs, and enhance efficiency. For example, there will be standards and applications for calculating carbon footprint, and ways to share and monitor trends along the value chain. To build these initial products and services, the Consortium adopted the Scaled Agile Framework (SAFe), and practices such as PI planning.
Members working on the initial funding proposal were using Microsoft Office solutions like Teams and Powerpoint, as well as Sharepoint which was provided by one company in the Consortium. But after writing the initial funding request and starting project development, it became clear that they needed a common workspace accessible to people from all 28 companies involved – especially when meeting in person became impossible during the pandemic.
Without such a platform, meeting across remote locations and complying with each company's security protocols would lead to bottlenecks. The tools used before were simply not built for large-scale collaboration, and required too much context switching, removing people from their flow and breaking momentum. Having information in multiple tools also meant information was more likely to fall between the cracks, and there was less visibility into dependencies across different companies which led to wasted time and duplicative work.
The Solution: Miro's security and deep Agile capabilities drive efficiencies and alignment
As the Consortium began looking for alternative solutions, they identified Miro as the best solution for facilitating their virtual collaborative planning meetings – from PI planning sessions to retrospectives – in a secure environment.
When the Catena-X Consortium collaborates in Miro, they can rest assured that member companies' data (working results) are secure, and that data sovereignty is achieved with Miro's trusted data protection. Miro helps ensure members can collaborate while maintaining security and privacy with domain and link access controls that only let subscribed users access certain boards. By providing a safe space where each company can communicate and share updates they can avoid the challenges of security-related bottlenecks they experienced prior to adopting Miro.
Agile Project Manager Tina Boettger worked with scrum masters and release train engineers to help them quickly adopt Miro. Within weeks, the Catena-X Consortium began hosting PI planning workshops in Miro thanks to its intuitive interface. Participants used Miro's program board and dependency mapping capabilities to help synchronize and align toward a common goal, while reducing risk by identifying potential roadblocks. Because of Miro's real-time collaboration capabilities, the Catena-X Consortium was able to quickly define key phases of their projects by sharing their goals, timelines, and tasks.
"Miro is heavily used for mapping dependencies during the PI Planning process, preventing teams from duplicating work. This directly translates to the open data ecosystem being developed and apps being launched."

TINA BOETTGER, Agile Project Manager, Architecture Team at Catena-X Consortium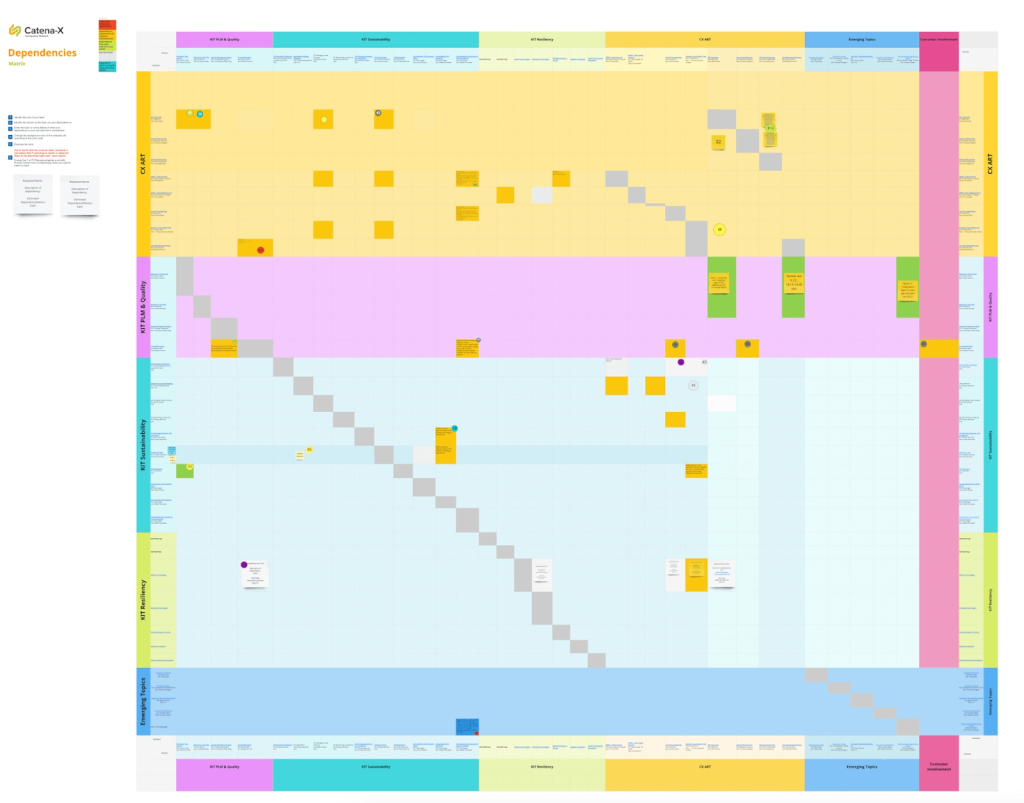 Miro made it seamless to run virtual PI planning sessions across multiple companies by streamlining communication, agendas, and all of the pre- and post-event information in one shared workspace. With so many teams working simultaneously, Miro provided a space where important work and decisions were automatically documented, and each company could equally participate.
Miro provides a virtual location for PI planning where we establish team norms and align on goals, helping us create a shared experience that can make even the most complex issues feel more manageable.

TINA BOETTGER, Agile Project Manager, Architecture Team at Catena-X Consortium
Between each PI planning workshop, Tina facilitated confidence voting sessions in Miro to ensure each participant agreed on the plan before moving into the execution phase. Confidence voting encourages each team to share their opinions and concerns in a safe space on the board and ensure everyone is aligned.
Teams also did retrospectives in Miro, where everyone had the opportunity to (anonymously, if they so choose) express feedback and learnings on the PI planning process. Seeing aggregated input visually in a Miro board helps quickly identify themes and actions for follow up to improve the next workshop.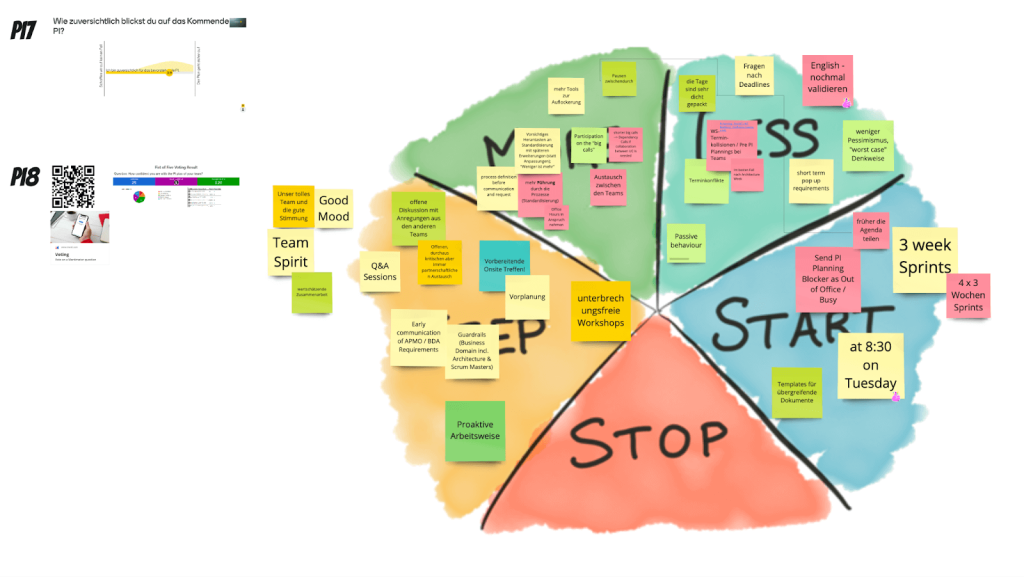 Results: PI planning in Miro drives up productivity and reduces costs
Miro improved real-time collaboration and deep Agile capabilities that allowed 28 members of the Catena-X Consortium to co-create innovative new digital products.
Miro gives Catena-X Consortium the flexibility and freedom to help members work remotely and stay connected regardless of location. This has saved over €600,000 in travel expenses with a 90% increase in productivity thanks to the efficiencies created by Miro's secure workspace for collaboration.
PI planning in Miro has saved Catena-X Consortium 200 working hours over the course of a few months because they didn't need to work across multiple tools and could more easily identify dependencies. As the Catena-X initiatives evolve, Miro will be critical for hosting strategic, interactive, and engaging workshops to support impactful digital products that are revolutionizing the automotive industry.
LEARN HOW YOU CAN EXECUTE PI PLANNING IN MIRO TO GAIN ALIGNMENT WITH PRODUCT DEVELOPMENT TEAMS.