When it comes to creating a new website, application, or campaign it is always helpful to use mood boards, also known as inspiration boards. A mood board not only can give you inspiration, but also is an effective time-saver and invaluable component in the creative process. We collected some tools and tips that will help you create mood boards in Miro.
Why do you need mood boards?
Basically, a mood board is a collection of images and text samples organized in some way that help explore the desired overall look and feel or tone of a project. A mood board is not essential for every type of project, but for major projects like web sites and applications, marketing campaigns, or developing a corporate identity system, they can be invaluable brainstorming and guidance tools. Mood boards are also used in interior planning, painting, writing, and tons of other spheres.
Mood boards can prevent the unnecessary frustrations caused by not having a clear creative direction, and may cut the overall time spent on a project in half as a result of careful planning. They also get client involved early on and provide tangible evidence of a 'research phase' that the client may not understand otherwise.
A mood board allows you to:
Translate a concept where words may fail
Create a visual in the people's head early on and let them see exactly what you're planning and how their site/app/campaign will look like
Save time and improve communication within or outside your team
Establish the theme of the website/product/app/etc.
Explore look and feel of the future project.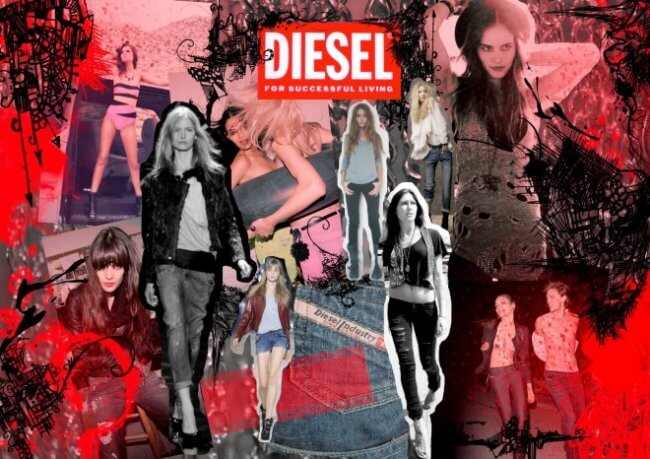 10 steps to create a mood board online
Ready to get started? With Miro you can use mood board templates and apps as your tools for online mood board creation. But it takes more than just a great tool. Follow our top 10 tips for mood board creation below to ensure your success.
Build a library of personal images
Look for inspiration everywhere! Down below we have some great online resources to pool ideas but grab your iphone and don't be afraid to use it. Take pictures of things that inspire you and use them as a library. You never know which of your pics may be the perfect fit for your next project.
Use a variety of media
What can be included in a mood board? Pretty much anything. So if you see a great print ad, magazine article or even a youtube video, use it. Swabs of color, photographs and text should all be combined in an inspirational mood board.
Incorporate mood boards in the approval process
Mood boards aren't just for sales pitches and inspiration. Consider them a part of your approval process. Approval of the mood board is an ideal mid-project approval step. Once a client or stakeholder has signed off on a mood board, it's a green light to move ahead with the concept. It can also be used a red light, if something is just not quite right. The agreement on all aspects of a mood board can save time and money if there is a disconnect further down the road. Make sure your stakeholder agrees with the color, theme and font choices in the mood board.
Use emotion
It's called a mood board, after all!! Don't be afraid to use emotion. Emotion is a big part of branding. Is this a happy go lucky brand? Or calm, cool and mature? Look for an emotional reaction to your mood board presentation. Watching the client's emotional reaction to your mood board is a great method for understanding their needs.
Be organized
Creativity doesn't mean get to be disorganized. Your clients and teammates want to see an inspiring, yet organized mood board. Using an online tool, like Miro, can help. Upload all your mood board images ideas and keep them corralled as you mix and match. Read our team building guide geared at remote teams.
Don't limit yourself
Sometimes creating more than one mood board is helpful. For example, if a client asks for something sleek, there could be more than one take on that. Save time by creating 2-3 similar concepts but play with the linearity and color density. Odds, are the client or stakeholder will have a strong reaction to one of the choices, thus narrowing down the work you need to do.
Use words
The use of text in a mood board is important, even invaluable. A big bold word, quote or snippet of a song may be just the thing needed to finalize the board. So don't be afraid to include as much text as you need. In fact, the use of font is going to play a big role in the branding and theme of the project, so test our different fonts too!
Stick with the theme
Choose one mood board theme and stick with it. It will be obvious when one item of a mood board just doesn't fit. If "stormy weather" is the look you are going for, don't include text in a happy font. Look for these anomalies and fix them before you present the mood board.

And if two themes keep reappearing, this is a good indicator that you should split the mood board from one into two.
Employ it at the right time
Presenting the mood board at the right time can make all the difference in the world. Take the time to research and flush out the project and client before charging ahead with the mood board. And then, it at all possible, be present when they see the mood board for the first time. Being able to back up your ideas in person can help. Plus, you want to get their immediate feedback. We recommend not sending mood boards ahead of client calls or visit. Gauge their immediate reactions is a good best practice.
Test it out
Test out your mood board on someone not tied to the project. Show them it and ask them to tell your or write down their immediate thoughts. Does their feedback match up with the directions, goals and descriptions you were provided by the client? If not, you may want to adjust it.
Miro tools to help you make your own mood board
Miro's infinite canvas is the perfect online mood board maker: you can create digital boards as large as you need and include a lot of details. Zooming in and out will help you to see the big picture or go into important details.
These are useful Miro tools, which can help you with your mood board:
Uploading files – you can upload files from your computer or add them from URL (both options are in + button next to the tools panel)
Videos from YouTube and Vimeo (in + button next to the tools panel)
Capture web page (in + button next to the tools panel) – allows to add clickable screenshots of web pages. You'll be also able to renew them on boards to see if there were any changes
Google Chrome Extension – helps to save screenshots fast and easy, drag and drop files
Iconfinder – search among thousands of beautiful icons and use them to enrich your boards
Shapes – help to create a color scheme or mark up something if necessary
Sharing options (Share menu) – you can invite your colleagues, save your mood board as image, pdf, post on Facebook or social media, or embed onto your website.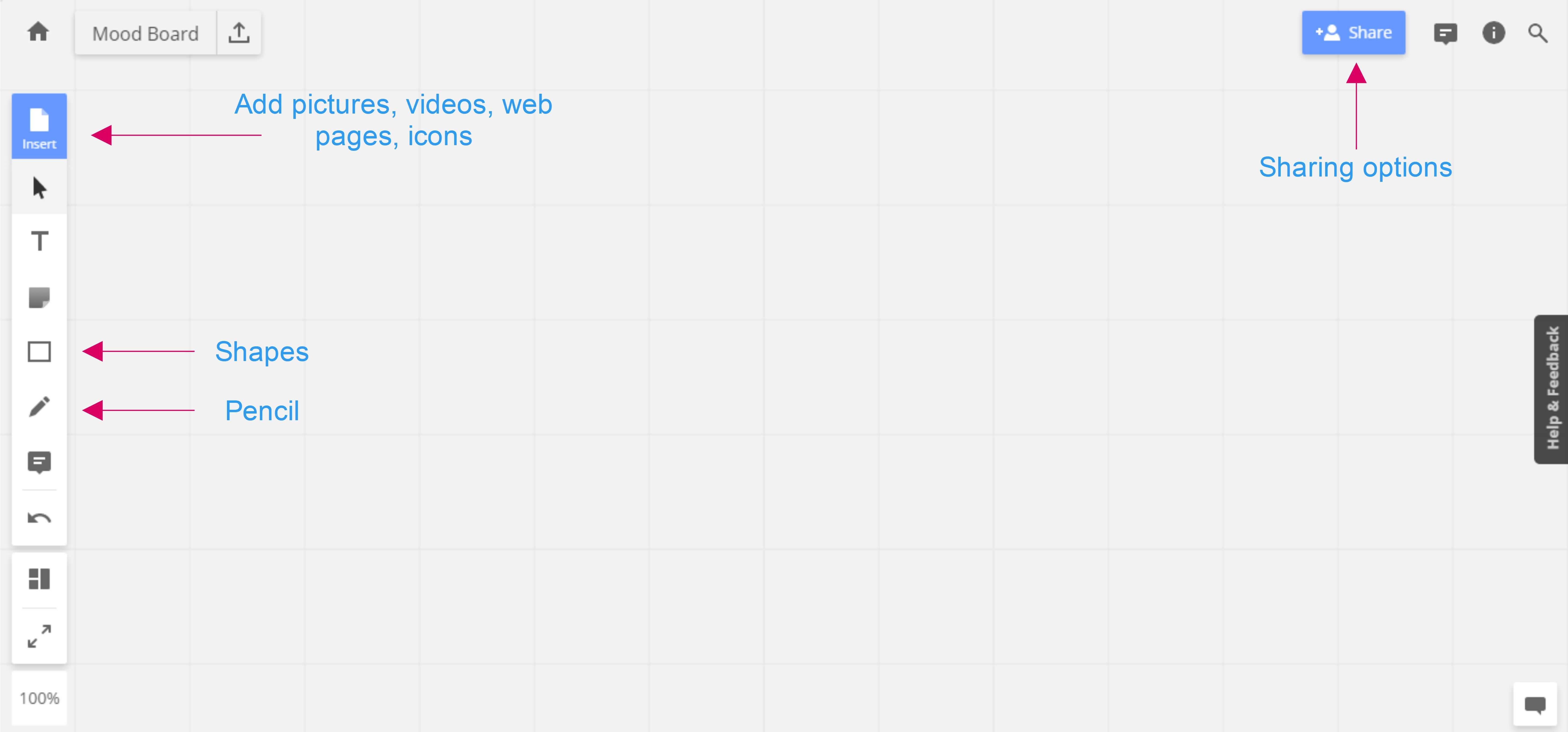 Useful free resources for creating a mood board online
Looking for Mood Board examples? We have compiled a list of websites that are free resources where you can find unlimited inspiration online.
A mood board is a summary of your inspiration, and it is a great way to explain what's in your head and to improve your creative workflow. Online mood boards go a step further – they allow you to work with huge amount of digital content, share with anyone in the world and easily present them to your friends, colleagues and clients.