As we all adjusted to new ways of working over the past year, products like Miro and Zoom helped us stay connected and come as close as we could to meeting face-to-face. Today, we're excited to announce another major step toward our vision of empowering teams to foster human connection, collaborate effortlessly, and maintain creativity, regardless of where teammates are located, with the new Miro app for Zoom.
The Miro app gives distributed teams an infinite canvas for collaboration before, during, and after meetings, directly within Zoom Meetings and the desktop client. Keep reading to learn more!
_______________
"As one of our most requested whiteboard apps, we're excited to see how Miro elevates how teams meet, communicate, and work together in Zoom," said Ross Mayfield, Product Lead for Zoom Apps & Integrations, Zoom. "We look forward to continuing to collaborate with Miro to bring an experience that delights our shared user base and brings the power of visual collaboration to the forefront of each team meeting."
With Miro seamlessly integrated into Zoom, you can huddle around the proverbial whiteboard, share ideas visually, map out solutions together in real-time, and draw upon interaction tools that amplify engagement and foster inclusivity. The result is more productive and purpose-driven meetings and no more missing context, misalignment, or missed opportunities to build real connections with clients and colleagues.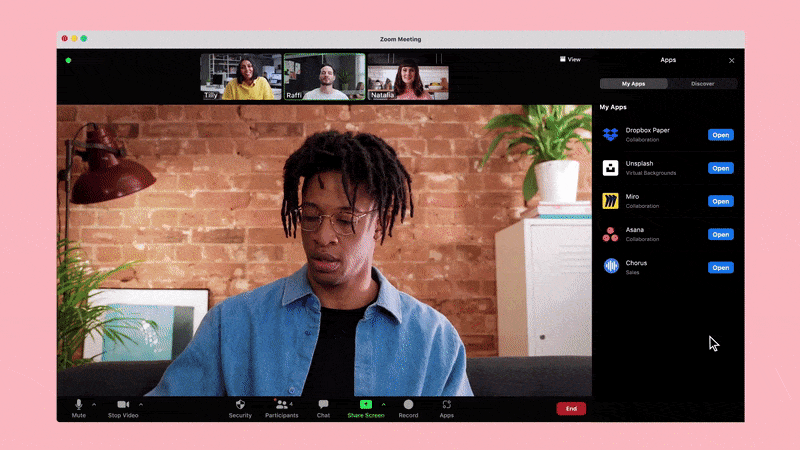 Easy access to Miro, whenever you need it
Whether you're a workshop facilitator, team lead, or exec-level leader, Miro helps you run effective meetings where people can feel seen and heard.
Even before your meeting begins, Miro helps you get ahead with hundreds of best-practice templates that set you up for success and save on prep time with frameworks primed for brainstorms, strategic planning sessions, and more. After you've set up your board, use Miro's Google Calendar extension to easily share it within your meeting invite, giving attendees access to gather their thoughts before they dial-in.
When it comes time to meet, you and your team can navigate to your Miro board from within Zoom, no tab-switching required. And if you didn't prepare a board in advance but find that you need one mid-meeting, you can create one from right within Zoom, without toggling between apps or distracting from the momentum of the moment. Just create a new board, invite those on the call with the appropriate access, and let your creativity flow.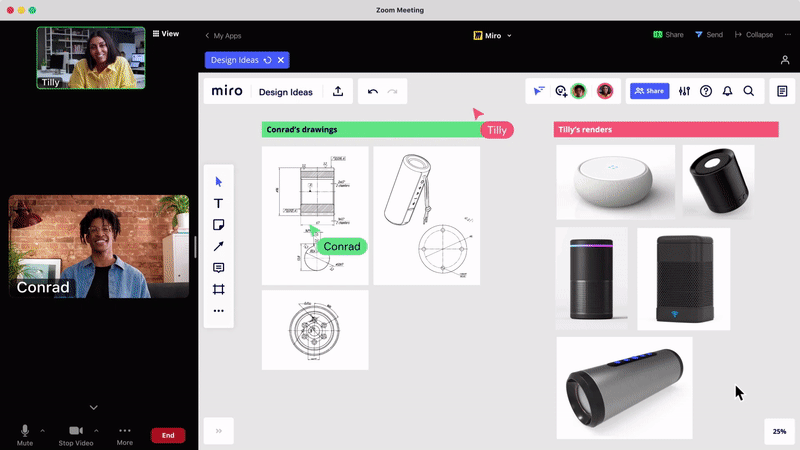 Inject energy and encourage participation in every meeting
Transform your video meetings into engaging sessions where people communicate in real time via text, shapes, drawings, or sticky notes — and dropping links, videos, and other references directly into the shared Miro board. Miro ignites collaboration, and it gives everyone room to contribute. Even the shy folks on your team.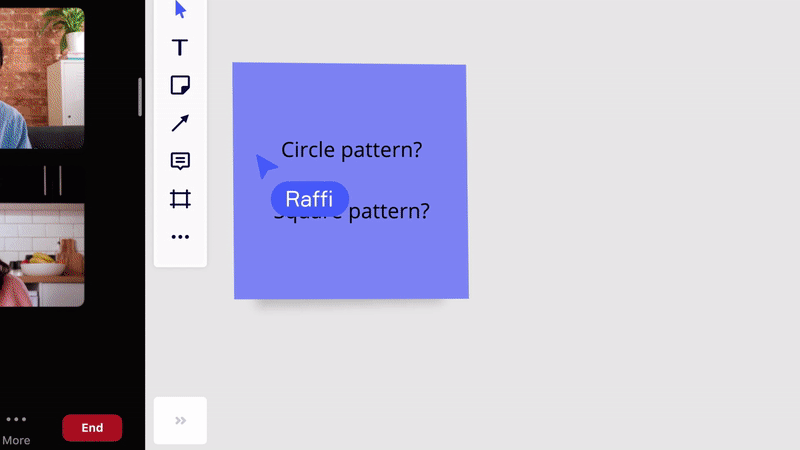 Build on the momentum of productive time together & stay aligned
When you use the Miro app for Zoom, the discussions and outputs of your meetings don't disappear when you click "End Meeting." Instead, they're captured within your Miro board, accessible within Zoom Meetings and the desktop app, and ready to share with collaborators as you progress to the next phase of the project with infinite space for riffing, refining, and visualizing together in one centralized hub.
Another way Miro makes it easy to build momentum and maintain alignment? You can embed live boards directly into other collaboration tools like Asana, Airtable, monday.com, ClickUp, Confluence, Notion, and Coda. Plus, the ability to access from any device — and add appropriate permissions settings — mean you can share your boards on the go and get feedback from everyone who needs to weigh in.
---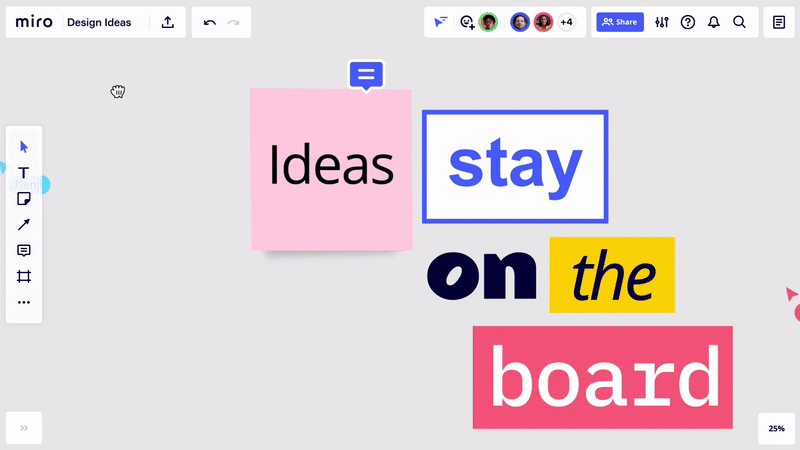 Collaborate more effectively across your organization & beyond
As you — and more and more members of your organization — use Miro for visual collaboration, you'll find that our online whiteboard can bring big ideas of any kind to life. Engineering teams can use it to build system architectures and processes; marketing teams can use it to plan campaigns; design teams can use it to run sprints; and leaders can use it to bring interactive moments to all-hands meetings, with room for 300+ collaborators.
The possibilities of using Miro and Zoom together go well beyond the office. From virtual classroom settings to telehealth consultations to side projects that inspire your creativity outside of work — with Miro's infinite canvas, the possibilities are, well, infinite.