Back in November at Distributed '22, Miro's annual virtual conference, we teased the beta of our new presentation mode to an excited (virtual) crowd. Now, we're excited to release it to all our users! But what is Interactive Presentation Mode and how did we build it? Keep reading to learn more.
---
Why we built Interactive Presentation Mode
When we first began thinking about the design for a presentation mode in Miro, we wanted to better understand how modern knowledge workers were already presenting, especially in an increasingly hybrid and remote working environment.
In 2021, we ran an extensive user research study to discover the foundational attitudes and behaviours that drive presentation creation, delivery and sharing. After countless interviews with different presenters from product managers, consultants, educators to designers, we were able to learn first hand the struggles people had with existing ways of presenting:
Restricted formats of content: Traditional slideshow tools are built for polished presentation experiences and not for sharing work. They restrict the way content is shown to a linear, slide-based format, and they don't integrate with the many solutions that modern knowledge workers use to complete their work. This might be okay in a speech, where the focus is on the speaker and his/her narrative. But when teams are talking about work, they need to show the work, dive into the process and collaborate with other people on what's being shown.
Lack of interactive engagement with the audience: Static one-way slideshows deprioritize audience feedback. In hybrid or remote setups, it is also much harder to "read the room" when you are going through slides in a Zoom call. This makes it difficult to adapt communication and keep the audience's attention.
We drew from this that there is a clear need for many presenters to share their work, involve their audience, and engage in productive discussions. Which is why we've built an interactive presentation mode designed to meet those needs.
Present anything, however you want
In our research, we've found that many people want to leap into different concepts in a non-linear way, or take a side step and dive deeper into other parts of the board during a presentation..
For example, UX Designer Meredith Anderson says, "I've been toying with things where my chapter goes down and my content goes across. I can do things in a grid—or a CandyLand zigzag! It doesn't have to only go linearly."
Insights like this inspired us to keep a level of flexibility within Interactive Presentation Mode so that presenters can move between a linear and non-linear narratives while presenting their board. That way, they can prioritize audience understanding over presenting slides in a certain order.
---
Now when you hit "Present" you have the option to pan around your board to show something your audience different content ad-hoc. Or, you can present by frames to walk your audience through a slideshow. This way, you are able to present with or without slide frames, and have your tools fit your content, rather than the other way around.
And for meetings and workshops that involve co-creation, you can present activities that you have pre-planned for a collaborative session.
Goodbye presentation fatigue, hello active collaboration
An important aspect of presentation engagement is audience participation. This is even more true for presentations by work teams. With Interactive Presentation Mode, we've brought audience reaction tools front and center. This way, you can get instant reactions and feedback, bringing in more fun and liveliness to your presentation.
As a speaker, you'll also feel more encouraged by the visible audience engagement, and never have to feel like you're presenting to yourself in a video call ever again.
Your audience can also actively provide input through tools like comments, sticky notes, and markers. What's more, you can up the engagement with interactive apps like voting, timer, or breakout rooms.
"You have the collaboration, the voting, and all the other plugins on top of the presentation, so you don't have to switch to another application. That's a big deal for me," opines Agile Project Manager Ruben Maldonado.
Co-present without a hitch
As presentations are increasingly happening over video conferencing tools, handing a presentation off to another speaker is not as easy as just passing the mic. Teams often have to scramble to re-share screens, which is neither enjoyable for the presenters nor the audience.
"We often have someone else on the team doing the click through for the presentation," says consultant Tim Reiner. "I wish we could all just control our own slides somehow, without always having to say 'next slide please.'"
In Interactive Presentation Mode, not only do you as a presenter have access to a list of all presentation participants from your presenter toolbar, you can also easily select another presenter to pass the navigation controls to.
With everyone being able to quickly click through their own slides, presenting with your team will always be a seamless, professional, and stress-free experience.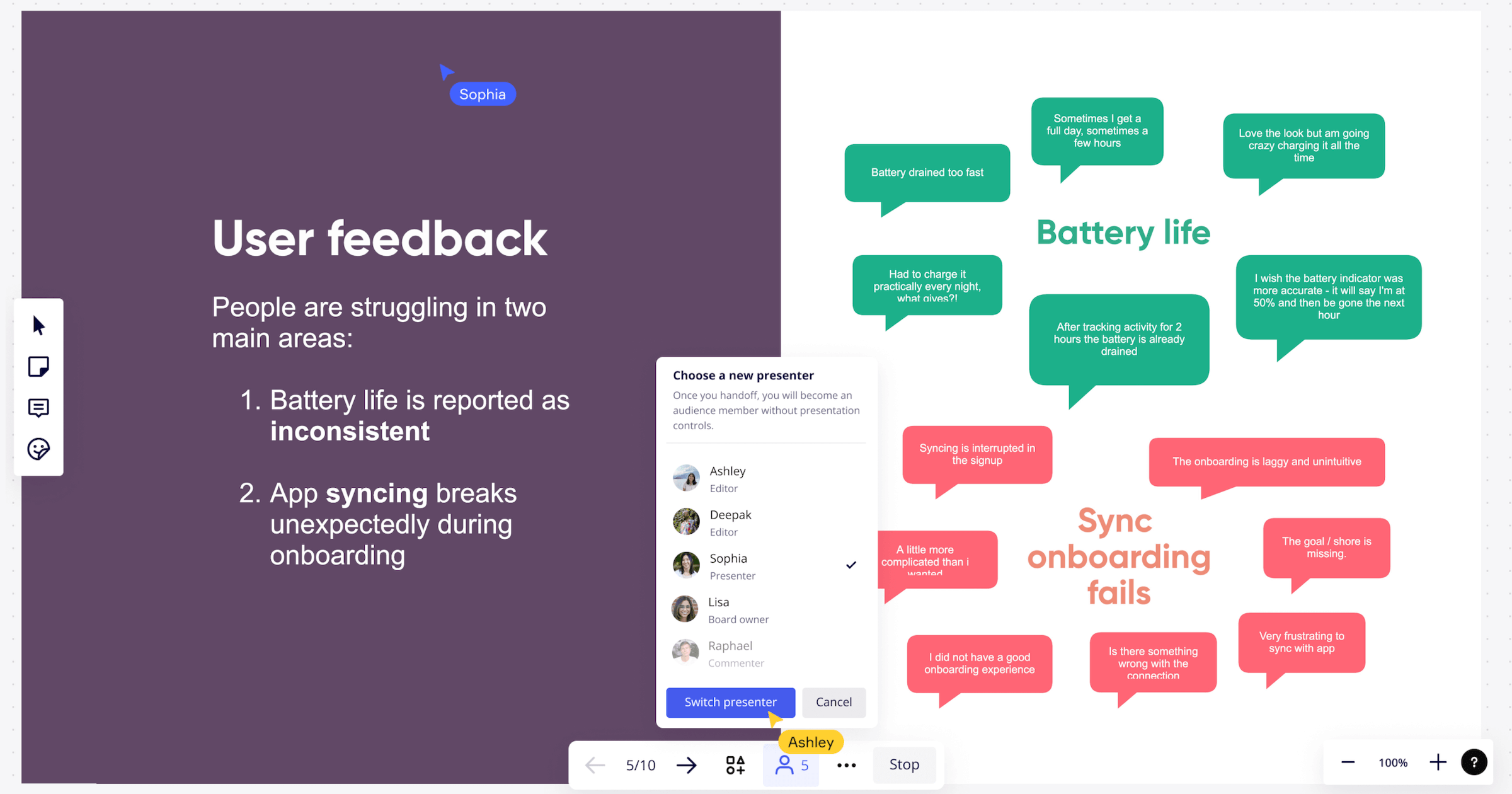 Present where the work is happening
Lastly, one of the biggest advantage of presenting with Miro also comes with the fact that you already have your work in Miro.
Whether it's your project plan, design files, diagrams, or data dashboards, now you can show them right where they are, at any level of detail, while you present to your team.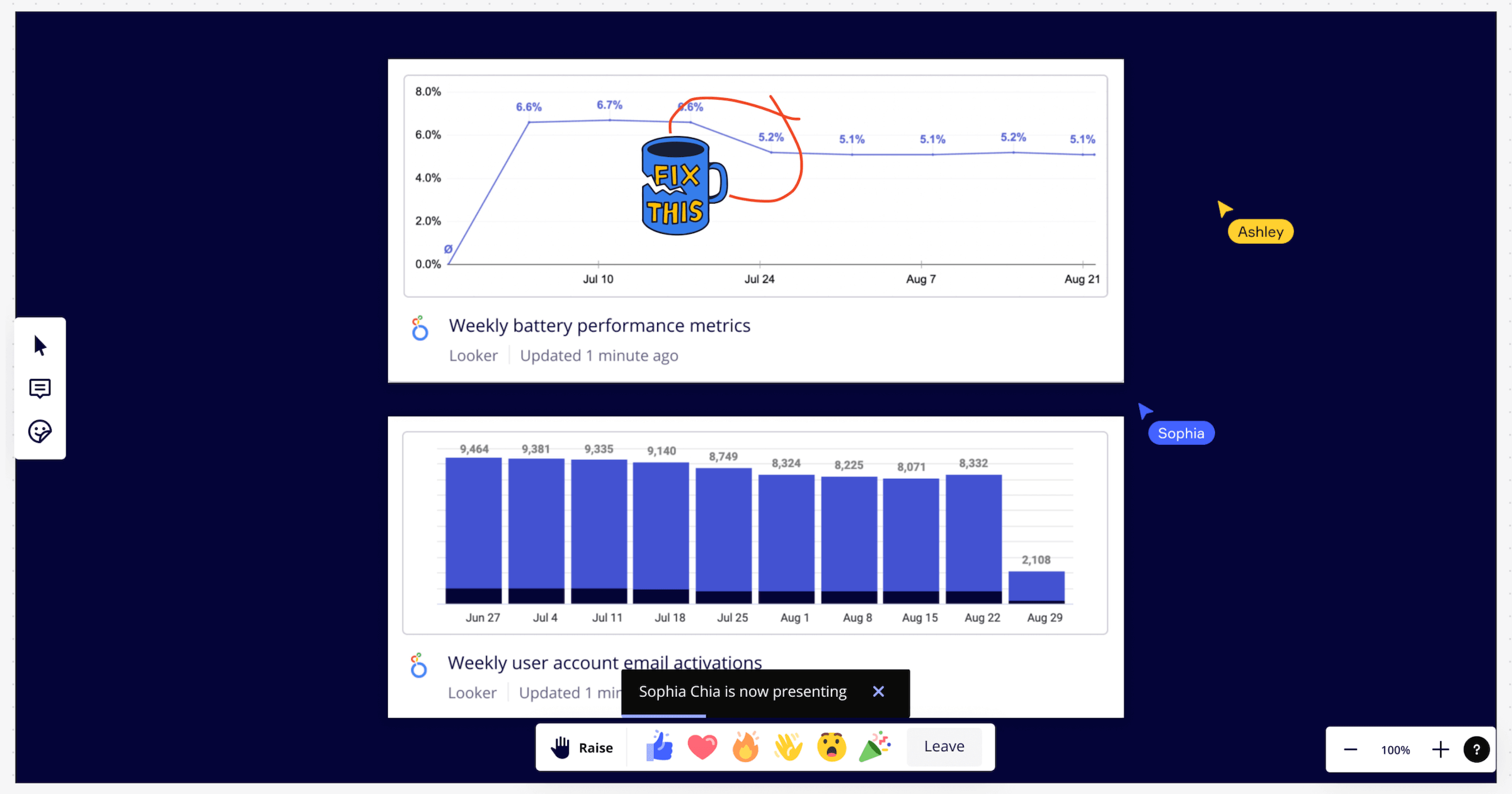 And with 100+ apps and integrations, you'll always have the most updated data, videos and documents directly displayed in your presentation.
Product Manager Chandni Palan says, "I very much like that you can paste Google Docs, and when you click on them [in the Miro board], it takes you to the doc itself. It just works well with the tools we already use. "
To drive the best collaborative outcomes, we need to give presentations that show relevant context, and invite active discussion. With Interactive Presentation Mode, you'll get the flexibility to tell a more compelling story, connect better with your audience, and have more fun presenting!
Ready to get started with interactive presentations?