The latest challenge for organizations of all sizes is thinking about how to build the office of the future. Now that many employees are either considering working remotely or in a hybrid setting permanently, business leaders struggle to envision an office that works for everyone.
The office of the future will surely be more expansive than previous models, with technology and processes that set all employees up for success regardless of when and where they are working.
We recently invited three panelists to chat with us about building the right tech stack for hybrid work: Jenna Cline, Head of IT Strategy and Planning at Atlassian; Thomas Donnelly, CIO at BetterCloud; and Jolean DeKort, Head of ITS Infrastructure Engineering and Operations at Dropbox. Insights from thought leaders like these will help set the standard for the new way of working in 2021 and beyond.
Level the playing field with flexible work, more communication
Simply put, the traditional workplace is not designed to facilitate a variety of working and communication styles. But experts agree that we have a chance to break through this monolith.
To make employees feel included and supported wherever they are in the world, companies like Atlassian provide shortcuts and tools for employees working remotely, in the office, or some combination of the two. For example, if someone wants to move their home office from California to Montana, all they need to do is use Jira to look up the company guidance, or use tools like a compensation estimator to measure the impact of their decision. This flexibility helps level the playing field so that everyone has the same opportunities and are set up for success regardless of location.
Building the right tech stack is key to enabling a "work from anywhere" approach. It's essential to give all employees the tools they need to contribute, regardless of how they prefer to communicate. Identifying the right technology can improve communication by knocking down silos between and within teams to ensure everyone is on the same page.
At companies like Atlassian and BetterCloud, IT empowers employees to experiment with different tools before making company-wide purchases. Since each contributor and team knows their own challenges best, they're encouraged to test out new tools and see which ones are the right fit. This not only drives a more autonomous and empowering culture, it also creates trust and drives innovation.
BetterCloud is also investing in fostering consistent communication for all employees, allowing equal attention for employees in an office or remote location. They've taken steps like increasing the frequency of all hands meetings to make sure everyone feels connected and informed. The company has also paid special attention to more equitable employee engagement, like social opportunities that cater to remote employees. They also leverage technology like Miro to bring everyone together for strategic planning sessions to ensure everyone can feel their opinions are counted and voices heard.
We are prioritizing consistent communication for all employees and doubling down on our cultural values. Communication and culture are so important right now.
Thomas Donnelly, CIO at BetterCloud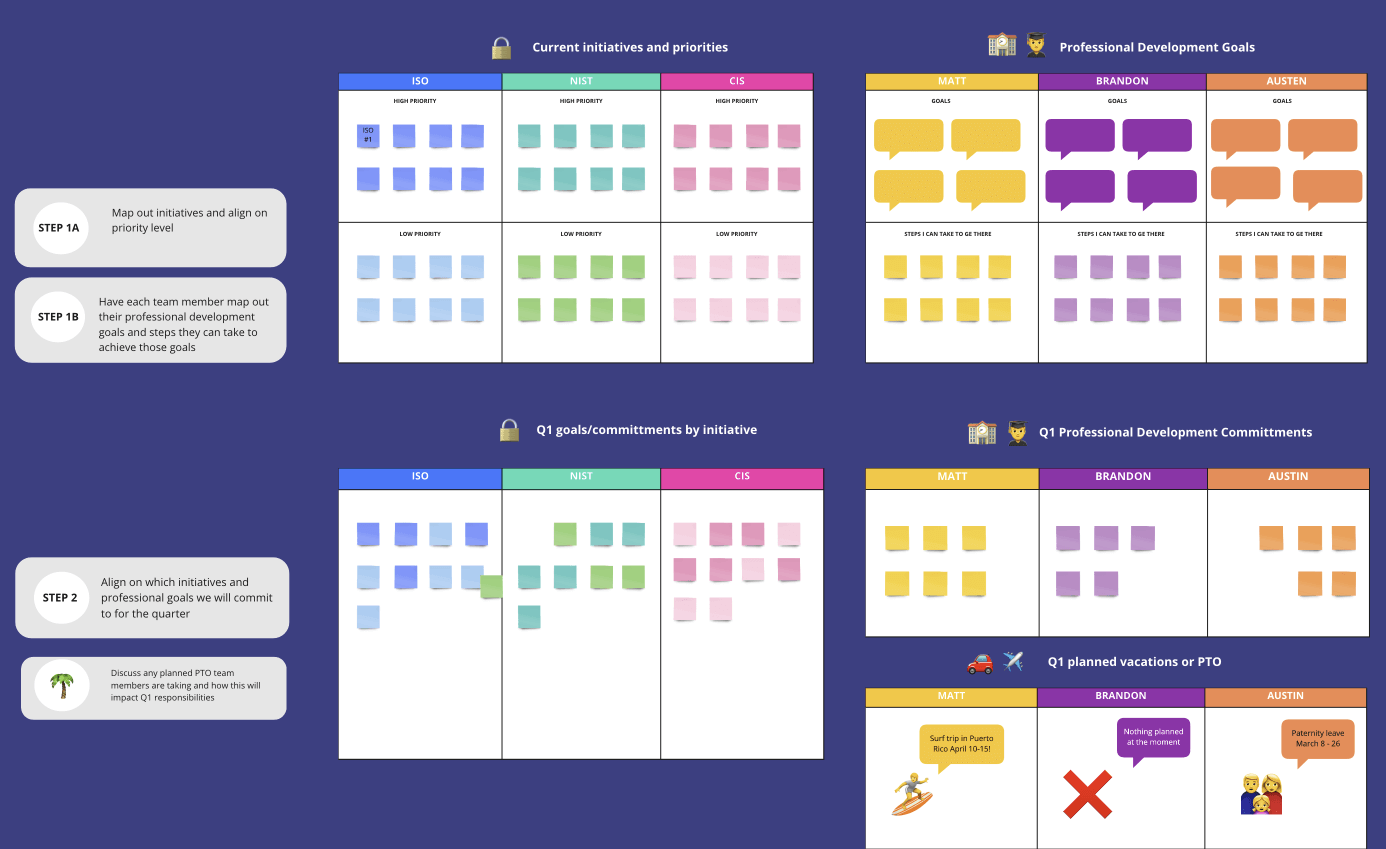 Reimagine a more inclusive conference room
A common thread among the leaders from Atlassian, BetterCloud, and Dropbox was around rethinking the conference room. At Dropbox in particular, Jolean says the organization is in the process of redesigning the office space with a distributed team in mind. The result is not quite a hybrid model — rather, it's a collaborative one. Instead of simply sending everyone back to the office or keeping the entire company remote, it's a combination of the two that prioritizes human experience and allows everyone to do their best work.
How do you make sure the people that can't be in the studio have that same voice as those that do? We can't go back into a conference room where people are drawing on a whiteboard and remote people can't see it.
Jolene DeKort, Head of ITS Infrastructure Engineering and Operations at Dropbox
Rethinking the conference room means expanding the room beyond the physical space. Teams use SaaS solutions like Miro, G Suite, and Zoom layered on top of their own software to create a cohesive collaboration experience from anywhere. This combination of tools allows teams to simulate a virtual "room" that lets individuals contribute when they are together in a meeting or asynchronously on their own time.
This can be particularly valuable for teams working across time zones. As Jolene points out, "I don't want my team in Dublin to have to be on a meeting with the West Coast — instead, we can let them comment in Miro, helping us make decisions faster."
Be human-centric: focus on solutions over tools
When the world first turned to remote work, people were concerned that it would take some of the humanity out of the workplace. What's happened in response is the workplace has become increasingly human-centric. The rise of remote and now hybrid work forced teams to think about how to accommodate and celebrate everything that makes us different to drive a happier and more productive workforce.
When building your tech stack, it's important to consider the kind of experiences you want to create for your team rather than just the tool you want to add. Instead of simply layering on the next trendy tool, focus on being human-centric, and the tools will follow.
How we work together as humans comes first, technology should support that.
Jenna Cline, Head of IT Strategy and Planning at Atlassian
---
At BetterCloud, IT acts as a partner by embedding into each department, democratizing IT across the organization. This helps the IT team stay tuned in to the unique needs of each team, and then once a solution is determined, they centralize the execution and push the tool out to the rest of the company. This also allows IT to help share best practices and empower teams to solve problems with existing solutions.
In some cases, tools themselves can be used to improve human-centricity. At companies like Dropbox, human connectivity was actually defined as collaborating around a whiteboard and was a big driving factor for adopting Miro. They've since used the tool to plan and strategize one of their new programs that helps employees learn how to best use Dropbox.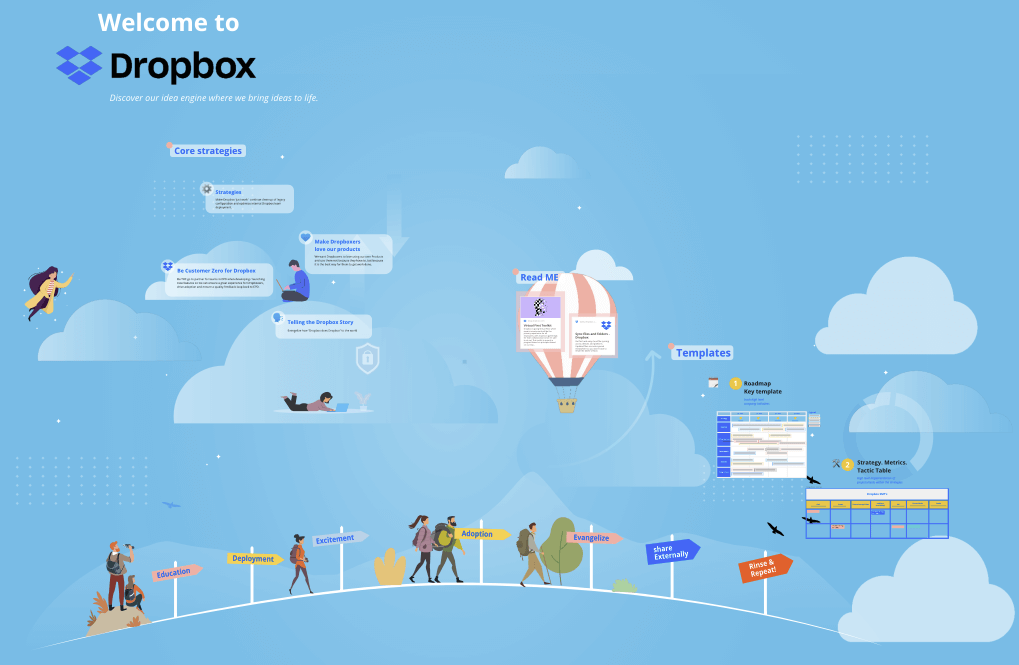 At Atlassian, Miro has been used to help managers monitor their team's mental health. They developed a Miro board specifically for work/life balance, providing a space for honesty and trust where employees feel safe talking about what's on their mind.
Choose the right collaboration tool for your team
From creating inclusive workplaces to connecting teams across different locations and focusing on human-centered solutions, the right tools are critical to the future of work.
Whatever your new normal may look like, online collaborative whiteboards are an important vehicle for supporting distributed or hybrid work models while avoiding burnout and supporting productivity. The key is to focus on tools that empower teams to get work done – driving speed and alignment while spending less time in meetings.
For more information about the value a collaborative whiteboard can provide for your organization and tips on how to evaluate different products, check out our Buyer's Guide.