In 2003, DocuSign set out on a mission to accelerate business and simplify life for companies and people around the world by offering a better way for people to sign documents electronically. And they've been successfully doing so for consumers and corporations across the globe ever since.
As the pioneers of e-signature technology that helps to connect and automate business operations, DocuSign has revolutionized the way documents get shared and signed online. Their customers span industries from insurance and real estate to federal and local government agencies — all who rely on their innovative technology to automate and connect their contract processes.
But like all companies who faced challenges during the pandemic, they had to find a way to help their global teams collaborate — that could carry them through and support them in this new age of hybrid work. Read on to find out how they did it with Miro.
Similar to many businesses transitioning out of the pandemic, DocuSign has a hybrid team environment that requires globally distributed teams to work together asynchronously. This means product, design, and research teams are challenged with balancing new ways of working while reducing complexity. DocuSign strives for high performance across their teams all over the world, driving them to use digital tools to collaborate more seamlessly and reduce meeting fatigue. In addition, their remote teams have had to find creative ways to stay aligned during major expansion and growth.
Visibility and accessibility are key components to success for teams like product design and research who work together to evangelize customer-centric design and drive a consistent customer experience. These teams use a range of tools to help track and manage their day-to-day work, which can make it challenging to get a full view of projects. Design and research teams also require visual, flexible spaces to collaborate and solve complex problems to design and deliver top-notch products to customers.
DocuSign needed a better way to collaborate across their global teams. It became critical to reduce information overload and prevent burnout from constant Zoom recordings and reading a stack of documentation. We spoke with Jane Ashley, Head of Design and Mariné Palamutyan, UX Research Manager at DocuSign to uncover how Miro has helped create alignment, foster inclusivity, and boost innovation for their growing Product Experience (PX) organization.
Scaling quality and performance on a growing team
As the leader of a high-performing team, it's important to have an understanding of team priorities and tasks to track progress and ensure quality outcomes. Jane was initially hired to manage their design team in Sweden before eventually becoming head of design for all DocuSign products. As the scope of her role grew, she needed to find a better way to track information because Google Doc links began to build up and get ignored. She realized what she needed was a way to visualize and contextualize her teams – and their work. She used Miro to create a comprehensive org chart that contained the entire team's roles, responsibilities, and major projects.
Miro helps solve one of the major gaps in product design: how to manage tasks across product designers whose projects are in different tools.

Jane Ashley, Head of Design at DocuSign
Jane had her team begin tracking project statuses in Miro by creating status dots that were color-coded green for an active project and gray for an upcoming task in order to improve visibility of the high level workflow. Unlike tools like Asana and Trello that require you to navigate through many pages, Miro allowed Jane to see work at any phase of a project, even before it was added to a ticket or an epic at a glance and double-click in only where needed. The best part is, Jane could see the full picture of work while supporting her teams' many ways of working. Teams could decide how and where they wanted to track tasks, like Jira, and Jane was able to connect those tasks in Miro so there weren't duplicative versions of the same information in two places. Boards provided Jane's teams a neutral space for collaboration and open feedback. Giving people a place to post their thoughts rather than requiring them to verbalize them over a call helped support team ideation, removed some of the pressure, and made for a more inclusive and safe space – writing a digital sticky note can be a powerful and approachable way to communicate.
There's no cuter thing than Miro's pink sticky note. It brings me so much joy."

Jane Ashley
Collaborating visually to make sense of complex projects
As the team found better ways to work together and communicate, they discovered ways Miro helps them to think through complex projects. Flow chart diagrams and emoji reactions helped them map ideas and gauge the team's sentiment to ensure they were moving in the right direction. Previously used tools, like Visio, that lack co-authoring capabilities and require licensing just to view and comment, didn't provide the capabilities they needed to effectively map out and ensure broad alignment on complex projects. In fact, in a recent survey, DocuSign users rated Miro an 8/10 for filling a significant unmet need. One such complex product development project involved using AI models to streamline the management and lifecycle of a portfolio of contracts. Companies would actually be able to search through scanned files based on keywords (and with the help of AI, even just related keywords) to find contracts they are looking for rather than combing through hundreds of paper documents.
To support this ambitious work, DocuSign leveraged Miro to centralize project information, create checklists, monitor documentation, and maintain historical data. While the AI project is still in process, Miro is helping the team maintain all their research and inputs in one place, so they can remember where they've been, how they got there, and figure out what to focus on next.
When working through complex concepts, we put everything into Miro. It's like opening a 100,000-piece puzzle and sorting through it visually on a board.

Jane Ashley
Centralizing cross-functional research planning on the path to innovation
Mariné works with Jane on the Product Experience (PX) leadership team to define tools and scale the research practice. Her job is to evangelize customer insights and learnings across the organization and ensure teams in all disciplines have a 360-view of DocuSign customers and their needs. Miro provides Mariné and her team the space for meaningful collaboration in a wide range of use cases including: facilitating workshops, creating customer profile cards, synthesizing research, documenting customer interviews, and doing analysis, to name a few. Since her teams are distributed across countries like France and Sweden, Miro is key for gathering input asynchronously across different time zones and also helps encourage synchronous collaboration in workshops.
While other tools are limiting, Miro is limitless. In slides you have a certain amount of space, and a document limits you to a wall of text. Miro gives you infinite virtual real estate. This is essential to collaboration, co-creation, and cross-functional work.

Mariné Palamutyan, UX Research Manager at DocuSign
As DocuSign is pivoting to become more customer centric, Mariné sees Miro as a critical tool for understanding the customer and communicating insights across the organization. Her team uses Miro to help flesh out customer profile cards where they identify pain points, motivations, and goals. Miro is also used to organize and facilitate planning synthesis workshops where teams gather data on different customer personas in order to identify gaps in the research.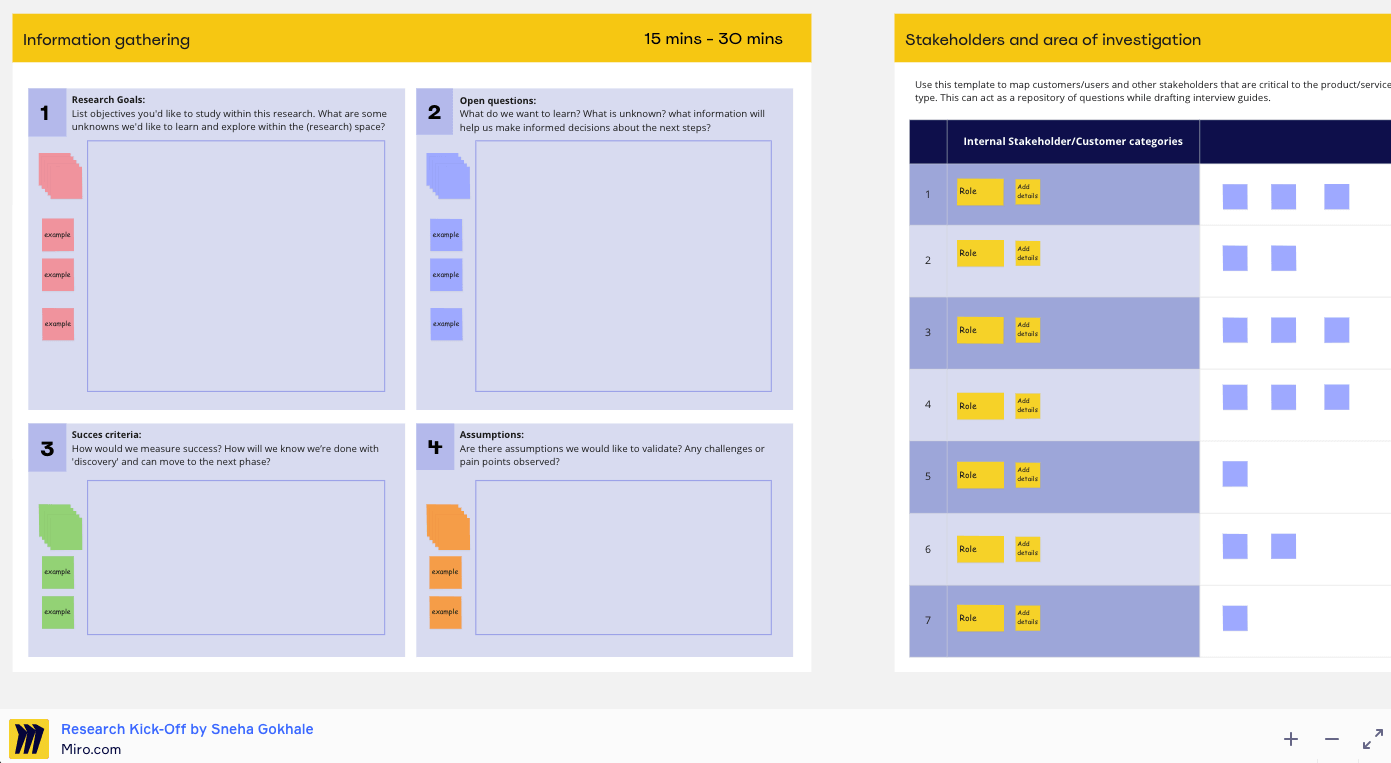 A common challenge in the research planning process is the tendency for the scope and goals teams think they are aligned on to actually be lost in translation. The big risk here is having cross-functional stakeholders walking away from a meeting with different interpretations of the plan without even realizing it, causing friction down the line (which manifests into delayed timelines and unhappy customers).
But using Miro, DocuSign's designers, researchers, and product managers visually map out all the different research they want to do per product pillar and shared objectives projects ladder up to. This way, they come out of the workshop having co-created a high-level summary that they can take forward to build together. It's no surprise DocuSign users say that using Miro makes meetings 74% more effective. One thing is clear: it is critical that cross-functional plans are visual and accessible from one place to help ensure teams are aligned on the scope of projects, the why behind the work, how it all fits together to contribute to shared objectives, and what the broader impacts are if they fall off track. Plus, they can always reference these boards later to recall how decisions were made and catch people up if they couldn't attend the live meeting or are new to the team or project.
We use a Miro board for every meeting and conversation. It's our solution for centralized collaboration and documenting the follow-up commitments and agreed actions that need to happen.

Mariné Palamutyan
The research team loves the nearly unlimited amount of workspace the Miro board provides. Unlike working in other tools, they no longer have to create multiple documents or multiple PowerPoint decks that silo information and add complexity to projects. Now there is one place to form research plans, evolve them, and continue to add any type of media into the mix to support the process.
Unleashing the limitless potential for success
The world as we know it is evolving and DocuSign is innovating alongside it. With one million paying customers who rely on DocuSign for its ability to deliver a seamless, trustworthy, and secure experience, Jane and Mariné take their work very seriously. A core aspect of creating that experience resides with having an enterprise-grade tool that allows their team to collaborate, align, and effectively work together regardless of location.
Since using Miro, DocuSign experienced an improvement in their efficiency and alignment, and provided a space for their teams to express their creativity. In fact, Miro was given an 8/10 rating for improving work productivity and also reported to save each employee an average of 4 hours per week (amounting to an estimated $800K in savings per year). The ability to work faster, smarter, and with focus means DocuSign can better embody one of its core values around customer centricity, spending their time capturing, synthesizing, and leveraging customer feedback to deliver a better experience instead of on shoulder tapping, searching, and other work-about-work. Importantly, Miro helped the product development team establish its 3-5 year product vision for the DocuSign Agreement Cloud.
DocuSign has been able to scale the success of Miro across their organization with Miro's Enterprise Plan which helps to unify collaboration with unlimited team workspaces and enterprise-grade security. As part of the Enterprise Plan, DocuSign takes advantage of the Flexible Licensing Program which allows them to add an unlimited number of user roles freely as they scale to teams in different countries and teams. This has been a hugely valuable program since popularity and adoption continues to grow: a whopping 90% of DocuSign users say if they stopped using Miro it would have a negative impact on their work.
Miro is everywhere. We can't live without Miro, I'll tell you that much. It's our core collaboration tool.

Mariné Palamutyan
How can Miro can help you improve team collaboration?