With the support of an avid user base, Miro has grown to over 1.5 million users including dozens of Fortune 1000 companies. To keep up with our amazing clients, we are always gathering their feedback and looking for new developments in the industries we are working in. Thanks to these efforts, we have identified four key trends that make Miro relevant for convenient digital collaboration. In the future, we will continue to grow our offering to support these main trends.
Influx of remote workers
Customer centricity, design thinking & Agile
Digital transformation
Visual thinking
These four trends are a result of the emergence of fast-growing startups and the adoption of digital transformations by legacy companies. Intense competition and high uncertainty force large organizations to become more agile and customer centric, and they must start acquiring talents worldwide. To compete and win in today's changing business environment, they need to embrace and harness constant change.
Here is an overview of the trends that lead companies to adopt Miro and how it solves their current pains.
1. Influx of remote workers
According to a survey run by the Global Leadership Summit in 2014, over a third of businesses plan to have half of their workforce working remotely by 2020. 25% of business leaders said that more than three-quarters of their employees would not be working in a traditional office by 2020. Moreover, according to a 2017 Deloitte survey of more than 10,000 business and HR leaders from 140 countries, the organization of the future is a "network of teams." Teams are becoming much more dynamic, and work is more distributed. All of this means that more and more organizations will face challenges when communicating within distributed teams and delivering meaningful results.
Most people think that the term "distributed team" means that the team is spread across continents and time zones. But in fact, as soon as you leave your conference room, your staff becomes a distributed team.
Even for collocated teams, the increase in employees working from home, flexible work hours and asynchronous collaboration make the meeting room only one component of a workflow, rather than the focal point. It is critical to find common ground between people working in remote offices, on different floors or from home. Adding a real-time whiteboarding tool to your workflow can make sharing ideas much easier.
"An important part of designing for adaptability is a shift away from hierarchical organizational structures toward models where work is accomplished in teams."

2017 Deloitte Global Human Capital Trends
2. Customer centricity, design thinking & Agile
Over the past several years, the best practices of many leading-edge technology companies have been adopted across all industries. And these approaches are valuable to many departments, not just technology teams. Activities rooted in product development, such as customer journey maps, Sprint Planning, Retrospectives and team stand-ups, take place everywhere in marketing, human resources, customer service and beyond.
"Customer centricity is cited most often, followed by productivity and employee engagement, as the objective of Agile transformations."

McKinsey&Co
There are several studies about the way social media and the attention economy affect people's behavior and habits. What's clear for everyone working in a digital industry is that we now have two opposite kinds of users: one is overwhelmed by the noise and can barely navigate through the news of the day, and the other is thoroughly filtering incoming information, considering their time and money as valuable resources.
It has become more and more challenging and expensive to get users' attention. Maxwell Luthy, Director of Trends & Insights at TrendWatching, claims that we are all participating in the 21st-century Customer Experience Wars.
"At every interaction or encounter you must ask: is your brand saving the customer's attention or seizing it? Fail to do either and you'll end up wasting it – and wasted attention is unforgivable and unsustainable."

Maxwell Luthy from TrendWatching
Design thinking is one way to adapt to the customer distraction problem and integrate the needs of people, the possibilities of technology and the requirements of business. Whiteboarding is a vital part of the design-thinking process. It's not only useful for brainstorming and taking quick notes, but also crucial for the overall flow of the three-part design-thinking framework: understand, explore and materialize. Within these larger buckets fall the six phases: empathize, define, ideate, prototype, test and implement. These phases are complemented by an Agile approach focused on learning, transparency, testing and iteration. In a perfect world, a small team would be in one room working through all of these phases together. But with team members scattered all across the world, having one live meeting with tons of sticky notes is not a practical option. Fortunately, these processes can be moved online and enhanced with tools like Miro.
3. Digital Transformation
While some people perceive change as synonymous with discomfort, technology products are moving unstoppably forward, satisfying future demands and helping overcome the evolving pains including misalignment, isolation, fear of disruption, etc. As a result, digital transformations help organizations stay current while maintaining the comfort of their employees.
"Across industries and regions, most survey participants agree that the world around them is changing, and quickly. Business environments are increasingly complex and volatile, with two-thirds of respondents saying their sectors are characterized by rapid change. In such environments, the need for companies to demonstrate agility is top of mind: the more unstable that respondents say their environments are, the more likely they are to say their companies have begun agile transformations."

McKinsey&Co
4. Visual Thinking
According to the influential research paper "Reaching the Visual Learner: Teaching Property Through Art" by William Bradford, 65% of the population are visual learners. The way people absorb, process and recall information is very important if you want to increase the efficiency of teams in your organization. Current collaboration practices in companies represent a comprehensive universe of tools and approaches, consisting of four main areas: file shares (or intranets), departmental tools (e.g. Adobe, Sketch and JIRA), rich media (e.g. audio, video and microsites) and chat/messaging.
Miro acts as a normalization layer for cross-functional teams, allowing them to be on the same page and structure any project in a nonlinear way, bringing together different types of content.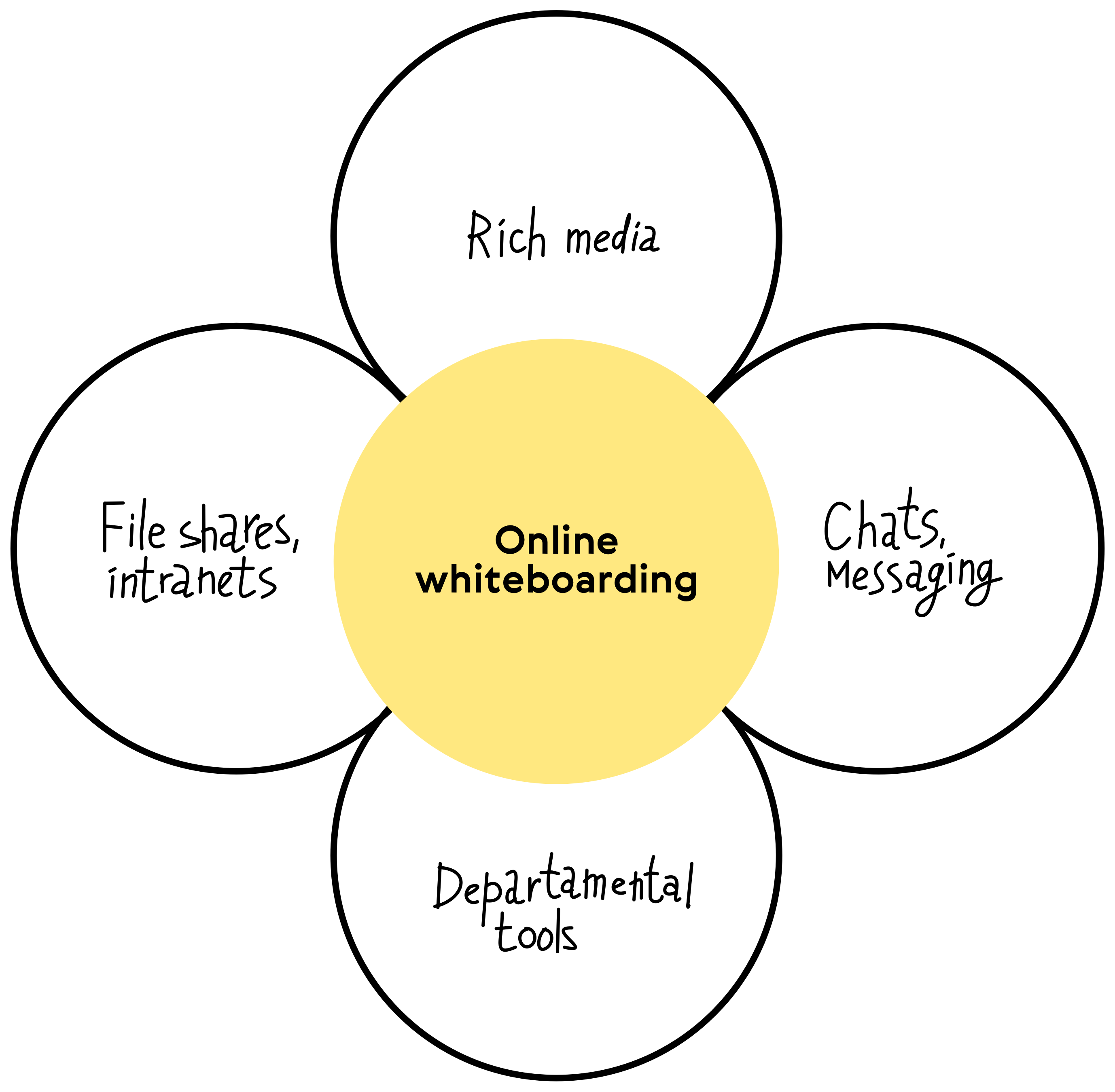 Sometimes a particular use case doesn't fit into any of the purpose-built applications that we rely on for increased productivity. The flexibility of whiteboards to accommodate these many use cases make them one of the few critical offline tools in the workplace. Miro brings the power of technology to the flexibility of the whiteboard to enable you to increase your teams' collaborative productivity.