Educators, this is your year to shine even brighter
August 30, 2021
To all the educators out there, congratulations. You made it through an unprecedented year full of challenges, changes, modified curriculums, and new technologies.
You not only persevered, you brought structure, continuity, support, and inspiration to the lives of your students. You've been a bright spot for them in difficult and uncertain times.
Believe it or not, the 2021-22 school year is going to be an opportunity for you to shine even brighter. With all the new skills you've cultivated over the past year of distance learning, you now can curate your curriculum and create engaging blended learning experiences that incorporate the new tools and technology you worked so hard to master.
You've already done the work. Now it's just a matter of organization and application. We're here to support YOU as you prepare students for the digital, hybrid workplaces of the future.
Why blended learning?
As the 2021-22 school year draws nearer and more classes are set to meet in person, you may be thinking, "Finally, a chance to get back to the way we normally do things."
We're all craving a sense of normalcy, right? But here's the deal: The world has changed, and so have you and your students.
Now that you've facilitated online learning, it makes sense to consider a mix of traditional in-person and technology-mediated instruction.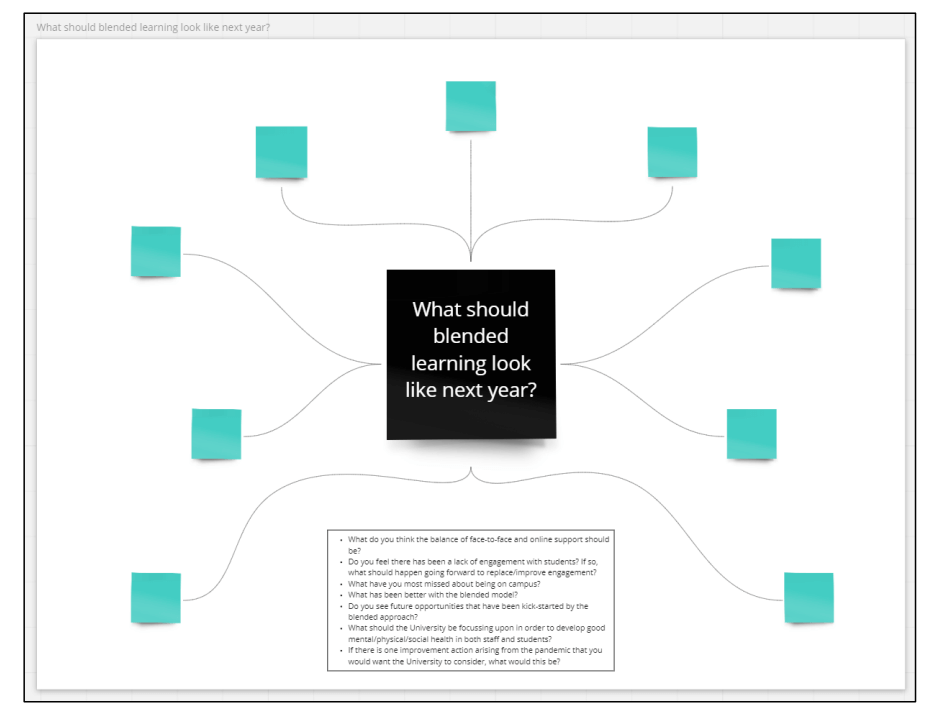 Here are some of the benefits of incorporating both new and tried-and-true technologies into your blended learning environment:
Students build confidence as they learn and master various digital tools
Tools like Zoom, Blackboard, Miro, Canvas, and G Suite enable teachers and students to connect and collaborate in new ways
Certain platforms give a voice to those who might not otherwise speak up in class
Well-crafted digital experiences draw out creativity, ingenuity, and problem-solving skills
Those who are sick or absent can stay connected and still participate from afar
Cloud-based tools help you stay organized while assessing and ​​measuring performance
The class can save, revisit, and build on ideas and projects in digital spaces
Students can include technology used in coursework on future CVs
In her book Tech with Heart, author and educator Stacy Roshan explains her choice to use blended learning in her own class: "It's not about videos at home and textbook work in class. It's about easing students' anxiety by giving them time to work through problems with their peers and with me. It's about personalizing the learning space, building relationships with students and gaining their trust, and being there to support them when they need me the most."
Creating a blended learning approach that works for you
Students are ready for face-to-face instruction again. (A recent survey found that 85% miss that interaction with faculty.) They're also ready for more teacher-led digital experiences in and out of the classroom.
As you construct your blended learning approach, you can start by reflecting on what worked and what didn't for you and your class as you navigated distance learning together in the 2020-21 school year. Whether you're facilitating classes online again, meeting fully in person, or using a hybrid model, you should think about the technological elements that your students responded well to and how to incorporate them again this year.
You might consider offering online office hours for students, sending email check-ins and short video lectures, or creating a weekly digital whiteboard message with assignments, expectations, and places to share questions, feedback, and shout-outs.
Blended learning boosts student engagement, creates new opportunities for learning, and it empowers students with the skills they need for the jobs of tomorrow
---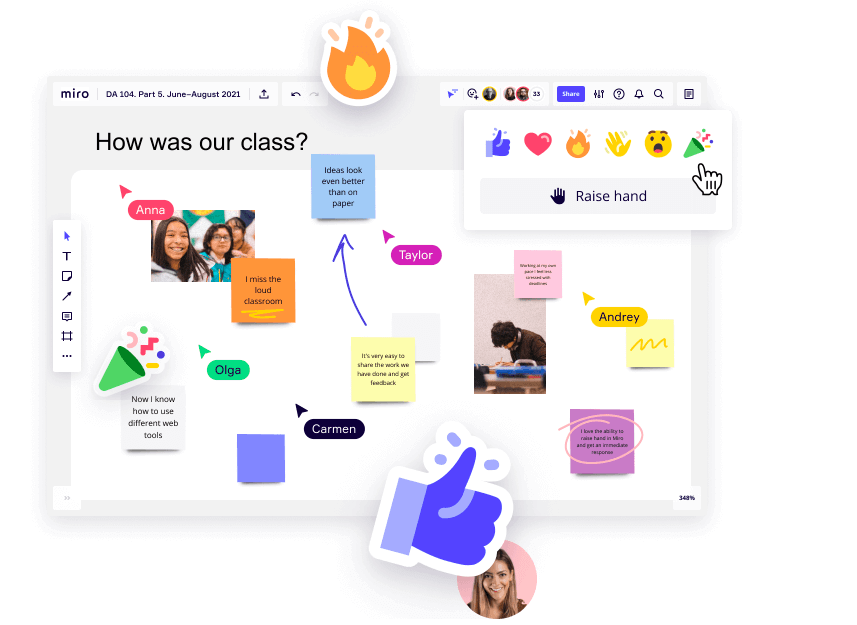 This is your class and you get to pick which tools to keep in your toolbox. Moving forward you might even discover some new ones that are easy to adopt and will enhance the learning experience for everyone!
Ways to innovate in education
Educators have always been innovators – continually finding new ways to adapt to the needs of their students and adopting new technologies along the way.
This last school year was no exception. When tasked with transforming the way students interact and learn when meeting in person was no longer an option, teachers and learning designers went above and beyond to make it work.
For example, in 2020, the faculty of Industrial Design Engineering at Delft University of Technology (TU Delft) were forced to revamp their Context & Conceptualization course, moving a dozen lectures and self-run workshops for 200 students online using a combination of Miro, Zoom, Google Forms, Google Sheets, and Brightspace.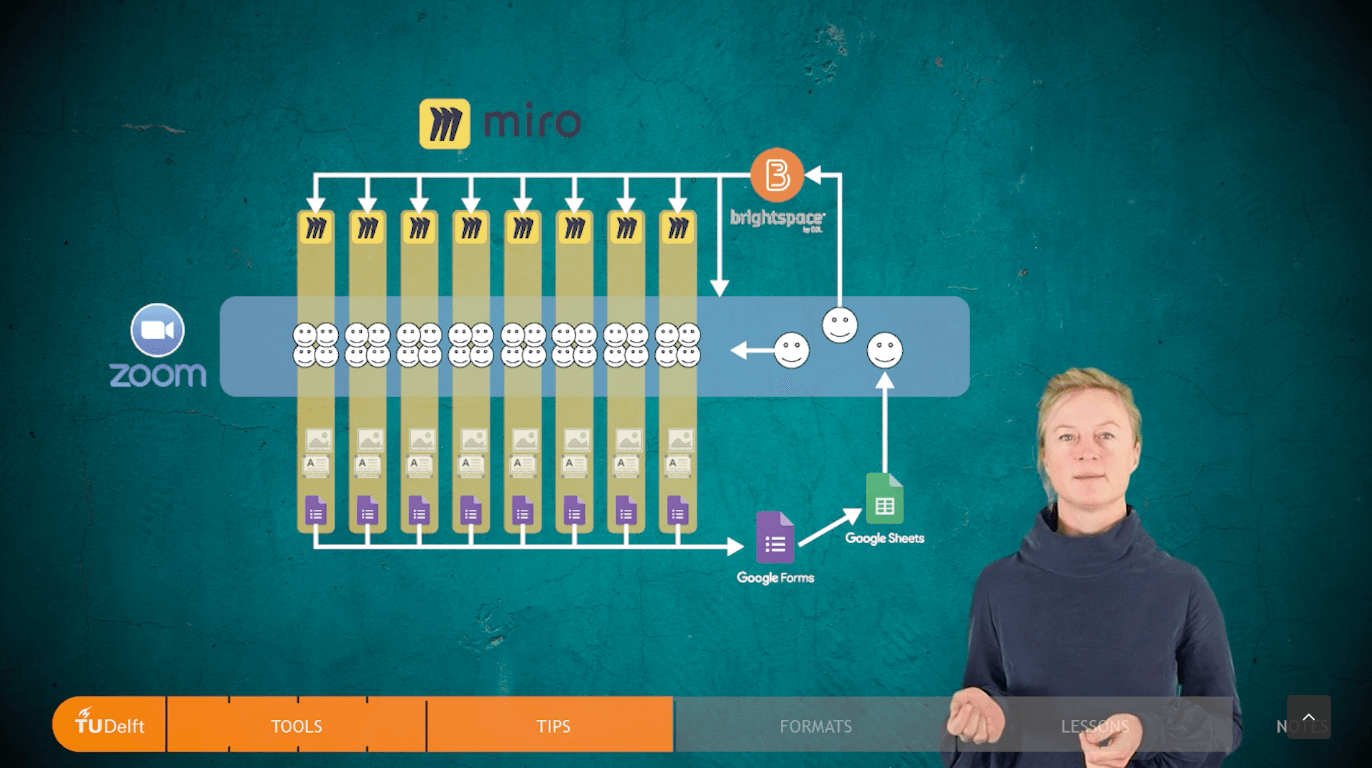 Although initially, it wasn't easy to pull everything online, many educators have seen the fruits of their labor and have decided that they will incorporate some of these technological tools into future courses. TU Delft's Professor Pieter Jan Stappers and his teaching team shared that with Miro, the logistics of the workshops "were much simpler than the real-world counterparts had been."
Below are a few more examples of how universities and higher ed institutions used Miro's digital whiteboard platform to collaborate on projects and meet their students' needs during the 2020-21 school year.
Free resources to inspire and empower you
If you are a teacher, student, or staff member of an educational institution, you are eligible for a free Educational account in Miro.
If you've never used Miro before, fear not. Professor Froukje Sleeswijk Visser from TU Delft (pictured below) reminds educators, "There are several places where you can find tutorials on how to use the tools, sources for tips on all the workshops, and how to arrange for group dynamics."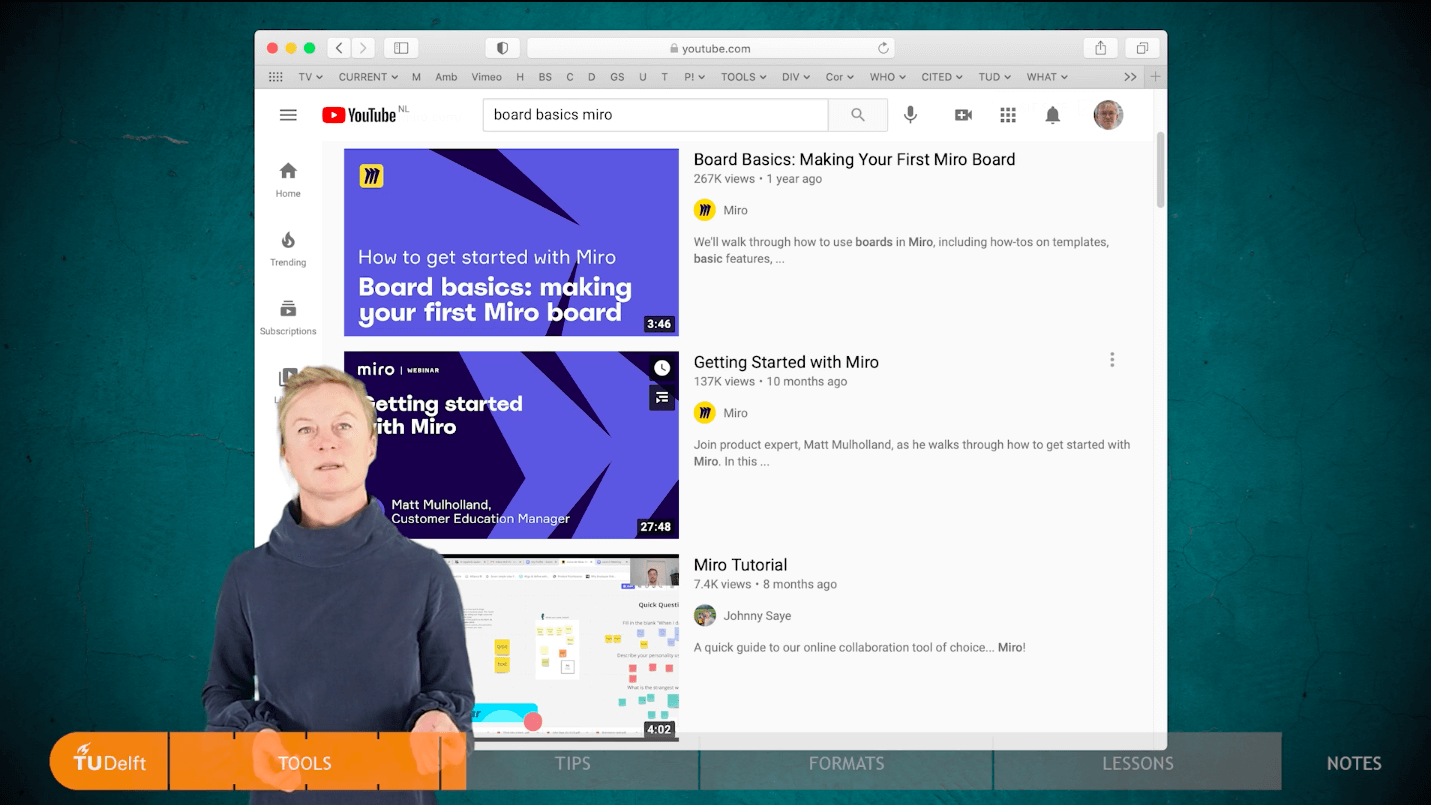 Miro's collaborative whiteboard enables you to work together in person or from afar via a digital canvas using smart boards, tablets, PCs, or even phones. Bonus: The content remains available for remote and asynchronous learners or those who simply want to revisit class materials.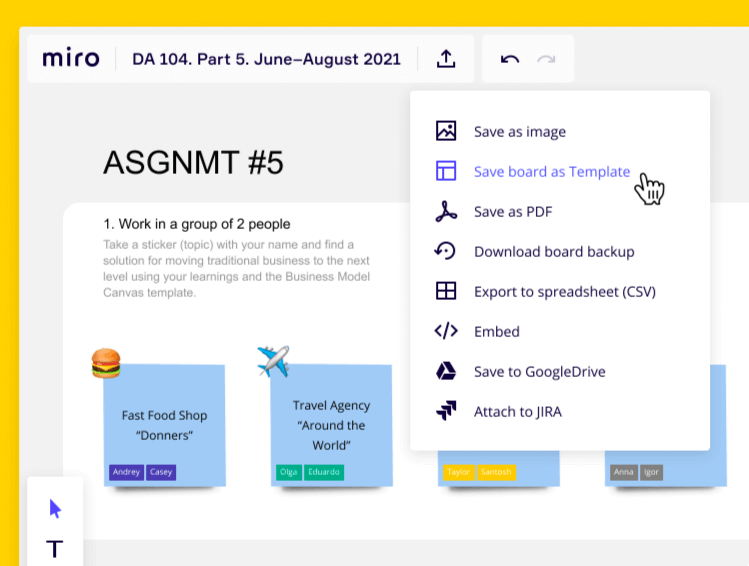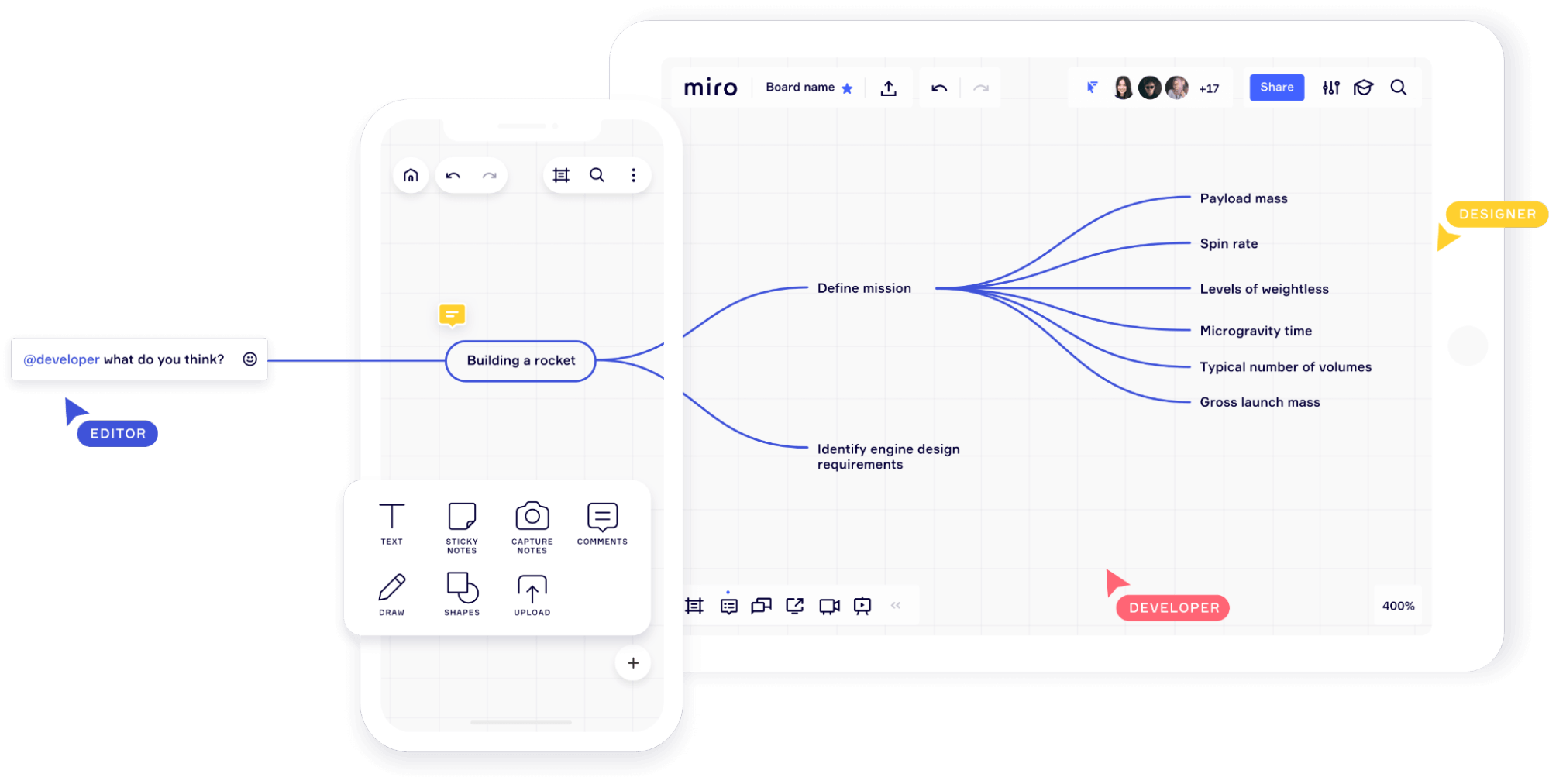 Want to try Miro in your classroom?
Here's to a stellar school year
Educators: if the 2020-21 school year showed you anything, it's that you are resourceful and resilient, and you'll do whatever it takes to make sure your students stay connected, engaged, and supported. You are nothing short of stellar, and this year your classroom is sure to reflect that.
As you transition back from virtual to in-person learning and work to create interactive learning experiences that enhance digital skills and boost engagement, Miro is here to support you.