Picture yourself sitting on a call with a client who is pulling out their hair, complaining about their team focusing on arbitrary work or processes that create zero customer value. Does this sound all too familiar?
Sadly, you're not alone. At Think Startup, we've seen a considerable uptick in leaders who are exasperated at how hard it is to get things done, facilitate team alignment, and ultimately focus on the right business activities to bring value to their customers.
But how do we help them in 2022, when getting on the same page feels more complex and difficult than ever before? Keep reading for shared learnings — a little myth-busting — and tips for how to help your clients.
Why is alignment so difficult? The answer is complex …
At first glance, it's easy to blame Covid and remote working for the disconnect. But if we dig a bit deeper, we are seeing seismic shifts generating unprecedented uncertainty:
Customers' expectations are brutal and are showing no signs of slowing down. Customers are better informed than ever and have a more even playing field equipped with a keyboard and a poor experience. This is not going away any time soon.
The onslaught of never-ending technology shifts and data explosions is creating a complexity and tech debt that finance teams are struggling to business case and IT Architects are going to therapy for.
Sought-after talent are coming with different expectations on how they want to work, live, and play and are voting with their feet. Meanwhile, HR teams are scrambling for budget and airtime at the exec table.
And to top it off, the Covid uncertainty is draining people's patience, goodwill, and access to quality toilet paper.
This volatility is adding to an already stressed environment and stretching leaders. How do you approach alignment and where should the focus be when you can't even pull the team together in one room to plan?
Reacting to this volatility is creating silos
In response to this chaos and desperation for stability, leaders are narrowing their focus to their own siloed teams' goals. This action has a number of knock-on effects, none of them healthy:
Teams missout on vital intel to stay in sync with the rest of the organization
It amplifies the likelihood of duplicated activity and waste
It constrains the creativity gained from bringing diverse teams together
It isolates people from the very relationships vital to creating sustainable value
Leading firms have recognized the vital nature of nurturing open communities, as opposed to hierarchical command and control, in order to not just survive but thrive during chaotic times.
But here's the rub: in order to create open communities, you need to fight your desire to isolate. We need to go a step further and be willing to be vulnerable – sharing hopes, fears, stuff-ups–and be ready to ask for support.
"In order to create open communities, you need to fight your desire to isolate."
Myths that keep teams from shared alignment – busted!
To navigate the chaos and reach shared alignment, we need to be prepared to challenge the very assumptions we hold to be facts.
Myth 1: Who our customers are is very clear
Often we see very strong views held on who the customers are in a business. Unfortunately, they are not always the same customers. We are seeing a blurring of lines between customers and colleagues, consumers and B2B, and differences in a descriptive language like users, clients, residents, and members. We need to be able to peel back who we each think the customer is, so we can solve for their needs. One of the ways to do that is to pause and reflect on who you are creating value for.
Let's look at an example
We sat down with an Australian Government Agency's Technology Enablement unit within IT who were seeking to create their strategy. During a briefing session we asked 'Who is the customer we are creating value for?' and received multiple answers back. We moved the conversation to Miro where we used digital sticky notes to get the full range of possible customers on the page. Then we looked to map the relationships of who creates value for whom. Lastly, we agreed on where to draw the line so as to not boil the ocean.
---
Myth 2: We know what the solution is
The number one stuff up in most organizations is creating a product/service that nobody wants. The enthusiasm for having the answer or pressure to have any answer can cloud our ability to be self-critical on what assumptions we are making or glossing over.
Check out this example (journey mapping/Genesis Care)
A global cancer treatment firm's procurement team had been burnt by a previous imaging system acquisition. Yet the wider business was excited to get a new system in and the pressure was on to just get it done. The procurement team engaged us to run a rapid sprint to map out the end-to-end imaging journey with patients, doctors, and staff. This allowed us to unpack the needs, pain points, and opportunities. These journey maps were all built within Miro allowing people from all across Australia to participate quickly.
We were able to invite people who were not traditionally engaged as part of procurement and they were thrilled to have a voice and feel heard. The learnings were incorporated into the market brief.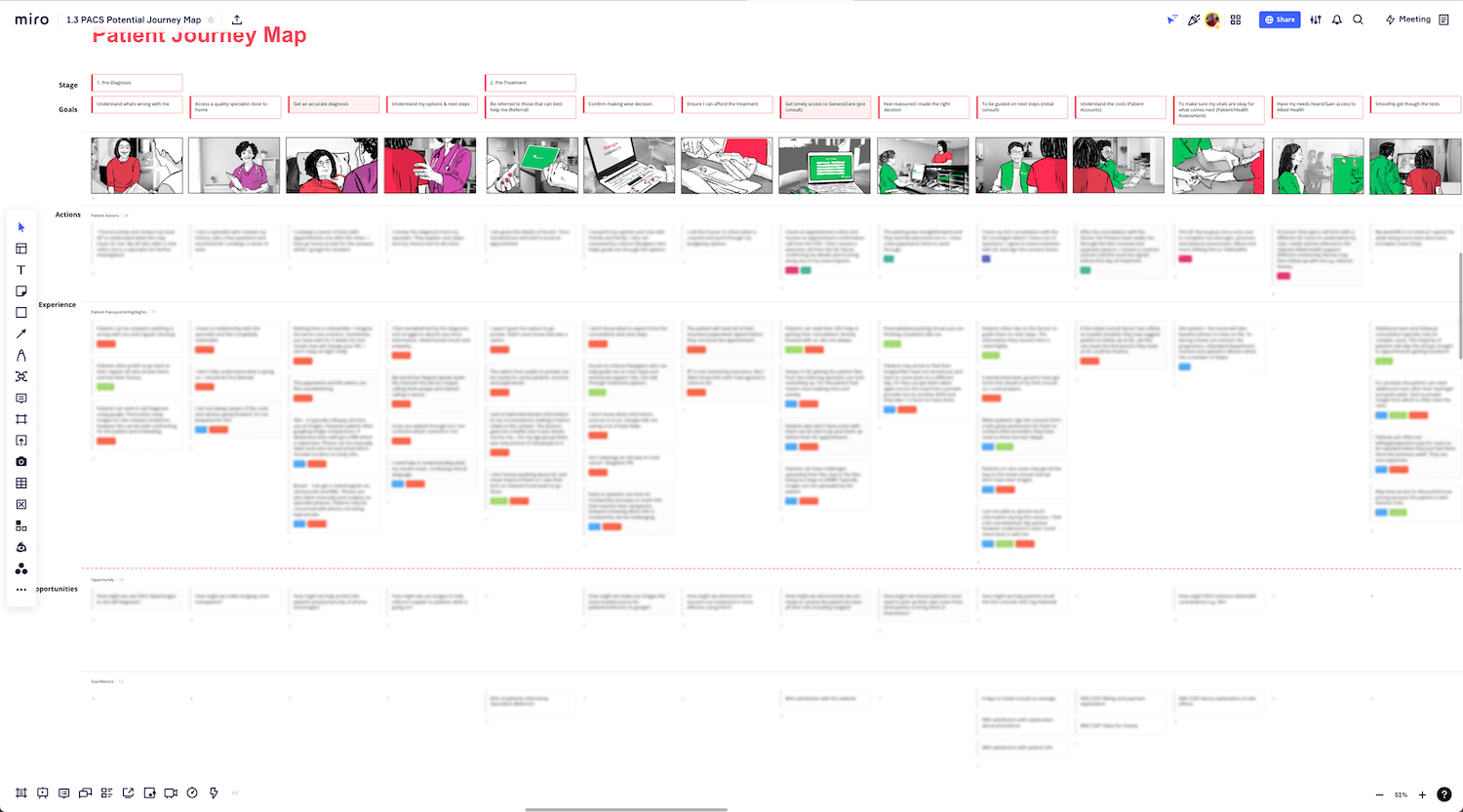 Myth 3: We know what is best for the customer
Testing with customers when your idea is an ugly duckling is a hell of a lot cheaper than launching it in the market and seeing what happens. We often assume we know what is best, or get caught up in making something perfect for an internal stakeholder. Creating lo-fi prototypes is the savviest financial decision to make and limits the potential social media backlash.
Here's an example
Maitland City Council, a rapidly growing local council sought to be able to kill bad ideas early, whilst refining those that resonated with their community. The team chose to focus on all things bins and developed prototypes using Figma to reimagine the bin ordering process. The team was pleasantly surprised how quickly they could mock up lo-fi prototypes, and by integrating with Miro, they could jump from concept to prototype quickly and get feedback from customers. The learnings helped challenge the team's own assumptions on what 'easy' looked like for customers.
Myth 4: We need to be in the same room to get aligned
You don't. You can get on Zoom or Teams and plug into Miro and explore different thinking whilst being in different time zones and with the added benefit of no post-it notes to pick up off the floor after the workshop.
Let's look at an example
City of Newcastle, an award-winning Council in NSW, Australia wanted to create Customer Experience Principles for their organization. We created a Miro Board as an experimental space for The City of Newcastle to share their initial thinking of the principles.
We worked on the initial draft over a couple of days, whilst the City of Newcastle team could dive in and out, adding their feedback via digital sticky notes and working around their hectic schedule. This allowed us to keep refining the principles whilst minimizing the disruption to their day job. We then were able to hold a very short alignment workshop that was about endorsement as opposed to further development.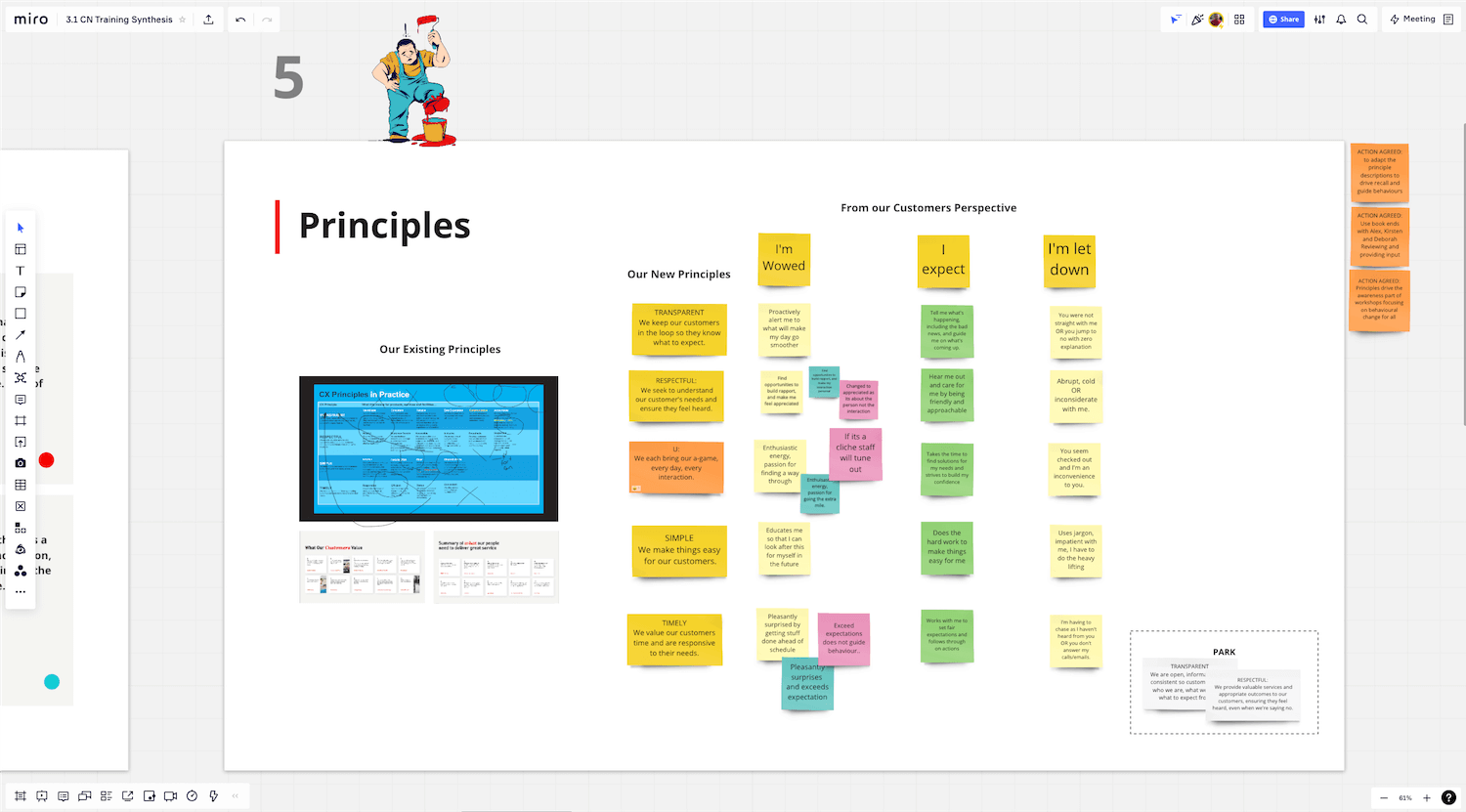 How will you respond?
Legitimate stress from multiple sources is creating moments for each of us to choose how we react or respond to these events. The key is a willingness to experiment with different tools, people, and spaces to tackle challenges that are not going away.
Think StartUp is a strategic design consultancy that applies start-up ways of working and thinking to create better businesses. They are a member of the Miro Professional Network, Miro's program for consultants, agencies, and freelancers. Join the network today and unlock the benefits, including premium Miro access for up to a year (for Free plan users).