Weekly meetings: you either love them or… well, you don't love them. Could the lack of love be due to the fact that the value of the meeting doesn't live up to the time requirement?
Remote and hybrid teams can experience barriers to success when it comes to the weekly meeting. Often, this has to do with the array of time zones and locations. However, language barriers, lack of preparation, low engagement and having the wrong mix of attendees can also create problems. Finally, engaging the team with the right tool for the session cannot be overlooked.
In this chapter, we collected potential barriers of weekly meetings, together with rules and tips to overcome these barriers and make the most of your weekly meeting.
What are weekly meetings?
Weekly meetings are scheduled get-togethers that a team or group has every week at a designated time. These weekly meetings are important because they tend to address action items, roadblocks, and questions for the upcoming weeks or barriers from last week. Regular meetings help team members progress with their weekly work.
Weekly meetings barriers
Whether your team works remote, in-person, or a mix of both, these potential roadblocks and prevent successful meetings.
People
Great technology cannot overcome bad communications. Make sure all the team members are on-board and accepting the project management plan, and that all the critical steps are in place. What is the testing process? Who approves what phases? Do cross-functional teams need to be looped in?
Process
Internal disorganization can throw off even the best plan, running on top technology. This can occur at the onset of the project and goes back to communication barriers associated with remote collaboration. Set up a call to discuss the organizational structure of the remote or hybrid team and how the team will engage with one another.
Tools
For weekly meetings, the biggest barrier to overcome is the use of a tool that is not robust enough for large project iterations.
The most basic level of communication is email. Everyone has been part of an email string that includes too many people, includes non-pertinent information and becomes a wasteland of confusion and misunderstanding. This is a good example of how even the simplest project iterations can go wildly off track. A barrier of project iteration occurs when the tool, in this case, email is not robust enough to handle the project.
While today not many organizations are using email for project management, the same problem can occur using other platforms. Project management requires a tool that is able to combine functionality, communication and organization. When one of the three is not reliable, team members will turn to another tool to use and therein lies the failure.
Look for platforms that provide your team with a "One-Stop Shop" for visual project management and communications, with intuitive functionality that can be easily adopted by every member of the team.
Weekly meeting rules
Rules are key to getting your team together for an efficient and proactive team meeting.
Rule 1. Advanced preparation
This one seems obvious and simple, but it's hard to commit to a weekly meeting. Weekly meetings almost have a "Chicken and the Egg" scenario. For a meeting to be valuable, you need advanced preparation and consistency. But to commit to preparing for a weekly meeting, the value needs to be there.
"That was a really good meeting." That's heard when participants got something out of the meeting. Part of this is knowing what to expect. By setting an agenda and providing interesting advance materials, which participants are expected to be able to comment on, the weekly meeting will become more valuable.
Rick Lepsinger, President of OnPoint Consulting suggests: "Do not schedule "status update" meetings (this encourages attendees to go on mute and multitask until it their turn to report) – only schedule meetings that focus on problem solving or decision making and require a conversation".
Michael Sueoka, Head of User Experience at The Mobile Majority sends out agenda and the meeting's goals before the meeting, then ask people to read it and to comment on it if they have any feedback or suggestions. So this gets people thinking before the meeting.
Rule 2. Follow a reliable format
It can be confusing and draining to always have to search for the right link or email to find the required items for the weekly meeting. Using an online tool that can house all the necessary components, week in, week out, can help. By preparing in advance and using the same tool, participants don't have to waste time looking for the email with this week's agenda or the guest speaker's presentation.
As an example, take a look at Miro remote meeting demo.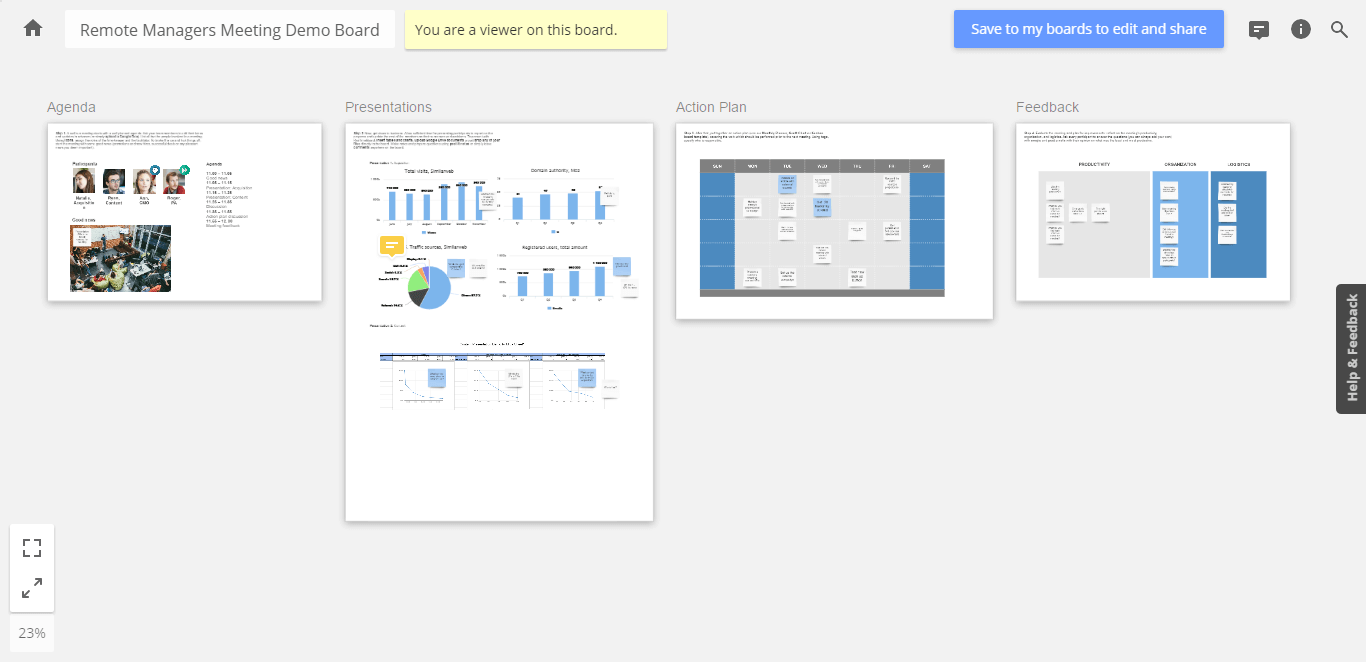 As shown above, there is a place for four important facets of the weekly meeting format: Agenda, Presentations, Action Plan and Feedback. Consistency in the meeting format will increase the success and break down potential barriers.
Rule 3. The use of video conferencing
For teams that consist of a local team plus remote members or for fully remote teams, face-to-face contact is important. Remote members potentially lose out on the ability to read facial expressions and body language. By using video to virtually include everyone in one room, a more cohesive meeting can take place.
Additionally, face to face communication helps break down language and cultural differences as well as helps to keep everyone engaged.
Patty Azzarello CEO at Azzarello Group: "Use video — if you are a remote employee, encourage all of your key colleagues and stakeholders to take a Skype call with you from home once in a while (convenient in their time zone), in order to connect with them "in person". It makes a huge difference.
Rule 4. Watch the clock
Everyone is busy, and the time of the meeting may be creeping into non-work hours for remote staff. Thus, watching the clock is an important rule to enhance employee morale and engagement. If the meeting always runs long, participants may stop attending. Make the most of the meeting time you have, and when you hit the 20 minute warning, prioritize the remaining agenda items.
We at Miro arrange an agenda from the most important points to discuss to the less important. It helps us mitigate the risk of not having enough time to discuss the most important points. In the case of having any agenda points left at the end of the meeting, critical points should be provided with feedback by the end of the same day; non-critical questions can be moved to the beginning of the next scheduled meeting.
Weekly meeting tips
Here are some tips we use at Miro to help our meetings go as smoothly as possible.
Tip 1. Make a commitment
Everyone needs to commit to the meeting. Pick a time to meet that works for all members of the team and stick to it. Consistency and advanced preparation go hand-in-hand and it is important to commit to the weekly meeting. Reward and recognize the consistency and participation of members and try to make the meeting at the same time and place every week.
Remote teams have a real challenge with weekly meetings. In order to get a consistent meeting with the entire team, solicit feedback about what time and day works for everyone, regardless of time zone.
Tip 2. Rotation of responsibilities
Here's a novel idea that works: rotate the responsibilities. Every week, section off time in the meeting to focus on the results or actions of a team member. Open a "Q&A" and give them the opportunity to show off their recent results. Team members will be more excited to attend and see their co-worker's segment, and it will build camaraderie in the group.
Another option is to let members take turns facilitating the meeting. Even the slightest change in personality and tempo can make a boring weekly meeting a little more interesting.
Darin Herle, Co-Founder at Trackmeet: "Have the remote team members "run" the meeting. They know the agenda and the drill, so they're perfectly capable of doing it. Give everyone a chance to feel responsible".
Tip 3. Add some excitement
Allow room for some fun or engaging material. Perhaps a invite guest speaker or a customer to share their success story. Ask a senior leader in the company to join for five minutes and address the team. Alternatively, include a recognition plan in the meeting. These are all ideas to break up the monotony and increase everyone's participation.
Tip 4. Cast off the supporting roles
In some cases, it's critical everyone participates for the entire meeting. However, remote teams, which use an online whiteboard solution, can offer flexibility in their requirements. "Bit players", if you will, whose participation is critical for small purposes in the meeting, can submit their documentation ahead of time for the team and ask for feedback. Ask them to join for a quick overview and allow them to get back to doing what they do best.
Is your organization (the people, process and tools) capable of successful collaboration processes?
And if remote weekly meeting is happening, are any of the barriers listed above that are pain points you recognize?
If so, it may be time to look for new solutions for this type of collaboration. Start at the beginning: is it the team, the organization or the tool that is the primary source of pain in your project lifecycle? What would it take to improve?
Without a doubt, a weekly team meeting does wonders for organizations that rely on remote collaborators. When run correctly on a regular basis, a team meeting will create positive change, drive results and boost morale.