HP Inc. (formerly Hewlett-Packard) provides products and services across a range of sectors worldwide. With over 80 years in the industry, HP inspires meaningful progress in climate action, human rights, and digital equity through its portfolio of personal systems, printers, and 3D printing solutions. HP continues to innovate and adapt its products to the changing work climate through sustainable tech and software to support hybrid work.
---
HP teams needed to become more agile, inclusive, customer-focused, and purpose-driven to overcome hybrid work challenges and achieve their ambitious company goals. As the team responsible for organizing and curating education for global teams, the Learning and Development (L&D) team knew how important it would be to make the training accessible and engaging. They determined that the best way to create sustainable behavioral change would be to work at the team level – every team would learn about an idea, brainstorm how it could apply to their work, and then practice it together while supporting each other and holding each other accountable.
Finding an inclusive tool to roll out new ways of working company-wide
Like many companies transitioning to a hybrid work model, HP teams were trying to figure out how to align and stay engaged. Progress had been made by defining hybrid work guidelines and updating facilities to support hybrid teams. Like they did at the start of the pandemic, team members adapted again to new ways of working. In addition to these measures, new tools and technologies were needed to enable seamless collaboration.
---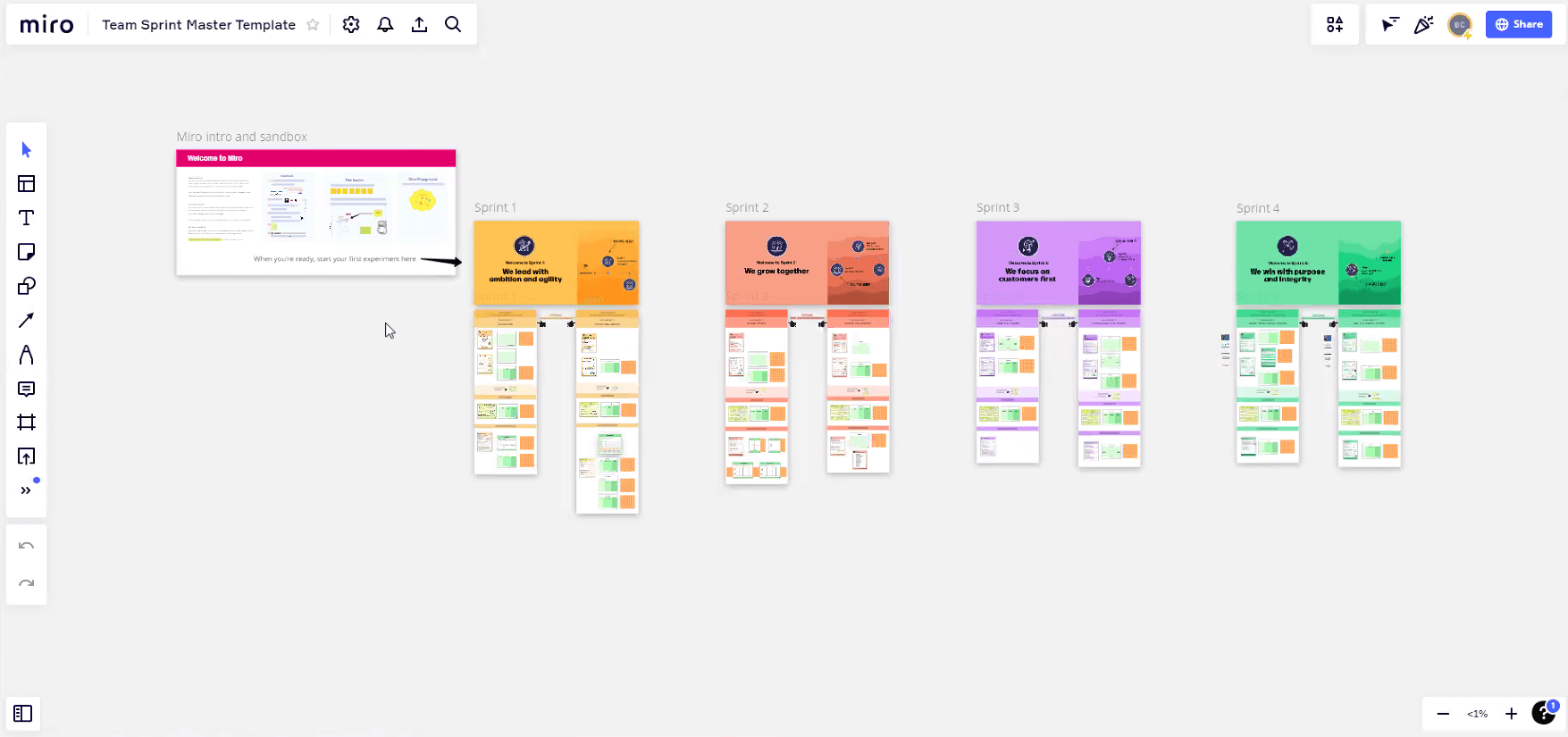 To evaluate current behaviors and roll out the new ways of working, HP teams needed a digital workspace that people could engage with in real-time and provide an equitable participant experience, so no team member is left out regardless of work style, location, or language.
Tools like Zoom and Microsoft Teams could be used for features like chat, annotations, or file sharing, but HP needed a tool to help facilitate collaboration and realtime iteration and brainstorming. Zoom and Microsoft Teams just do not provide the robust pre-, during, and post-meeting co-creation capabilities or complex workflow templates that Miro does.
We want to be more agile, open-minded, iterative, and have a dedicated space that fosters new ideas and innovation. Miro is the best tool to support those initiatives.

Brian Ciccotelli, Learning Experience Designer at HP
Ciccotelli continues, "Microsoft Teams creates a different whiteboard for every new meeting you host, so revisiting your work or notes in subsequent meetings is cumbersome. In Zoom, you have to screenshot annotations, or download and share the whiteboard, which then lives in a team file folder. Miro has a board where everything can be viewed at once, and new work is saved automatically. It's the most convenient tool for leaders facilitating the discussions, and participants can easily access to boards any time."
Turning abstract ideas into actionable tasks in Miro's shared workspace
After much testing to identify the best tools and work methods (synchronous vs asynchronous) the L&D team landed on a workshop in Miro to help executives create the environment necessary for new behaviors to thrive. Miro was also used to facilitate four sprints that guided teams through each new way of working.
The focal point of each sprint was an experiment that helped teams come up with ideas on how the topic might be applied to the work they do personally. Team members then iterated and built on each other's ideas. Finally, each team member made action-oriented goals that could be applied immediately and noted where support might be needed from their colleagues.
Resources were prepared so teams could choose whether to collaborate in person, on Teams, on Zoom, or with a new tool called Miro. Word spread from team to team quickly and Miro became the overwhelming favorite collaboration tool where teams translated abstract ideas and concepts into actionable tasks.
Having everything from session prep to live workshop to post-session links to reflection materials and other resources saved in the Miro board made everything more accessible. Providing the board ahead of time allowed participants to feel more prepared in cases where they needed extra time to process the content and how they might answer the questions.
As the program designer, Ciccotelli enjoyed seeing how "Miro made it fun and compelling where teams could take these prompts and get creative with the possibilities. It's changing how they work to be more successful."
Miro provided a platform where global teams could quickly contribute ideas, and engage during live sessions with their team to ideate and problem-solve.
Scaling HP's training to thousands of teams with custom tools built on Miro
The L&D team created a template in Miro that was duplicated thousands of times, giving each team their own space to collaborate and truly "make it their own." This allowed teams to apply the new mindsets and behaviors to suit their unique needs.
Miro's Enterprise platform and dedicated support was key to this flexibility and scalability. Since Miro allows admins access to Miro Developer Tools, HP admins were able to automate much of this process. HP wrote a script that could duplicate a Miro board hundreds of times in minutes. To ensure security and privacy, each board was given a unique password, and the board URLs and passwords were stored in a secure SharePoint list. To help distribute the thousands of boards created, the HP team again used a custom bot to help get teams access, automatically sharing board URLs and passwords as teams claimed them. This saved the L&D team hundreds of hours of manual board duplication, password setting, and link sharing.
For teams that didn't yet have a Miro license, boards were shared with guest access using a custom shareable link, allowing teams to test out the tool before committing to it. But after seeing how easy, fun, and effective it was, Miro became the tool of choice for many teams across the organization, and is now used for much more than just L&D trainings.
A platform for innovation and moving HP into the future
In providing a flexible, accessible, and secure platform for sharing and implementing best practices, Miro is empowering teams at HP to truly embrace and contribute to HP's vision for the future.
So far, about 15,000 employees have participated in this voluntary training (roughly 1/3 of HP's global workforce). Since the training was launched in May 2022, the L&D team has received over 4,000 pieces of feedback from participants. Team members appreciate the fresh approach to collaboration and highlighted many of the ways they plan to implement their learnings and ideas. The overwhelming majority of comments (94%) had a positive sentiment toward the training.
Team members have enthusiastically shared their satisfaction with Miro, saying "It changed the dynamic of the team, which can be very task-oriented to a more creative, collaborative style." Others noted it was fun and could be used to solve different problems in an easy way. Some expressed excitement about using Miro to come up with "some truly amazing ideas we can put into action."
Miro has expanded across the organization and is now the go-to tool for workshops and brainstorming sessions. Teams are leveraging Miro templates and interactive features like voting, reactions, and the timer. Facilitators find that taking advantage of the visual nature of Miro leads to more productive discussions and creates more understanding between hybrid teams.
Introducing a new tool is often met with resistance and skepticism, but HP found a way to introduce Miro at scale to thousands of team members and maintain an extremely positive experience. Many teams that tried out Miro for the first time during this training adopted it as their main collaboration tool. As a result of this training, not only is HP closer to their vision of becoming the world's most sustainable and just technology company, but teams are also collaborating more inclusively and efficiently.
Miro makes it easier to collaborate with colleagues by removing the confusion of not knowing where to start or how to do it effectively. To be truly innovative, everyone needs to have a voice, and everyone needs to be able to iterate on each other's ideas. Miro has made that possible for us."

Brian Ciccotelli