Investing in brand–and re-branding–can result in long-term, exponential returns for a company. But evolving a familiar and beloved identity can create some unique challenges. Read why CMO Barbra Gago rebranded RealtimeBoard to Miro, the value it creates for customers and the community, and learn about the things to consider before embarking on a similar journey.
Rebranding a company and product that has millions of users is a bold move. When a product is growing quickly and organically, you typically don't want to do anything to impede its momentum. After all, rebranding can be disruptive to many areas of the business: your team's focus, conversion rates, search traffic, virality, engagement, advocacy, market perception, perceived differentiation, internal operations, business workflows, and more.
But rebranding can also be extremely powerful–maybe even the most important long-term investment you make. It can help your company succeed beyond your wildest dreams creating true defensibility, sparking a movement, and nurturing a loyal community that can exponentially grow your business for you. Let's talk about the process of rebranding RealtimeBoard to Miro within three simple phases: why, how, and what.
Start with Why
Before jumping into a rebrand, you should ask yourself, "why?" Why do you exist? What do you believe in? And why should people care? As Simon Sinek, author of Start with Why, says, "People don't buy what you do; they buy why you do it." Brand building, at its most fundamental form, is discovering the why that will allow you to meaningfully connect with the people you want to do business with.
Asking ourselves why is what led us to the decision to rebrand RealtimeBoard to Miro.
The RealtimeBoard name and brand were beloved – by employees, our customers and the broader community. But since first naming the company, our why has changed. Our view of the world, the problems we solve, and the people we help every day has evolved. We wanted a name and brand identity that better reflected this broader view that we all share.
As with most startups, our name and brand developed organically over time. In the beginning, there were lots of competing priorities and a lack of resources which meant we didn't have time to consider a deeper brand vision.
If you think about the name RealtimeBoard, there's a very simple answer to why. It's a board you use to collaborate, in real time. Although it's clear and simple, this answer to why didn't fully satisfy us.
We realized there were several compelling reasons to change the name:
There was a clear lack of consistency around what employees, users, and customers called the product. They spelled it differently and referred to it in different ways. At scale, this was a very practical risk to our growth and ability to drive word-of-mouth.
The length also created challenges. Before this year, we hadn't done much marketing so, we hadn't seen the logo on assets or alongside other logos at events and trade shows. Once we did, we quickly realized that a 13-character-long name was challenging: it was either shrunk to fit an allotted space (and therefore tiny) or was broken in two, or cut off.
Finally, we felt we were missing a critical piece to building a world-class brand: our ability to tell a compelling story, draw people in, to spark curiosity, and to create a real emotional response. Our long-term vision for the company had moved beyond the real-time whiteboard we'd brought to market. We needed a name that could reflect a bigger idea, a bigger dream.
So why change the name now? For us, this was a no-brainer. We are a hyper-growth company. We raised $25M in venture funding from Accel earlier this year, and plan to invest a lot in the product, marketing, brand, and sales. The sooner we made this change, the sooner we would be on our way to achieving our big goals.
The Golden circle by Simon Sinek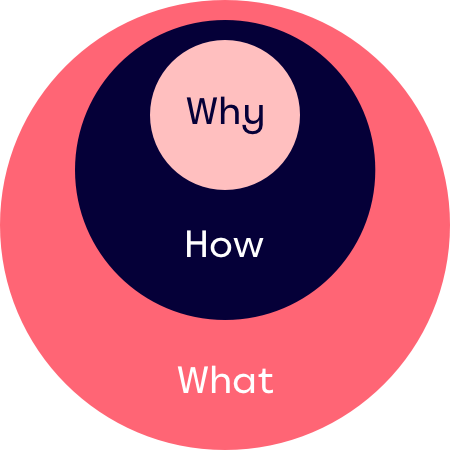 ---
Moving from Why to How
Once we were aligned on why we wanted to change the name, we needed to figure out how we would come up with something new. Here are the critical steps we took:
Conduct a 3-hour brand sprint. To make sure everyone was aligned about goals and objectives, we ran through the Google 3-Hour Brand Sprint exercise with the founders, plus leaders from Product, Design, Brand, and Marketing. Knowing everyone had been heard and that we were all on the same page put us in a great position to be successful as we kicked off the re-naming exercise. We did this with everyone remote!
Define your naming objectives. Ours were simple. We wanted the name to be a launching-off point to tell a story, engage users, bring them in, surprise and delight them–all while being simple, easy to remember, talk about, and find.
Create central naming themes. Our naming themes came out of our brand sprint exercise, internal culture credo, mission, and the values we cherish as a company and team.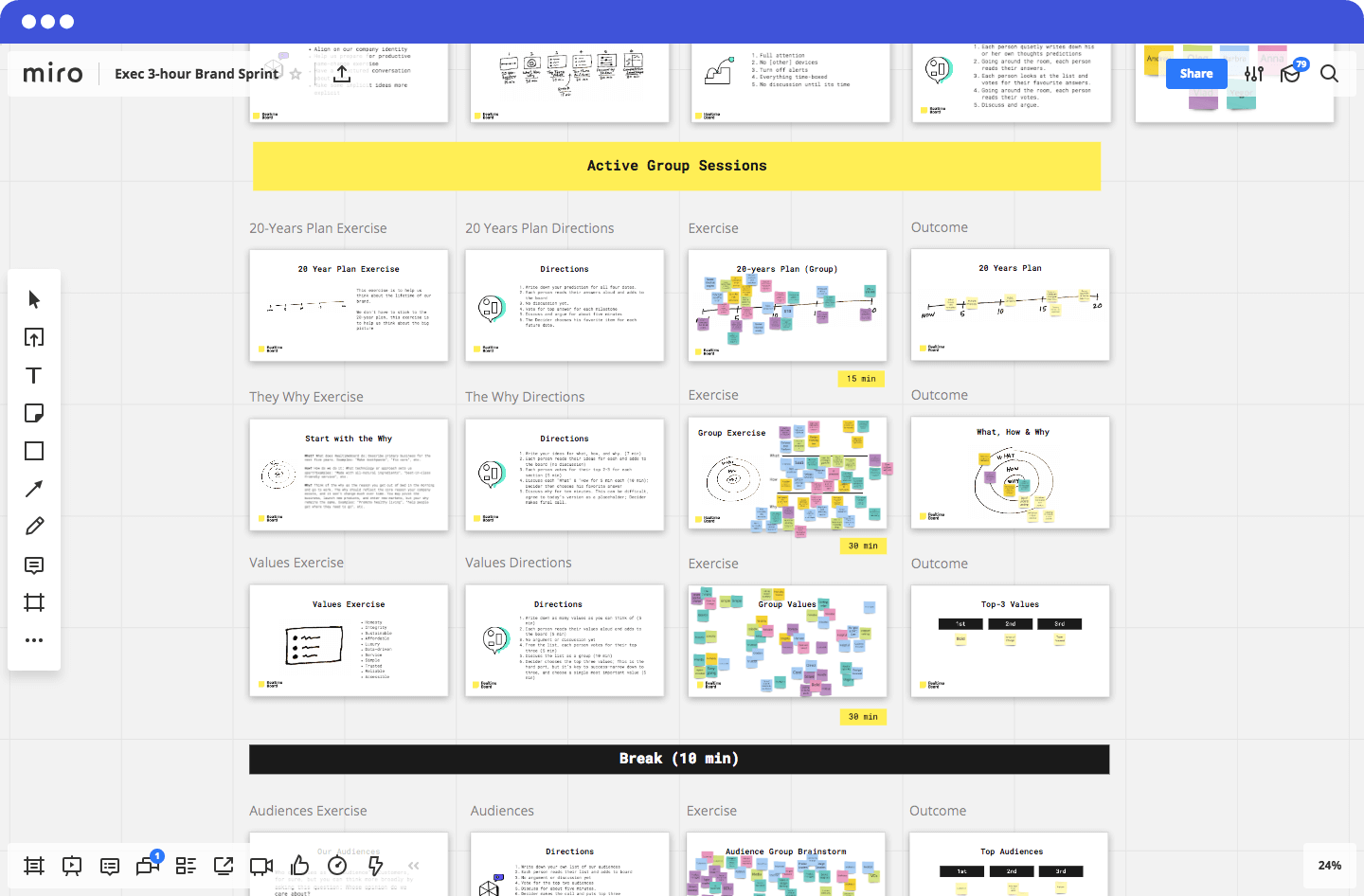 Once we had naming themes, we worked with a branding agency to settle on a name. With the help of our agency partner, we were able to agree on our new name in about 6 weeks!
Miro's naming themes
(directly tied to the why of our product and company vision):
---
1.
A picture is worth a thousand words.
We're a place for visual collaboration, which is a natural way to communicate. Humans are visual by nature, and we want to emphasize the visual aspect of teamwork.
2.
Stay united.
How do we create effective teamwork in the changing world of work? Everything around you is constantly shifting: there are new teams, new people, new offices… Today's working world is highly distributed, and we make sure teams can communicate even across cultural barriers. Visual communication is a new shared language.
3.
Ideas brought to life.
This evokes the joy of teams developing a shared understanding, working collaboratively, and seeing their ideas come to life.
Landing on the What
So, how did we land on Miro as our new name? Our main source of inspiration came from the Spanish painter and sculptor Joan Miró. His work was iconoclastic. It fundamentally challenged the status quo, existing beliefs and norms, and ultimately pushed people out of their comfort zone. Not only are we inspired by these ideals, but we felt that his surrealist and abstract style aligned with how people and teams use our platform, where every board is unique, ideas are expressed brilliantly through different colors and shapes, and how it has become a place where people express themselves and their ideas in very meaningful ways.
We also saw a thematic alignment with the changing world of work and his challenging nature. By moving away from a traditional style, Miró introduced a new way of understanding the world. We are disrupting the way people work, how they collaborate, and even how they interact with the world around them. We enable teams to do things differently, unlocking a lot of human potential along the way.
Of course, Miro's work is known for being colorful and abstract. We saw an opportunity to build a brand that is full of colorful visuals and lets us explore the subjectivity of communication, collaboration and understanding. Different roles and teams speak different "languages" – and we aim to dissolve that challenge by creating a space where understanding and work can happen, and where a new unified, and unique visual language can be created and understood by everyone.
Aside from the direct inspiration of the artist, the word "Miro" has other interesting associations: the connotations of "mirror", "look", and "watch" can speak to the reflection, consideration, and visual aspect of what we do to help teams bring their ideas to life.
Miro also comes from the Slavic root word "mir," meaning "peace, world." For us, this is a nod to our company's origin. It's also symbolic of our ability to connect teams across the world and speaks to the peace of mind they get working together effectively.
Rebranding a hypergrowth startup wasn't easy, but it was one of the most satisfying projects of my career. There's no better feeling than knowing you've gotten to the heart of the why that will propel your company's long-term growth – and you have the right name express it. I couldn't be more excited about what's ahead for Miro.