As an agency, establishing a trusted relationship with our clients is the first and most crucial step. Without it, a productive and valuable partnership of any kind is challenging. A lot goes into the process of building client trust as you collaborate; at Crema, we've found Miro to be a foundational environment for nurturing a transparent, engaging, feedback-first culture with our clients.
Visual collaboration and open participation are in Miro's DNA as a platform, which is why we use it as the foundation throughout the entire lifecycle of a client relationship. Its features and functionality go beyond a regular whiteboard to empower you to subtly and organically create trust within your partnership and client's team. It's a tool that promotes transparency and understanding with your client; one that your client's culture will swarm around and be excited to engage with and have fun along the way (as well as make your client look good).
In this two-part series, we'll walk you through the exercises we run and the features we use in Miro that contribute to a seamless, trusting client relationship. Part one below covers how to build a foundation of trust at the beginning of a client relationship with retrospectives in Miro.
About Crema: Crema is a digital product agency that designs, builds, and launches transformative software solutions for disruptive companies and industry leaders.
Start with a retrospective
Utilizing a retrospective that gets both parties on the same page can be a stepping stone toward building trust with a client. This section explains how Miro's features and processes can take your retros to the next level and why retros are so imperative for setting your client project up for success.
For rapidly building trust with a client's team, we recommend running a retrospective in Miro as your very first step in client collaboration. A retrospective is an exercise to look back at your client's recent successes and challenges. It's an opportunity for everyone to come together, regardless of job title, to consider the real impact of collaborations before beginning your partnership.
It serves as a fantastic starting point in your client relationship as it naturally encourages others in your client's organization to call out challenges that can be solved. It's also your client's team's first introduction to Miro, so they'll see first-hand the power and fun that it injects into your collaboration.
Use built-in templates and guest links to save time at the outset
---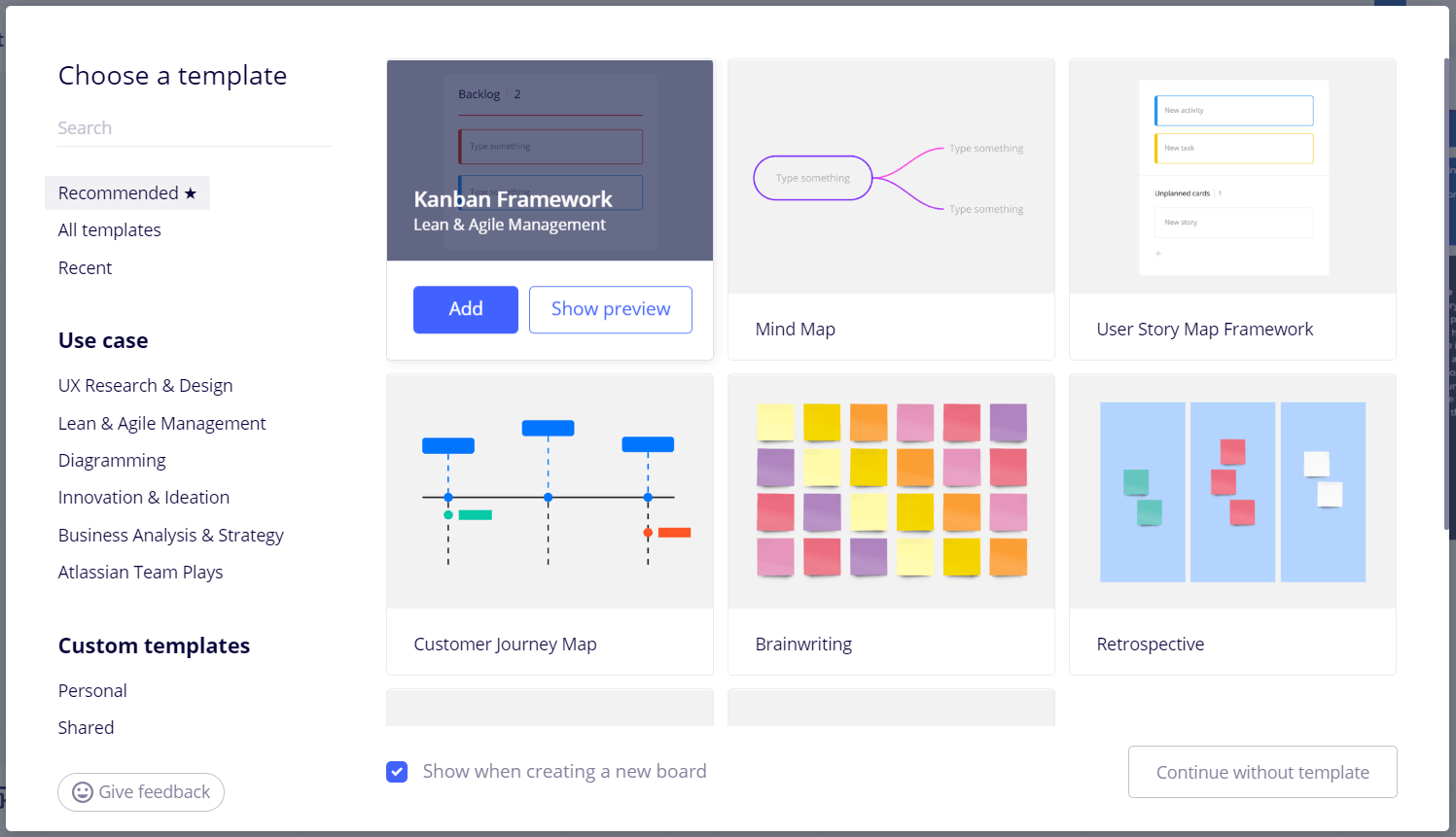 Schedule this retrospective as a general exercise with your client. Because Miro has an infinite canvas, you can instruct your primary client point-of-contact to invite in as many people as they'd like—just be sure to adjust the size of your canvas accordingly beforehand. Position this retrospective as a fun and anonymous exercise to look back on recent wins and elevate topical challenges. As much as possible, encourage your client point-of-contact to invite their leaders to attend and participate in open communication channels across the client org at the outset.
If this is your first retrospective, you are looking to save time, or you'd like inspiration on effective retro formats, Miro's pre-built templates are a great place to start. Drag and drop the tried and true basic retrospective templates from the template library in your Miro board. Alternatively, if you're curious about how other companies run their retros, peruse the community-contributed Miroverse library, where you can find open-source frameworks for you to utilize.
Just before the event itself, share out a link to the Miro board. To keep costs minimal as you introduce Miro, you can use the guest link, allowing participants to quickly join the Miro board without an account. Essential to this retrospective, it also keeps participants anonymous, encouraging authentic participation—even in front of the client's company leadership.
Build structure during the retro with sticky notes and the timer feature
During the retrospective, guide everyone to participate by dropping Miro's virtual sticky notes on each section of the board. You can use Miro's timer plugin to time-box each portion of the exercise so that you can keep a healthy and engaging pace. As you move on through each section, you might—as the facilitator—find value in grouping similar stickies that share a theme.
As the retrospective proceeds, it's important to ensure each theme is verbally acknowledged. At this point, try not to stay on any particular theme too long—if you maintain a facilitator's indifference, it could help surface true, authentic next steps.
Suggesting the next steps is the final stage of this exercise. Just like the prior sections of this retrospective, you will set a timer and ask everyone to suggest the next steps on sticky notes, based on the acknowledged themes. What's subtly so powerful about this in building trust is that perhaps for the first time, your client's team is holistically contributing to the potential future of your work together.
Retrospect (again!) to normalize transparency with clients
Again? Yes!
As you move deeper into your client work and partnership, it's important to continue to develop, iterate, learn, and revisit assumptions on your board through regular retrospectives. These are optimal times to engage in trust-building conversations.
Retrospectives for your team and client will also be a great time to celebrate! Looking back on your progress throughout your work together will surely elevate key learnings that are worth acknowledging for yourselves and the future of your partnership. Inviting in client stakeholders, either as participants or just to listen in, can be incredibly valuable. Doing so continues to encourage an environment of transparency, crucial to any trusted relationship.
We'll discuss this even more in part two of this series.
Wrapping up
After you've identified the next steps, it's time to wrap up the retrospective. Here, you should acknowledge the suggested next steps and state that you'll collaborate to determine how to best proceed. The Miro board will continue to be accessible by anyone who wants to view it so that you can iterate and comment on it with the broader client team. This natural transparency will subtly demonstrate trust across your agency-client relationship.
See our full gallery of retrospective templates
This post was co-authored by Michael Luchen, Coach & Sr. Product Manager at Crema