CD PROJEKT RED is an award-winning game development studio with over 1,200 employees representing over 43 nationalities across four global offices. They have become known for their Witcher series of games and, more recently, for Cyberpunk 2077.
As a company that prioritizes the gamer's experience during the product development cycle, alignment, teamwork, and collaboration are critical to transforming a concept into a playable reality. Before the company transitioned toward a hybrid work environment, CD PROJEKT RED's team members were accustomed to completing milestone planning together in an office where they used flip charts, dry-erase boards, and post-its on walls to build their video games.
Previously the product development organization used a more traditional waterfall approach, which involved more hand-offs and less real-time collaboration. When the team moved toward Agile practices, the need to be in constant communication became even more essential.
*Note: Milestone planning inherits from PI Planning
Discovering a new way to complete milestone planning in Miro
CD PROJEKT RED teams needed a tool that could be used to complete their milestone planning for 27 different teams spread out across multiple offices. Product development teams had previously completed milestone planning across several different tools but neither felt effective and flexible enough for hundreds of people in one space to collaborate. They needed to smoothly transition individuals across disciplines, from designers, and developers to concept artists, writers, and game producers into one virtual space.
After experimenting with different collaboration tools, Miro was selected to help develop Phantom Liberty, an expansion to Cyberpunk 2077. Damian Milczarek, Agile coach and Scrum Master at CD PROJEKT RED, shares, "We had to learn how to communicate more effectively to successfully adapt to hybrid work. Miro made communication easier by allowing us to co-create regardless of where you were working from; nobody could get left behind because everything is accessible on the board." With over three hundred people working on the same game, it was important for all the teams to be aligned with a consistent visual picture through each phase of the game development process.
For CD PROJEKT RED, milestone planning is hosted every nine weeks with three sprint sessions in a three-week cycle. These sprint sessions were important to ensuring each team could focus on common goals and deliverables that would help them achieve their goals for the next sprint. The results of each sprint would lead to game development where all the combined areas help build one experience for the player. Miro helped CD PROJEKT RED teams more quickly and efficiently build highly visible backlogs that everyone could access both before and during a sprint. Miro also enabled teams to improve participation and capture ideation processes during sprint sessions.
"We needed a tool to help us collaborate more efficiently with hundreds of people at one time. We were able to quickly onboard team members in 10 minutes, showcase how to strengthen our workshops, and capture the outputs of meetings using Miro. Getting our organization to adopt this product was a no-brainer."

Konrad Grzegory, Agile Transformation Lead at CD PROJEKT RED
Milestone planning in Miro aligns executive leadership and distributed teams
CD PROJEKT RED used Miro to blend different Agile approaches to facilitate milestone planning across their leadership and 27 teams with various disciples like concept artists, writers, game producers, and designers. In addition to the two-day traditional milestone planning agenda, they allocate a prep day for leadership to align on the big-picture vision and strategy.
---

Day one: Strategic alignment with leadership
The first step of milestone planning is aligning on the big picture view and bringing leaders together to lock in the global goals. They introduce the roadmap and cross-reference what's on the calendar with any known blockers or dependencies. Miro's online workspace for innovation allows product development teams to see it all in a shared space, making it much easier and faster to set priorities and realistic goals. Miro's expansive workspace allows teams to more effectively share complex project plans and roadmaps in a simple, visual way, accelerating alignment and buy-in from stakeholders.
Since adopting Miro, strategic alignment with leadership can be completed in one two-hour meeting rather than nine hours over three days. Everyone can contribute at the same time on the board. The timer helps keep teams on track, and voting surfaces the key issues for discussion rather than working linearly and losing time on lower-priority topics. Gaining alignment with leadership in one day kicks off planning with energy and momentum and teams come out of the session feeling inspired and connected. Agreements on roadmap priorities, goals, and high-level dependencies are fresh in their minds so they can better execute the next phase of planning.
Day one includes reviewing the rationale for milestone planning and aligning on goals, executing capacity planning, and creating an epic roadmap. Leaders use colored stickies that lay out topics like common goals to identify why they need to align when planning together. Once they are aligned on "Why we do this?", they can validate if what they are planning together is working towards OKRs.

Visual calendars can be used to coordinate business objectives, and milestones, and determine the availability of each team. Leaders can cross-reference between what's on their roadmap with the calendar to identify any known blockers or dependencies. Visualizing these dates in Miro's online workspace helps teams align on the amount of time and resources needed to dedicate to milestone planning.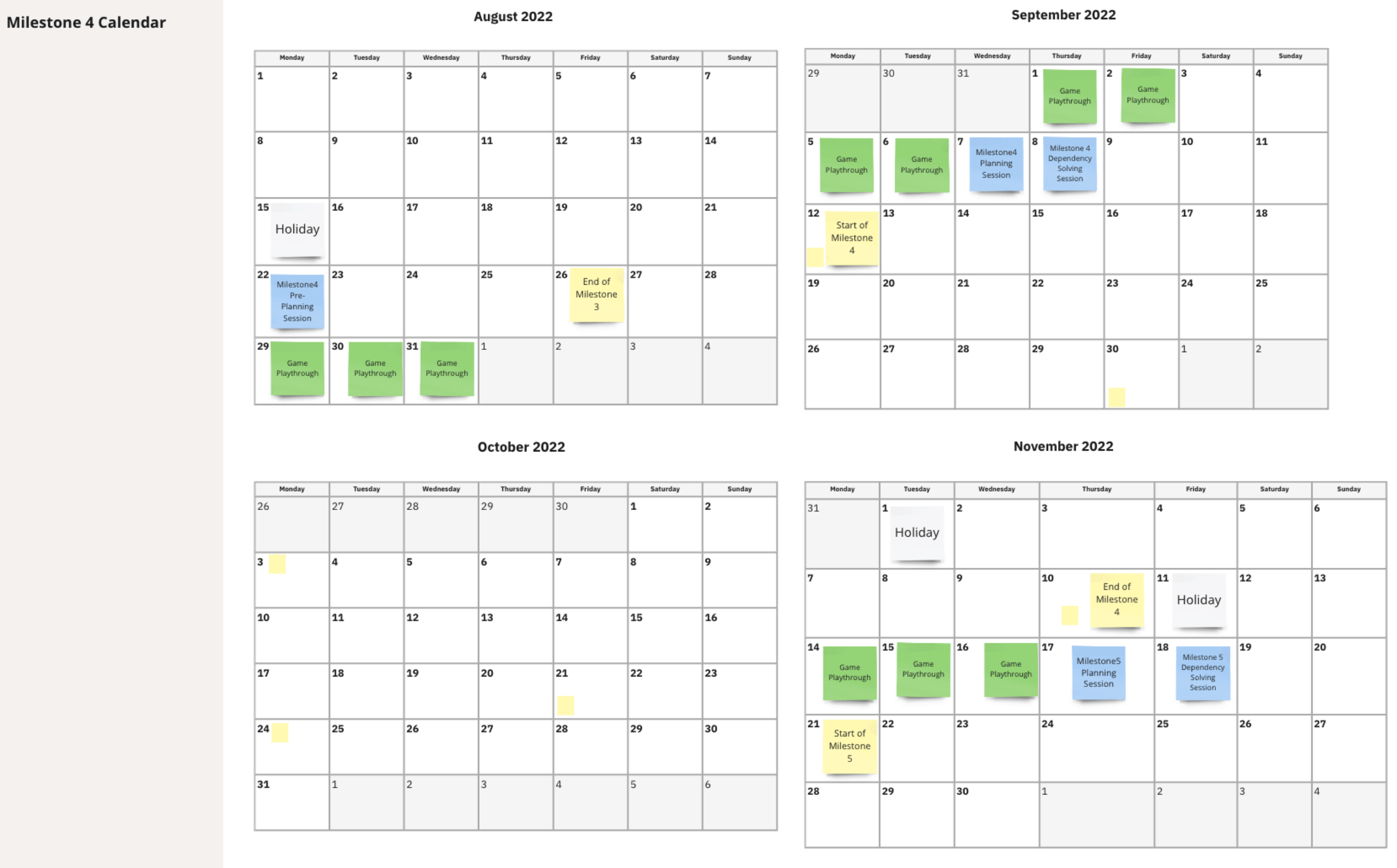 All epics are displayed as roadmap items which shows the amount of work the team plans to deliver in a predicted timeframe. Teams come back and update this roadmap during the milestone planning process as they learn more on days two and three. The leadership team ensures the area goals and sprint goals are clearly defined.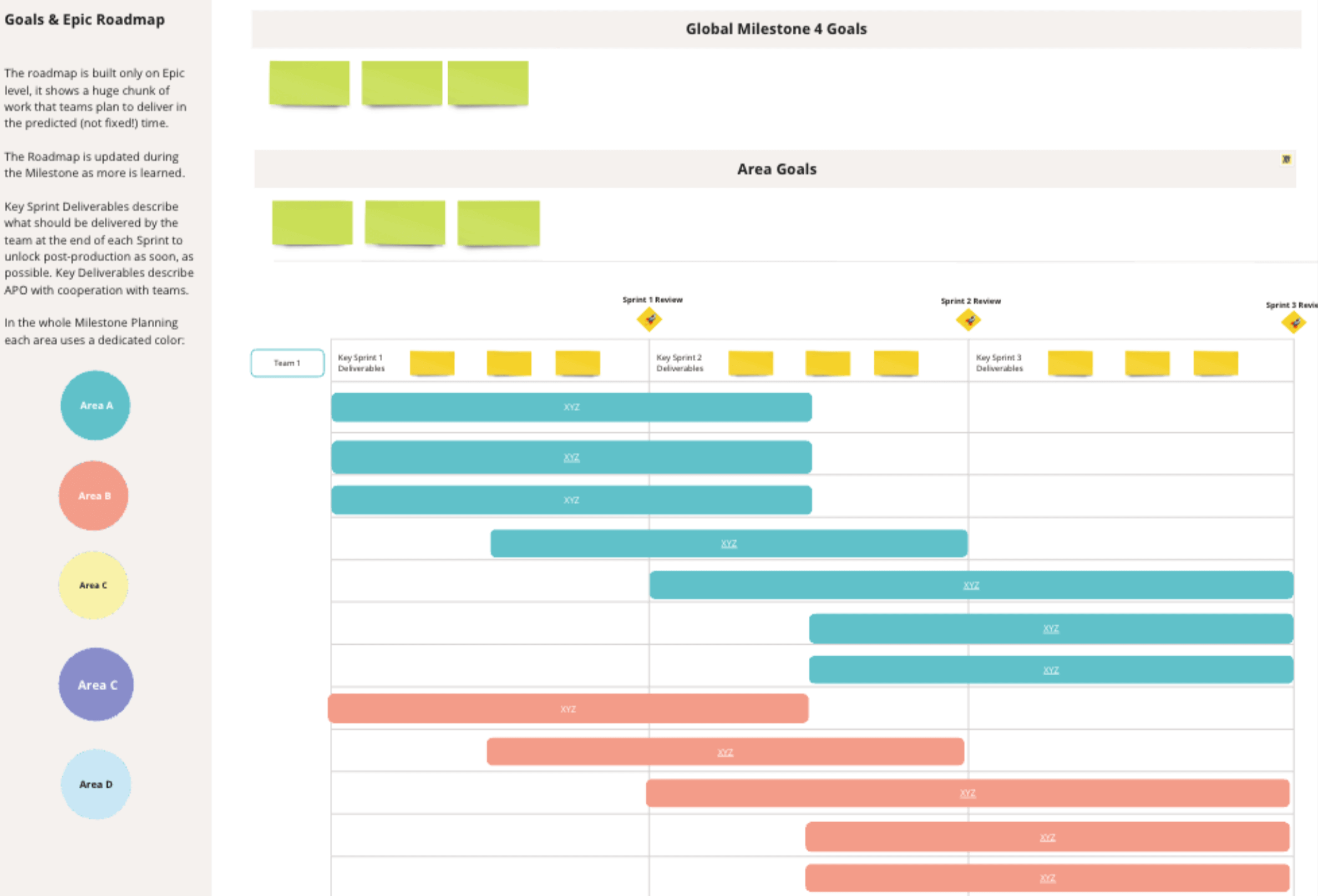 Day two: Team road mapping & risk identification
The planning done on day one helps inform the work conducted by the teams on day two. On the second day of milestone planning, CD PROJEKT RED focuses on the main planning, bringing hundreds of people across multiple disciplines into the board and opening with icebreakers. Briefings are held by the leaders of each team where daily goals are defined; Game Director, Executive Producer, and Product Owners give speeches and summarize the previous milestones, goals, iterations, and how teams plan to achieve them.
After the breakouts, each team brings back their tasks into the roadmap or the dependency map. As one of the key moments in the milestone planning process, teams use Miro to visually map out each dependency using red and orange stickies to quickly identify gaps and respond to problems more rapidly.
With 30-40 tasks to manage at one time, Miro can help reduce the time it takes to identify and assess dependencies as they appear in real time. The team can discuss and resolve each dependency individually while getting input from stakeholders until they are all green. After a long day of work, CD PROJEKT RED uses a Miro "Kudo Board" to congratulate and give positive feedback to teammates using custom cards with appreciation quotes, emojis, and icons.
The discussions held by leadership during day one of milestone planning help to inform how the team will work together moving forward. Setting the planning status using color-coded stickies makes it easy and identifiable for each team member to share their confidence level.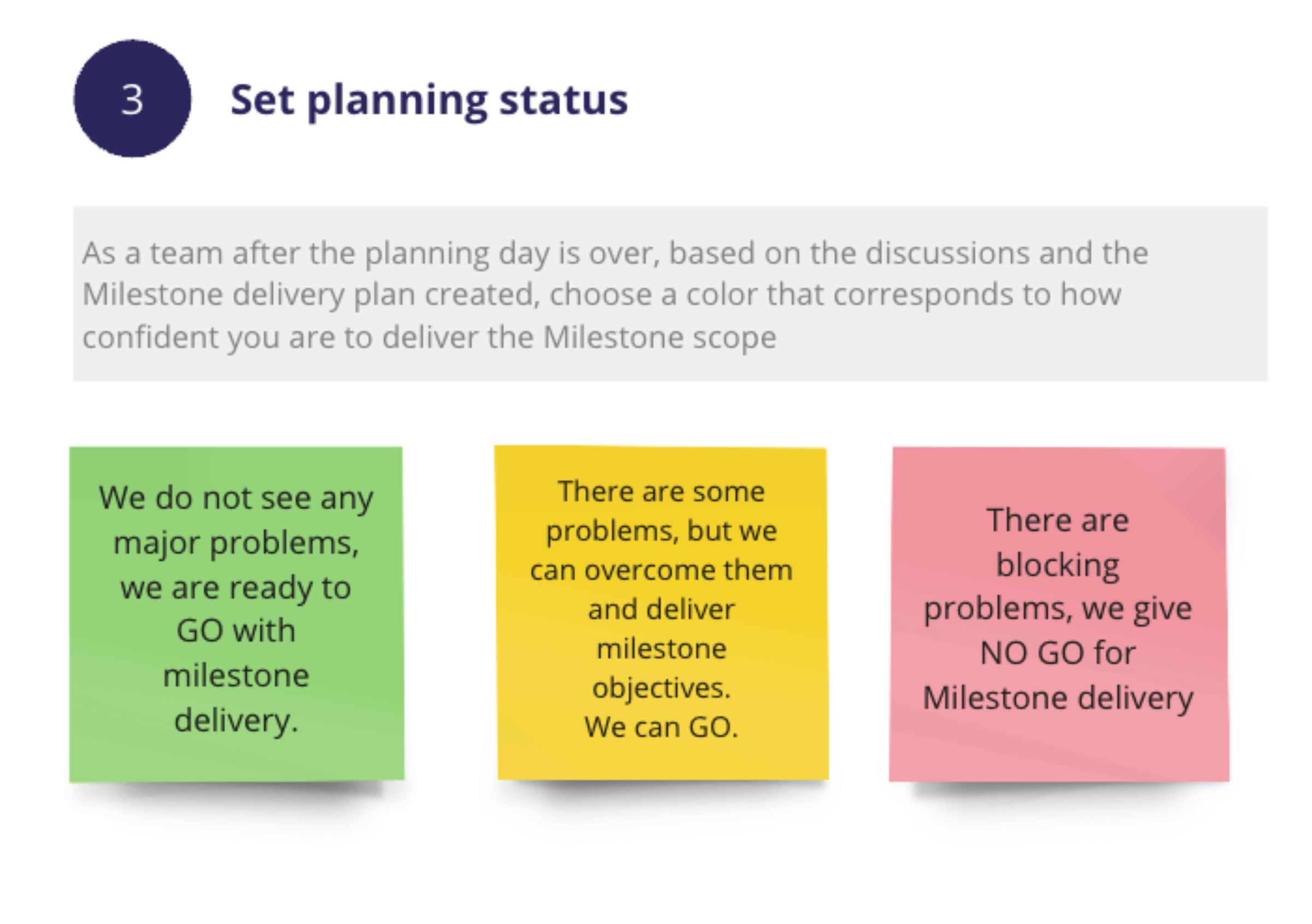 During the milestone planning process, it's important to find ways to drive confidence and show appreciation for your team's work. Using a Kudo Board is a fun and engaging method to allow meaningful interactions between each team that you can customize with Miro cards and emojis.

Roadmaps and dependency maps allow teams to stay productive and on track during milestone planning. Teams can use a visual roadmap to communicate their goals and work together in sync to achieve them. Dependency maps help to keep teams up to date with any changes and allow them to reprioritize goals based on new information.
Miro makes it easier to effectively coordinate and align the work of many departments and product areas toward the same goal.

Damian Milczarek, Agile coach and Scrum Master at CD PROJEKT RED
Day three: Dependency solving and confidence voting
The last day of milestone planning is a dependency-solving session where teams can identify if their delivery plan is ready. These dependencies help determine the next course of action for the team and who is responsible for creating meetings to solve them. Once the team finalizes solving their dependencies, they can introduce what they built through milestone planning, establishing confidence in the plan. After the last day, the goal is to solve for any remaining "at risk" dependencies. Miro makes this easy as teams can visualize their work and resolve dependencies collaboratively.
Agile Coaches and Producers can use Miro to help focus and manage their dependencies during milestone planning with stickies. Color-coded stickies can be used to depict different workflows that allow teams to quickly identify the situation visually on the board.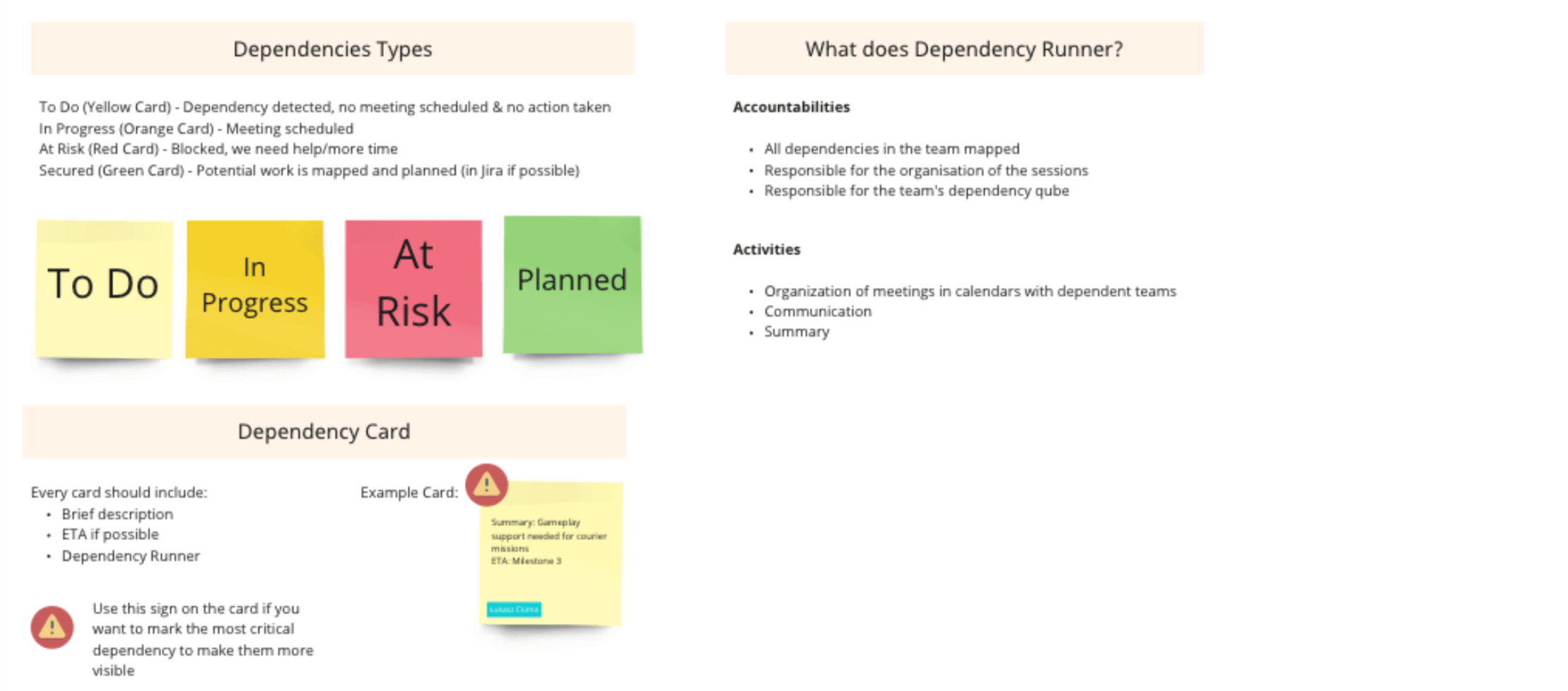 The most important outcome of milestone or PI planning is identifying and discussing dependencies. Teams use Miro to review the results of their milestone planning process with color-coded stickies in a dependency matrix. The matrix makes it easy for teams to track their progress and stay aligned with each other as they work toward the end of the milestone planning process.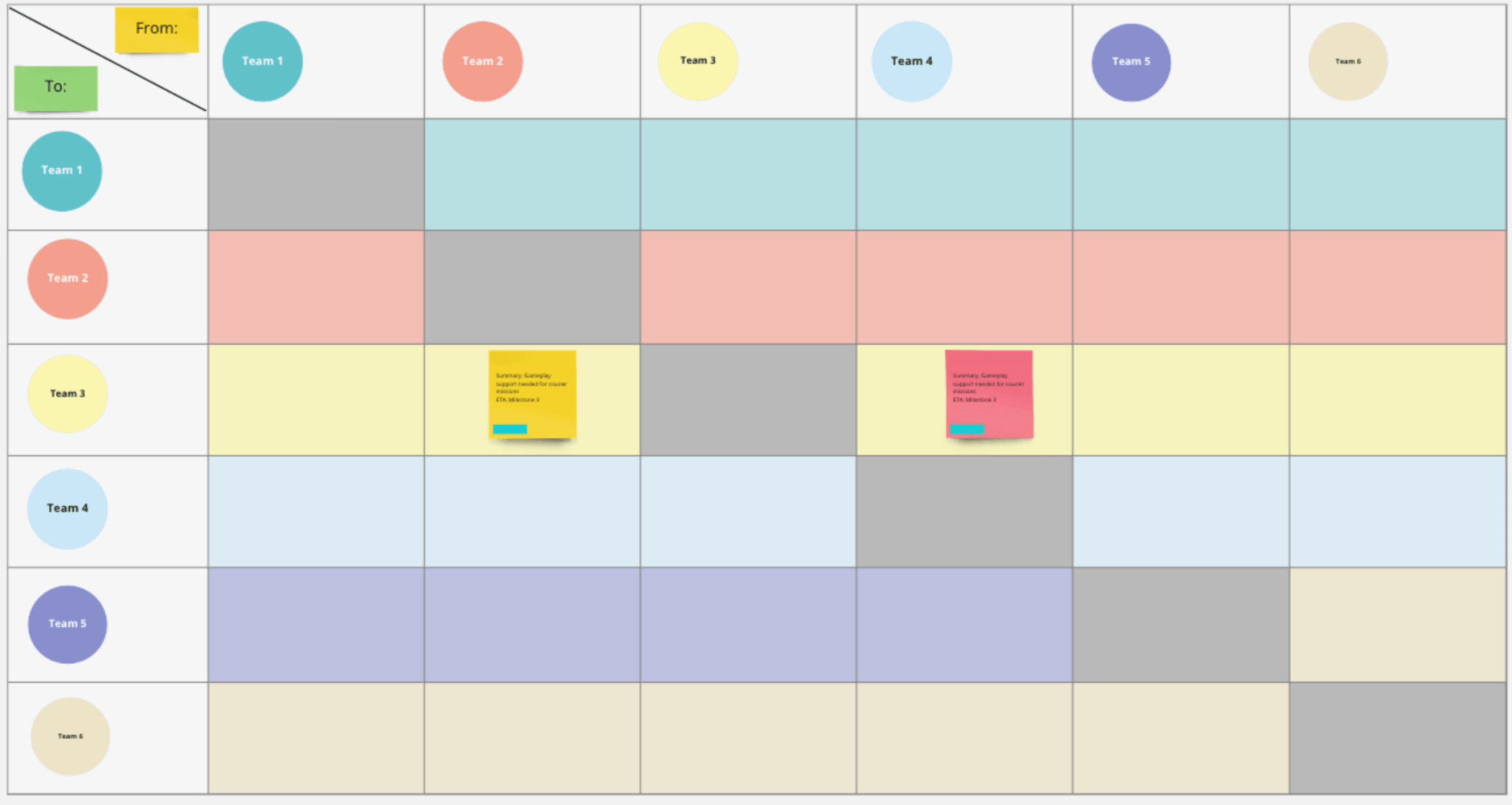 Feedback is important and essential to improving the milestone planning process for leaders and teams. Miro provides a simple and easy way to provide constructive feedback with emojis and stickies that enable teams to authentically express their feelings in ways aside from using words.

Over the course of three days, CD PROJEKT RED was able to confidently execute milestone planning in Miro. Using Miro allowed cross-functional teams to visualize dependencies and strategically plan, all in one place. After each planning session, CD PROJEKT RED leverages the Miro and Jira integration to quickly transfer and track dependencies within Jira.
Miro and Jira's integration helps ease the challenges that hybrid teams can experience by bringing all the elements of a project together in one place. The integration allows the teams to move fluidly between Miro and Jira without ever leaving the board or they can turn ideas into sticky notes and turn Miro cards into Jira cards. Without the need to switch between tools, teams can save time and stay aligned as they seamlessly collaborate and keep all content up to date in both places.
CD PROJEKT RED successfully co-creates games in a hybrid environment
Using Miro to facilitate milestone planning has been important in giving CD PROJEKT RED teams the visibility and transparency to stay aligned between each game development cycle, getting high-quality games to market faster. The company's leaders have reduced milestone planning meetings by one-third and gained seven working hours per planning iteration.
Because they are on the Miro Enterprise plan, CD PROJEKT RED has been able to better manage large-scale deployment and usage. This means it's easy to bring hundreds of people into one board at the same time. Admins are able to control sharing capabilities to manage users and the content at scale while ensuring proper access rights. This way the right content is available and accessible to everyone in the organization. As a result, teams can have a frictionless experience working together on a Miro board regardless of their location.
"Miro is helping us easily communicate with our global teams on how we can enhance our product strategy. Having the agility to execute constant game development helps us keep up with emerging trends."

Konrad Grzegory, Agile Transformation Lead at CD PROJEKT RED
CD PROJEKT RED has expanded its Miro usage to OKR planning, daily planning, retrospectives, and brainstorming. Milczarek shares that "Each team uses Miro boards for retrospectives after each sprint so we can grow and adapt. Without capturing the insights and ideas from each sprint, we couldn't track our progress between sprint sessions." This has led to a collaborative hybrid working environment with more engaged meetings, more frequent collaboration across studio offices, and a faster, more efficient way to develop games for their players.
Learn how you can execute PI Planning in Miro to gain alignment with product development teams